Remember when you were a kid, standing at the end of a diving board and wiggling your toes over its edge as you decided whether to jump? Does advertising your nonprofit on Google feel the same to you — a clear blue pool, filled with others who are already happily splashing around?
Or worse, do you feel like you've missed the boat completely?
First, let's remember there's no shame in that game — everyone already using Google Ads (formerly Google AdWords) had to start somewhere! We're glad you're here to learn how to begin incorporating Google Ads into your nonprofit marketing strategy.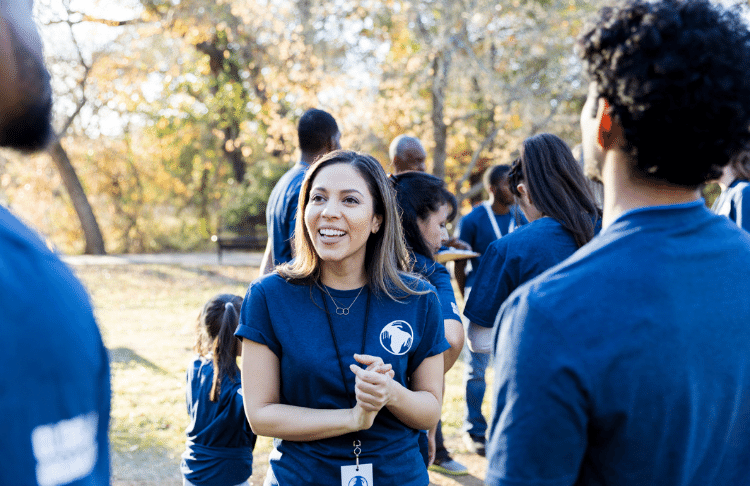 What is Google Ads?
A paid advertising platform, Google Ads allows advertisers access to two main networks, the Google Display Network and the Google Search Network, which advertise for your nonprofit in different ways. The Google Display Network focuses on display ads, while the Google Search Network relies on something called paid search. Like anything, there are pros and cons to each type of advertising method.
Using Google display ads to promote your nonprofit
Display ads are the visual ads that you are typically used to seeing online, incorporating text, static images, or video to attract a viewer's attention. A display ad may look something like this and can be featured anywhere on a website:

Display ads are usually in banner format and are relatively easy to produce or improve. Eye-catching and attractive, display ads have a wide audience as well–the Google Display Network reaches over 90% of global internet users.
While the benefits of display advertising seem pretty straightforward, it's important to remember that this type of advertising appears where you, the advertiser, decides to feature it–not where the user is looking for information.
What is Google Ads for nonprofits?
Paid search advertising, then, is exciting because it promotes your organization specifically where and when the people you want to reach are looking for the kind of information that you provide. You are not advertising to possibly uninterested consumers, but to people who are actively searching for information related to your organization's purpose.
Paid search advertising, which is what Google Ads is, appears at the top of the search engine results page (SERP) after an individual enters a term or phrase–known as a keyword–into a search engine to query. This advertising is formatted in a way that you'll most likely already easily recognize. You've probably seen these ads after searching for your own keywords on Google, maybe even after searching for the information that led you to read this article.
Notice how the paid search ads shown here are different from typical search results in that they feature a small "Ad" note next to the site URL and appear at the top of the page: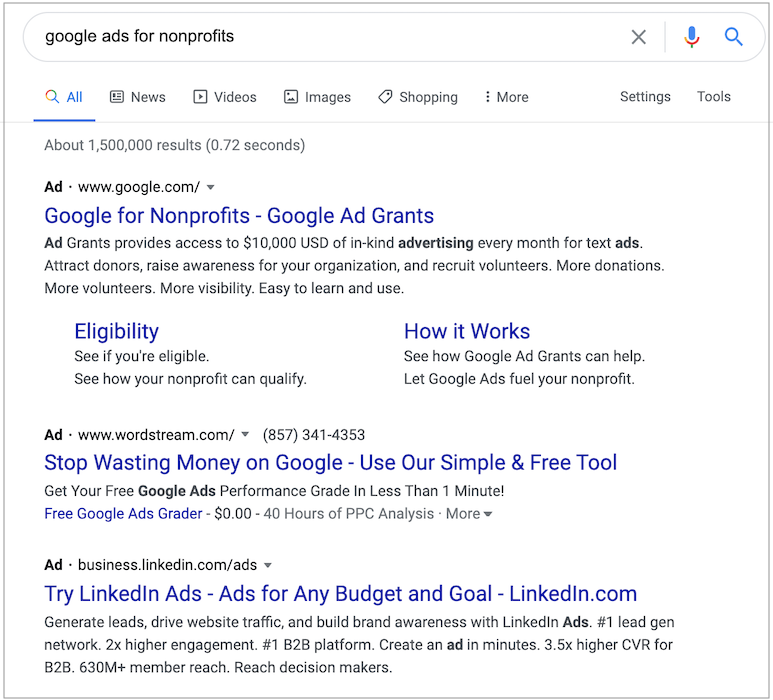 In Google Ads, organizations pay for these types of ads using a pay-per-click (PPC) method, where the advertiser quite literally pays a set amount each time a user clicks on their website's link.
How can I get my nonprofit's Google Ads to show at the top of Google?
Google has a fairly complex system for ranking paid search ads in order to secure such a primo location in search results. Advertisers bid on these prime real estate placements through a process that works like an auction, where advertisers bid on the keywords that lead to the ad.
For example, let's say you are part of an animal rescue organization. You might want to bid on terms like "animal rescue," of course, but maybe also "homeless pets," "pet adoption," or "forever home." Because paid search is organized by keywords, there are free keyword planners available to help your organization make the most of its keyword strategy.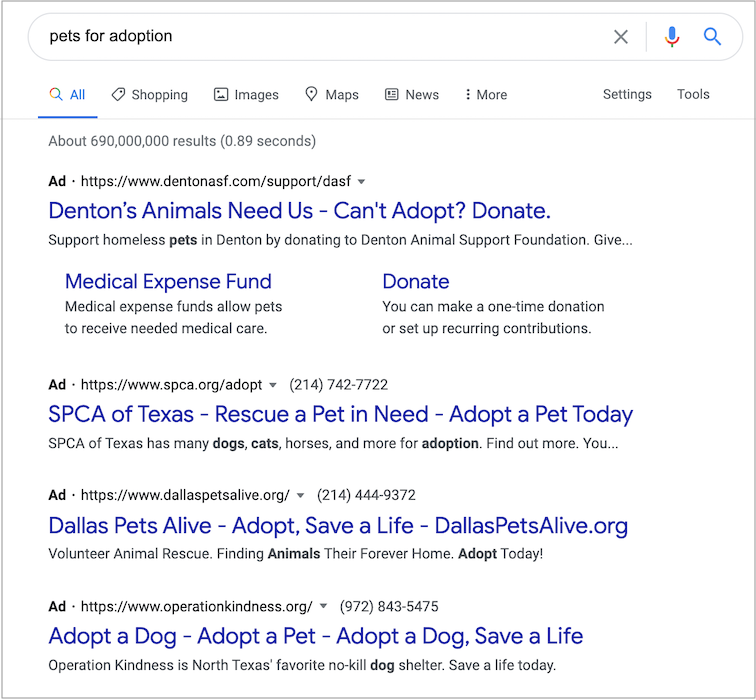 While PPC is extremely useful for nonprofits, it's important to remember that the more effective your keywords are, the more clicks you will receive — and the more your PPC advertising efforts will cost.
Fortunately, Google doesn't only guarantee keywords to the highest bidder, instead adding another dimension to their process for determining paid search placement: the quality of the link. How relevant the information on your organization's website is to the keyword you've bid on helps determine where your ad ranks so that keywords are not tied de facto to the highest bidders.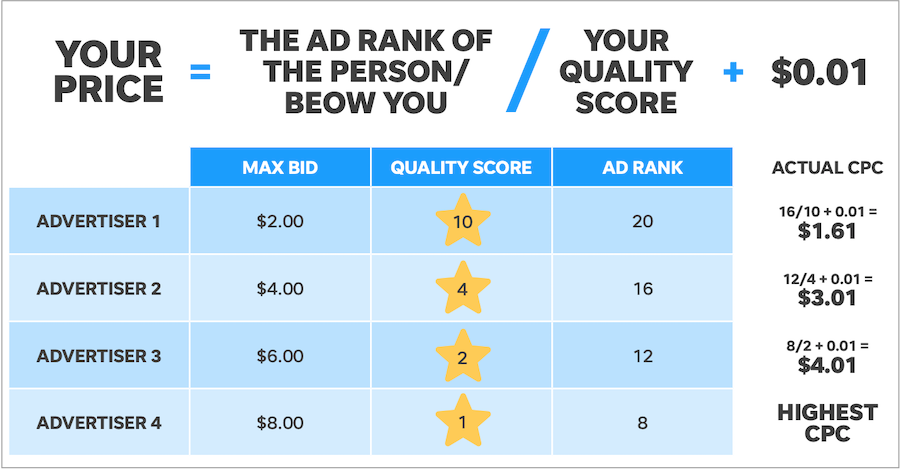 This is good news, in that the more information your site provides that is relevant to the keywords, the higher your ad will appear in Google's rankings. However, getting your site to rank higher through this method can be very laborious and time-consuming, in that you continuously need to provide new content and information tied to the keywords.
Can my nonprofit afford Google Ads?
Now that you understand both components of Google's ranking system for ads (your bid as well as your website's quality), you may be feeling a little defeated. As a nonprofit, budget is tight and the amount of staff time that can be dedicated to continually cranking out content to update your website is limited.
"But wait," you might be thinking, "Isn't paid search too expensive for our budget? How can our nonprofit compete with other organizations who have more resources?"
Fortunately, Google understands this too.
Google Ad Grants offers help promoting nonprofit causes
To help out organizations like yours whose main purpose is to further advance a cause, in 2003 Google created Google Ad Grants.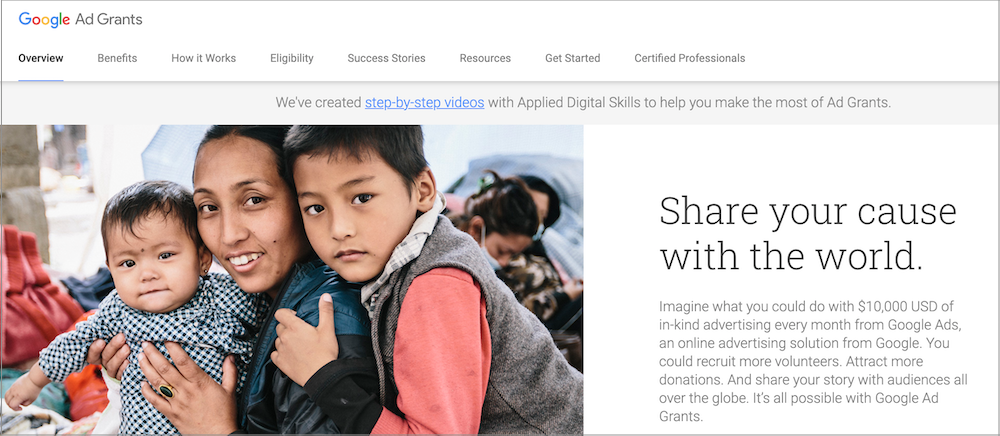 Google Ad Grants gives qualifying nonprofits $10,000 of in-kind (read = free!) spend per month. Google's complete annual budget for this spend is typically $8 million; however, due to the pandemic, they've recently increased that budget to $1 billion per year. What an amazing opportunity!
To be a part of Google Ad Grants, your nonprofit must meet some eligibility criteria. First, you must be enrolled in Google for Nonprofits, and your organization must be a valid charity in your country (in the U.S., it must be a 501[c]3 organization), but government agencies, schools, and hospitals are not eligible. You must also own your own domain name (for example, https://localiq.com vs. www.localiq.wordpress.com) and have an SSL security certificate installed.
Once you qualify for Google Ad Grant support, you must keep a 5% clickthrough rate (CTR) to stay qualified. You are also required to run two campaigns, with two Ad Groups each, as well as two keyword sitelink extensions. Your keywords must also have a keyword Quality Score of 2.
Here's how your Google Ads account might look: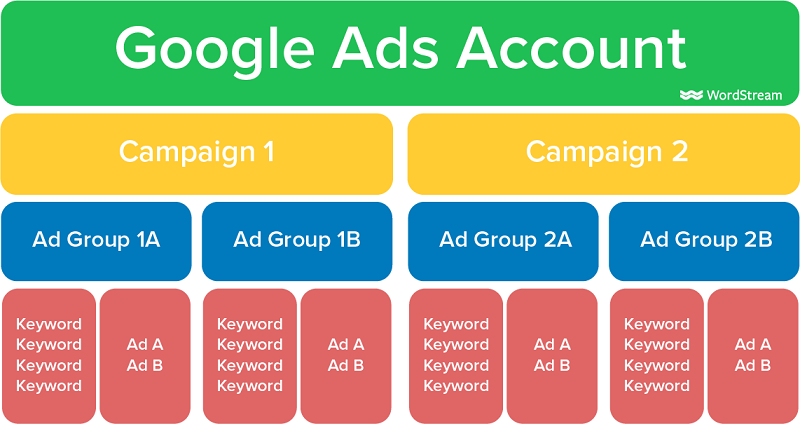 Evaluating the effectiveness of of your nonprofit Google Ads
Remember that once your advertising campaigns are implemented, your work is not done. Keep up to date on how your nonprofit's Google Ads are doing with free tools like this one so that you can gauge ad effectiveness and adjust your strategy and/or keyword choices in order to gain the most from your efforts.
If you're working with a search marketing partner for your nonprofit's Google Ads, they can provide you with the reporting you need to keep up-to-date on your campaigns and can also make changes and optimizations for you so you know your Google Ads are working effectively.
Related: Get the top Google Ads tips and updates.
Get started with Google Ads for your nonprofit
Hopefully, by now that clear blue pool of Google Ads paid advertising doesn't seem quite so crowded or scary. Consider yourself primed and ready to start identifying your next steps, including creating a budget for Google Ad spend and estimating return-on-investment (ROI).
Feel free to start in the shallow end if you aren't ready for the deep one. Your toes will get a little wet, sure, but we bet using Google Ads — and potentially Google Ads Grants — for your nonprofit will be worth it!
PS: Did you know that LOCALiQ is a Google Premier Partner? Find out how this helps our customers!