Looking for what to say on Memorial Day on social media or what Memorial Day sales and promotions you should run? We've got you covered with 21 examples from real businesses to give you some inspiration broken down into:
Memorial Day sales and promotions.
Memorial Day sales, promotions, and social posts that honor the troops.
Memorial Day social media post ideas to engage your audience.
For ideas for the whole year, download our free full marketing calendar.
Memorial Day Sales Ideas
Social media is the perfect place to highlight your business's sales and promotions — and Memorial Day is no exception. Take a look at these Memorial Day sales and promotions to get some ideas.
1. Red, White, & Sales
In the example below, Swoon Boutique of New Orleans runs a simple 25% off storewide sale for Memorial Day but adds some spice to their post with "Red, white, & sales."
2. Summer Must-Haves
If you have patriotic products, not only can you promote them for Memorial Day, but you can also encourage your customers to gear up for summer celebrations (and to get prepared for July 4th!).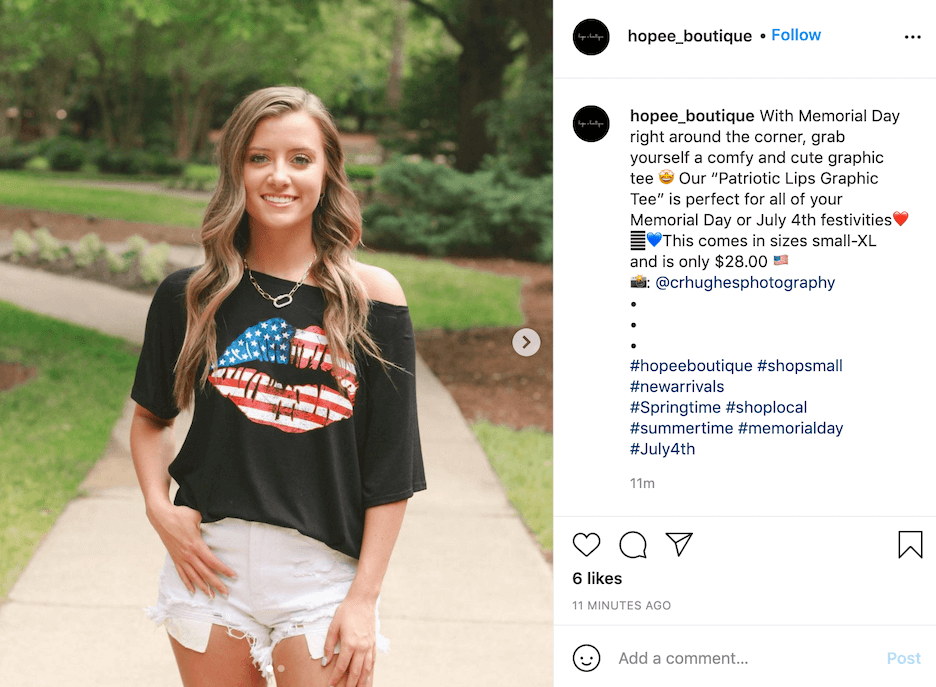 Don't forget, people don't just celebrate with clothing. They decorate their homes and gardens too.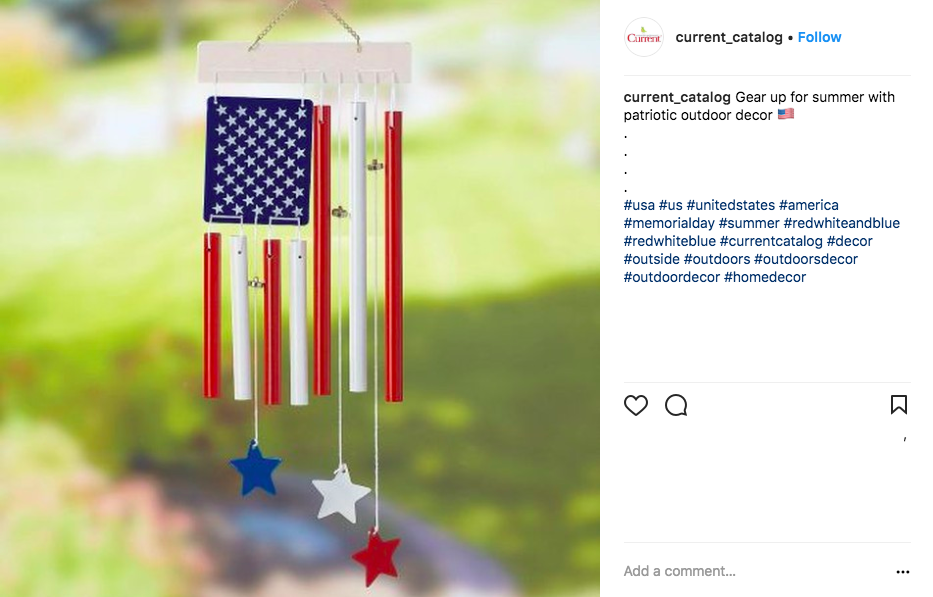 Here's another example of promoting your patriotic garb. It's helpful to remind your followers of your link in your bio as well:
3. Memorial Day Packages & Treats
For caterers and restaurants, Memorial Day is a great time to promote your business. Give your audience the nudge they need to forego the labor for their barbeque this year and let you do the cooking for them!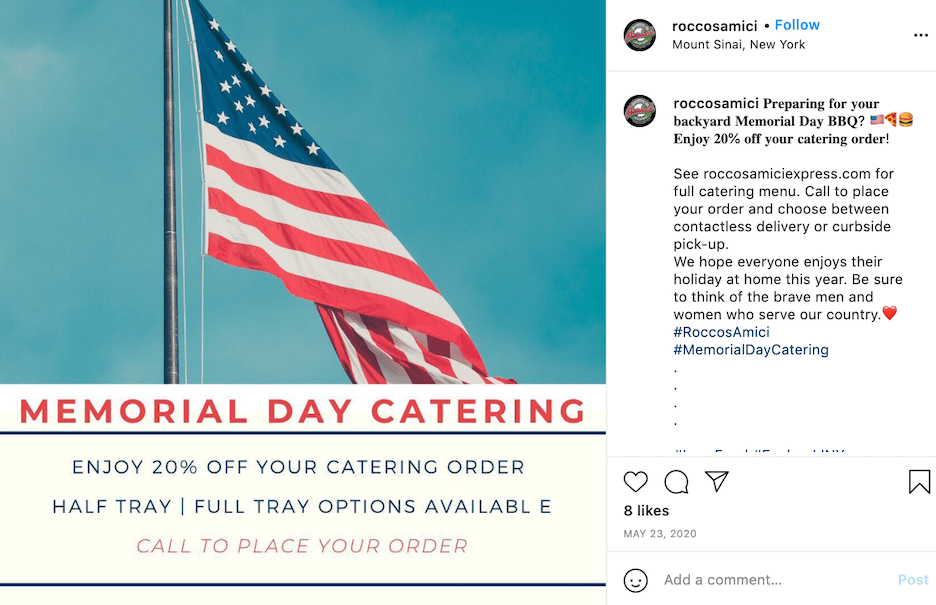 If you don't have catering packages but do have Memorial Day-themed treats, make sure to share those! (Who doesn't want to look at pictures of cookies!?)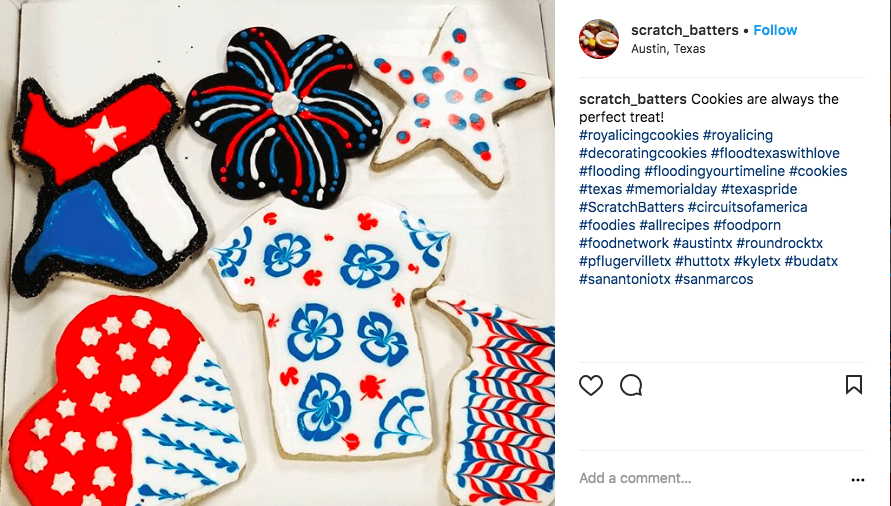 4. Patriotic Specials
If you have decorative chalkboards or signs that list your specials, use them to your advantage for Memorial Day. Give them a nice patriotic makeover and post pictures of them on social media. You can even further reinforce the items you're promoting by turning them into hashtags like 997 Cafe does below: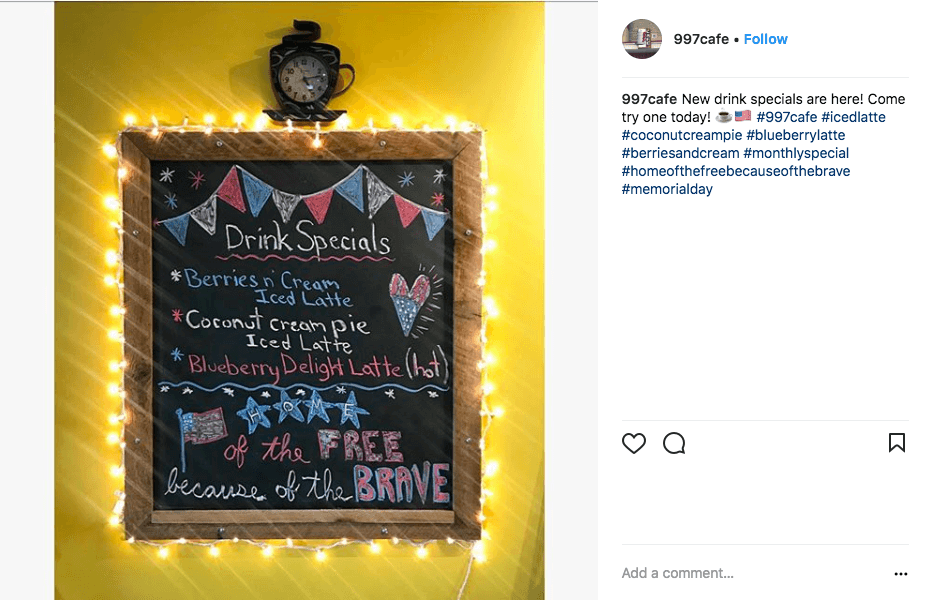 5. #MemorialDayDeals
You don't need to go crazy to promote your business on Memorial Day. A simple deal like half off a drink presented with some red, white, and blue and a #memorialdaydeals hashtag is plenty.
6. Discounts on Red, White, & Blue Products
Try giving discounts on patriotic colors and sharing them as part of your Memorial Day social media plan. In the example below, Pepe Osaka's Fishtaco Tequila Bar & Grill offers 50% all red, white, and blue margaritas (yes, please!), while including the day and time of the sale in the caption with appropriate hashtags (#memorialday and #memorialdaydeals).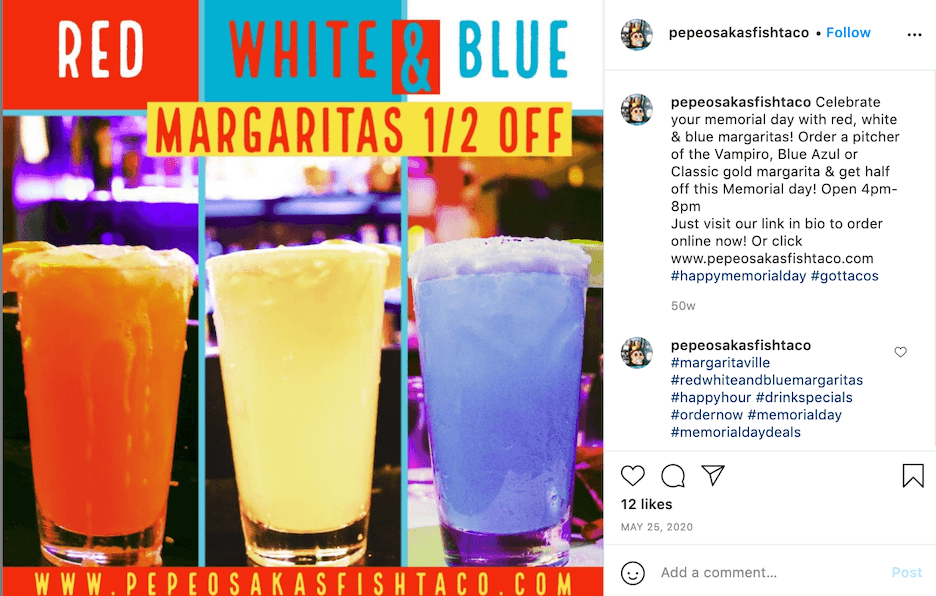 You could also offer a bonus product or gift with the purchase of a red, white, or blue item.
7. Buy One Get One Free
What we like about this Memorial Day Sale is the social media graphic. You get a complete visual of the buy-one-get-one deal…plus, cute pom poms!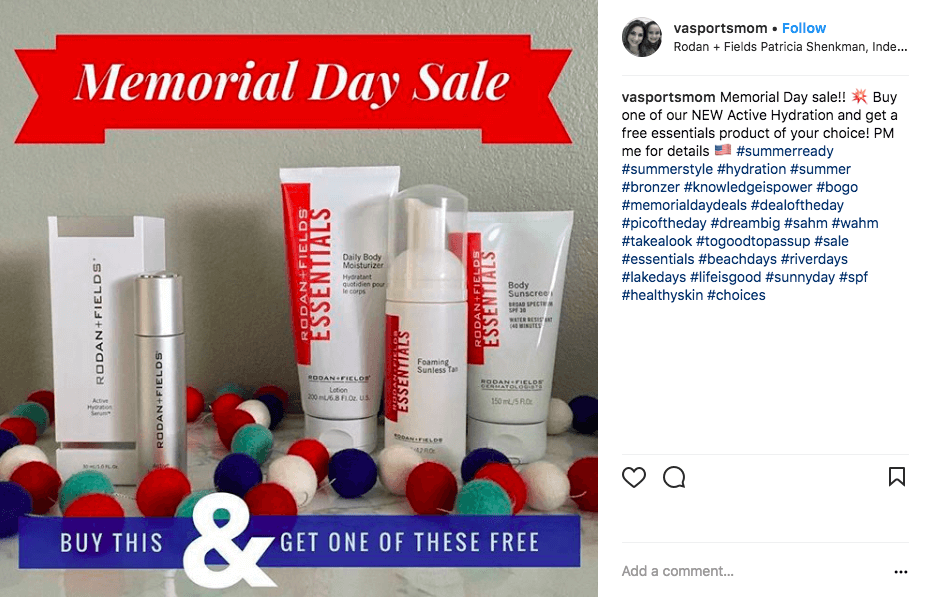 8. Memorial Day Promo Code
If you have an online store, create a promo code for your Memorial Day sales and share it on social media.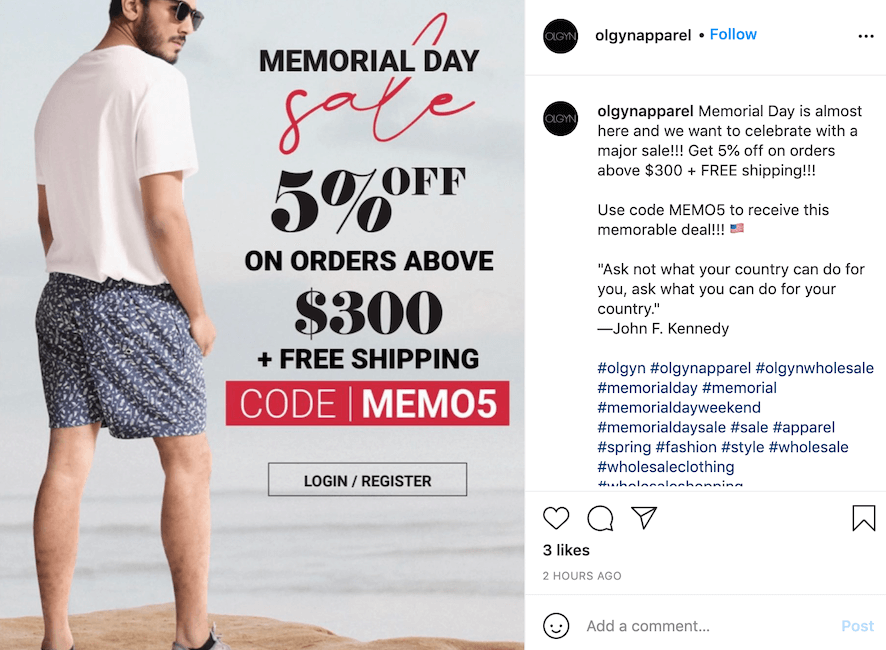 Another sale you could run is 20% off the most expensive item in your cart, like eVitamins does below. They also make it clear exactly when the promotional code expires.
9. Free Shipping
Offer free shipping during Memorial Day weekend for deals over a certain amount or just in general. Nine out of 10 people say free shipping is the top incentive that can get them to buy online!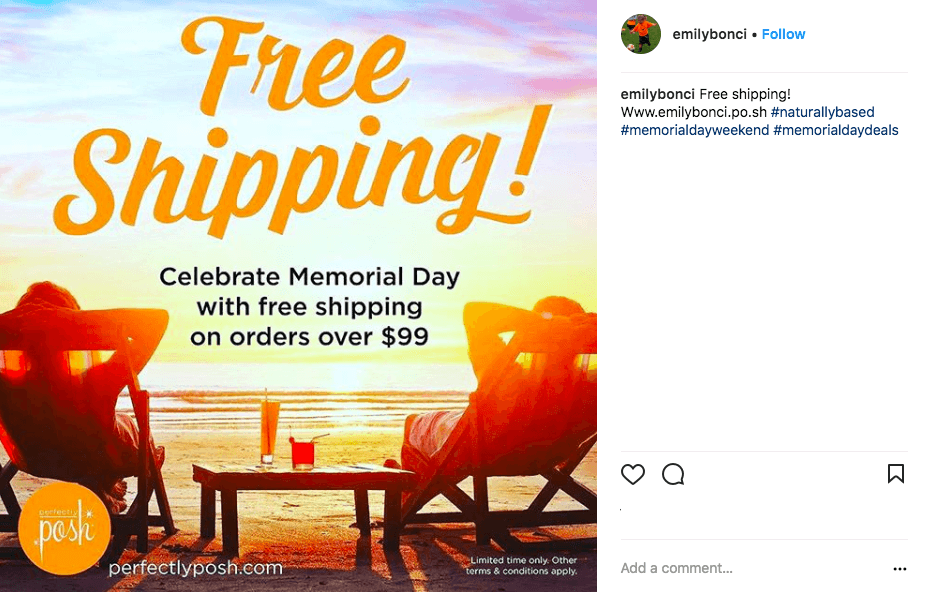 10. Memorial Day Bundle
Do you have a variety of products (or services!) that you can combine for a Memorial Day bundle? Package them together and promote your special on social media.
11. Renewal Deals
If your business runs on a subscription or contract model, run a special such as renewing during Memorial Day weekend gets them a discount or special gift.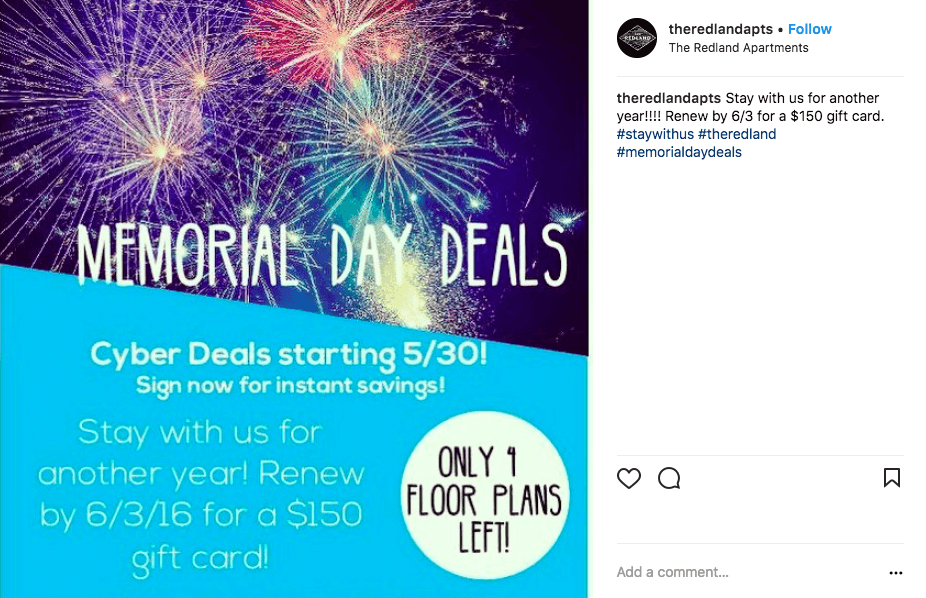 12. Long Weekend-Themed Deals
For many, Memorial Day is a long weekend. Encourage your customers to take advantage of the extra time to check out your business with a special sale or by hosting a special (and safe) event.
Military-Specific Sales & Promotion Ideas for Memorial Day
Memorial Day is all about honoring those who lost their lives while serving in the armed forces. If your business has special promotions or sales specifically for those who served or are serving, make sure to share on your social media pages around Memorial Day.
13. Freebies for Armed Services
The Tribe Strength & Conditioning gives military members, veterans, and spouses the entire month free in the spirit of Memorial Day. Note also that they take advantage of the extra social media activity by posting their schedule of events for May and June.
14. Discounts for Military
If you can't give a full month free to military personnel, try a smaller discount. Spa Noa offers 10% off all retail for Memorial Day and 20% for active military, veterans, and their families:
15. Ride to Remember
Because Memorial Day is about remembering those who fight or have fought for our country, Cyclebar holds a "Ride to Remember." Plus, they offer 20% off all active-duty military and veterans on Memorial Day.
Memorial Day Social Media Ideas
If you're looking for some general ideas of what to post on Memorial Day, here are some great examples to inspire you.
16. Pay Homage to Memorial Day with Your Verbiage
Don Tomasso's gets creative here with their "feed the troops" Memorial Day deal. See what kind of military jargon you can incorporate into your posts. Don't forget to include the dates of your deal in your caption.
17. Hang With Us
What better way to entice people to come to your business than with delicious food? Post attractive pictures of your Memorial Day BBQ goodies and invite them visit — just like The Fontaine Hotel does in the example below:
18. Celebrate With Us
If you're a restaurant like Del Frisco's Grille, create a simple offer like a free appetizer with an entree purchase. Snap a photo, create an image on Canva (or another easy visual marketing platform), throw it up on Insta with hashtag #memorialdaydeals.
19. Post Your Memorial Day Hours
Let customers know if you'll be open or not on Memorial Day in a social media post (and don't forget to update your local listings, too!).
20. Keep Reminding Customers of Your Memorial Day Deals
Don't just promote your Memorial Day sales and promotions once on social media. Keep reminding your customers of your exciting offers and be sure to let them know when they only have a few hours left. Adding a sense of urgency to your deals will help encourage your followers to take action.
Here's another example of urgency:
21. Encourage Customers to Spread the Word
Word of mouth marketing is your friend! Tell your customers to tell their friends about your deals. Create appealing posts that followers can easily and willingly share across their networks.
For more creative marketing ideas inspired by holidays and events, download our free marketing calendar for the year: