Every year on January 1, I make a list of resolutions and goals for myself for the next 12 months. Then, I usually misplace that list and don't see it again until December 31, when I realize I may or may not have missed out on (or forgotten altogether) some, or all, of those resolutions.
Some people say resolutions are made to be broken. And while that may be the case for your idea to go to the gym 12 times a month or promise to spend less time on your phone, it doesn't have to be the case for your small business's marketing resolutions.
We're about to enter into the year, so there's still time to make digital marketing resolutions you'll actually stick to. Here are six digital marketing resolutions your small business definitely shouldn't give up on this year:
Follow up with leads promptly
Optimize your website for both search engines and searchers
Invest in a multichannel marketing strategy
Try something new
Deliver excellent customer service in-person and online
Measure your results
6 marketing resolutions to keep all year
Now, let's go into each of these marketing resolutions in detail!
1. Follow up with leads promptly
Getting leads is often half the battle when it comes to growing your local business. So, when you get those leads, you don't want to miss out on potential business by being slow to follow up or not following up at all. You might have a goal for yourself and your employees to follow up with leads promptly this year, and that's a goal you shouldn't give up on.
Did you know that most consumers will choose to do business with the one that follows up with them first? I've experienced this many times. I'll find a few businesses that are about dead even in terms of reviews, distance from my house, and what they offer, so when I call to check on availability or pricing, the business that answers the phone or calls me back first is the one I'm going to go with.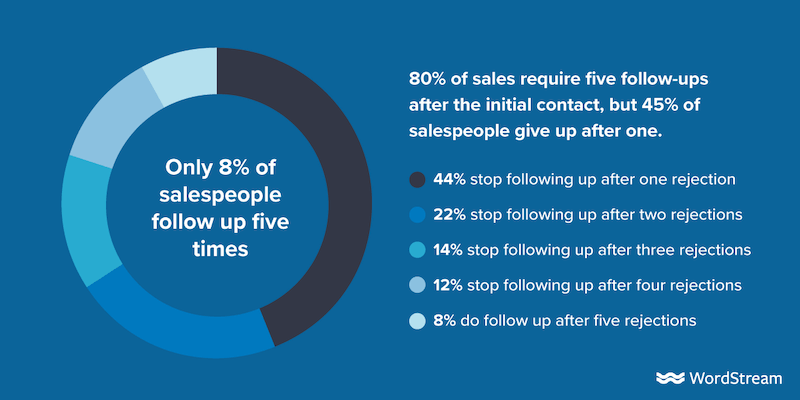 If all that's standing between you and a new customer is another business getting back to them before you do, that's not a great feeling. So, answer the phone when it rings, respond to emails quickly, and follow up with leads as soon as possible so you can ensure you're turning those leads into customers. And, you can use a lead management system to help you accomplish all these things (and make it a little easier on yourself).
2. Optimize your website for search engines and searchers
It's a fact that the majority of consumers use search engines to find new businesses in their area. And, just like you put your customers first, search engines are trying to do the same thing when it comes to how they determine which small business websites to show for queries. Google and other top search engines have made a number of updates to their algorithms over the years that prove their commitment to putting the user first when it comes to searching.
So it's important for your business to make continual optimizations to its website for both search engines and consumers. If you haven't made this a goal in the past, now's the time! Make a marketing resolution to continue optimizing your site throughout the year.
A few ways you can optimize your site for search engines and searchers include: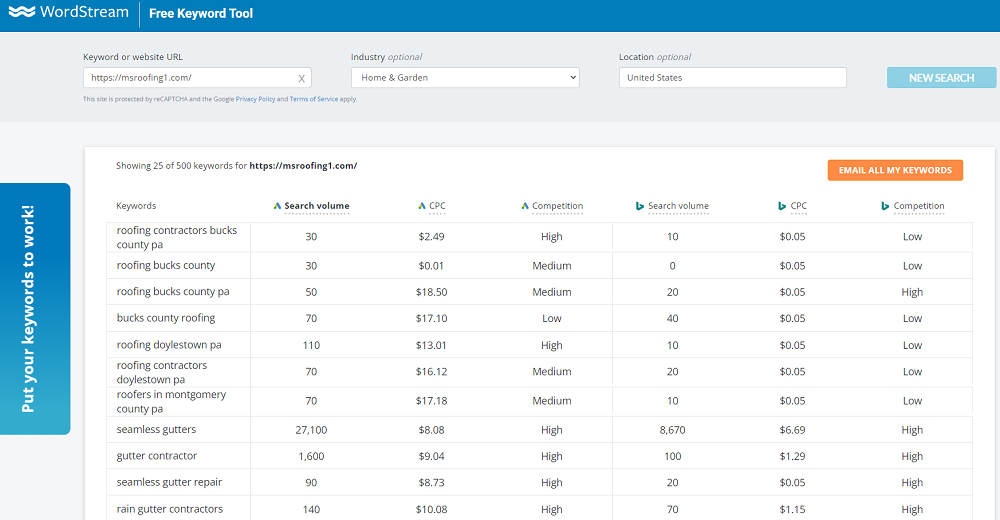 There's a lot more that goes into optimizing your website for search engines and consumers, and we're sharing all the details in our Local Marketing Lab Local SEO course.
3. Invest in a multi-channel marketing approach
Just like we know consumers are using search engines to find new businesses, we also know that search engines aren't the only channel influencing their purchasing decisions. So, it's no longer an option to stick with one channel for marketing your business. Maybe your business has relied solely on offline marketing channels to grow your business, or you've abandoned offline in favor of the digital evolution. Either way, this year make a goal for your business to investigate the value of multi-channel marketing.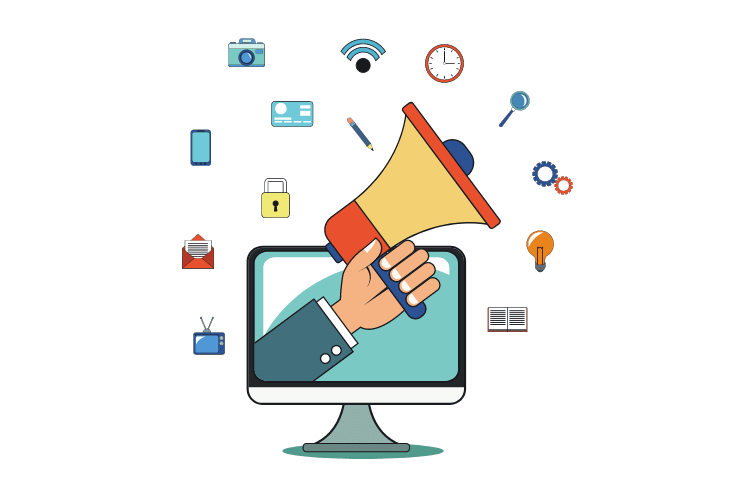 Digital marketing and traditional marketing work together to increase the effectiveness of your brand awareness campaigns and can help you reach the largest number of potential customers. Read more about how and why multi-channel marketing is best.
Related: Make email marketing part of your multi-channel marketing strategy. Get January email subject line ideas here.
4. Try something new
New marketing tactics and trends are constantly emerging and help to shake up your marketing and keep things from getting stale. If you've never tried one of these newer tactics, add this one to your small business marketing resolutions! Not only can new digital marketing tactics help you stand out among your competitors, but they can help you discover an effective way to get new customers.
What are some "new" things you can try? What about geofencing? Facebook advertising? These aren't necessarily new digital marketing tactics — they're proven and effective — but they might be new to you, and that's all that matters.
If you're not ready to invest in a new digital marketing tactic, you could try branching out with your business's organic social media presence by testing out Instagram Reels or getting your business on TikTok.
Hint: You might also want to add some of these free or low-cost ways to get more sales to your marketing resolutions list.
5. Deliver excellent customer service in-person and online
This is probably already on your marketing resolutions list and something you'd never give up on, but it's worth listing as a reminder. Customer service is extremely important — especially in the age of online reviews. One negative customer experience, and your business could be blasted across review sites and social media, and nobody wants that. And, it's important to remember that your customer's experience starts as soon as they find information about your business.
Here are some customer service stats to think about: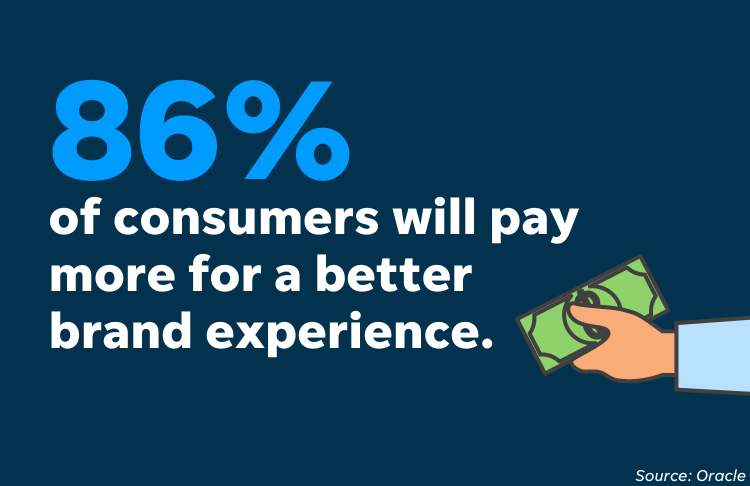 86% of consumers will pay more for a better brand experience.
90% of Americans use customer service as a factor in deciding whether or not to work with a company.
More than 30% of consumers will leave a brand they love after just one bad experience.
And, here are a few things you can do this year (if you're not already) to deliver a great experience for your customers:
Add live chat to your website: Live chat gives your site visitors a way to get the information they may not be able to find on your website quickly and when they need it. And, 63% of consumers say they're more likely to return to a website that has live chat, so it's a good one to have!
Use social media to your advantage: If you actively engage with your customers on your social sites like Facebook, Instagram, and Twitter, you can build a brand community and increase brand loyalty. Try things like social-only promos, first looks, and behind-the-scenes posts. Social media is also a great place to share information about how your business gives back and supports the community, which is something consumers value.
Give your employees the tools they need to be successful: This can include training for how to answer the phone, how to handle customer complaints, and how to greet customers in your location. While the online aspect is important, the interactions customers have with your people is still key to delivering a great experience overall.
Related: Get January social media ideas to start the year off right.
6. Measure your results
If you haven't been measuring and analyzing your marketing results, it's a good marketing resolution for the year. When you're investing in something as important as growing your business, you want to know what's working (and what's not) so you can keep refining your plan. If your marketing strategy includes multiple channels and tactics, it can be difficult to wrangle all the different reporting systems, cross-reference them, and identify what's truly working.
That's where a lead tracking solution comes in. Aside from managing your leads, it can show you where those leads came from, and what's driving the most people to actually contact your business.
And, if you're working with a digital marketing partner, they can help you make sense of all the different reporting systems and make changes and updates to your marketing strategy so you can focus on running your business while they focus on getting your marketing right.
Keep your marketing resolutions with ease
Keeping your marketing resolutions can be an even greater challenge without someone to keep you accountable. Working with a marketing partner can make it easier for you to keep those resolutions–and make your marketing a smashing success all year long. We can help start your year off right with recommendations from our free website grader!