When you really think about it, social media plays a big role in our lives. It's a central part of many of our routines—wake up, check your social media site of preference, get out of bed, and start your day. Only to check said social media site (or sites) multiple times throughout the day. In fact, the average US adult spends almost two and a half hours on social media PER DAY.
I don't know about you, but I dread my weekly screen time report which informs me that, yes, I have spent actual hours of my day scrolling through various feeds on my social media apps.
But thankfully, I know I'm not alone—and I have the stats to prove it!
Here, you'll find the only list of social media statistics you'll ever need, including:
General social media statistics
Facebook statistics
Instagram statistics
Twitter statistics
LinkedIn statistics
TikTok statistics
Snapchat statistics
Plus, we're sharing some fun facts along the way. Because we can't talk about social media without at least having a little fun!
Striking social media statistics
It's hard to imagine a time before social media, but the reality is that it's still fairly new. Here are some general social media stats that show just how integral it has become to our lives in a short(ish) amount of time.
Fun social media fact: 40% of internet users are on social media for work purposes (or at least that's what they tell their bosses….).
Fascinating Facebook statistics
Facebook was launched February 4, 2004, as The Facebook–a social network built specifically for Harvard students to connect with each other. Now, Facebook is the top social media site in the world. Here are some fascinating Facebook statistics that show just how many people are using Facebook (spoiler alert: A LOT), how often, how they engage on the site, and more.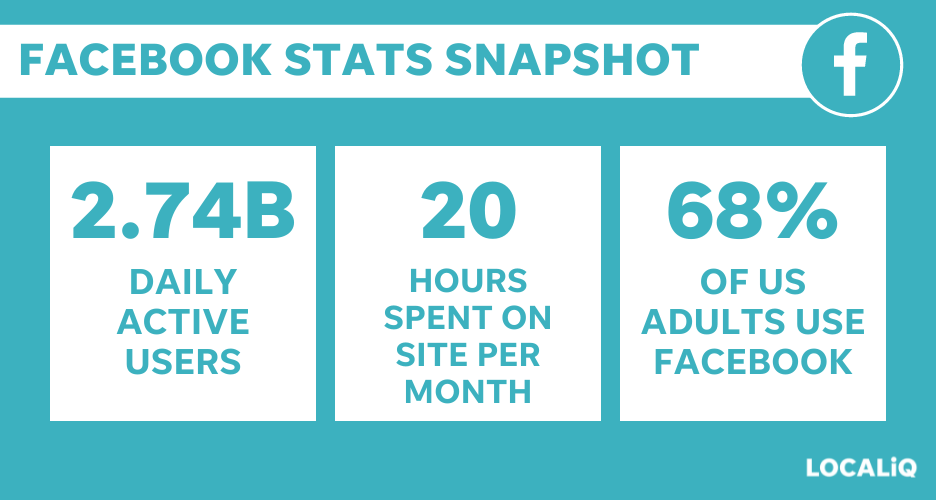 Facebook marketing and advertising stats
Fun Facebook fact: In 2012, Facebook became the first social media network to pass one billion active users.
Interesting Instagram statistics
Instagram was launched on October 6, 2010, as an iOS app. In its first week, the Instagram app was downloaded 100,000 times, and it hasn't slowed down much since then. Here are some interesting Instagram stats that show how this (now) Facebook-owned property has grown and evolved in the last 10+ years.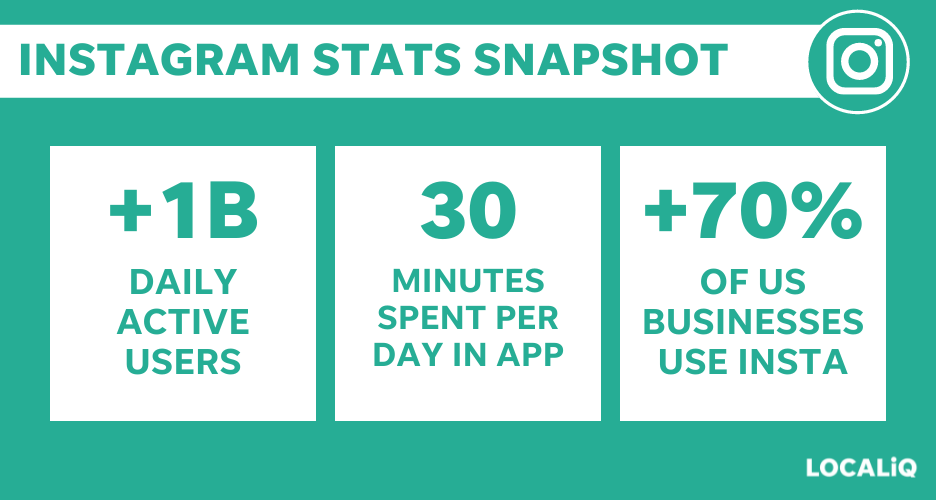 Instagram marketing and advertising stats
Fun Instagram fact: The most-followed person on Instagram is Cristiano Ronaldo with over 315 million followers. The average media value for one of his posts is nearly $1 million!
Terrific Twitter statistics
Twitter was launched on July 15, 2006, as Twttr, a side project from podcasting company Odeo. But Twitter didn't fully take off until nearly a year later in March 2007 when more than 60,000 tweets were sent per day during SXSW. Here are some interesting Twitters stats and facts.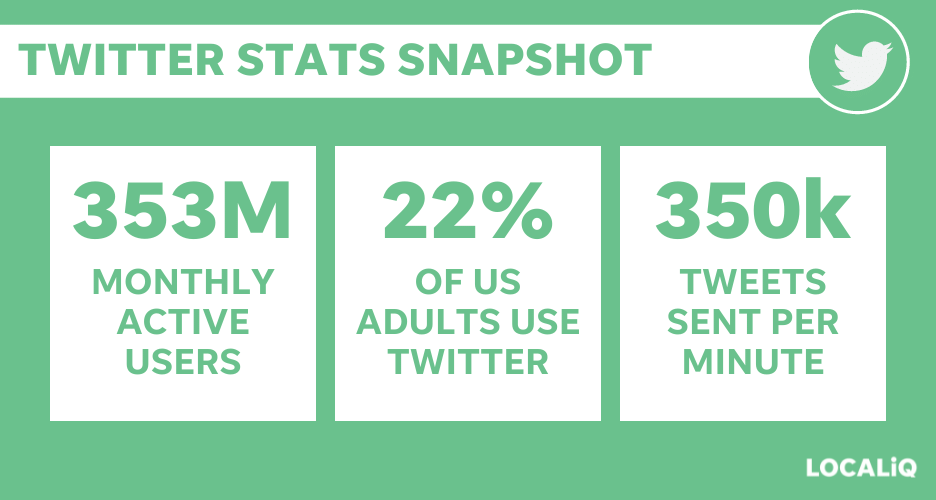 Twitter marketing stats
Fun Twitter fact: A day's worth of tweets would fill a 10 million page book.
Lovely LinkedIn statistics
Believe it or not, LinkedIn is actually older than Facebook. It was launched on May 5, 2003, a full nine months before Facebook. Here are some LinkedIn stats that show how many people use LinkedIn, how they're engaging on the platform, and how businesses can take advantage of LinkedIn marketing.
Related: Get steps to create a LinkedIn Company Page + tips for how to use it!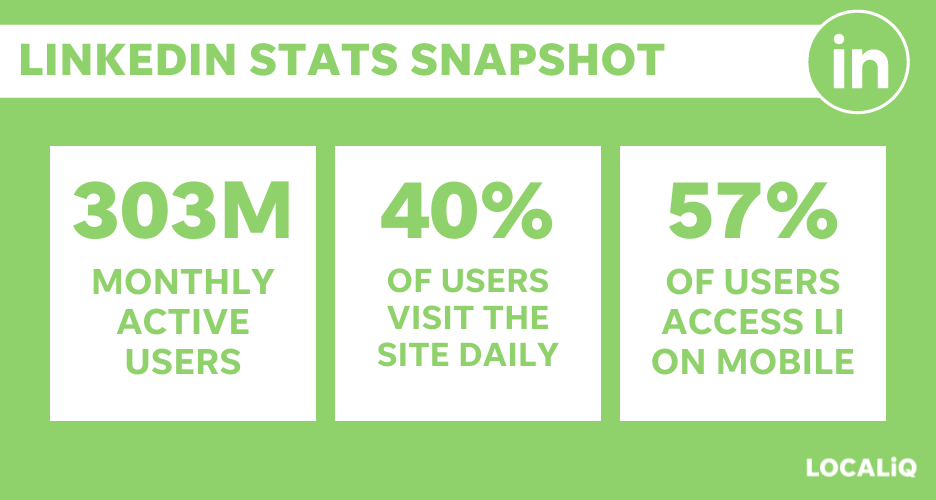 LinkedIn marketing stats
Fun LinkedIn fact: 41% of millionaires use LinkedIn, so if you're using the platform, you're in good company.
Towering TikTok statistics
TikTok's launch history is a little less straightforward than the others on this list. Here it goes: In September 2016, a Chinese company called ByteDance launched Duoyin, a lip-syncing app. In 2018, ByteDance bought and merged with a similar app called Musical.ly and rebranded as TikTok. TikTok expanded widely across the world–and viral history was made. Here are some TikTok stats that show how this new kid on the block is making a name for itself among the other social media giants.
TikTok marketing stats
Related: How to Use TikTok Marketing for Your Business
Fun TikTok fact: Fleetwood Mac's song "Dreams" returned to the Billboard charts and sales increased 3X after a video using the song went viral.
Snappy Snapchat statistics
Snapchat was launched on July 8, 2011, (originally as Picaboo but was relaunched as Snapchat just a couple of months later in September 2011). The app was first used mainly by college students to send pictures and messages that would disappear after being viewed. 10 years later, the app is now used by people of all ages–plus businesses. Here are some Snapchat stats that show just who uses Snapchat and how.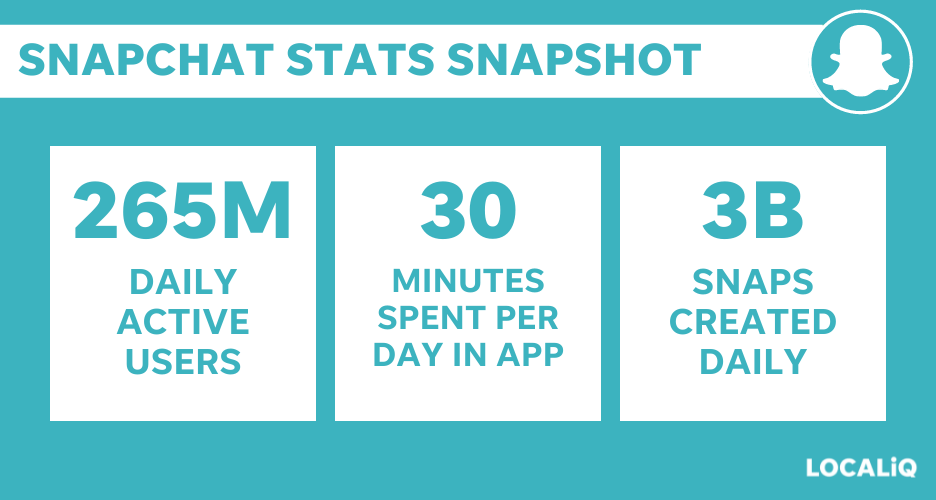 Snapchat marketing stats
Fun Snapchat fact: In 2016, Taco Bell paid a whopping $75,000 for a filter ad to show for 24 hours. The filter made your head look like a taco. Money well spent!
Perfect Pinterest statistics
Pinterest was launched in March 2010 to the founders' families and friends. It's grown from 5,000 users in August 2010 to over 450 million in 2020. Here are some Pinterest statistics that show its power.
Fun Pinterest fact: Holiday planning on Pinterest starts as early as April—nine months ahead of time! (Speaking of, is your holiday marketing ready?)
What to do with these social media stats
Understanding how people use social media is valuable for your business—it gives you the inside scoop into how you might be able to use these sites to connect with your audience, get more customers, and build your brand.
Check out our resources for your social media marketing strategy: