LIMITED TIME OFFER: 93% OFF OUR WEBSITE SOLUTION – GET YOURS TODAY FOR $9.99/mo!
No Commitment. Try for 14 days and if you're not 100% satisfied, get your money back. 6 month contract thereafter.*
You work hard enough.
The last thing you should work on is your website.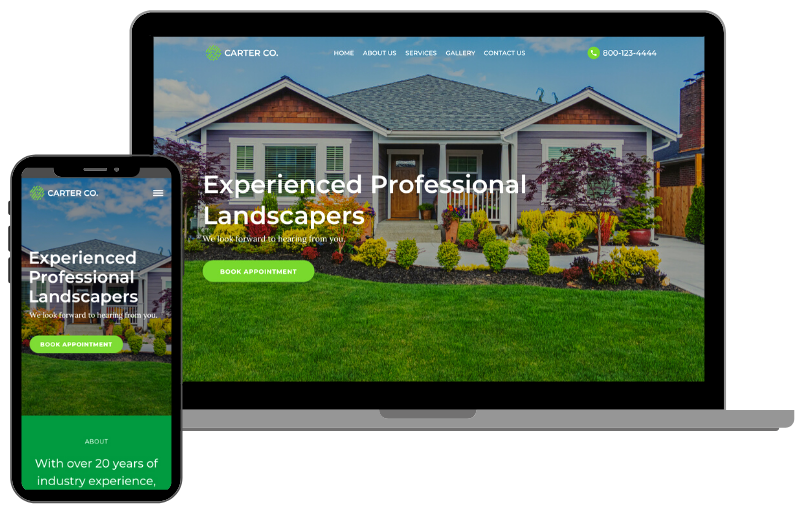 We can have your new website ready in less than two weeks. Regular updating and search-engine optimization included.
Purchase your website package for
$99/mo

$9.99/mo and get started in minutes!
Website Built For You In Less Than 2 Weeks
Ongoing support to keep your site up to date
Free custom web address for your business
Responsive design that looks great on all devices
Fully customizable themes that convert
Peace of mind with industry-exceeding security
Free stock images, videos & professional copywriting
Option to include reviews & testimonials from customers
Pick a theme, then give us some basic business info and preferences to get us started.
A 30-minute call with one of our site designers will give us everything we need to build your new website.
Our design experts will build and launch your new site in less than 2 weeks.
Customizable themes to drive your custom business goals.
Show potential customers what sets your business apart with just one glance at your new site! Countless design options, photography and professionally written content make it happen.
When compared, there's no comparison.
Features
Squarespace, Wix, Weebly & GoDaddy
Full Website Build is Completed By Developers
Legally Protected with WCAG 2.0 Accessibility Compliance
Monthly Support Time to Keep Your Site Up to Date
Domain Name Included in Subscription at No Extra Charge
Website Copy is Written by Professionals and is SEO Optimized
Effortless customer outreach.
From anywhere, at any time.
Easily manage your leads, respond to emails, and listen to calls, with our award-winning Client Center. Seize every opportunity, and make the most of your day, with 24/7 access in the palm of your hand.
A national network, locally trusted brands, and the iQ to put it to work for you.
The nation's economy, culture, and communities require businesses with local roots — those who create jobs, nurture their neighborhoods, and make a mark that matters. These locally-rooted businesses deserve to experience a stronger marketing partner: Meet LOCALiQ. Part of the USA Today Network, our marketing experts are passionate about helping small, local businesses thrive.
285MM
leads delivered to our customers
300K
customers that trust in our solutions
185MM
unique visitors per month
Built on a foundation of trust + technology.
Why is LOCALiQ the best choice for your website?
We all know it's never been more important for your business to have a website, but we also know that your time is valuable. You have a million decisions to make each day. Writing the copy or picking images for your website shouldn't be one of them.
If you're a busy business owner not looking to beef up your coding knowledge and would much rather avoid a drag-and-drop fatigue, then LOCALiQ's website solution is for you.
How is this different than other site builders?
For starters, you don't have to do anything but point us in the right direction. No coding experience required and no hours lost dragging and dropping content.
What is LOCALiQ?
Glad you asked. LOCALiQ is part of the massive USA Today Network made up of more than 300K customers nationwide. We've built local trust over years of valued journalism and combined with our intelligent business solutions, tech, tools and industry-leading products and insights.
How does this really work?
With LOCALiQ, you truly do simply give us some basic information and any preferences, have a quick 30-minute phone call with a designer then go on with your life while we build your website. Behind the scenes, our designers are doing the coding, SEO considerations and so much more.
Frequently Asked Questions
Ready for your new revenue-driving website?
You pick the design and tell us about your business. We build and manage your website for you.
*This Order Form is with ReachLocal, Inc. ("LOCALiQ") for the number of cycles set forth above and is non-cancellable. After the initial term, your Order Form will automatically renew in accordance with the Marketing Services Terms. Service begins on the date of your order. All dollar ($) amounts are expressed in United States Dollars. Initial payment is for one (1) month, and you authorize LOCALiQ to charge the credit or debit card you provide (the "Card") for all amounts owed, including recurring payments when due. Should charges be declined, LOCALiQ will promptly recharge the Card for the amount due. Monthly rate is not inclusive of sales tax, which will be determined at the time payment is made.w