2023 Facebook ad sizes
After you've put in the effort to implement your beautiful new Facebook ads, the last thing you want is to find them on feeds blurry, poorly cropped, or otherwise visually unappealing.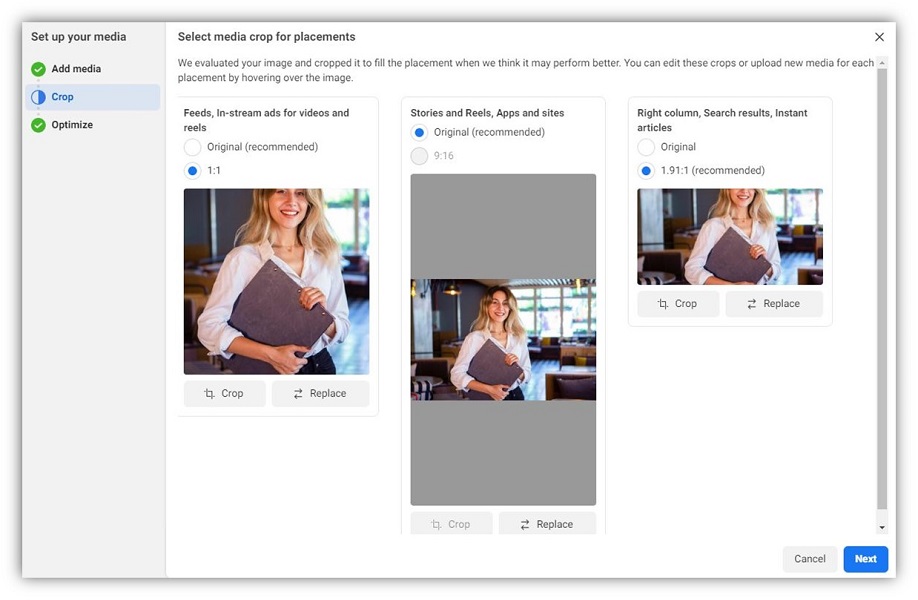 Just looking at these possible Facebook ad size issues above is enough to make you double-check your media sizes every time!
This can be easily avoided by sticking to the specified requirements for different types of media within your Facebook ads.
Facebook video ad sizes
Here are the sizes for Facebook video ads:
Minimum resolution: 1080 x 1080 pixels
Maximum file size: 4GB
Minimum width: 120 pixels
Minimum height: 120 pixels
Video duration: 1 second to 241 minutes
Facebook image ad sizes
If you're creating a single-image Facebook ad, stick to these specifications:
Minimum resolution: 1080 x 1080 pixels
Maximum file size: 30MB
Minimum width: 600 pixels
Minimum height: 600 pixels
Facebook carousel ad sizes
Facebook carousel ad sizes are as follows:
Minimum resolution: 1080 x 1080 pixels
Maximum file size per image: 30MB
Maximum file size for video: 4GB
Video minimum width: 120 pixels
Video minimum height: 120 pixels
Image minimum width: 600 pixels
Image minimum height: 600 pixels
Number of images or videos per carousel ad: 2-10
Try using marketing tools to template out your creative sizing ahead of time. Canva, for example, can help with this. Lastly, if your ideal image or video doesn't fit at first, try to get a new creative idea from other Facebook ad examples instead.
Get your Facebook ad sizes right every time
Once you've become familiar with the right Facebook ad sizes for your desired ad format, you can get into the fun stuff: picking out your favorite images or videos!
Test out any creative assets in various sizes so you know what works best for your business's Facebook ads. This can save you from headaches later and ensures you're using media that keeps your ad format options open.