Make sure your business gets found with our business listings management solution. We'll help you get accurately listed where it matters to drive more visits, calls, and clicks to your business.
Update all your listings with one click
Your business listings can be easily managed across up to 50+ online directories, including Google Business Profile, Apple Maps, Bing, Yelp, and more—all from one master listing in a single dashboard.
Get easy-to-read dashboard reports
See how your local business listings are performing, make updates and review your online info, and view reports on how people are getting to your listings.
Increase your business's visibility
Be seen by the right audiences. Your directory listings show up in search results when it counts, so you can attract new customers.
Stay on top of your reviews
See your average star rating and most recent reviews, then easily respond to them with our all-in-one platform.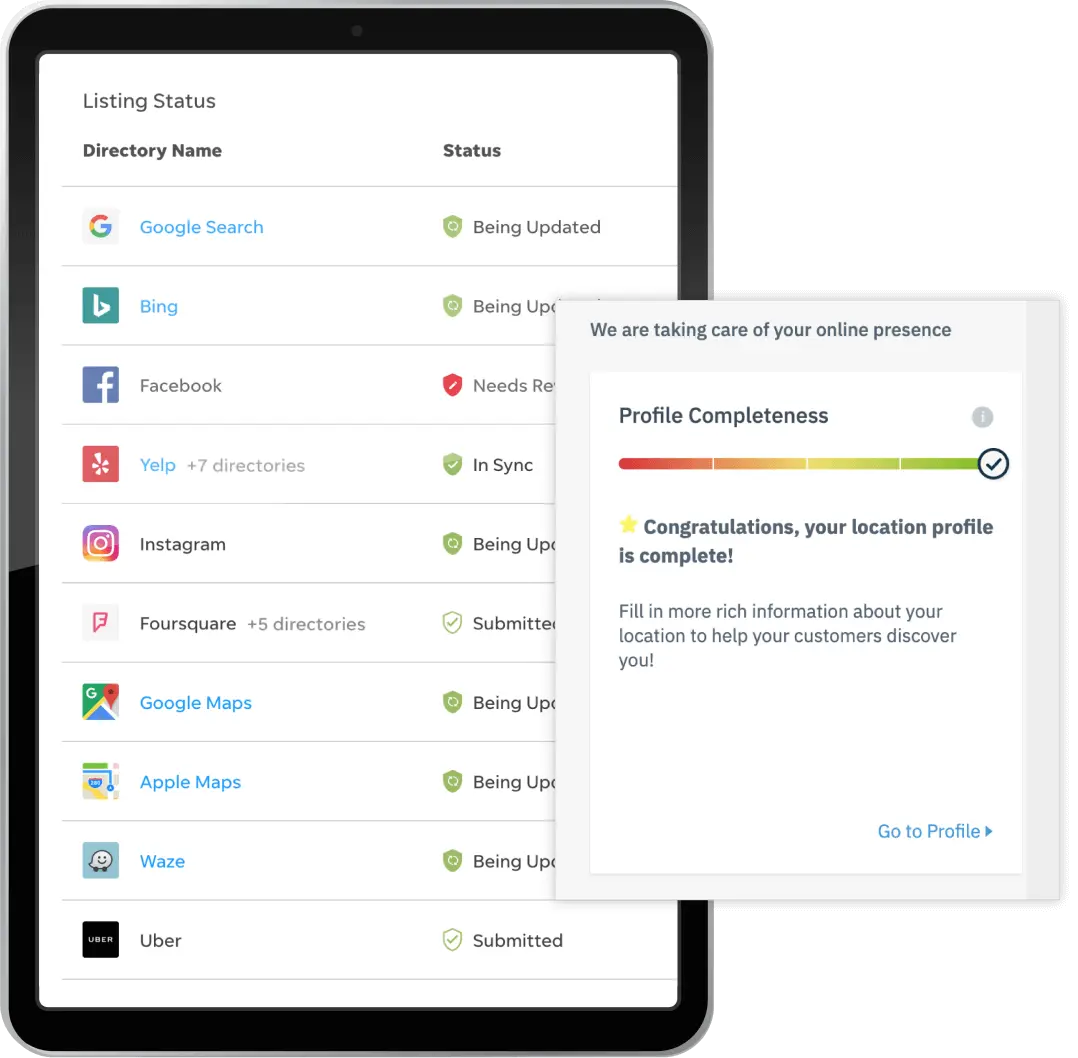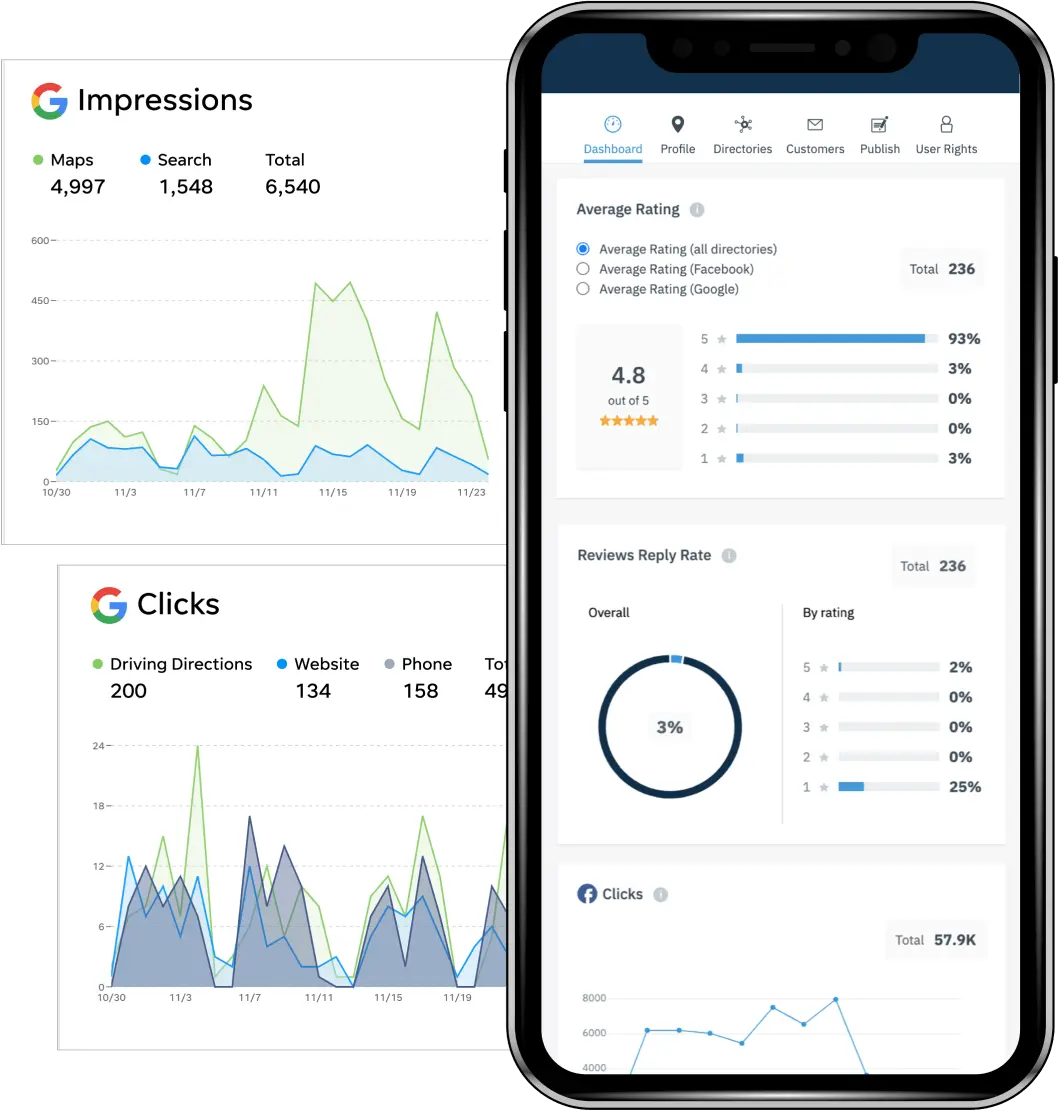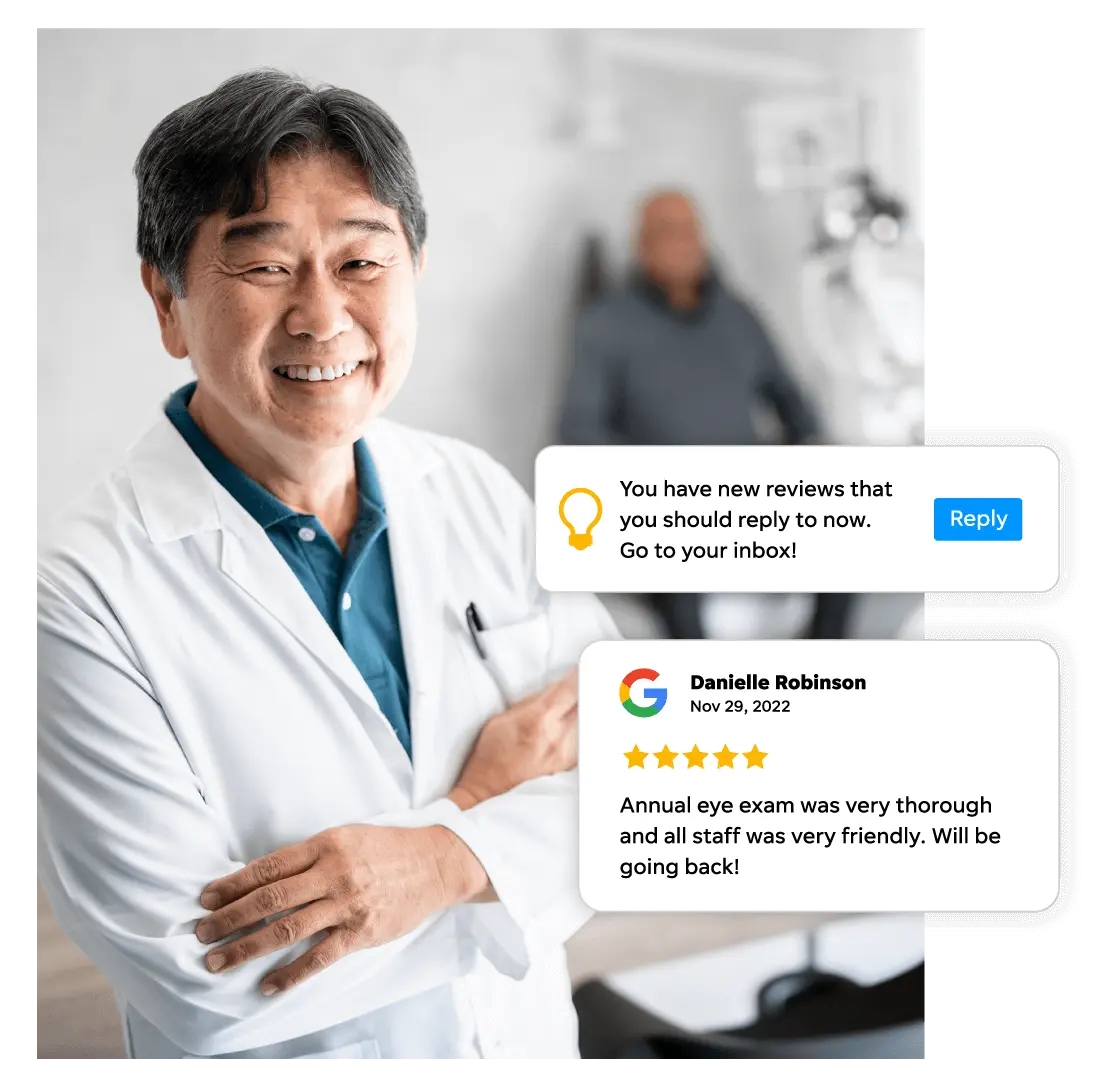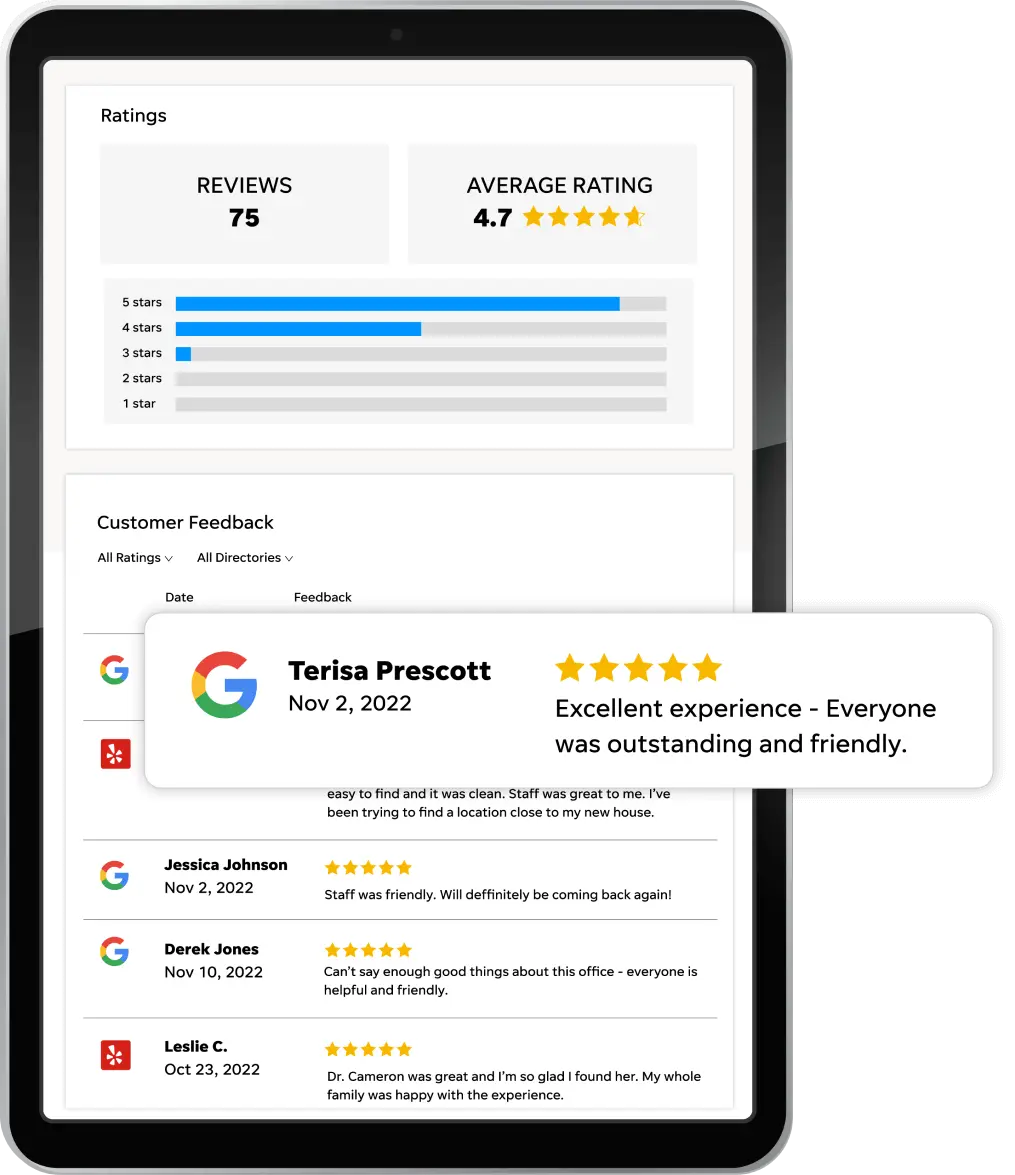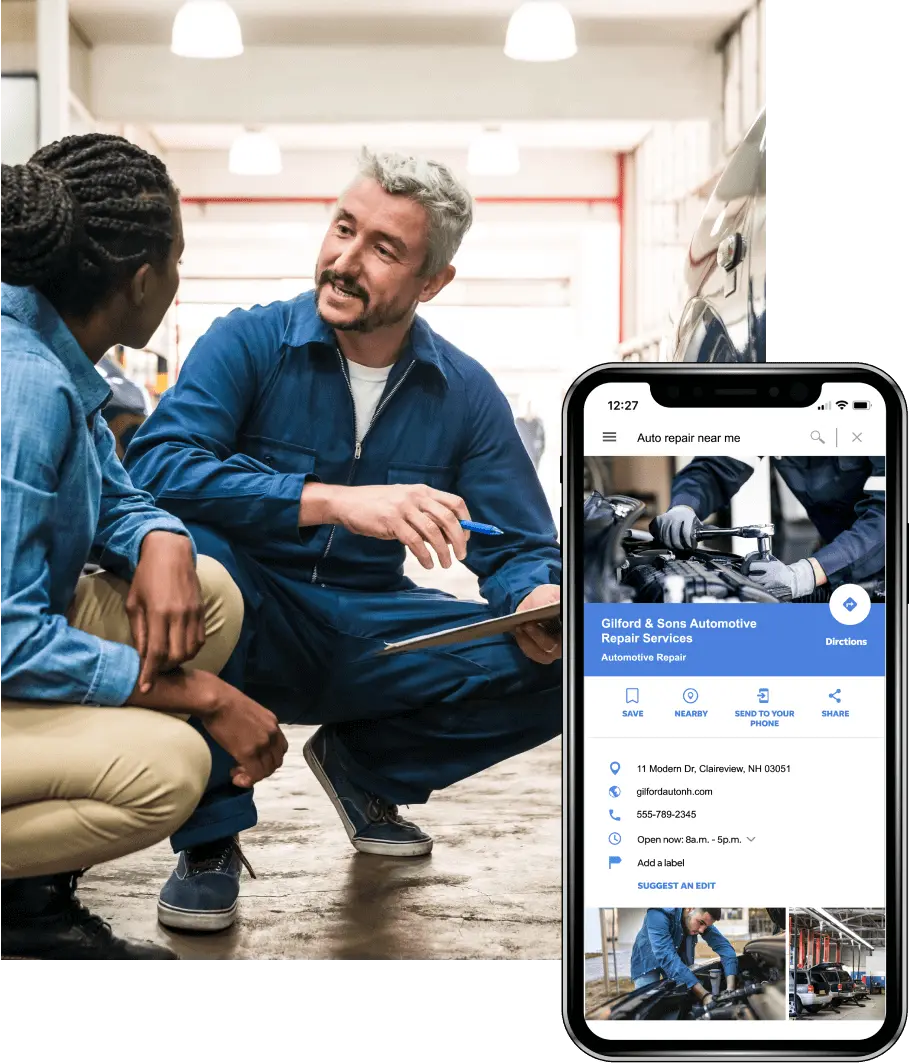 Managing your business listings is easier than ever
Manage your listings across one or multiple business locations

Up to 50+ online business listing directories

A single dashboard to manage and automate listings updates

Simplified review monitoring and management

Comprehensive and easy-to-read reporting
Pricing
Find a plan that's right for your business
Listings Pro
Best low-budget plan
Get business listings management across 20+ directories, including:
Automated listings updates and syncing across directories
Duplicate listing removal
Google and Facebook integration and reporting
Review monitoring
Robust reporting
Ongoing data clean-up
Listings Pro+
Get everything that's included in the Listings Pro plan, plus:
Review monitoring + review response
New review notifications
Easily respond to reviews
Instantly post social updates to Google, Facebook, and more
Listings Premium
Most flexible plan
Contact us for a quote and to learn more about our solutions.
Get everything that's included in the Listings Pro plan, plus:
Listings management across 60+ directories
Review monitoring
New review notifications
Easily respond to reviews
Instantly post social updates to Google, Facebook, and more
Advanced analytics
Optional healthcare directories
Since working with LocaliQ for our listings, we've seen a lot more traffic to our website, and we've been getting calls from people from all over.
Explore a range of common questions about Listings, and see how your business may benefit from a demo.
How does LocaliQ Listings work?
LocaliQ's business listings management solution syndicates your business details across dozens of the most valuable directories so the information is accurate and customers can find you right when they need you.
Listings searches popular business directories for your listing, verifying that your business is cited where it needs to be. The technology also seeks out duplicate listings so they can be removed. It then corrects inconsistencies in your business listing details like name, address, and phone number.
With LocaliQ's API integration into the business directory list, any changes you make (business hours, services, etc.) are distributed and updated across all online directory listings. You enter your information once on your Marketing Dashboard, and the technology does the rest.
Listings' review management feature lets you view your average star rating and most recent reviews. You can also respond to reviews through your Dashboard.
To help you fully manage business listings, LocaliQ's solution provides enhanced reporting to see how your business listings are performing and understand how people find your business.
What are the different tiers of LocaliQ's Listings?
LocaliQ's Listing solution is offered in three pricing tiers to match your business's needs.
Listings Pro is a self service plan that lets you manage business listings in more than 20 business directories. Some high-traffic directories you can connect with include:
Google Business Profile
Bing Places
Apple Maps
Yelp
Waze
Uber
Facebook
Foursquare
Citysearch
YellowPages
It provides automated updates and syncing plus duplicate listing removal. Listings Pro comes with a Facebook and Google listings integration, review monitoring, and enhanced reporting.
Listings Pro+ is also a self service plan which ads integrated review response and new review notifications to everything offered in the Pro plan. Pro+ also lets you instantly post on Google, Facebook, and more.
Listings Premium provides everything from the Pro and Pro+ tiers but gives you access to our team of experts to manage changes for you. This top plan also expands the number of directory integrations to over 60 and provides advanced analytics. Listings Premium includes healthcare specific directories.
Can I manage multiple sites with LocaliQ's Listings?
Yes, you can manage up to nine individual business locations with LocaliQ's standard tiers, and more with a custom Listings plan.
Multiple-site listing management makes it easy for you to make sure the addresses, phone numbers, and business hours are current for each of your business's locations.
What information can I manage with Listings?
With Listings, you can add and update business descriptions, service areas, special opening hours, images and more. This is in addition to standard business listing details like name, address, and phone number.
All of your business's information is automatically syndicated across dozens of business directories so you can generate leads without manually manipulating each listing.
What are local business listings?
A local business listing is a profile of a business that appears in online directories when someone searches for a business with local geographic presence. For instance, when a Google user searches for a "coffee shop near me," the search engine results page shows local business listings for cafes in the user's immediate vicinity.
Local business listings appear in several different types of business directories. You may find the same coffee shops listed on Google results pages, in Yelp reviews, and on the Waze app.
A business listing will typically include the business's name, address, and phone number at a minimum. Many listings also include images, menus, service areas, and hours of operations, as well as reviews and ratings.
Local business listings are also sometimes referred to as local citations or business citations.
What are local business listings?
Local business listings let your business get found online. If you're not listed in business directories, someone searching for the service you provide will find your competitors instead of you.
The positive customer reviews that most business directories include help to build trust with people looking for local businesses. The more websites that showcase your positive reviews, the more leads you're likely to drive to your business.
Business listings also help with SEO. When Google sees that your business is listed accurately and consistently on several directories, it signals to the search engine that your business is legitimate and trustworthy.
How do I get my business listed in online directories?
To get your business listed in directories, start by searching Google for your business' name to see if you have a Google Business Profile. Often, Google will create a profile for businesses automatically. If you see a Google Business Profile for your company, you'll need to claim it with Google so you can make changes.
Once you've claimed your Google Business Profile, verify that the information is correct and update it as needed.
Then you can either check other directories individually for your accurate listing, or you can use our free local business listing tool to check multiple listings automatically.
How can I tell if my local business listings are up to date?
You have two options for verifying the accuracy of the information in your listings.
First, you can check each directory individually. To do it, go to the directory's website and type in your business's name. Make sure to check things like your service area and business description as well as name, address, and phone number.
Alternatively, you can use a local business listing tool to review dozens of directories from one location.
Why do I need to manage business listings?
Google often creates listings for businesses automatically. Listing aggregators scrape your company's data and send it to many other business directories. Through this process, one piece of inaccurate information could wind up on dozens of websites, leaving your potential customers confused and you with fewer leads.
Tracking and managing your local listings lets you make sure that all of your information is accurate, no matter which business directory shows it.
Listings management also gives you more clarity into how people find your citations online and how they're rating your business.
Why are duplicate listings bad for my business?
A duplicate listing means a single business location has more than one listing on a particular business directory. This may happen when a business uses variations of its name ("Smith & Sons Plumbing" vs. "Smith and Son Plumbing") and aggregators create a listing for each. It can also occur if an employee unknowingly creates a new listing where one already existed.
However they happen, duplicate listings can negatively affect your business in a couple of ways. First, each listing would need to be monitored for correct information. So even if you make sure that one business citation has your updated hours, the other may not.
Second, Google and other directories may see multiple listings as an attempt to gain more exposure on the site. In turn, those directories could deprioritize your listing, leaving your business off of results pages.
Why does my business need a local business listing tool?
There are dozens of high-traffic directories that could be driving foot traffic, phone calls, and appointments for your business. It's nearly impossible to manually monitor and update each directory individually. A local business listing tool automatically corrects inconsistencies in important information and lets you update many online directories at once.
Additionally, with a listing tool you can view and respond to reviews from multiple directories from one location. Logging in and out of Google, Facebook and more to do that would be very cumbersome.
With a listing tool, you also get more transparency into the performance of each directory. You can compare which directory delivers the most leads and how people are finding your listings. Many business directories don't offer that data and you wouldn't see it across multiple directories without the listings tool.
How is a business listing aggregator different from a business directory?
A business directory is a website that posts business listings online. Directories may exist on search engines (Google), social media platforms (Facebook), navigation apps (Waze), and review websites (Yelp).
A business listing aggregator collects listing information and distributes it to directories. Infogroup, Factual, and Acxiom are examples of business listing aggregators.
While aggregators do help share your business information with a variety of directories, you can't be sure the details are correct. And no aggregator works with every directory, meaning there will be gaps in places your company is not presented.
How does business listings management help me rank on search engines?
Search engines like Google consider data trustworthiness to be of premier importance so its users have the best experience. Whenever Google detects inconsistencies in data, it considers the information untrustworthy and will be less likely to show it in search results.
Business listings can be created and updated without your knowledge. If, say, your business address is incorrect on a few directories, Google may read that as inconsistent and untrustworthy data. Your Google Business Profile may not get a top spot on Google Maps or in search results. Good business listings management will keep your listings current and error free.
Additionally, when your business listings are actively managed, you'll know when a review comes in and be able to respond to it. Reviews and responses that mention relevant keywords can positively impact your SEO.
How else can LocaliQ help my business grow?
Local business listings work best alongside other digital marketing techniques. LocaliQ is a complete growth marketing platform that allows you to find, convert, and keep more customers.
LocaliQ offers several marketing solutions, including:
Search, Video, Display, and Social Ads
Websites and landing pages
SEO
Chat
Contact us and find out which solutions are right for your business.
Ready to get started?
Connect with us.
Demo our business listings management solution and other products for your business needs.