Drive more leads to your business with LocaliQ's innovative PPC management technology and expertise. We'll help you do everything from account setup and keyword creation to data analysis and reporting across Google Ads and other search engines.
Experience the power of XMO
Optimize your search ad campaigns with help from our cross-media optimization technology. XMO enables goal-based advertising using insights, optimizations, and actions to deliver results.
Maximize your budget
Get real leads, not just clicks. Our platform uses historical data to continuously optimize your Google ads and other PPC campaigns over time, finding the right keywords, bids, and placements for your business.
Know exactly how your campaigns are performing
View real-time data like site visits, calls, emails, and forms submitted with online and mobile reports through our lead dashboard.
Put your trust in us
Get the latest and greatest insights for your business. We have leading partnerships with Google, Yahoo, and Microsoft that will help you grow.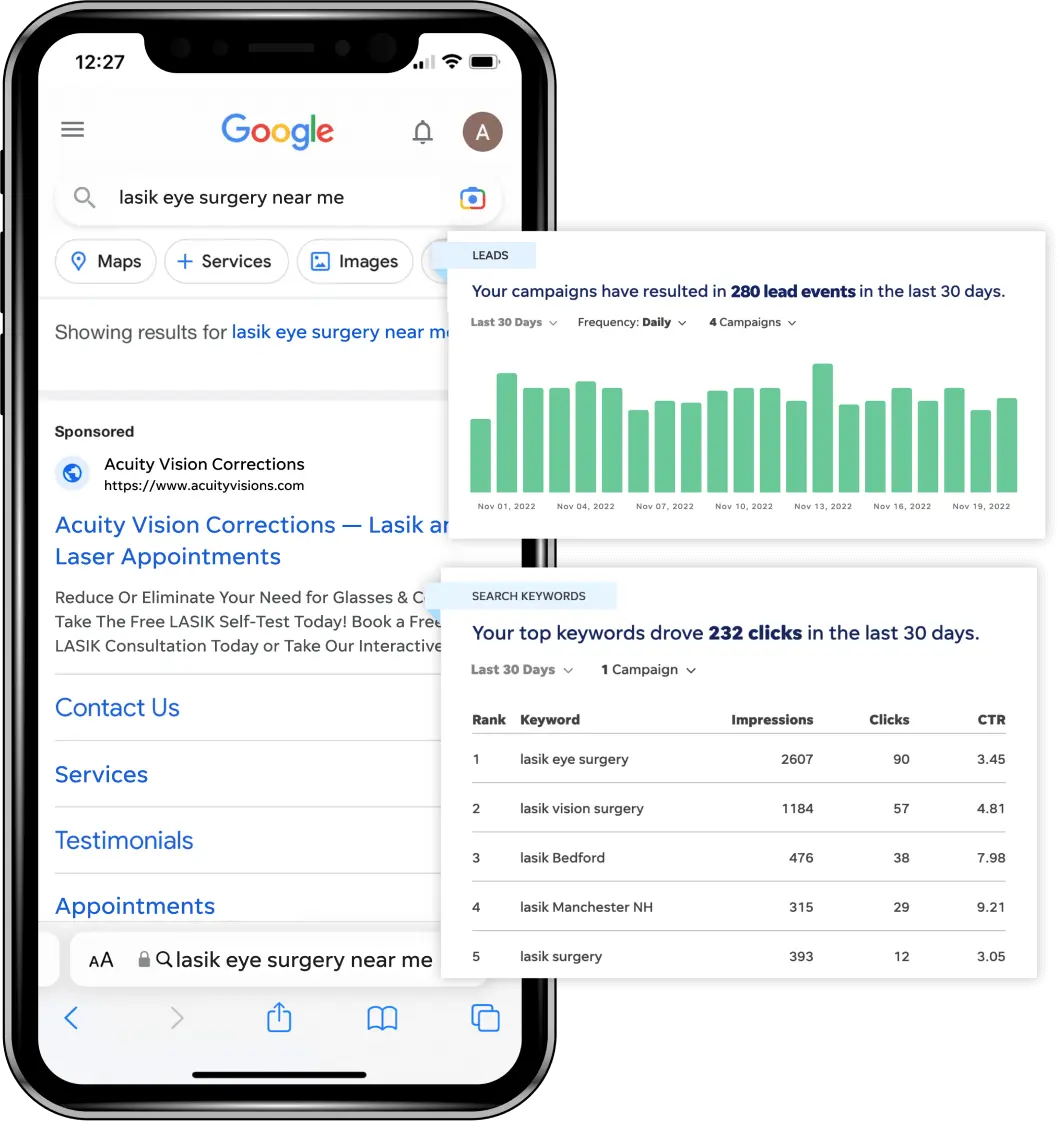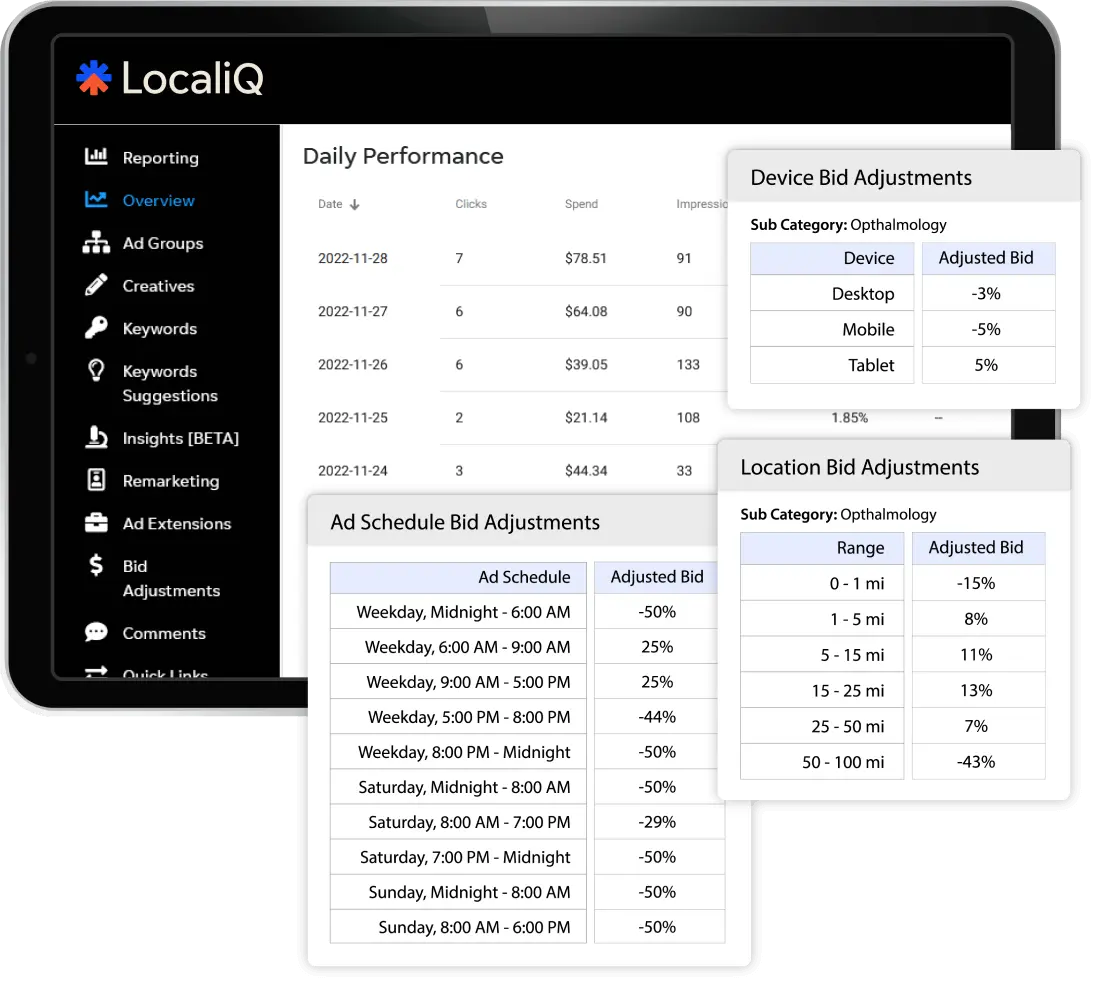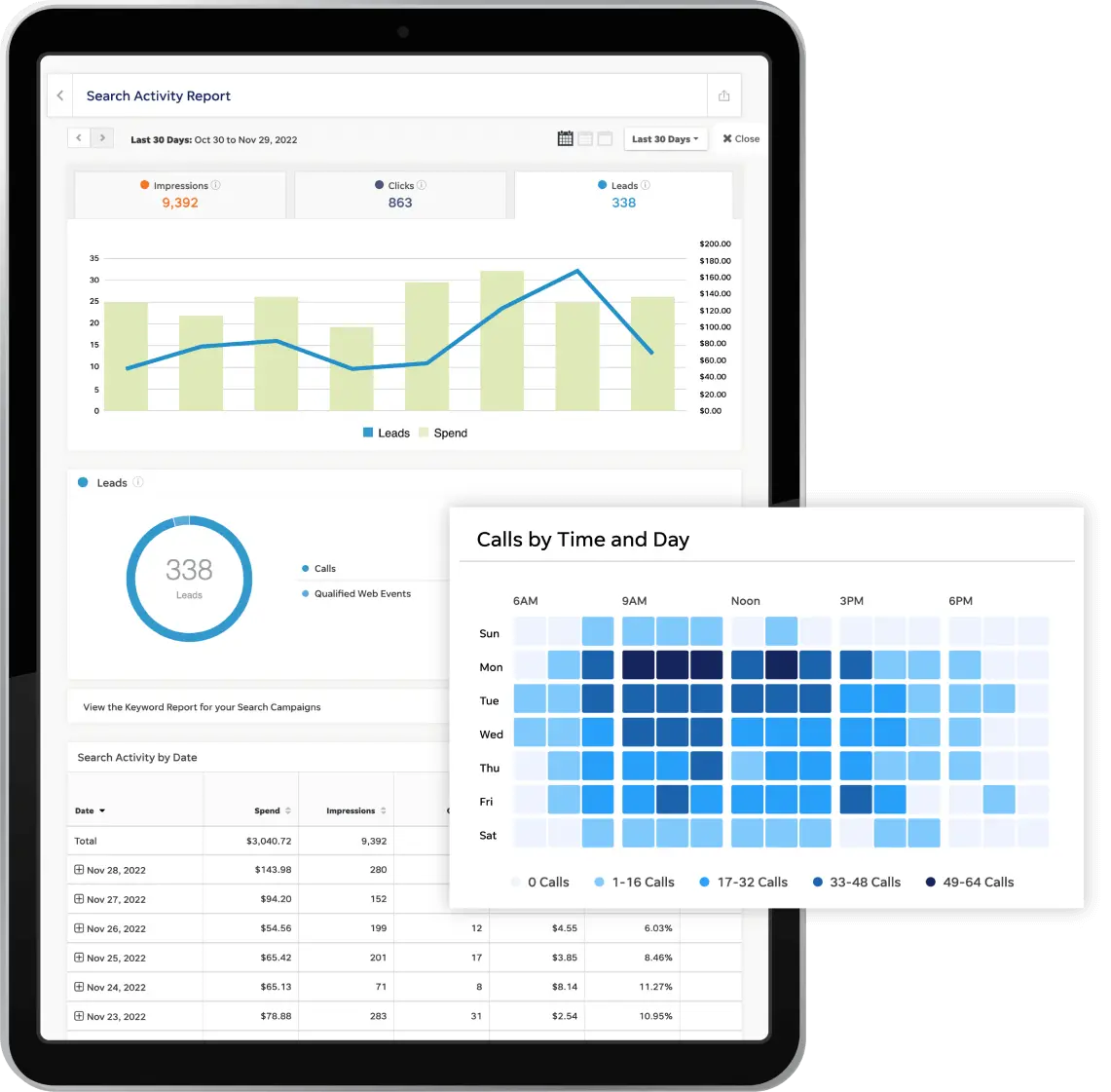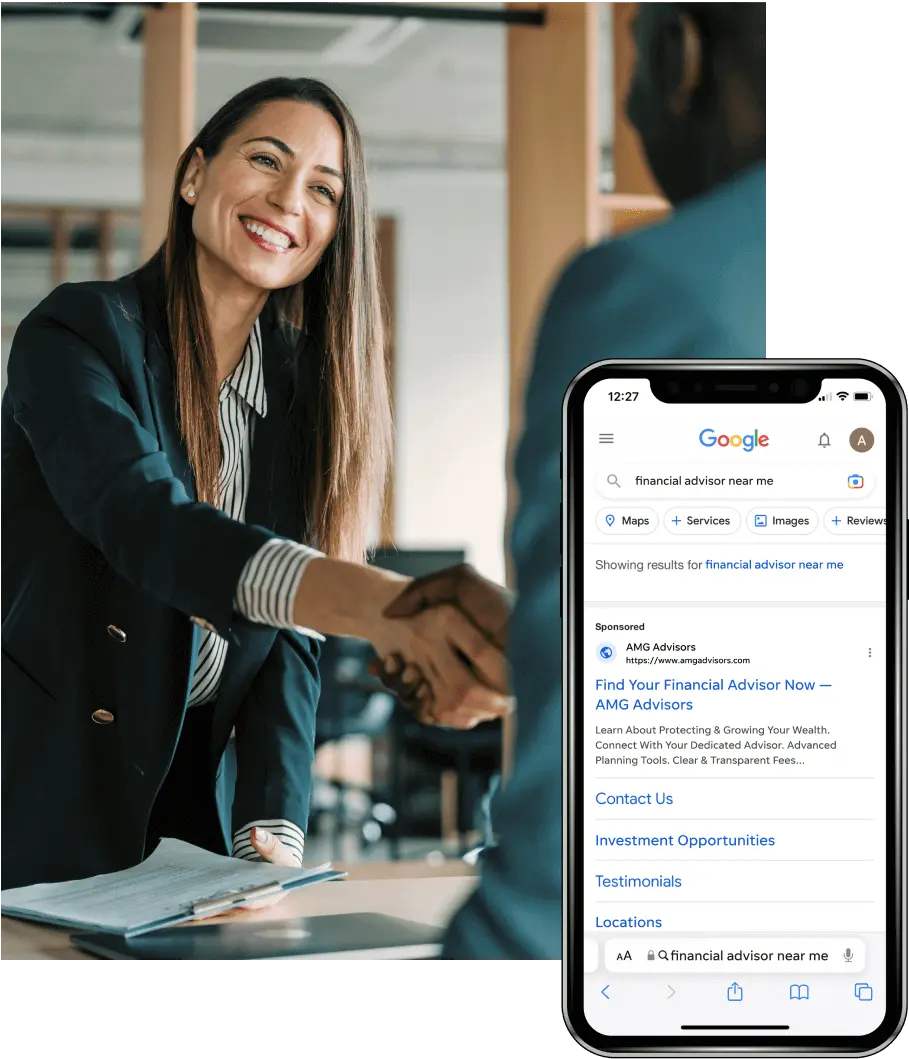 Get more leads for your business
Flexible search ad management across Google, Microsoft, and all major search engines
Smart budget optimization
Comprehensive and easy-to-read reporting
Explore additional features like Local Services Ads, Shopping Ads, and mobile ad call extensions
Pay-per-click from LocaliQ is a key driver for our business growth—it just works!
Explore a range of common questions about Search Ads, and see how your business may benefit from a demo.
What's included with LocaliQ Search Ads?
LocaliQ's Search Ads provides an award-winning search and PPC marketing solution that includes our proprietary smart technology, extensive marketing expertise, and transparent reporting.
With LocaliQ's PPC management services, you get:
Account set up: We'll get your campaigns up and running quickly, often in 3-5 business days, so you can start generating trackable traffic and conversions.
Dedicated PPC management services: Our PPC marketing experts use our proprietary technology to manage your search marketing campaigns based on your specific advertising objectives and budget.
Data-driven keyword research: We create a custom keyword strategy based on your business and geography that's backed by data from running more than three million monthly search campaigns.
Optimized PPC ad copy: Our experts will create quality-award winning ads that consistently garner high search engine Quality Scores leading to lower keyword bids and higher ad ranking.
LocaliQ platform: Our proprietary ad management technology enables goal-based PPC advertising that automatically drives budget to the highest performing keywords and search engines.
Unparalleled audience reach: The LocaliQ network goes beyond Google to cover 98% of the places people search.
Transparent reporting: We automatically track conversions both online and off, providing you with real-time lead reports that show interactions like site visits, calls, emails, and form visits.
How do I get started using LocaliQ Search Ads?
To get started, connect with a LocaliQ consultant who'll give you a test drive of the products and help find the right solutions for your business.
From there, we'll conduct an audit of your current PPC ads account and create a strategy to increase leads and conversions.
Then we'll get your account set up and start optimizing ads so you can start getting leads in as early as 3-5 business days.
How does LocaliQ Search Ads deliver more leads for less budget?
LocaliQ's Search Ads solution combines human expertise with PPC ad management technology to optimize your ad campaigns so you get higher-quality leads at lower costs.
Our LocaliQ platform, which powers our PPC ad management and other ad products, automatically allocates your PPC budget towards the highest performing keywords and search engines. XMO reduces wasted spend by quickly diverting budget away from poor performers. Your ad dollars are focused on the ad networks and channels that get you the best results.
Our keyword research is informed by the more than three million monthly search campaigns. With this data in hand, we customize a list of keywords based on your business and geography. Better PPC keyword targeting can reduce costs and deliver leads that are more likely to convert.
LocaliQ's partnerships and award winning ad quality means more efficient PPC ad spend for you. We're a Google Premier Partner and a Microsoft Elite partner, so your ads will be instantly recognized by all the major search engines as using the best practices.
We're also a three-time winner of Google's Quality Account Champion award. Ads with high Quality Scores are more likely to be seen on search engine results pages and can have lower PPC costs. Your LocaliQ PPC expert will work to improve and protect the Quality Score of all your ads.
How do I know my PPC ads are working?
With LocaliQ's online and mobile reporting, you get any time access to real-time reports where you can view conversion data like visits, calls, emails, and form completions.
Through your LocaliQ Marketing Dashboard, you'll have access to call recordings and be able to engage with leads from your Dashboard inbox. Note: this feature is not available for HIPAA clients.
What is PPC (pay-per-click marketing)?
Pay-per-click marketing is an advertising strategy where advertisers pay a small fee every time someone clicks on one of their ads. The most common type of PPC ads appear on search engine results pages, but they can also display on social media platforms and websites.
On search engines, PPC ads display at the top or bottom of the results page and are tagged with the word "Ad" or "Sponsored" to delineate them from organic results. PPC ads can also appear in map search results.
How does PPC work?
In PPC advertising, advertisers bid to have their ads displayed when a user enters a particular keyword or keyphrase in a search engine. When a user enters a targeted keyword, the ad with the winning bid appears on the user's results page.
The two most important factors that go into deciding the winner of an ad auction are the maximum bid price and the ad's Quality Score.
The maximum bid price is the highest dollar amount the advertiser is willing to pay for each click on their ad. Higher PPC bidding amounts are more advantageous to search engines, so higher bids have a better chance of winning an auction.
Search engines want users to have a good experience, so they also consider an ad's Quality Score when deciding which PPC ads to display. A Quality Score takes into account the ad's relevance to the keyword, the expected clickthrough-rate of the ad, and the landing page experience provided by the advertiser.
Why should I invest in PPC advertising for my business?
PPC advertising delivers fast, cost-effective, measurable results while also expanding your presence on search engines beyond what SEO can do alone.
With PPC ads, it's possible to generate leads almost immediately after your first ad displays on a search engine results page. SEO, by contrast, can take months to generate a significant amount of traffic. So while SEO provides great returns in the long run, PPC is a perfect complement to it for fast results.
Many advertisers find PPC marketing to be more cost effective than other options like TV or billboard ads. That's because you only pay when someone clicks on an ad.
There is also more transparency around the results of pay-per-click ads. It's possible to see, in real time, how many people take certain actions from an ad. And with search ad extensions, you can track who places a call, fills out a form, or requests a quote. It's difficult to achieve that level of attribution from print or TV advertising.
How do PPC management services work?
PPC management is the process of performing all the tasks involved in PPC advertising. PPC management will typically include setting up a PPC account, keyword selection, budget allocation, and ad optimization.
A PPC management company or paid search agency will typically take on PPC management. Some PPC management services are provided by PPC experts, some are software-based, and a few combine both. Many PPC companies offer Bing and Google Ads management services.
PPC management services are used by businesses to free up their time and to take advantage of the experience of PPC experts. Since pay-per-click advertising benefits from a large data set and expertise to inform keyword selection and bid strategies, PPC companies can often deliver better results in the form of more leads and lower PPC costs than a business can achieve in house.
How much do PPC ads cost?
In PPC advertising, you'll be charged a small fee every time someone clicks on your ad. The cost of PPC depends on the price you pay for each click and the maximum budget you've allocated in the PPC auction.
The average cost per click varies by the competitiveness of the keyword, the industry, and the geography of the target audience. For example, in our 2023 Google Ads Benchmark Report, we found a wide range of costs that differed sharply from one industry to the next.
The maximum budget allocated to PPC ads is determined by the advertiser. In PPC auctions, it's important that the budget is optimized so it's spent on the keywords and publishers that deliver the most leads for the least amount of money. Experienced PPC management companies can help maximize the return from PPC ads.
How else can LocaliQ help my business grow?
PPC advertising works best in concert with other digital marketing techniques. LocaliQ is a complete growth marketing platform that allows you to find, convert, and keep more customers.
LocaliQ offers several marketing solutions, including:
SEO
Chat
Websites and landing pages
Display, Video, and Social Ads
Contact us to schedule and demo and learn which solutions are right for your business.
Ready to get started?
Connect with us.
Demo our search ads solution and other products for your business needs. Our team of experts can help you see the results you want.