Reach more of your potential customers and boost online visibility with social media advertising. We'll work with you to build an effective social ad strategy based on your unique goals and budget.
Get the best results for your business
Optimize your budget with cross-media optimization. Our XMO technology lets you set one budget for your business goals, adjusting spend between channels based on real-time performance.
Have everything you need in one place
See performance and results from your social ad campaigns across multiple platforms in one unified marketing dashboard.
Know your campaigns are in good hands
You deserve a partner that's committed to delivering excellence. Our experts can help you run great ads across Facebook, Instagram, Snapchat, and more.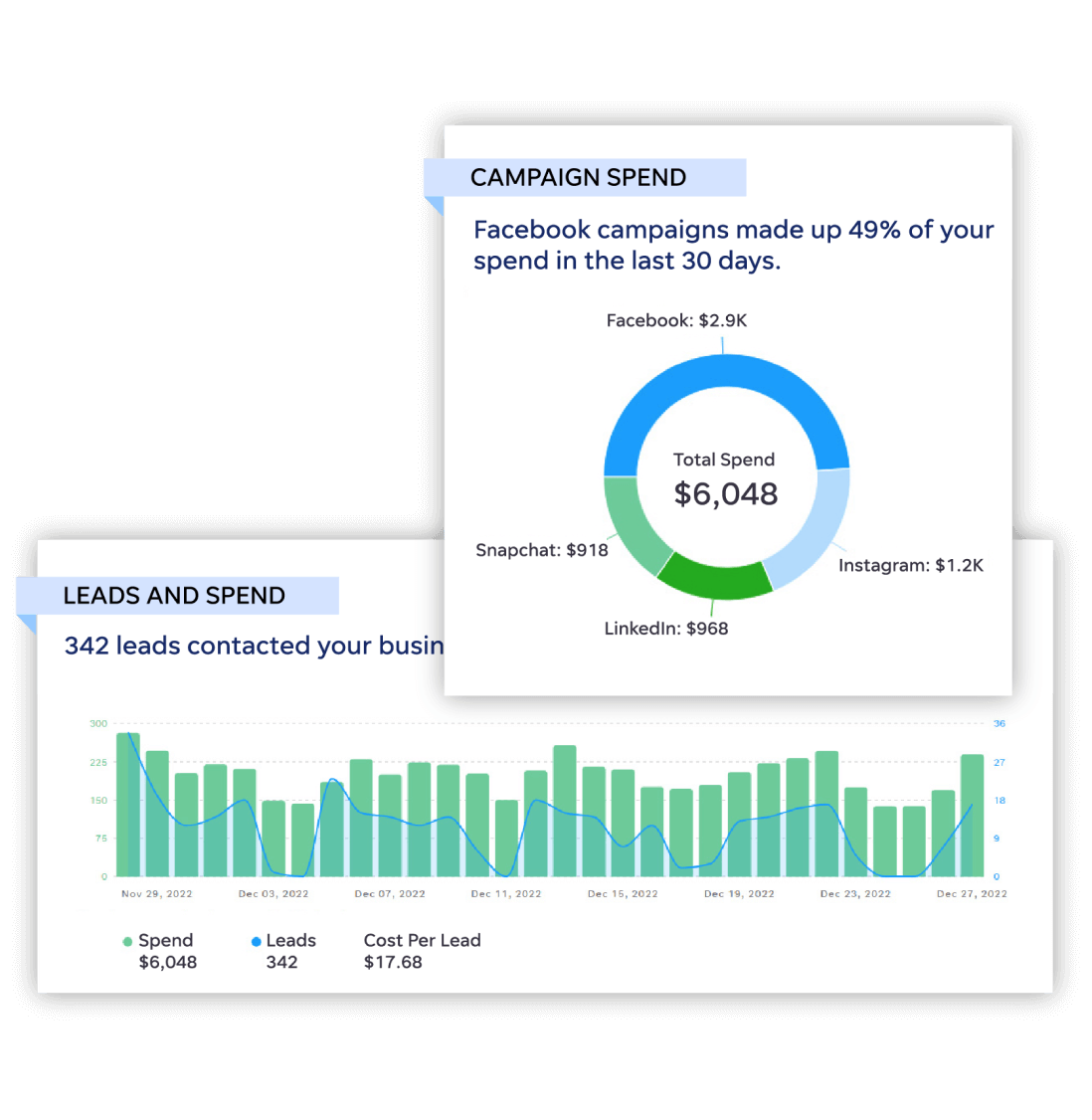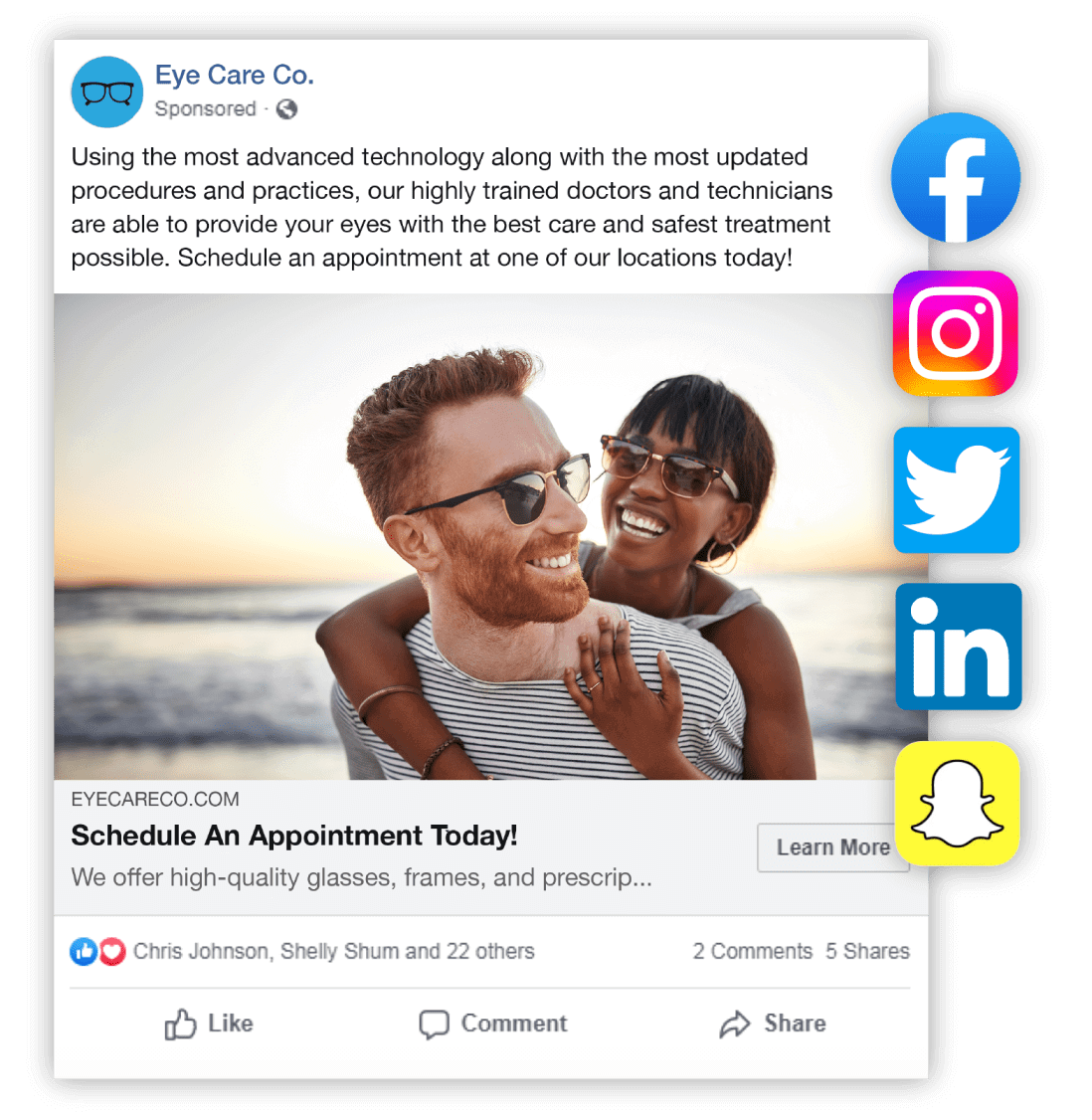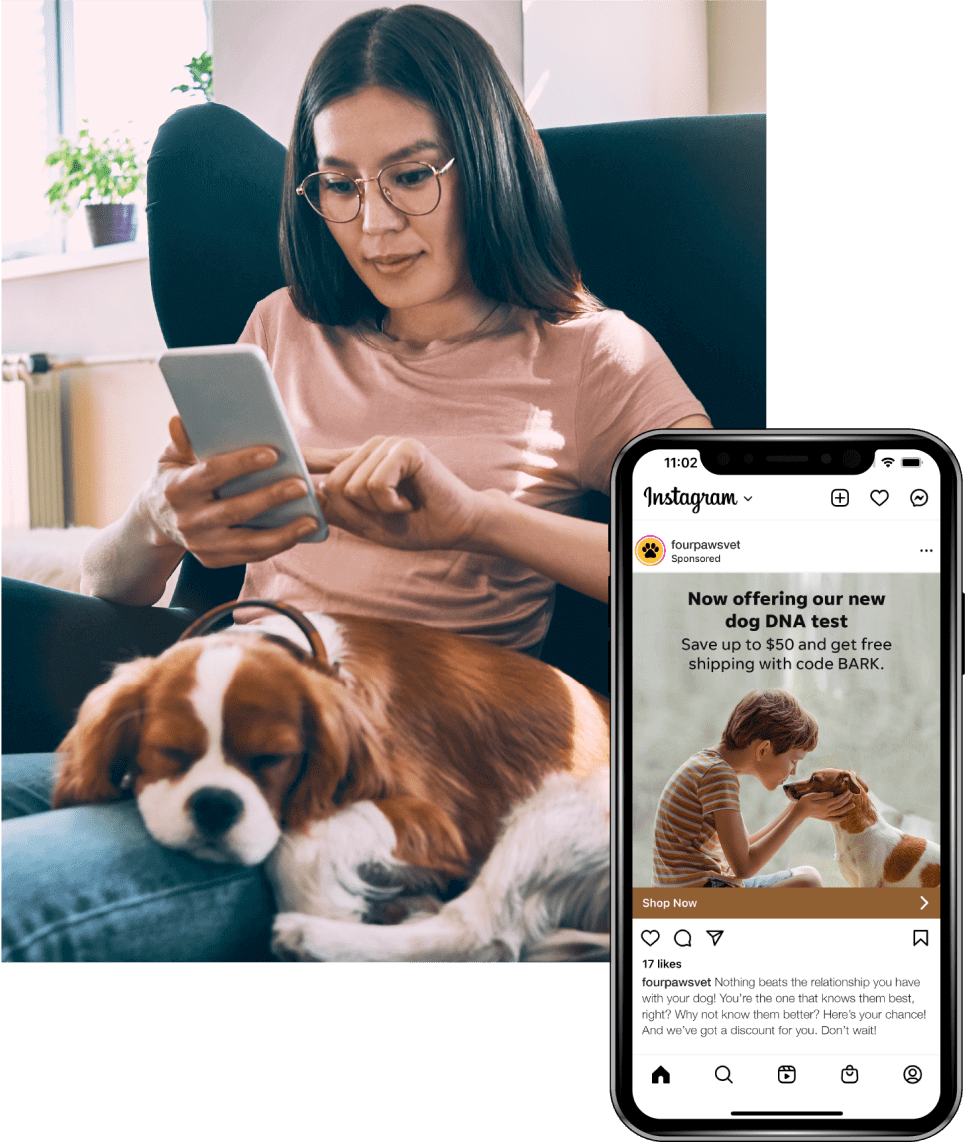 Connect with the right audiences through social ads
Facebook ad management
Instagram ad management
Facebook Audience Network ads
Advanced targeting options
Smart budget allocation
Explore additional ad types on Snapchat, Pandora, Spotify, and more
We've seen a higher quality of leads and a tremendous increase in the number of calls and conversions since we started using Social Ads from LocaliQ.
Explore a range of common questions about Social Ads, and see how your business may benefit from a demo.
How do I get started with LocaliQ's Social Ads solution?
To get started, connect with a LocaliQ consultant who'll give you a test drive of the products and help find the right solutions for your business.
From there, we'll complete a review of your current digital advertising accounts, then create a strategy to increase activity based on your goals.
We'll help you get your social media ads account set up so you can start generating views, clicks, and leads.
What's included with LocaliQ Social Ads?
LocaliQ's Social Ads is a full service social media advertising solution that includes our proprietary smart optimization technology, extensive social ad expertise, and transparent reporting.
With LocaliQ's Social Ads, you get:
Social media audit: A social media advertising expert will audit your existing social marketing accounts and deliver a strategy to increase lead generation.
Account set up: We'll get your social media ad campaigns up and running quickly so you can start generating trackable activity.
Dedicated social media advertising services: Our Facebook and Snapchat ads-certified experts use our proprietary technology to create and optimize your social media marketing campaigns based on your specific advertising objectives and budget.
Infinity Audience: Our cross-platform targeting builds a data-informed lookalike audience for your social media ads based on your search marketing leads so each social media channel knows exactly who you want to target.
Exceptional reach: We create and manage Facebook ads, Instagram ads, TikTok ads, Snapchat ads, and ads across the Facebook audience network.
Cross-platform campaign optimization: Our proprietary ad management technology automatically optimizes your budget across multiple ad objectives and social media channels to drive the most reach, engagement, or contacts for the best price.
Social media ads to match your specific goals: Our technology and experts will optimize ads with a variety of goals like website clicks and leads, plus our unique Lead Ads program delivers Facebook leads directly to your email inbox or Marketing Dashboard.
Trusted advertising partner: LocaliQ is a certified Facebook Marketing Partner recognized under the Facebook Ad Technology Specialty which highlights Marketing Partners who provide advanced technology solutions that help drive improved performance for their clients.
On-demand reporting: Our Marketing Dashboard shows you ad views, clicks, site visits, and contacts generated from multiple channels in one unified location.
How does LocaliQ optimize social media ads for lower-cost leads?
LocaliQ's Social Ads solution combines social media ad management technology with certified ad managers to optimize your ad campaigns so you get more activity from your advertising budget.
Our proprietary technology, which powers our social media ads management and other products, constantly reviews ad performance to automatically allocate your budget to the highest performing channels and targets.The platform reduces wasted ad spend by quickly diverting advertising dollars away from poor performing ad placements. Your budget remains focused on the social channels and campaign goals that deliver the best results.
LocaliQ's team includes Facebook Blueprint-trained and Snapchat Ads Manager-certified social media advertising experts. These experts use our technology to build campaigns, manage creative content, and monitor results to make sure everything is running at peak efficiency.
LocaliQ charges one flat fee that includes automated budget optimization. There are no additional fees to refresh and optimize creativity. This gives us the ability to deliver leads at a lower cost than traditional social media advertising services.
What is XMO?
XMO is our cross-media optimization technology that powers many of our customers' advertising campaigns.
XMO works by consistently monitoring ad performance on multiple channels and from multiple targets or goals. It then automatically diverts advertising budget away from poor performing ad placements to the places that will deliver the best result.
Our certified advertising experts use XMO to get you the most activity, leads, and conversions from your search and social media advertising budget.
How will I know if LocaliQ's Social Ads solution is working for my business?
With LocaliQ's Marketing Dashboard, you get any-time access to real-time reports where you can view activity like ad views, clicks, website visits, and contacts generated.
Through your LocaliQ Marketing Dashboard, you'll be notified of new leads to engage with them quickly.
The data gathered by LocaliQ will also be available for future automatic marketing campaigns for more reach.
What are social media advertising tracking pixels?
A tracking pixel, also known as a marketing pixel, is a small snippet of code that lets you track what visitors do on a website.
With LocaliQ's proprietary marketing pixel installed, we are able to target and retarget your ads more efficiently. We can also measure your marketing campaign's performance, track leads, and provide transparent reporting so you see how your advertising is meeting your goals.
What is the Facebook audience network?
The Facebook Audience Network (FAN) is an important part of Facebook ads management. The Network lets advertisers extend their ad reach onto hundreds of apps and mobile web sites using the same targeting data they use on Facebook.
Applying ads to the Facebook Audience Network greatly improves your advertising reach and allows you to remarket across a large number of non-facebook online locations.
LocaliQ's technology automatically optimizes a single marketing budget on the FAN as well as on Facebook, Instagram, and TikTok to find the highest performing ad placements.
Which social media advertising is best?
Each social platform offers a unique mix of audience and advertising capabilities. The best social media advertising optimizes ads dynamically across several platforms to take advantage of each channel's strengths.
Facebook ads
Facebook is the largest social media platform in the world by number of monthly visitors, so it's a natural choice for advertisers that want the maximum reach for their ads. Facebook also offers a wide variety of ad types including image, video, slideshow, and carousel ads.
Instagram ads
Instagram has one of the largest user bases of any social media network. Its audiences span all generations, making Instagram a great option for most products and services. Instagram's ads are visuals-first and include story ads, video ads, and collection ads.
TikTok ads
TikTok is a younger platform than Facebook and Instagram, both in terms of when it was launched and its audience. The quickly growing social media channel has over 1 billion monthly users which are more highly concentrated in generations X and Y (although the age range of people on TikTok is expanding). TikTok's ad types reflect its user-generated content focus and include brand takeover ads and hashtag challenge ads.
Snapchat ads
Like TikTok, Snapchat is also widely used by young adults. The difference is that content on Snapchat is designed to disappear after the user opens it after 24 hours if unopened. Even with the short-term nature of Snapchats, it's a great platform for engaging younger buyers.
LinkedIn ads
People go to LinkedIn to share professional updates, find ideas to make work better, and to search for jobs or new employees. As such, LinkedIn ads work great for professional services and selling business-to-business.
How much does Facebook ads cost?
Social media advertising cost varies greatly from channel to channel. Since Facebook still delivers the largest audience, it's a good platform to use as a benchmark for considering social media ad costs as a whole.
The average Facebook ad cost changes throughout the year. The quality and relevance of your ad affect the price you pay to have your ad seen and clicked.
The wide variance and constant flux in the cost of social media ads makes it important to optimize your budget continuously and quickly so you can get the best return on your advertising budget.
Why is social media advertising for small business important?
Social media advertising delivers targeted, cost-effective, measurable results while also expanding your presence on social media beyond what organic posting can do alone.
Social media audience targeting allows you to share your ads with the people most likely to be interested in what you sell. You can narrow an audience by location, demographics, interests, and previous behaviors. You can even create a lookalike audience that shares the same characteristics as people who've engaged with your search ads or previously visited your website.
Many advertisers find social media marketing to be more cost effective than other options, in part because they can set daily budgets to control ad spend. Plus, with social media ads you can choose a specific goal, like leads or conversions, and only pay when someone takes that action.
Unlike other forms of advertising, social media marketing lets your customers engage with your ads. Likes and comments give you valuable information about audience preferences while shares add organic reach to your paid ads.
Social media ads also offer a lot of transparency around results. It's possible to see how many people take certain actions on an ad like clicking it or filling out a lead form. You can't get that level of transparency from other forms of advertising like TV and billboards.
How does social media advertising work?
While each platform has their own rules, social media advertising works primarily by auction and is guided by audience targeting.
You start by picking an objective such as audience awareness, leads, or conversions. Then you'll refine your target audience by demographics, interests, and behaviors. You can also tell the platform to target a lookalike audience or retarget people who have interacted with your ads or website previously.
Finally, an algorithm will choose ad placement and cost based on criteria like maximum bid, ad quality, and previous performance.
What are the different types of social media advertising services?
Social media advertising services include producing ad creative, setting audience targets, optimizing ad budgets, and managing social platform ad auctions. Social media advertising companies offer these services to businesses that want to free up time and take advantage of ad expertise.
Some social media advertising services are provided by marketing experts, some are software-based, and a few combine both. Many social ad companies offer Instagram, TikTok, and Facebook advertising services, among others.
Social media advertising benefits from experience and the ability to quickly optimize budgets to the best performing opportunities, so social media advertising companies can often deliver better results in the form of more leads and lower costs than a business can achieve in house.
How else can LocaliQ help my business grow?
Social media advertising works best in conjunction with other digital marketing techniques. LocaliQ is a complete growth marketing platform that allows you to find, convert, and keep more customers.
LocaliQ offers several marketing solutions, including:
SEO and search engine marketing
Retargeting
Live chat
Websites and landing pages
Display, video, and social ads
Contact us to schedule a demo and learn which solutions are right for your business.
Ready to get started?
Connect with us.
Demo our social media advertising management solution and other products for your business needs. Our team of experts can help you see the results you want.