Managing your social media accounts is a 24/7 job. Grow your brand presence on Facebook, Twitter, and more with smart automation features for social media marketing.
Increase social engagement
Grow your reach with consistent, relevant posts that drive interactions with followers.
Manage your reviews
Maintain a strong online reputation. Our platform uses brand listening to find active conversations related to your business and then helps you respond.
Do it all in less time
There are never enough hours in your day. We'll help manage your primary social media channels and review feedback, so you can focus on your customers.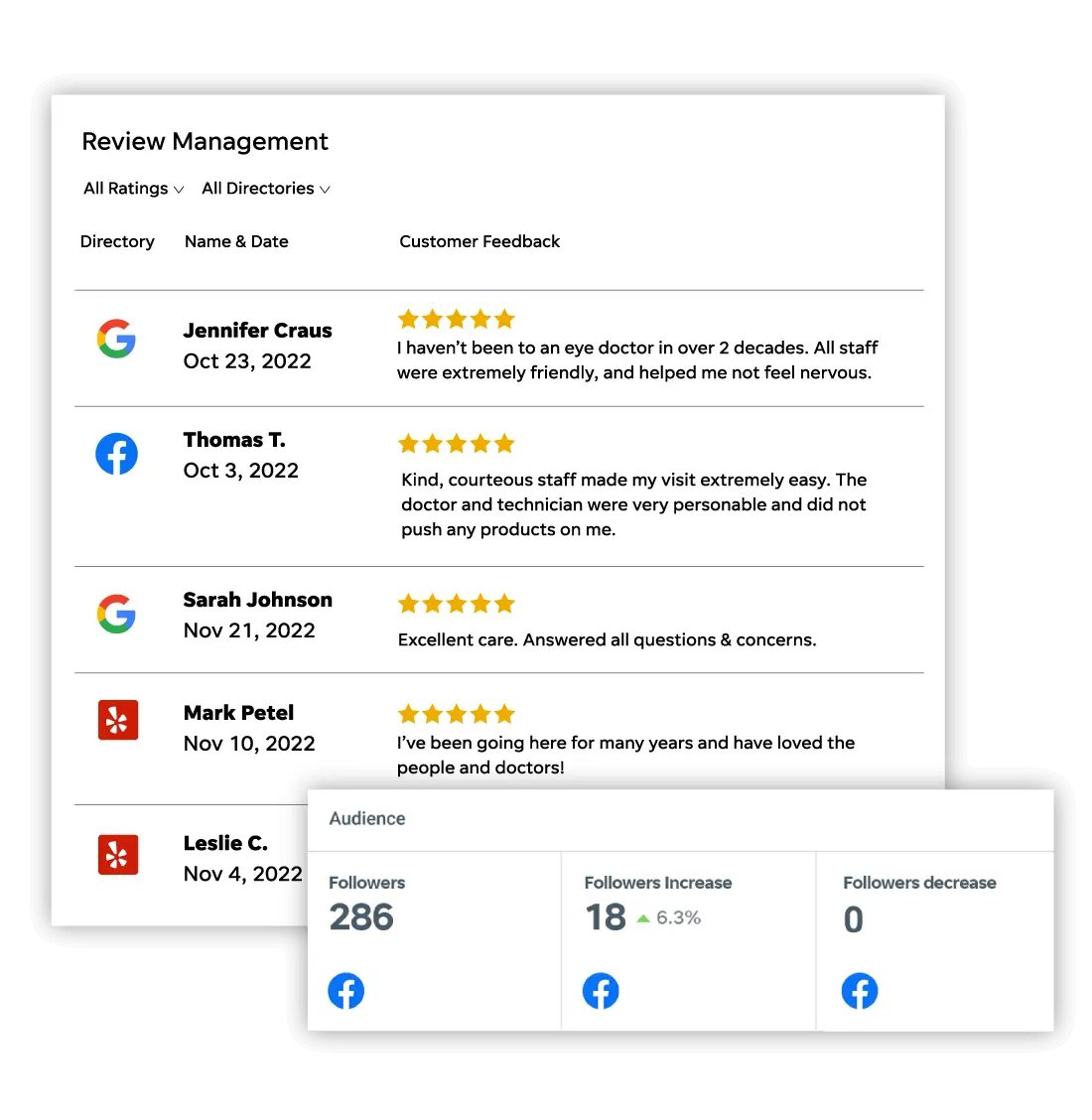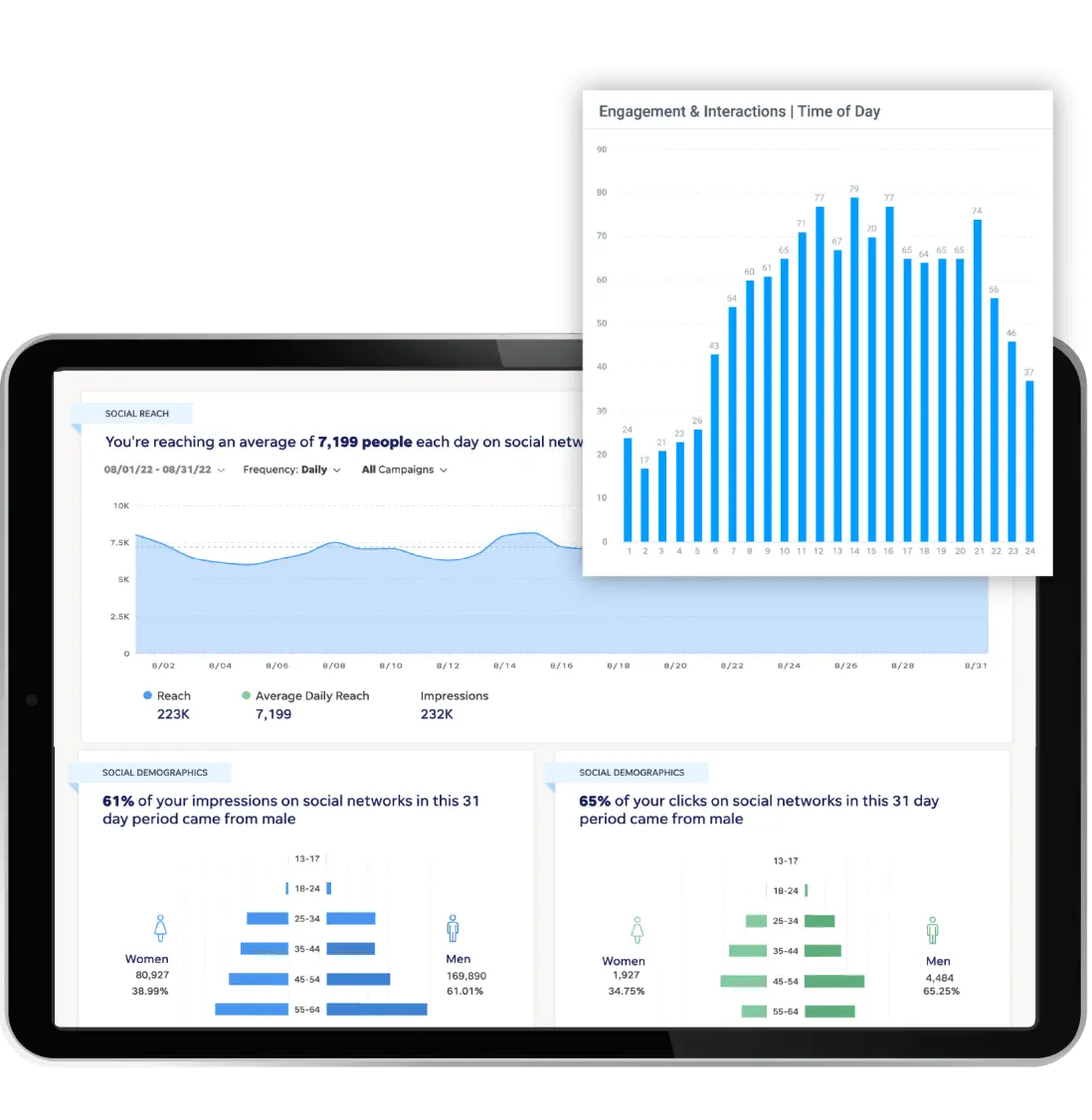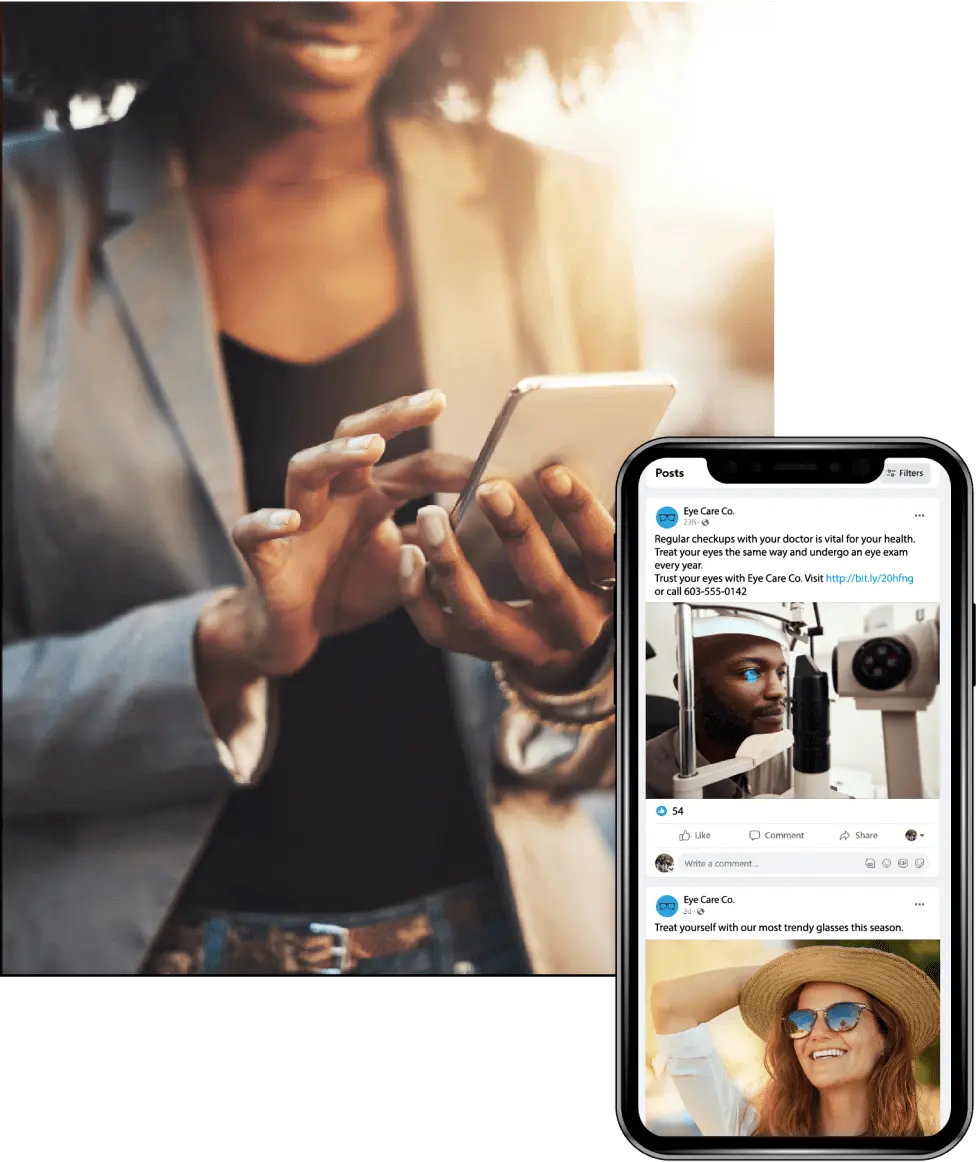 Build a better social media presence for your small business
Facebook and Twitter account management and engagement

Social media content creation

Brand listening

Social review monitoring and management

Explore additional features like Instagram and Pinterest account management, boosted posts, and social infographics and blog creation
Social media management makes a big difference. It gets people engaged. It was good that LocaliQ gave me the opportunity to try something different.
Explore a range of common questions about Social Media Marketing, and see how your business may benefit from a demo.
How do I start with LocaliQ's Social Media Marketing solution?
To get started, connect with a LocaliQ consultant who'll give you a test drive of the products and help find the right solutions for your business.
From there, we'll complete a review of your current digital advertising accounts, then create a strategy to increase activity based on your goals.
We'll help you get your social media ads account set up so you can start generating views, clicks, and leads.
What's included in LocaliQ's social media management services?
LocaliQ offers a full-service social media marketing solution that provides everything you need to grow your brand presence, attract new customers, and engage with people who are talking about your business online.
With LocaliQ's social media marketing solution, you get:
Account creation: if you don't already have business accounts on social media platforms like Facebook and Twitter, we'll set them up for you.
Social media strategy: Our experienced social media managers will review your existing pages and recommend a strategy that helps you grow your audience and attract more customers.
Content creation: We'll produce social media content with the images and messages that resonate with your target audience and represent your brand. We'll send each post to you for approval via an easy-to-use interface with no passwords or usernames to remember.
Engagement: When appropriate, our social media experts will engage directly with your followers through post replies and reviews or we'll advise you on responses.
Brand listening: We'll monitor social media sites for comments and conversations related to your brand, respond or advise on response, and share relevance insights. We can also track your online presence compared to your competitors.
Customer review monitoring, management, and amplification: For customers that choose this option, we'll track reviews from 20+ social media and review sites, send you alerts for each new review, and either respond to them with a pre-approved message or work with you to craft a custom response. We'll then amplify the positive reviews across multiple social media platforms.
Boosted Facebook posts: When a post is performing well, we'll manage strategic boosts that expand your brand's exposure and Facebook and drive more social engagement.
On-demand reporting: Through the Marketing Dashboard, you'll have 24/7 access to view your performance across multiple social media platforms in one unified view.
Why is LocaliQ the right social media management company for small businesses?
LocaliQ combines holistic knowledge of small business marketing with customizable programs and award-winning technology to grow your presence and generate traffic and leads for your website and physical location.
Our Social Media Managers are well versed in marketing tactics beyond social media. They understand how organic social posts work in conjunction with other marketing channels like local SEO, PPC advertising, directory listings, and more.
We understand that your business, services, and customers are unique. So LocaliQ offers flexible social media marketing programs to fit your specific goals. We will help you design the right strategy and couple the services you need to make it successful.
Our social media experts are supported by LocaliQ's proprietary technology. Through solutions like our Marketing Dashboard, we help small businesses track, optimize, and respond to organic and paid marketing channels in ways people alone never could.
What is social media marketing?
Social media marketing is a marketing practice that uses social media to promote a business and generate sales. Social media marketing is designed to gain an audience's attention while they're scrolling social feeds.
The goals of social media marketing include building brand awareness, engaging with prospects and customers, generating new leads, and driving conversions. The goals you set inform your social media marketing strategy.
Social media marketing tactics include posting organically on your business page, paying to place social media ads, using hashtags, tracking and replying to social media reviews, and engaging with people through comments on posts (both yours and other account posts).
A key differentiator of social media marketing is the ability to have a conversation with your customers. Unlike other channels like search marketing and TV advertisements, with social media you can get feedback from your audience and build a community online.
What's the difference between organic social media marketing and paid social?
A social media marketing strategy can be split into two tactics: organic social and paid social ads.
Organic social uses free tools and platforms to attract and convert an audience. Organic social mostly refers to posting content on your personal or business page, but it could also include community building exercises like joining relevant social media groups and commenting on content posted on other accounts.
Paid social is any social media marketing that requires you to pay to post content. It can include placing PPC ads or boosting an organic post.
Paid and organic social are complimentary digital marketing tactics. Paid social ads offer more reach than organic while organic posts give you the flexibility to post more without additional cost.
Why is social media marketing for small businesses important?
Social media marketing is an affordable option for growing brand awareness and generating leads with targeted audiences, plus it allows you to create a community in ways other marketing options can't. These attributes of social media marketing are particularly beneficial for small and local businesses.
Many small companies are attracted to social media as a channel for marketing their business because there is little or no cost barrier to beginning. Most social platforms allow you to create a business profile and post for free—putting it in reach of any business.
Social media is great for finding niche audiences that would be interested in what you sell. You can use hashtags to get your organic posts found by users of your services. You can join and interact with special interest groups. And you can gain followers that are similar to your current customers through content sharing and networking.
It would be difficult to find another marketing channel that gives you so many ways to connect with a specific group of people at such a low cost.
Which social media sites are best for marketing?
Each social platform offers a unique mix of audience, content types, and opportunities to engage customers. The best social media marketing best social media marketing takes advantage of each channel's strengths.
Facebook marketing
Facebook is the largest social media platform in the world by number of monthly visitors, so it's a natural choice for advertisers that want the maximum reach for their ads. Facebook also lets you post a lot of information about your business, including hours of operation, maps, and even a menu. Facebook marketing is a great choice for almost any company, but it's especially useful for small, local businesses with a physical storefront.
Instagram marketing
Instagram has one of the largest user bases of any social media network. Its audiences span all generations, making Instagram a great option for most products and services. As for post types, Instagram is a visual-first platform so it's a good choice if you have picture-friendly products or interesting videos to post.
TikTok marketing
TikTok is a younger platform than Facebook and Instagram, both in terms of when it was launched and its audience. The quickly growing social media channel has over 1 billion monthly users which are more highly concentrated in generations X and Y (although the age range of people on TikTok is expanding). TikTok is ideal for businesses that engage their customers through education.
Snapchat marketing
Like TikTok, Snapchat is also widely used by young adults. The difference is that content on Snapchat is designed to disappear after the user opens it after 24 hours if unopened. Even with the short-term nature of Snapchats, it's a great platform for engaging younger buyers.
LinkedIn marketing
People go to LinkedIn to share professional updates, find ideas to make work better, and to search for jobs or new employees. As such, LinkedIn marketing works great for professional services and selling business-to-business.
What is brand listening?
Brand listening, sometimes called social listening, is the practice of monitoring mentions of your company, products, or services online. Brand mentions often come in the form of social media posts and online reviews.
Brand listening is an important function of social media marketing. It gives you the chance to respond when a customer has a compliment, question, or concern. It lets you share positive reviews that attract more customers. And brand listening gives you insights into what your customers think of your products and services.
Brand listening can be tough for small businesses because it takes a lot of time to monitor multiple social media channels. LocaliQ uses our proprietary technology to track mentions of your brand so you gather insights and respond quickly.
Why do you need social media management services?
Social media marketing management can be a time intensive job. Especially if you market on several social platforms. Companies that provide social media management services shoulder much of that workload while also applying expertise to optimize your social marketing efforts.
Social media management services can be handled by people, by technology, or, ideally, by a blend of both. LocaliQ combines the expertise of experienced social media managers with proprietary technology to get the best results for your business.
Some of the results social media marketing services will help you achieve include:
Consistency: frequent posts with a constant tone and voice will present your company as more professional and increase your presence online.
Relevancy: niche audiences appreciate content that speaks to their interests, needs, and personalities.
Urgency: consumers say quick and thoughtful responses to reviews and social media comments factor positively into their buying decisions.
How else can LocaliQ help my brand grow?
Social media marketing works best in conjunction with other digital marketing techniques. LocaliQ is a complete growth marketing platform that allows you to find, convert, and keep more customers.
LocaliQ offers several marketing solutions, including:
SEO and Search Ads
Chat
Websites and landing pages
Display, Video, and Social Ads
Contact us to schedule a demo and learn which solutions are right for your business.
Ready to get started?
Connect with us.
Demo our social media marketing solution and other products for your business needs. Our team of experts can help you see the results you want.