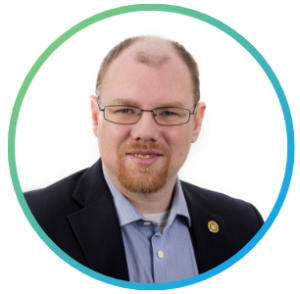 We're proud that our employees are active in their local communities and that so many of them have taken time during this pandemic to find ways to give back. 
One such employee, Patrick Wendell, a digital strategist for LOCALiQ, is an active supporter of his community on Cape Cod and is participating in a virtual walk for the Housing Assistance Corporation. 
Patrick took some time to talk with us about this virtual walk, why it's so important to his community, and what he loves most about living on Cape Cod. 
Hi, Patrick, thank you for talking with us today! Tell us about this walk: how did it go virtual and what made you want to participate? 
For many years, Housing Assistance Corporation, or HAC, has been hosting a walk on Cape Cod as a fundraiser. Obviously right now, we can't all congregate together and walk, so we've gone virtual. Other participants are walking wherever they happen to be in their neighborhood – around the beach or in their areas – and walking whatever distance they can to raise money for HAC. 
What does HAC do on Cape Cod? 
HAC has been kind of a pillar for any kind of housing assistance on Cape Cod. Beyond offering support for the impoverished in our area, they also provide education. When I bought my first house out here eleven years ago, I took a first-time homebuyers course, which allowed me to get better terms with lower interest rates and save money every year since then on homeowner's insurance.  
COVID-19 has had a pretty significant effect on our local economy, and that's impacted housing, so, right now, most of HAC's resources are going toward helping people stay in their homes. They're also connecting people to federal and state programs and resources that will allow them to keep their homes. 
You mentioned Cape Cod has been heavily impacted because of COVID-19. Tell us about that. 
Yes, we've been hit very, very hard. The foundation of our economy is tourism and hospitality, and people aren't traveling right now. We have the highest unemployment rate in the Commonwealth of Massachusetts.  
So, we've never really seen anything like that before. Out here, you know, we basically kind of joke that we have 10 weeks to make money to survive 52. We normally bring in a little over a billion dollars a year in domestic tourism revenue. So that's going to be significantly less this year.  
It sounds like a really uncertain time. Have you seen any signs that things are starting to improve? 
Yes, but it's slow. I mean, with restaurants starting to reopen slowly, that is a positive thing. Working with LOCALiQ, we work with a lot of local businesses, so we've seen firsthand how it's impacted them. It's starting to pick up, but many are still struggling.  
I know aside from the walk with HAC, you're really active in your community. 
Yes, I've been on different boards for organizations here, like Cape & Islands United Way, The Gay and Lesbian Equity Fund, The Rotary Club of Hyannis among a few, and I volunteer with several other non-profits here on the Cape. I've always been pretty community-oriented, which is something that I love about LOCALiQ – through our parent company, Gannett, we have a great charitable matching fund and time off specifically for volunteering.  
I do love that – and it's especially helpful when we have team members who are as involved as you are. What would you say is your favorite thing about your local community?  
The fact that we really are a community. The Cape is about 100 miles long and made up of 15 different towns, and within each of those towns, there are multiple villages, each with their own very unique aspects and personalities.  
But when it comes together, we are Cape Cod. We are a little bit separate and different from the rest of the Commonwealth of Massachusetts and the country. I mean, there are only a couple of ways to get here. You can cross a bridge, take a boat, or take a plane. So, it does kind of separate us a little bit. But I think that that does lead to a close-knit community feeling.   
And we all really do help each other.   
We have about twice the number of nonprofits per capita than the rest of the country on average.  
So, the people here are really community-oriented and those that can give – whether it's money or time or sweat equity – really do. So, it's just a very, very positive thing to know that the people here are supported.  
And beyond that – it's beautiful. We have miles of beaches, and bike trails, and walking paths. If you don't want to sit on the beach, we have a lot of history here, too. It's a great place to live and to visit. 
Thanks to Patrick for taking the time to share his love for his community and for getting involved. We're proud to support local businesses across the country – like on Cape Cod. To find out how to work with a local marketing expert in your area, reach out today. 
More Like This
Navigating Change in Marketing with President of Sales, Southeast, Lana Champion
How We Partner with Hospital Marketers: Insights from One of Our Experts
Talking Local Marketing with President of Local Marketing Solutions Kathy Jack-Romero