How does your online presence stack up?
Our Website Grader does more than just evaluate your site performance – it reviews your social media presence and the effectiveness of your digital advertising. Best part? It only takes a few minutes.
Our promise: Completely free, no credit card required. Our report is safe and secure. We will never share your data. You may unsubscribe from communications at any time. For more information, check out our privacy policy.
Thank you for getting started
Next steps will open in a new window. If you have any questions, feel free to contact us.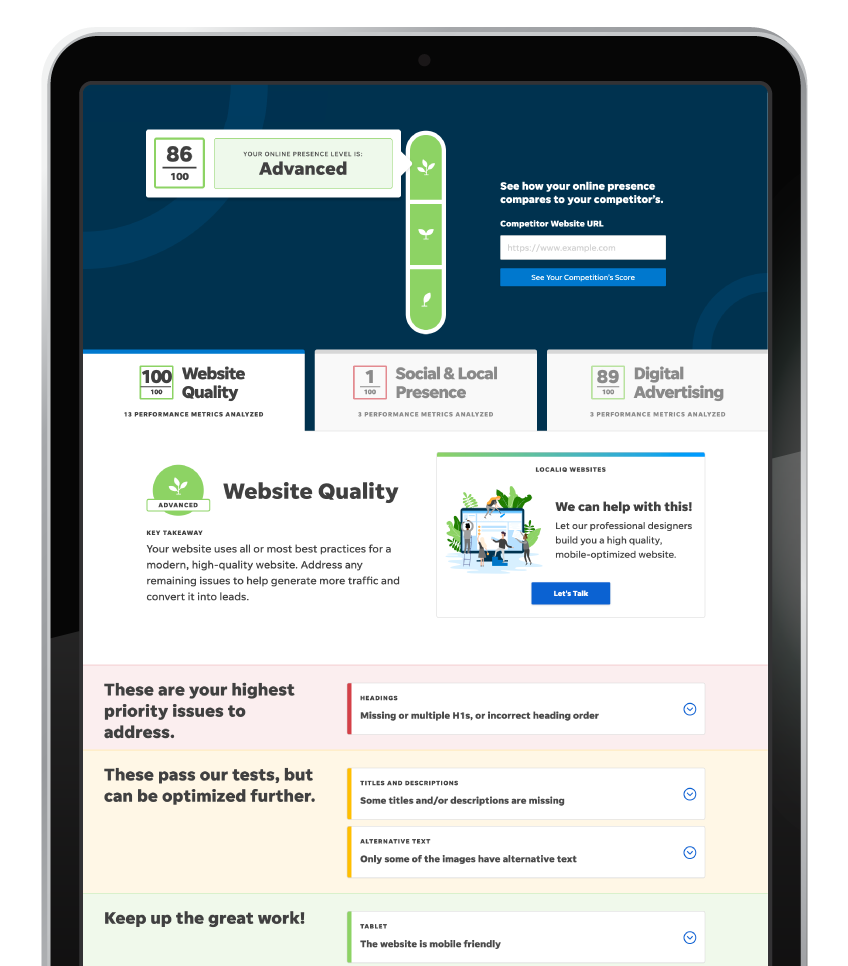 See what's working and what you can improve with your online presence

Website performance
Check if your site is optimized to show up for the right searches and where it ranks against your competitors.

Social media presence
Get instant visibility into the strength of your social media accounts.

Digital advertising effectiveness
See how your digital advertising is doing and if it's reaching the right people.
Boost your site performance fast
Get the insights you need to:
Improve SEO and Google ranking factors

Assess your site speed

Get greater visibility on your online ads

Match competitor metrics
We'll provide a complete, personalized report, plus actionable recommendations to help your business take off.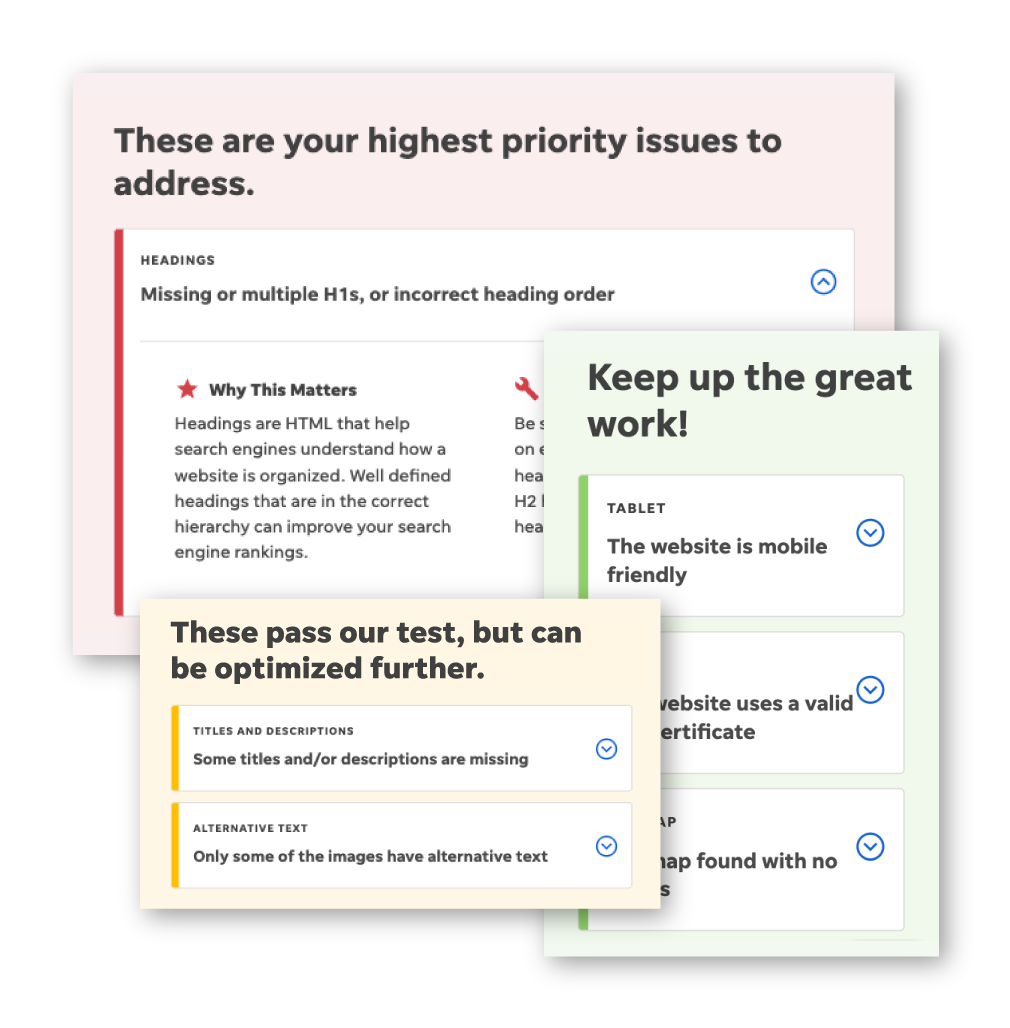 Explore a range of common questions about the Website Grader, and see how your business may benefit from an assessment.
What does this Website Grader do?
LocaliQ's Website Grader assesses the areas of your website that contribute to digital performance and assigns each area a grade. Within each section, you'll receive action items to prioritize when making improvements to both the technical performance of your website and to your overall digital footprint.
The first section, Website Quality, grades your website on a score of 1-100, and pertains specifically to SEO, or search engine optimization. The grade your website receives in the Website Quality section will help you determine how much work you need to do to improve your website's organic search rankings.
The second section, Social & Local Presence, grades how much impact your website is having on major social and local platforms.
The third section, Digital Advertising, deals with PPC (pay-per-click advertising), and generates action items specific to online advertising.
Overall, when you run the LocaliQ Website Grader, you'll receive over 19 individual performance metrics, each with its own weighting, making up your overall score.
Why do I need a Website Grader?
Once you receive your website grade, you'll have a complete report of action items that you can use to generate more traffic, more leads, and more revenue for your business.
With the Website Quality report, you'll have the ability to optimize the technical aspects of your website that contribute to organic search performance: rankings, internal links, technical performance, and more. Crucially, this will allow you to increase your rankings in the search results, generate more impressions from organic search on Google and Bing, and fill the top of your marketing funnel with net-new prospects.
With the Social & Local Presence website grade, we look at major platforms like Twitter, Facebook, Instagram, and the like to determine unique actions you can take to generate more traffic from social media. If you're a local business, we'll also look at how effectively your website is set up to generate traffic from Google My Business and local listings.
With the Digital Advertising Website Grader, we'll look at your presence and keyword targeting across Google Ads, Facebook Ads, and other major ad platforms to determine areas in which you can improve.
How does this Website Grader differ from a marketing audit?
We get small businesses, because we work with them everyday. They're big on ideas, but in many cases, short on time and money. The LocaliQ Website Grader is a full-fledged, holistic marketing audit. But it differs critically from the kind of marketing audit you'd get from a big agency in a few ways:
It's instant. You won't have to wait a week or more to get your hands on an actionable report with which you can improve your website and digital presence.
It's free. Our marketing audit is not going to cost you an arm and a leg.
It's holistic. No need to get one marketing audit from a PPC agency, one from an SEO agency, and one from an organic social media agency. This marketing audit analyzes performance across all those disciplines and more, and cuts through the fluff to let you know exactly how to optimize performance.
I've graded my website. What should I do with my website rating?
The LocaliQ grader assigns each website a unique rating. Website ratings are given on a scale of 0-100. When you use our grader, we'll send one overall rating, as well as unique ratings pertaining to the different performance areas of your website.
But our website ratings aren't just numeric scores provided in a vacuum. With each rating, you'll get a list of action items you can take immediately to improve your website's ability to generate traffic, leads, and revenue.
Businesses that use the LocaliQ grader often do so for competitive research. For instance, try taking your top five competitors and analyzing their websites. Compare your unique website rating to theirs, and look at the scores given to them in the areas of website quality, digital advertising, and social & local presence. This is a great way to see how your site stacks up to the competition. Once you have this information, you can make changes and track improvements of your website rating over time. You can also generate ideas for improvement that you may not have thought of without looking at other businesses in your industry.
What makes our multi-channel website checker more valuable?
Just deciding to check your website's performance is a great first step. You've taken it a step further and stumbled upon LocaliQ's free website checker. But what makes our website checker more valuable than the competition's?
Simply put, the LocaliQ website evaluator measures the three most crucial aspects of digital presence and performance. You'll get a detailed evaluation of how to optimize your website's SEO, PPC, and local performance. Checking your website is one thing; having the knowledge to improve it is quite another. Whether you're searching for a website checker, a website evaluator, or a marketing grader, LocaliQ gives small businesses the power to take website optimization into their own hands.
Does LocaliQ grade my marketing, or just my website?
This is an all too common question. Small businesses often view "website" and "marketing" as synonymous, but the truth is, there are a ton of factors that go into digital marketing that aren't specifically related to one's website. SEO, for instance, has a ton to do with website optimization. In order to generate traffic from organic search, you need to make sure the technical aspects of your website are functioning optimally. In that regard, a Website Grader can give you a big leg up.
But what about the traffic you generate from local listings? What about your presence on social media platforms, and the ads you run across search engines and social media? In these instances, your website often plays a crucial role in generating conversions post-click, but you're also dealing with third-party platforms and best practices that don't hinge directly on your website.
What's so great about the LocaliQ grader? It's a Website Grader and a marketing grader in one. We'll give you the tools you need to not only evaluate and optimize our website, but to grade your marketing performance across multiple channels. Armed with your unique and free marketing grade, you'll have the insight you need to take your digital marketing to the next level.
My website score isn't as high as I thought it would be. Now what?
While we pride ourselves on giving businesses actionable and accurate website scores, our goal is not to discourage businesses that have lower website scores. In fact, we work with businesses everyday who know their websites aren't up to snuff, and who choose to look the other way because it is too overwhelming to deal with. The fact that you've chosen to seek out a website score is a big move in itself. Rather than get discouraged, choose the parts of your score that contain the lowest hanging fruit, and attack those areas with the knowledge that many of your competitors are probably neglecting them as well. You'll see your website score rise in no time!
What's the importance of free website rating tools?
At LocaliQ, we believe optimal website performance is a privilege that should be afforded to all businesses, not just those that have the resources to fork over obscene amounts of money to website audit agencies.
Free website rating tools are crucial, and we're proud to offer the best on the market. Free means that any business, regardless of size, can use our website rating tool without having to use valuable resources that should be devoted to growing their businesses. It also means that we provide information you can actually use. This isn't just a free score that provides limited visibility then requires payment for more in-depth analysis. When you use our free website rater, you're going to get invaluable insight for absolutely no cost.
Why do I need a strong online presence?
In today's age, your online presence is what legitimizes your business. Not only do 97% of consumers search for local products and services online, but the strength of your digital presence impacts how popular, trustworthy, and even competent they perceive you to be. In fact, 80% of consumers lose trust in a business if their listings are inaccurate and 56% of consumers won't even consider a business without a website. On the other hand, 70% of consumers will visit a store because of the information found online, and businesses that blog get 55% traffic and 126% more leads!*
Is this a Website Grader?
Yes, but it's actually more than that. Since there are many components to your online presence, the LocaliQ Grader assesses not just your website, but your social media presence and digital ads, too!
How do you measure web presence?
The LocaliQ Grader analyzes the three biggest areas of your web presence: Website Quality, Social & Local Presence, and Digital Advertising. Your score is calculated using over 20 individual performance metrics, each with its own weighting.
What do you mean by online presence?
Your online presence encompasses every digital asset that belongs to your business, like your website, social media profiles, directory listings, emails, YouTube videos, and more. But just because these assets exist doesn't mean they have a presence. Your online presence is actually a reflection of how much attention your online assets get—from you, from search engines, and from your audience.
Is your digital presence grader really free?
Yes, the LocaliQ Grader is 100% free. The initial report provides a summary of your scores and recommendations. You can then create a free account to see the more detailed report and even compare against competitors. And you can even send your report to someone on our team to discuss your goals and strategy—for free!
What website performance metrics do you look at?
Our proprietary technology analyzes a mix of over 20 data points and signals that impact the user experience of your website as well as its traffic and traffic quality. This includes but is not limited to:
On-page SEO ranking factors like headings, page titles and descriptions, and alt text.
Off-page SEO ranking factors like backlinks and social signals.
Technical SEO ranking factors like site speed, site security, code quality, and mobile-friendliness.
What's the difference between digital presence, web presence, and online presence?
There isn't one! These terms are all used interchangeably.
How do I improve my online visibility?
There are a number of ways to improve your online presence, through your website, social media profiles, listings, email campaigns, digital ads, and more. When you create your free account, the more detailed report will give you recommendations on how to improve your web presence. You'll also have access to resources on SEO, PPC, social media, and more. And don't forget! In one click, you can share your report with someone on our team and they will schedule a free call with you to discuss the right goals—and strategies to reach them—for your business.
After following a business on social media, 91% of consumers will visit its website, 89% will buy from it, and 85% will recommend it to a friend or family. That's pretty big!* In addition, Facebook is one of the three most popular business directories, and social media signals can indirectly impact your Google ranking. The best part? Social media marketing is that it is free, easy, and effective for just about every industry!
Can I check another business's digital presence?
Yes! You can enter any website URL into the Grader. And once you get your report, you can create a free account to compare your performance with that of your competitors.
What if my web presence grade isn't great?
Don't panic! You've taken the right first step: identifying a baseline score. With our recommendations and resources, you can only go up from here—and you can check your score again to see how you're improving!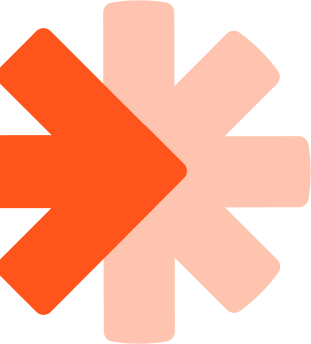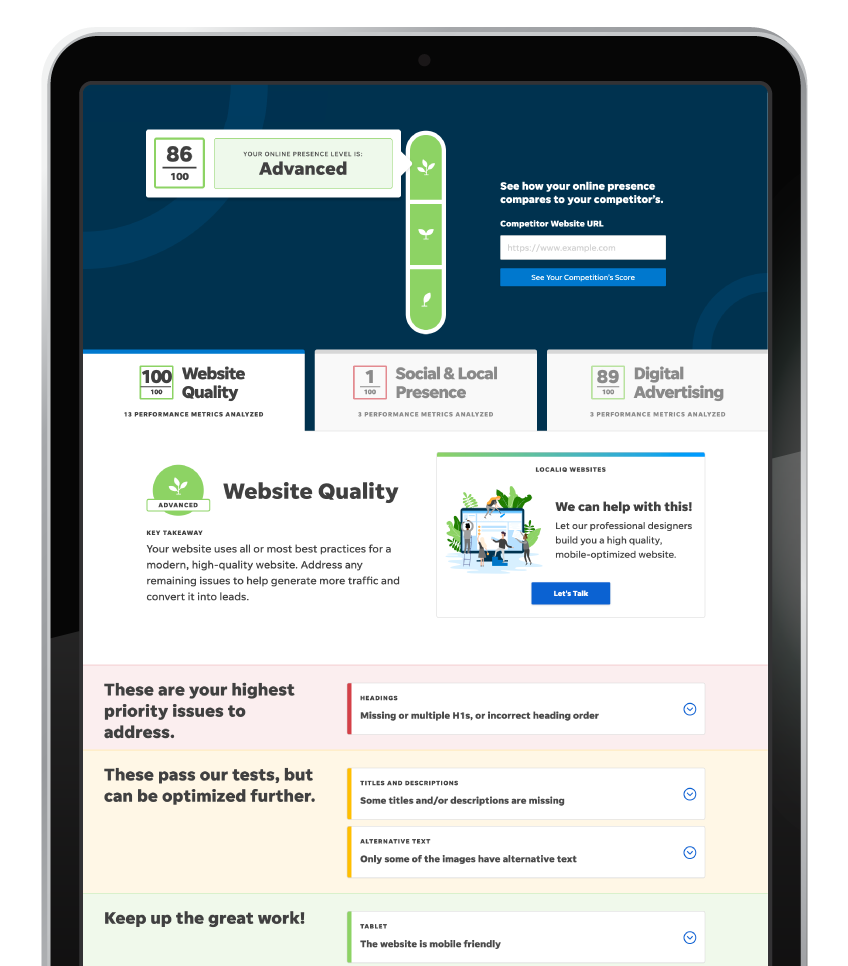 Get the most out of your website
Find opportunities to increase traffic, get more leads, and improve your ROI with our Website Grader. It also extends past your website to check the health of your social media accounts and the effectiveness of your digital advertising.
Check your score