In this article, we'll cover when you can and cannot delete a Google review about your business, how to contact Google to do so, and how to deal with the reviews you cannot delete.
Can You Remove or Delete Bad Google Reviews?
As frustrating as it can be to receive negative reviews, you can't actually remove or delete negative feedback written about your business. There are some exceptions, however, which we'll go over later.
Here are the reasons why Google does not allow you to delete bad reviews:
Preserve Integrity
First and foremost, Google always aims to preserve its integrity in the eyes of users. They want to ensure they're delivering an honest, unaltered view of businesses that use their Google My Business platform. In this way, customers can browse and make purchase decisions with confidence, knowing that any business on Google had to go through a strict verification process.
Keep Businesses Real
Take this scenario as an example. Say you're debating between two different companies that offer a similar product. One has 10 short reviews that are all 5-stars but say very little about what they liked. The other business has 56 reviews and an overall rating of 4.5 stars thanks to a nice mix of both short and long reviews that seem to paint a vivid picture of what you can expect. Which would you choose? If you're like most, you'll probably go with the business that has 56 reviews even though their overall rating is half a star less.
Maintain Transparency
By not letting businesses remove negative Google My Business reviews, Google is creating a "what you see is what you get" environment that's built on full transparency. While you should do everything you can to avoid warranting negative reviews, having one or two sprinkled in can actually help your business appear more real to consumers. We all make mistakes, and bad reviews help to show potential customers that you're not trying to hide anything, making them more likely to trust you.
When Can You Delete a Google Review?
According to Google's review policy, there are some circumstances under which you can request to have a Google review deleted.
Fake Reviews
Unfortunately, there are people out there with malicious intent, whether against your business personally or just in general. After all, anyone can create multiple accounts using different email addresses.
Fake reviews often take on these characteristics:
Multiple reviews within the same time frame.
Ratings only, with no commentary.
Plus, as a small business owner, you can usually remember who your customers are. If you've received a fake review, contact Google. Google has a lot of review policies, but might not be able to automatically detect fake reviews like these.
Reviews Unrelated to Your Business
Google reviews are meant to be specifically related to a customer's experience at a specific location, with that business. If a customer leaves a bad review because he or she overheard other customers talking about a political or social topic, this is not related to your business and can be flagged. Google reviews are for educating customers about your business, not a channel for personal rants.
Inappropriate Reviews
Of course, any Google review that includes sexually explicit, profane, offensive, or illegal content can get removed. Google will likely pick up on this before you do.
Reviews in Clear Support of a Competitor
You can also delete reviews that contain links and promotional content for other companies or competitors. Once again, Google Maps is not trying to be a forum, but rather a platform by which consumers can make educated decisions.
How to Remove Google Reviews About Your Business
Now, as you may have already guessed, there are a few scenarios where you're able to get reviews about your business taken down. If you find a review that's in clear violation of Google's content policy, you're able to flag and report it to Google for review. These could be reviews that you believe to be fake, unrelated to your business, inappropriate, or even in clear support of a competitor.
To flag a Google review for deletion:
Login to your Google My Business account.
Select the location in question.
Click "Reviews" from the menu selection.
Click the three dots next to the review in question and select "Flag as inappropriate."
Choose the reason the review should be removed.
It's important to note that it will take some time before a Google employee takes a look at your request. To expedite the process a bit, asking other customers to flag the inappropriate review may help it stand out more and increase your chances of having it removed.
How to Dispute a Google Review
If you tried the above method but didn't get the result you wanted, there's still another way to make your case before Google. Contacting Google Small Business Support will allow you to get in touch with a Google employee directly and make an argument as to why the review in question should be removed.
To dispute a Google review:
Log in to your Google My Business account and navigate to your dashboard.
Select "Support."
When the Help pane appears, scroll down to "Need more help?" and click "Contact us."
Type "Dispute a review" in the box, click "Next."
Choose your preferred contact method.
Within 24 hours (or more depending on volume), a Google employee will contact you directly to hear out why you think the review in question should be taken down. Now, it's important to make sure you're fully prepared to defend your stance before Google contacts you. That means have a screenshot of the delinquent review on hand, knowing which of Google's content policies it violates, and any other reasons you feel can help make your case more convincing.
Depending on the complexity of the review in question, it may be escalated one level further to a specialist that will ultimately determine the outcome. If this happens, you will again have to wait to be contacted by the specialist with the final verdict.
Can You Turn off Google Reviews?
Unfortunately, when you set up a Google My Business account, you are opening it up for reviews. This is not a feature you can disable for your listing. However, the benefits of a complete and accurate Google listing far outweigh the consequences of getting a bad review, so do not let this dissuade you from getting a Google listing. While you cannot turn off Google reviews, you can take measures to optimize your listing as a whole, to ensure you gain maximum visibility and put your best foot forward.
What to Do When You Can't Delete a Review
As a business owner, one of the hardest things you'll have to come to grips with is the fact that not every customer is going to be completely satisfied. No matter how hard you try to make sure everything is perfect from start to finish, sometimes, bad reviews are unavoidable. That being said, as much as they can hurt, learning how to deal with bad reviews properly can make a world of difference.
Here's how to properly respond to reviews on Google that you cannot delete:
Respond Promptly
If you take too long to respond, your unhappy customer (and the rest of the online community) may think you are negligent to your company or trying to sweep the bad review under the rug.
Gather the Details
Note that a prompt reply is not the same as a hasty reply, which runs the risk of being unprepared or overemotional. Take a deep breath and take some time to consult your staff or dig into the details of what happened.
In most cases, a bad review comes from someone who genuinely believes their point has merit. Thoroughly looking into the issue allows for an appropriate and proportional response to the review. It may also result in finding a glitch in your services, which you can then fix to prevent the issue from arising again in the future.
Reply Publicly
While you can't delete a negative Google review, you can respond publicly to show that you are attentive to the needs of your customers. Apologize for the experience, validate their emotions, and provide a simple explanation (only if you can explain, and not defend).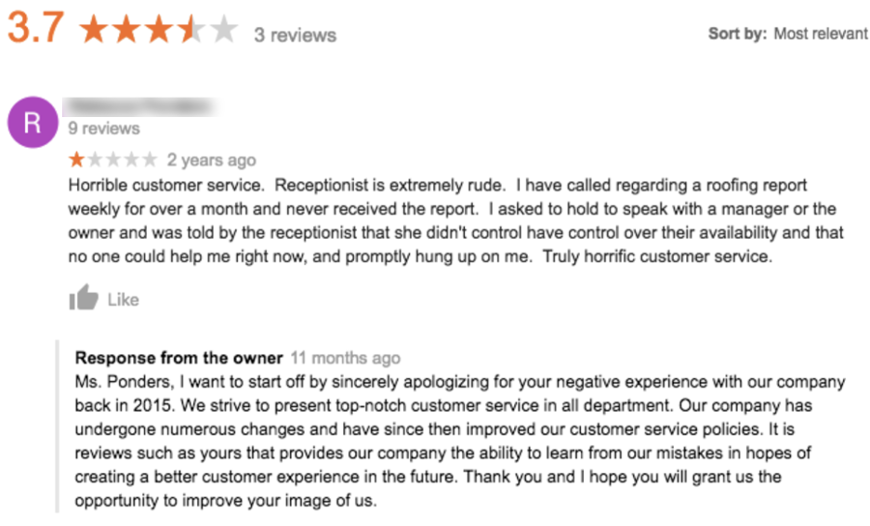 Resolve the Issue
Most importantly, share what you are doing to resolve the issue and offer some sort of compensation—you want them to return so they can have a positive experience with your business. You should also give them a means by which to discuss the matter offline.
To help leave unnecessary emotions out of the equation, develop a consistent "response formula". This does not mean you should copy and paste the exact same formatted response to every bad review. However, you may create a set of guidelines to help you stay on track with a professional response. For example,
Recognize the review.
Sympathize with the customer.
Explain (briefly) what happened.
Offer compensation.
Provide an offline contact.
Collect More Positive Reviews
The best antidote to negative reviews that you can't delete? More positive reviews. Get more positive reviews on Google to keep your ratings up and your reputation strong.
(Use these examples to ask for more reviews!)
How to Delete a Google Review You've Written
As great as it would be to hand-select which Google reviews you want to be visible, unfortunately, that's just not an option. Google simply doesn't allow business owners to remove reviews about their business, and for good reason. However, you do have the power to remove Google reviews that you've personally written about other businesses.
Have you ever left a bad review for another business, only to have second thoughts about it after the fact? You're not alone. Sometimes, it's easy to let our emotions get the best of us in the heat of the moment and we end writing something that we later regret.
To edit or delete your own Google review:
Open Google Maps on your computer.
In the top left, click the Menu button (three lines).
Click "Your contributions" and then select "Reviews."
Click the three dots next to the review you want to edit or delete.
Select the desired action.
Bad reviews on Google are no fun. If they violate Google's policy, you can delete them. If you wrote a review, you can delete or edit it. However, if it's just a plain old negative review, you're going to have to handle it. Just be prepared, prompt, and professional, and the rest will follow.