While attracting new customers is essential for all businesses, it's equally as important to make sure you're retaining existing customers. There are many effective customer retention techniques, but today we're focusing on customer loyalty programs.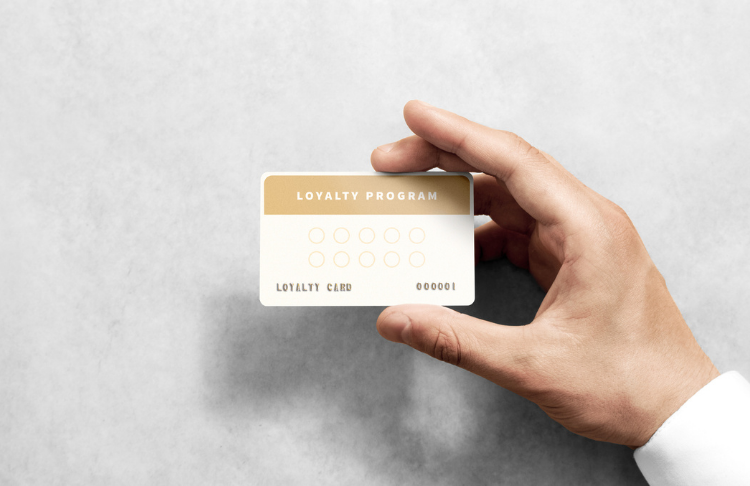 What are customer loyalty programs, and how do you create one? This post will give you a run-down on the basics of customer loyalty programs, how they work, and how you can use them to retain more customers for your business.
Why is Customer Loyalty So Important?
Customer loyalty programs are a great local advertising idea because they increase customer retention. But why is that so important?
1. Customer loyalty leads to increased profits.
Customer loyalty and retention has a multitude of benefits. The rule of 80/20 states that 20% of a company's existing customer base generates 80% of its profits! Just a slight increase in customer loyalty can dramatically increase your profits.
Customers aren't just direct sources of profit, but potential promoters, as well. Plus, it costs less to retain a current customer than it does to acquire a new one.
2. Customer loyalty can contribute to reduced marketing costs.
The customer buying journey begins long before they make an actual purchase. Consumers pretty much always engage in some form of research before purchasing a product or service, either by reading reviews or seeking advice from a current customer.
The more loyal customers you have, the more positive feedback will be available to prospects, and the lower your marketing and advertising costs may be. Word-of-mouth promotion is a powerful marketing tool.
3. Customer loyalty can translate to increased customer satisfaction.
Repeat customers also offer another invaluable benefit: brand insight. Repeat customers will provide honest feedback based on experience. This feedback can be used to improve your business, increasing customer satisfaction and bringing increased revenue.
4. Customer loyalty can help your business become resilient.
Lastly, building customer retention and loyalty will help insulate your business from competitors. Loyal customers will stick to the brand they trust regardless of economic changes.
Loyal customers, as long as they are kept satisfied by your service, will keep bringing money to your business, even if a trendy new brand comes to the market.
What are Customer Loyalty Programs?
Customer loyalty programs offer participating customers rewards or special benefits for their purchases that aren't available to non-participating customers. They're designed to incentivize repeat business and may come in the form of loyalty cards, keychain fobs, stickers, or even paper punch cards.
You can customize a loyalty card like this one using Canva.
For customers, a loyalty program may be free to sign up for or may have an entry or yearly fee. For businesses, your loyalty program may cost you nothing or might require a small investment.
Customer loyalty programs combine humanity's competitive nature with the consumer's love of receiving free stuff. The customer is made happy by their reward, while the hosting business rakes in more profits and gains that customer's allegiance, building customer loyalty.
Customer Loyalty Program Examples
Looking for some examples of the best types of customer loyalty programs for small businesses? Take a look at these three.
1. Free Customer Loyalty Programs
Here's a simple example of a free loyalty program. My favorite donut shop provides customers with a stamp card. For each $10 purchase you make, you get one stamp on your card. After 10 stamps, you get $10 off your next purchase. It's thrilling to receive an incentive for "free" and makes me feel excited once I reach that tenth stamp (instead of thinking about the fact that I've spent $100 on donuts).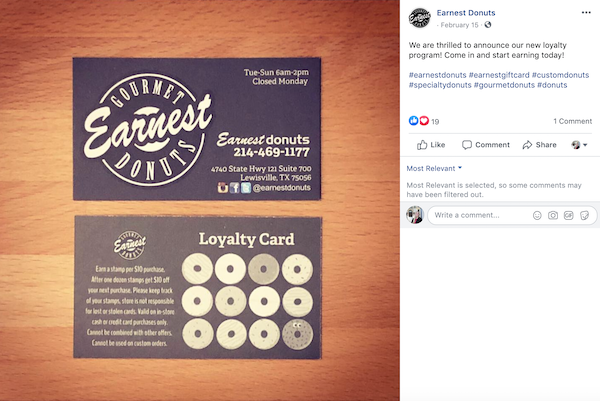 2. Paid Loyalty Programs
Not every business can hand out free rewards, regardless of the repeat business they may bring. Thankfully, customer loyalty programs come in all shapes and sizes, and not all of these programs are free.
Some loyalty programs have an initial start-up fee to compensate for the time, money, and planning that the business puts into its loyalty program.
Take Starbucks Rewards — the customer loyalty program from Starbucks. You can sign up for Starbucks Rewards for free, but you have to load in a gift card or credit card and make a purchase through the app to start earning rewards — called Stars.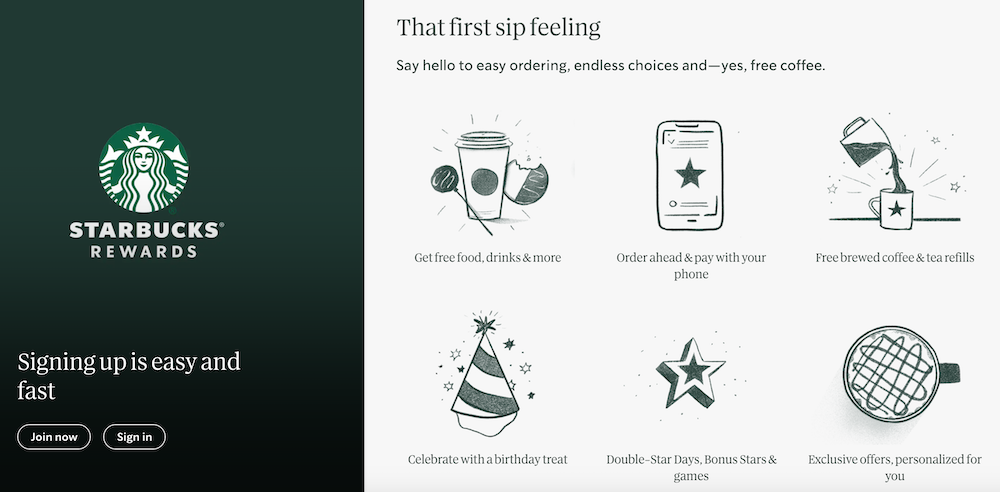 Every time a user purchases a drink or product, they earn a Star. The more Stars they earn, the further they advance and the more rewards they collect.
The Starbucks Rewards program is ingenious because it's multi-faceted. It's not only a customer loyalty program but also a purchasing program. In fact, last year, Starbucks reported that 40% of its total sales could be attributed to its rewards program. Starbucks' customer loyalty program had turned its customers into brand evangelists.
Other paid loyalty programs include Amazon Prime, Barnes and Noble's B&N Membership, and REI's Co-op Membership. Each of these programs requires an upfront cost but provides loyalty program members with benefits worth the extra fee.
3. Tiered Loyalty Programs
With a tiered loyalty program, you can entice customers with a baseline rewards program that encourages them to continue earning points with you to move up in membership tiers.
Marriott does this with its Bonvoy program. This loyalty program allows customers to move up in tiers based on the number of nights they stay at Marriot properties each year. The more nights you stay, the better benefits you receive.
How to Build a Customer Loyalty Program
You can set up a customer loyalty program for your business with relatively little time and effort.
Here are some simple steps:
1. Set a goal for your customers.
This is your "prize." What will it be — a discount? A free T-shirt? Using your own product as a reward is oftentimes easiest and is a great way to encourage repeat business — like in the example of my favorite donut shop or Starbucks offering a plethora of different rewards opportunities based on the number of Stars accrued.

2. Decide how customers will progress towards the goal.
Do they have to buy 10 sandwiches? Do they have to spend X amount or more? Be very selective about choosing which behavior you wish to reward.
For example, it wouldn't make sense for an auto shop to have a punch card for oil changes, as these are only needed a few times a year. A gas gift card for every $X spent would work better.
3. Give customers a starting boost.
If you have a punch-card system, for example, punch the first hole or first two holes as a one-time reward for joining the loyalty program. Studies have shown that giving customers a head-start on the loyalty program encourages them to participate more.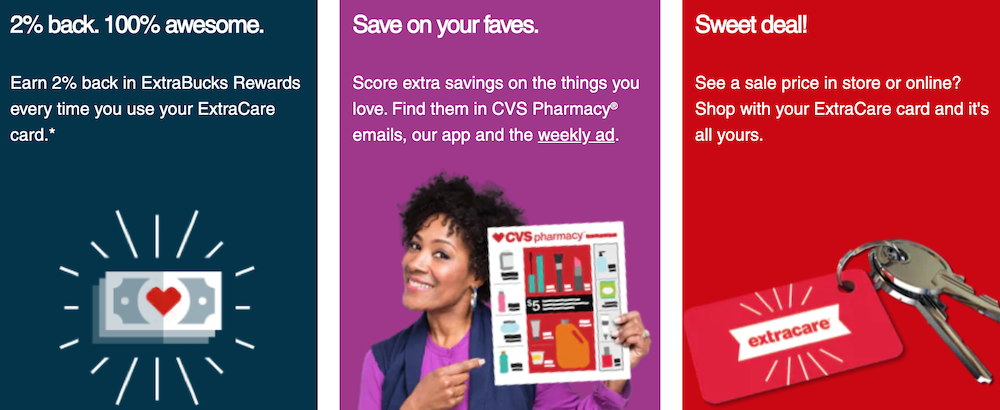 CVS's loyalty program ExtraCare allows customers to start taking advantage of rewards right away.
4. Promote Your Loyalty Program
Your loyalty program won't be effective if your customers don't know about it. Be sure to promote it in your store and via email, social media, and your website.
Successful loyalty programs can take many forms, from quick punch cards to advanced mobile apps. Try one out today to increase both your customer retention, customer satisfaction, and your profits!