The holidays are a time of rest, rejuvenation, and well, of shopping, for families and brands alike. You look forward to celebrating and relaxing during the holiday season, and brands know it! The best brands take advantage of the seasonality with marketing that resonates all year long.
For businesses, the holidays offer a time to connect with their community in a light-hearted way that helps personify their brand and company culture. While the end-goal may always be ROI, the holiday season is special in that you can expand on your unique company mission in a way that connects differently than the regular season. Basically, you can get a little extra in the way you reach your audience.
Read on for how some of our favorite big brands went viral with unforgettable holiday marketing campaigns and what you can learn from them.
Spotify Holiday Campaign
Using customer data to personalize your marketing is essential, and Spotify knows it. How personal do they get? Well, beginning in 2016, Spotify began getting intimate by showcasing user habits for all the world to see.
Spotify's Wrapped campaign takes user habits, analyzes them and then broadcasts them IRL, across the globe. Each campaign is complimented with digital and social ads and is unique to each market. Since 2016, Spotify has run this campaign every holiday season, and each year has made small tweaks; for example, in 2018 they focused solely on user habits pertaining to playlist creation.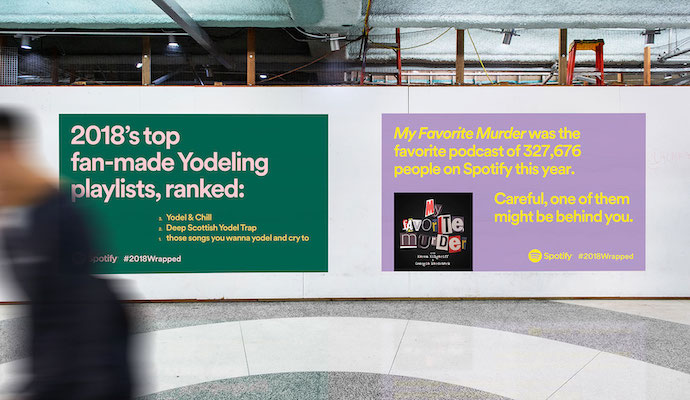 Spotify's holiday campaigns are notorious, and despite some not-so-great PR over the years, their reputation continues to rank as positive. Part of that is likely due to their viral holiday marketing being the perfect mix of relatability, nostalgia, and pop-culture.
The Wrapped campaign has become an expected, notorious part of the holidays and remains an incredible example of using user data in advertising… in a way that won't creep out your audience. Check out more fun examples of their 2018 campaign here.
Small Business Saturday
Small Business Saturday is a real holiday, and you can thank AMEX for that! American Express started Small Business Saturday in 2010 as a holiday marketing campaign to showcase small businesses and the importance of supporting your own community. The holiday falls on the last Saturday of November and thus is in line with holiday shopping, encouraging people to forgo large retailers and put money back into their community… with their American Express cards.
The Shop Small Movement, as the campaign is now called, will celebrate its 10th anniversary in 2020. That's longevity and relevance in marketing that most only dream of! The campaign works because, despite a big name like AMEX supporting the movement, it is community-driven through and through.
Initially, AMEX focused on making the holiday go viral, and now that it has, most of the marketing is done by the small businesses themselves.
Today, AMEX shares the small business love through their Shop Business Studio where businesses can customize their own marketing material, request free tangible signage, and even access a free trial of a social media tool.
Feel-good advertising, like customizable assets, makes small businesses feel and spread the importance. It's really an idea that is easy for communities and small businesses to get behind, as it fits in well with our culture today. Plus, from American Express' perspective, it is a great way to source potential customers by asking for a little information like, "Does your business currently accept AMEX?"
Starbucks Red Cups
The Starbucks you know and love doesn't need to focus on new business, but they do want to be emblematic with the holiday season. In 1997, Starbucks had barely gone global when they introduced their first holiday cups; available in magenta, sapphire, emerald, and amethyst, the cups featured simple, hand-drawn designs.
It wasn't until 1999 that the cups became their iconic red, each year showcasing different designs and eventually, becoming synonymous with the holiday season. Here's a look back at 20 years of holiday cups, and watch the video below to see this year's cup designs – if you haven't seen them in person yet!
Today, Starbucks has solidified its place in our culture and tight-knit communities through efforts like the Red Cup holiday initiative. People eagerly await the reveal of each new year's design, even occasionally causing some mild controversy over the holiday cup. People are that invested in these holiday staples, and that is never a bad thing for a brand to experience!
REI OptOutside
REI likes to do things boldly, and so does their audience. This is why their OptOutside campaign, which began in 2015, has been such a success. It's anti-marketing, marketing, and it coincides with both the company's ideals and that of their target consumer.
The OptOutside campaign may seem a little frightening from a business perspective: REI closes its digital and literal doors on arguably the biggest shopping day of the year, Black Friday. In turn, they encourage people to Opt Outside — stay away from busy retailers and the internet, and enjoy the day outside.
The initiative first began as a way for REI to thank their 12,000 employees with a paid day off and a chance to spend the day outside. Five years later, and they remain the only large retailer that has ever completely shut down on Thanksgiving and Black Friday. The results have been astonishing: "to date, more than 700 organizations and 7 million people have chosen to #OptOutside instead of fighting it out in the aisles," according to REI.
The Takeaway for Businesses
Local businesses can learn a lot from the way big brands have become synonymous with their holiday viral marketing. The big lesson: people don't want to be sold to during the holidays, so don't do it! If you don't have anything to say that isn't relating to your bottom line, skip the holiday campaign. But if your brand has established values that you can personify through holiday marketing, go for it! It doesn't need to be crazy, even a simple email or written card to your best customers does a lot.
What is a simple holiday marketing campaign that resonated with you? Connect with us on Facebook, Twitter, or Instagram, and let us know!