Small Business Saturday is a day dedicated to celebrating and supporting small businesses across the nation. Shoppers may be eager to support small businesses and shop locally, but you won't see these shoppers by sitting back and watching the show. In order to leverage the excitement of Small Business Saturday to facilitate your business goals, you have to promote your business and improve your local visibility!
Whether you're only able to make a last-minute effort or have the ability to implement a detailed Small Business Saturday plan, there are opportunities for every business on Small Business Saturday.
Small Business Saturday ideas to try
Here are some Small Business Saturday ideas to help you make the most out of the day. 
Get listed ahead of Small Business Saturday
The first thing you should do is make sure your business can get found by shoppers on Small Business Saturday. Update your local listings in popular directories like Google, Facebook, and Yelp to make sure you show up for relevant searches. Your Google Business Profile is of the utmost importance here–take the time to optimize your Google Business Profile; it's worth it.
You'll also want to add your business to the Shop Small map so people can find you when looking for participating businesses around Small Business Saturday.
Create Small Business Saturday offers
Small Business Saturday is all about celebrating small businesses, but in order to stand out above your competitors and grab the attention of overstimulated shoppers, you'll need an attractive offer.
Some basic ideas for offers on Small Business Saturday include:
Buy one get one free deals for people shopping with (or for!) friends.
Discounts for same-day appointments.
Bundle services into packages and offer them at a discounted rate.
Create holiday gifts out of products or services, and those who purchase the gift get a discount or free service.
Free gift with purchase.
Discount for signing up for your blog, newsletter, or providing contact information.
Purchases come with a coupon for holiday services.
Run limited-time offers to encourage shoppers to act fast around Small Business Saturday.
Your Small Business Saturday offer can serve many purposes and support many business goals.
It can be:
🎁 Need ideas for your holiday promotions? We've got you covered >> 27 Promotions, Campaigns & Social Posts to Unwrap
Host a Small Business Saturday event
Another Small Business Saturday idea to promote your business is to host an event. Even if your focus is on celebrating your small business, you should still include an offer that incentivizes customers to attend.
If you have a brick-and-mortar location, here are some ideas:
Gyms can have a free post-Thanksgiving workout for interested potential new members. Serve snacks and drinks afterward with free t-shirts and have a place where people can sign up for your newsletter. (Psst: Get more fitness marketing tips here!)
Hairdressers and salons can offer a discount for customers who sign up for their email list or offer a bundle deal for holiday services.
Host an open house at your business with free cake (to go)–everyone loves cake! Ask people to sign in with their email addresses and name so you can stay in touch with leads and announce future business promotions.
Dentists, physical therapists, and chiropractors can run an open house where shoppers can come in and get some swag with your business information on it.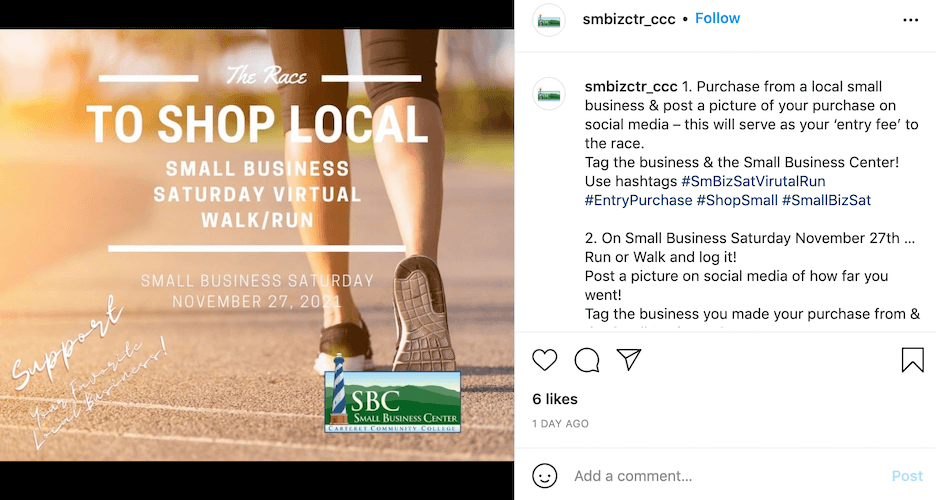 If you don't have a brick-and-mortar location, you can still host a virtual event or partner with a brick-and-mortar business to host an event.
If this is your slow season, you might even consider offering a discount for advanced purchases. This is good for businesses with a seasonal marketing strategy like painters, landscapers, or tutors.
For example:
Landscapers can pass out reusable shopping bags with their logo on it.
Massage therapists can partner with a local business to offer chair massages to shoppers. (Just make sure you have health and safety protocols in place!)
Financial planners can host a workshop on how to budget for the holidays and the new year.
For these ideas, you might have a sign out front to attract foot traffic but be sure to promote your event online too.
For example:
Create social media posts the week before and the day of to attract attendees.
Utilize Facebook Events or Eventbrite to encourage people to attend and to get a ballpark headcount. You might have occupancy limits to adhere to that you'll want to plan for.
Reap the benefits of landing pages! Create a high-converting landing page for your event or offer to encourage users to follow through in converting.
Post pictures from the event as it is happening. Get creative and have fun with Instagram, Facebook, and Snapchat.
If you don't have a space to accommodate people, fear not! You can always partner up with a local business. Or, you can run an event online, such as a social media contest or giveaway. With the proper social media marketing strategy, you can leverage Small Business Saturday to achieve your long-term business goals.
Partner up on Small Business Saturday
While Small Business Saturday is for everyone, promotion ideas are sometimes easier to execute for retail businesses and those located on busy streets. If you don't fit into that category, consider partnering up with a business that does.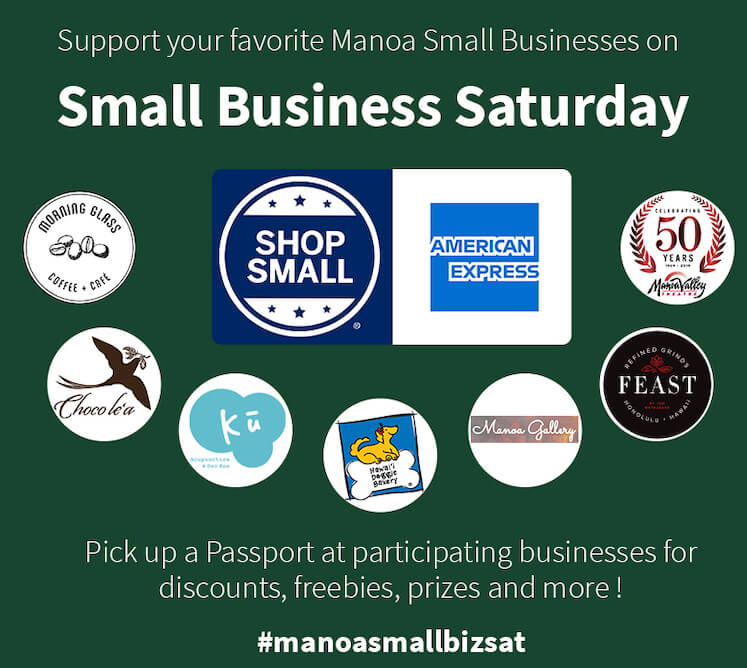 Partnering is a great way to increase your exposure across a relevant audience, maximize profits, and build a sense of community.
For example,
Physical therapists and massage therapists can offer free or discounted chair massages at a boutique store during peak shopping hours.
Home service providers can partner up with furniture or home goods stores and offer their services at a discount. In exchange, the home service providers can promote that store through email, social media, and their website to encourage more visitors.
Landscapers can offer a free yard cleanup or discounted package at hardware stores, and promote that store across their marketing channels.
Preschools can partner with yoga instructors to offer prenatal yoga classes.
Find a small business that will take on a small business guerrilla marketing campaign with you.
When considering partners for Small Business Saturday, don't just think about the most popular places. Think about businesses that share your values and appeal to your target audience. This way you can leverage the partnership to strengthen your brand story and increase your exposure to the right people.
Use local media
As a small business owner, you may not have the time to coordinate an event, and hosting an event might make it hard for you to manage higher customer volumes on that day. One idea for Small Business Saturday that won't have you preoccupied on that day is to do a write-up for the local newspaper or local online publication.
For example:
Produce a round-up of stores in the area that you recommend for shoppers (cater to those in your target audience or niche market if possible). Perhaps those stores will pass out your flyers or coupons for a promotional offer.
If your business has a unique story or strong roots within the community write an article on the history of your business. At the end, you could talk about special deals you're offering for Small Business Saturday or invite the media to come and interview customers on that day.
Another approach would be to write an opinion piece on the importance of Small Business Saturday. Acknowledge hard-working business owners, highlight the role of small businesses in the economy, and their contribution to the community. Not only will business owners and shoppers appreciate it, but you can also stand out as a committed member of your community.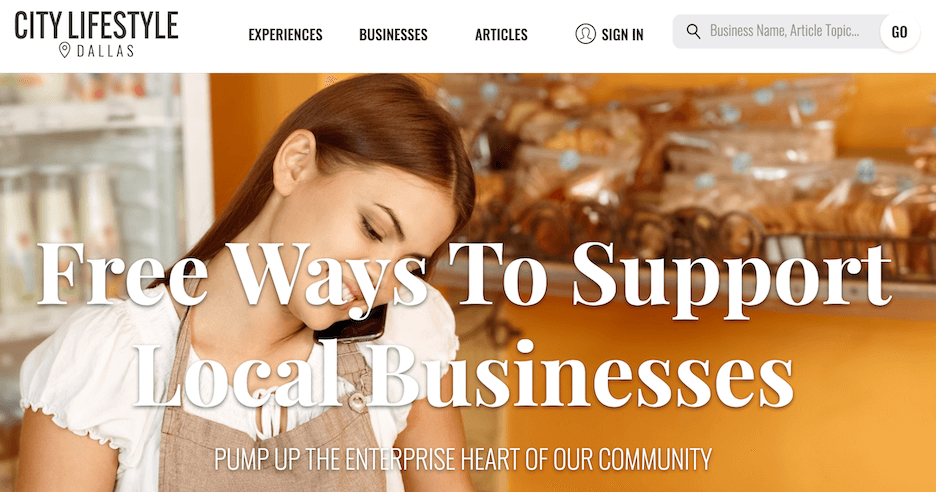 If you don't have the ability to contribute this type of content directly, consider branded content to help you communicate your business story to your community in your local publication.
Thanks to the benefits of social media, this type of publication can also increase your online presence before Small Business Saturday and even long after.
Use social media on Small Business Saturday
There are a number of other ways to utilize social media on Small Business Saturday.
For example:
Run a Small Business Saturday Instagram giveaway.
Write a blog post that is relevant to SBS, your target audience, and your business, and promote it across social.
Leverage existing social media groups, such as on Facebook and LinkedIn, to promote your special offers and sales.
Cross-promote email offers with social media posts.
Offer a discount on your product or services to the first x number of new followers on this day.
Ask a blogger or social media influencer to feature your store in a roundup blog post.
Use Small Business Saturday hashtags such as #SmallBizSaturday, #SmallBusinessSaturday, and #ShopSmall.
Run a social media contest or giveaway to get followers to tag your business in their posts or comments.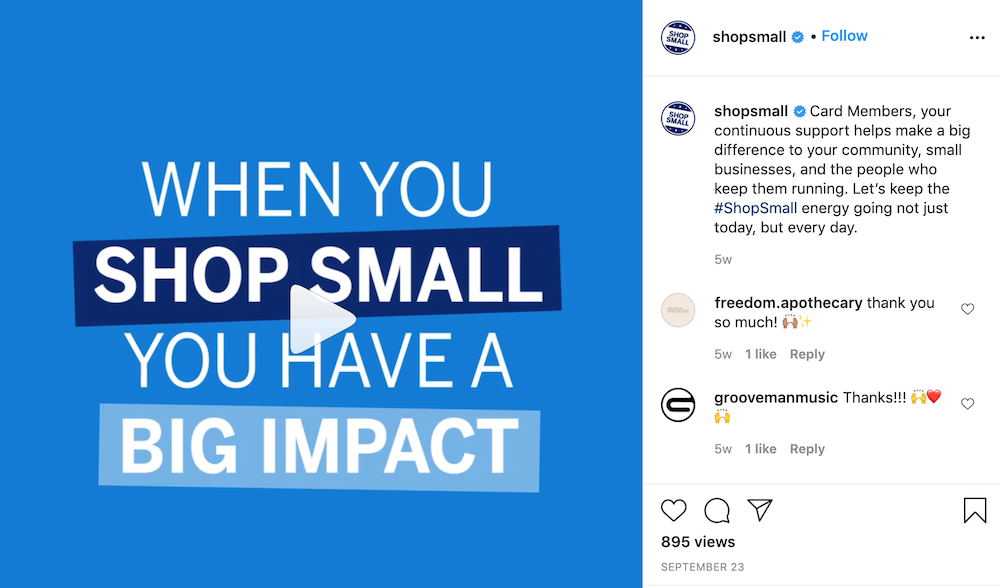 You can also use social media for Small Business Saturday discount codes:
Reveal a promotional code on this day only.
Reveal a promotional code during the week leading up to SBS that followers can only redeem on SBS.
Provide a promotional code on SBS that is redeemable at a later time, such as for holiday appointments or winter services.
Run a Small Business Saturday Email promotion
The easiest way to take advantage of Small Business Saturday is to do a promotion online—which takes up fewer resources than in-person tactics like events. Try using a targeted email list to send exclusive Small Business Saturday content right to their inboxes.
This Small Business Saturday idea is great because it focuses on leveraging the audience you have at hand rather than trying to acquire newly interested potential customers.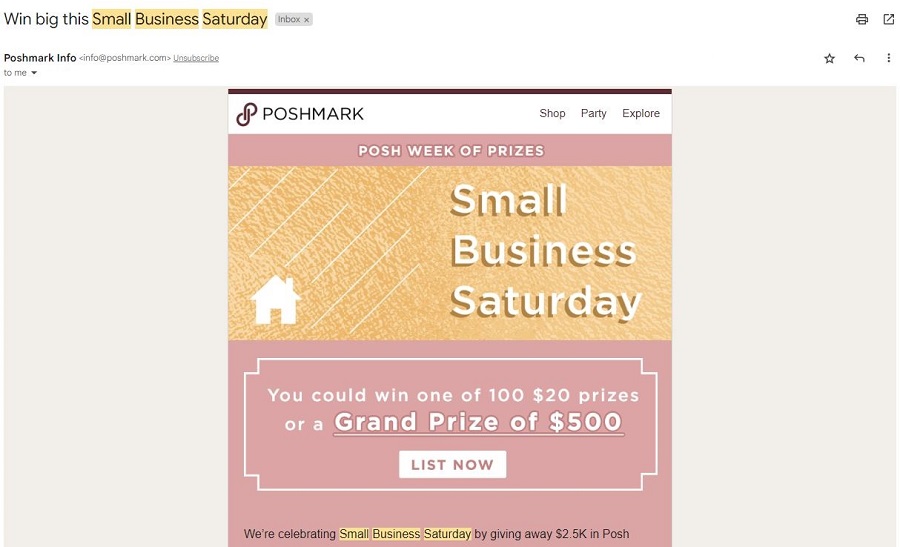 Here are some ideas for email marketing campaigns around Small Business Saturday:
Send an email promoting your in-store event or sale.
Send a coupon for email subscribers to use on Small Business Saturday.
Send a round-up of the businesses you'll be supporting on Small Business Saturday.
Create and send a holiday gift guide using products and services from local businesses.
Update and optimize your website
Try giving your website visitors something fresh to look at over the weekend with updated Small Business Saturday pages. You could switch up your website copy or creative elements to reflect any Small Business Saturday promotions you're doing.
Odds are, you'll likely see an increase in traffic to your website during Small Business Saturday. So, you'll want your business's site to be as prepared as possible with a dedicated Small Business Saturday section.
Here are some ideas for updating your website to match your Small Business Saturday marketing:
Add a banner promoting your sale to pages across your site.
Switch up your homepage content to mention Small Business Saturday.
Use a live chat feature to alert visitors of Small Business Saturday promotions.
🛑 Unsure what areas on your site you should optimize for the big day? Try our free, online website grader to identify areas where you can improve your site for Small Business Saturday!
Try online advertising
This final Small Business Saturday idea kicks things up a notch if you have a bit of a marketing budget. If you're worried you won't get many bites on your Small Business Saturday 2023 promotions, try turning on the lead faucet that is online advertising and shoppable ads.
For example:
Try local PPC ads that advertise your Small Business Saturday in-store or online deals.
If you're already running Google Ads or Microsoft Ads, take this weekend as an opportunity to refresh your PPC keyword strategy by bidding on terms that include "small business saturday" in them.
Try display ads that include Small Business Saturday creative elements.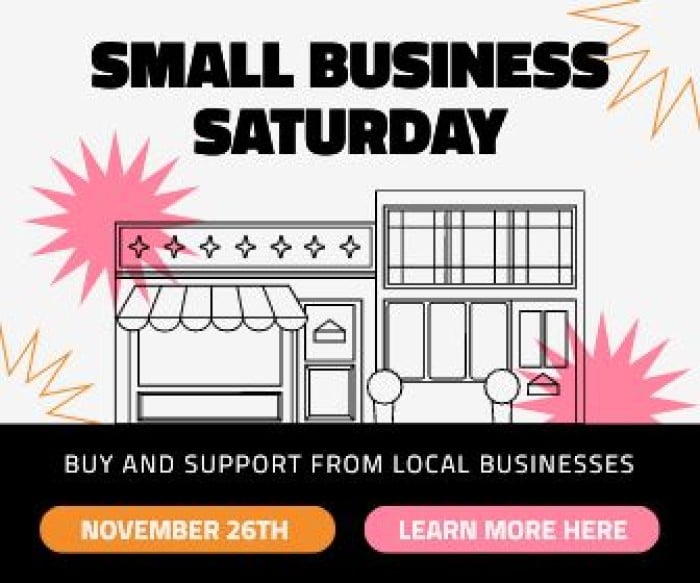 An example of a Small Business Saturday display ad.
Make your 2023 Small Business Saturday a success
With the right Small Business Saturday marketing plan, you can make the whole weekend a success.
We know that people love supporting small businesses during this season–so play that up in your holiday marketing to capture shoppers and finish out the year strong.
Related: Looking for ways to support your favorite small businesses? We've got you covered with 18 creative ways to support local businesses.