When you think about the word "brand," you probably think of Apple or Nike. Huge brands with huge budgets. But the truth is, every business of every size needs a brand. A brand isn't just your name and your logo. It's the whole experience of working with you. It's how working with your business makes your customers feel.
Brand awareness is an investment, to be sure, but it's one that pays dividends. We've been in the weeds creating and managing brand awareness campaigns for our own customers, and we've seen the great results those customers have gotten—so we know exactly how powerful a stronger brand can be! Done right, brand awareness work can have positive impacts on every other part of your business.
Nearly half of marketers say building brand awareness is their number one priority. And we completely agree. Which is why we're investing in our own brand here at LocaliQ. In fact, you may have noticed something new about us recently: A refreshed logo and color palette! (We love it so much, and we hope you will too.)
Today we're also thrilled to show you our new brand awareness campaign, which has been in the works for a long time. We can't tell the story of our own brand without highlighting our amazing customers, so our "Seize Your Potential" campaign features testimonials from four of those customers, operating across different industries and different locations throughout North America.
Our goal for these videos was to highlight how small and midsized businesses use our marketing platform to grow and connect with their communities, and we couldn't be more delighted with the outcome.
As my colleague Kris Barton, the President of Digital Marketing Solutions at Gannett, put it, "The new brand campaign not only reflects upon LocaliQ's purpose of making communities stronger but speaks directly to prospective customers by highlighting how our technology drives success, because we truly make their business our business."
Seize your potential: Behind the scenes
For our very first brand advertising campaign, we knew we wanted to share authentic stories from real customers who have grown their businesses using LocaliQ. We instinctively felt that the best way to exemplify the impact of LocaliQ was to hear firsthand from businesses using it every day to truly seize their potential. Here's how this campaign came together…
Choosing our customers
Because we work with so many incredible, yet varied and unique businesses, it was difficult to narrow the options down.
Ultimately, we focused on four customers who have not only seen great results from our marketing platform, but are also making a palpable difference in their own local communities.
For example, Lion Country Safari in Palm Beach, FL, is deeply committed to animal conservation, with a portion of its profits helping to save animals from extinction. And Nashville Children's Theatre is a nonprofit that believes in creating an "accessible and inclusive haven empowering all young people in Middle Tennessee through cultural literacy and creative exploration."
These businesses are able to give back and support their communities in part because of the growth they've experienced from executing successful digital marketing strategies with LocaliQ.
Real experiences from real customers
When it comes to choosing a digital marketing platform, we know businesses have a lot of choices—which is why we wanted our customers to share their real experiences and results from their businesses after working with LocaliQ.
"LocaliQ brings me high-end clients. Their digital advertising has been the best thing that's ever happened to my company," said Bruce Kahlhamer, owner of ROCK'N-IT Masonry in Salt Lake City, UT. "When LocaliQ came on board it was almost instant. Clients were calling me and business was taking off."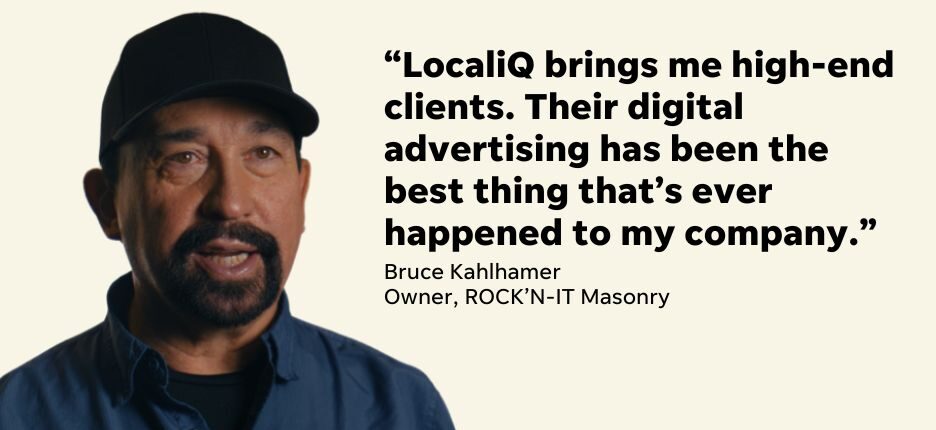 Sharing our story
Now, for the fun part: Sharing our story! We created a series of digital video commercials that will run through early November in key markets that are a focus of growth for our business.
We elected to advertise our brand campaign on the channels small business owners use every day, including social media, sites across the web, and streaming platforms like Hulu and ESPN. That, coupled with strategies like email marketing, content marketing (like this post!), and PR, will allow us to reach our target audience and connect with new customers.
We tell our customers how important it is to get their businesses across channels and present a unified message—so we're doing the same for our brand.
Why brand marketing?
Building a strong brand is important for any business—whether you directly serve customers or you serve other businesses, like LocaliQ does.
Brand marketing matters for B2B
As marketers, we know how crucial building brand awareness is. Businesses with consistent branding are 3.5 times more visible to customers. And it only takes seven seconds for customers to decide whether or not they like and trust your brand.

But a brand is more than just its logo and tagline. It goes much deeper than that. A brand comprises the mission, story, and purpose of a business and distills it into clear messages that resonate with its target audience. Everything else, like the logo and brand colors, is meant to enhance and support the overall brand story.
That's why it's important to approach brand marketing from a holistic perspective—starting with the overall goal of your brand, who you're trying to reach, and what you want them to know about you.
Once you have defined your brand, it's not only reflected in advertising campaigns and your visual identity, but also in the conversations you have day in and day out with your customers.
For LocaliQ, brand marketing and awareness means we can connect with more businesses and help them seize their potential. We fully believe that our platform can make a huge difference for businesses with a local footprint, and we want to make sure businesses across the country know that.
Why share our brand marketing experience?
We know how helpful it can be to share firsthand experiences and learnings, especially with our small business customers.
We have plenty of resources about how to create a brand story, how to evolve your brand identity, and how to build brand awareness. But there's something to be said for seeing it in action.
So we hope that by sharing our process, we can help small businesses see just how impactful building a brand can be.
And we hope our brand campaign clearly communicates how our marketing platform empowers businesses to seize their potential while showcasing some of the amazing businesses we get to work alongside.
What's next?
We're going to continue evolving our brand and embracing our mission to help businesses seize their potential. And we're excited to launch a new visual identity and website in 2023. Follow along with us on our journey on Facebook, Twitter, and LinkedIn.