If there's one thing that the 21st century has brought consumers, it's options. And with these options, it's often difficult for consumers to pick which one is the right choice for them. That's where creating a strong emotional connection comes into play for a business.
Your business has a unique story that needs to be shared to help it stand far ahead of the other competitors in your market. But how you go about sharing your story is often the battle that business owners feel like they're losing or go about avoiding altogether.
With media consumption at an all-time high in 2020 and millions of eyes nationwide looking towards the news, isn't it time you consider partnering with a company that has deep roots in journalism and branches that extend into every area of marketing?
Make Emotional Connections Through Storytelling
One of the biggest shifts we anticipated prior to COVID-19 has resonated tenfold in recent months and will continue to impact the way businesses communicate with consumers. We're talking about storytelling and companies that are using their unique story, their unique point of view, and their unique value to humanize themselves. This sense of local community transcends the news, social platforms, and all ways that we consume media.
Related: Get resources for marketing your business during the coronavirus pandemic.
Healthcare companies are going beyond their traditional scope, discussing mental health, behavioral health, fitness/wellness, and philanthropy. Grocery retailers are being reinvigorated, building loyal customers in an industry that was often more about convenience. The word "essential" now has a deeper meaning with consumers, forcing people to make a distinction between needs and wants. So how can you tell a story about your business that mirrors what consumers are feeling?
We believe that understanding trending news topics is the first piece of the puzzle. Having a deep understanding of what consumers are searching for and reading about is, for lack of a better word, essential, in marketing to today's consumers. 86% of people are spending more time with media, making this an opportunity that businesses need to seize to stay relevant and in front of consumers.
An Internet Minute in 2020 (Prior to COVID-19)
To fully grasp how much media consumption has changed as 2020 progresses, we need to first take a look at how people were interacting with the internet back in January.
People have developed a close relationship with the news in 2020 that parallels major world events of the past. We've seen drastic increases in the consumption of media, from news searches being up 37% to a Nielsen report showing an increase of 100% year over year in video streaming for the 25-54-year-old demographic. Capitalizing on this opportunity requires a strategy that blends media consumption trends with honest, caring, emotional storytelling, showing consumers that your business cares about their wellbeing.
Trending Towards Success
We mentioned before that media consumption is at an all-time high. You might be wondering just how much of an increase we're seeing. Enter, our chart below.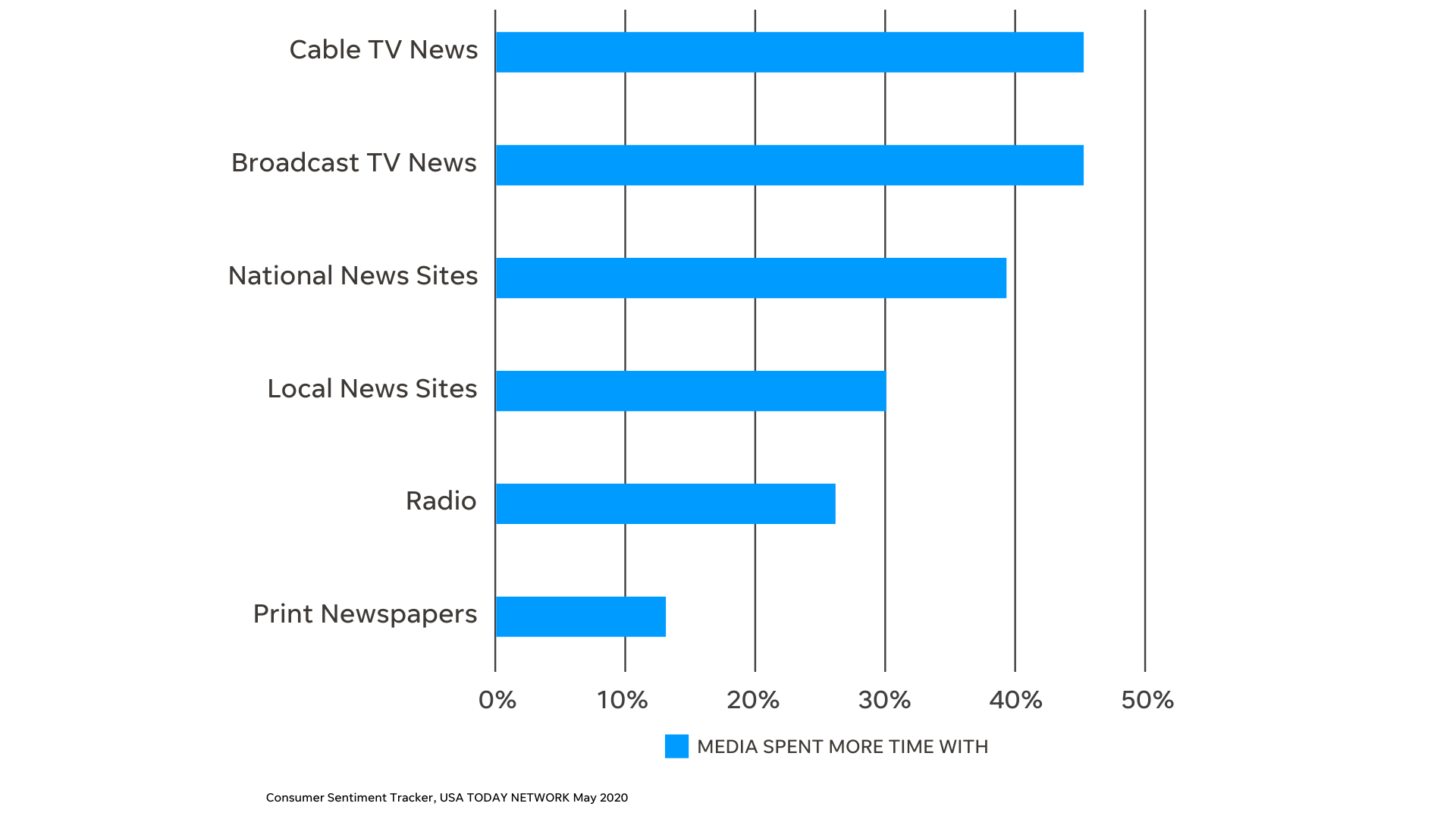 And while media consumption increases, businesses can take satisfaction in knowing that the cost per lead or CPL is the lowest we've seen in years. With more people on the internet and lower barriers of entry, this is the perfect time to make your story heard. The best way to do that is by looking at what news stories matter the most to consumers and tailoring your messaging to show the unique point of view of your business.
If you're looking to work with a marketing partner that has roots in journalism, your dollar will go further than choosing a company that only understands marketing. Businesses that have partnered with publishers have seen a 50% higher brand lift*, making your marketing investment work smarter, not harder. Reach out to learn more!
*Consumer Sentiment Tracker, USA TODAY NETWORK, May 2020​