With everything going on in 2020, it's no wonder that people feel more isolated than ever before, and while the majority of businesses have reopened their doors, consumers are still hesitant about returning to the outside world.
So, what can your business do to support consumers right now and address the way they might be feeling about getting back to business? The answer is to build a sense of community.
Luckily for business owners, this takes limited time and few resources to implement. Below are four tips that can help your business build a sense of community right now.
Tip #1: Make your storefront speak to consumers.
Your storefront, whether you're located in a high-traffic area or neatly nestled off the side of the main road, is your chance to introduce yourself to consumers in your direct area. What better way to greet passerby's than to offer some words of encouragement and inspiration? It not only helps to create brand recognition in consumers' minds but also promotes a positive brand experience and engages consumers that may not have stopped in otherwise.
A great example of all that you can accomplish with your storefront comes to us from Washington. Andy Shallal, owner of Busboys and Poets decided to paint the windows of his restaurants with messages of hope and unity.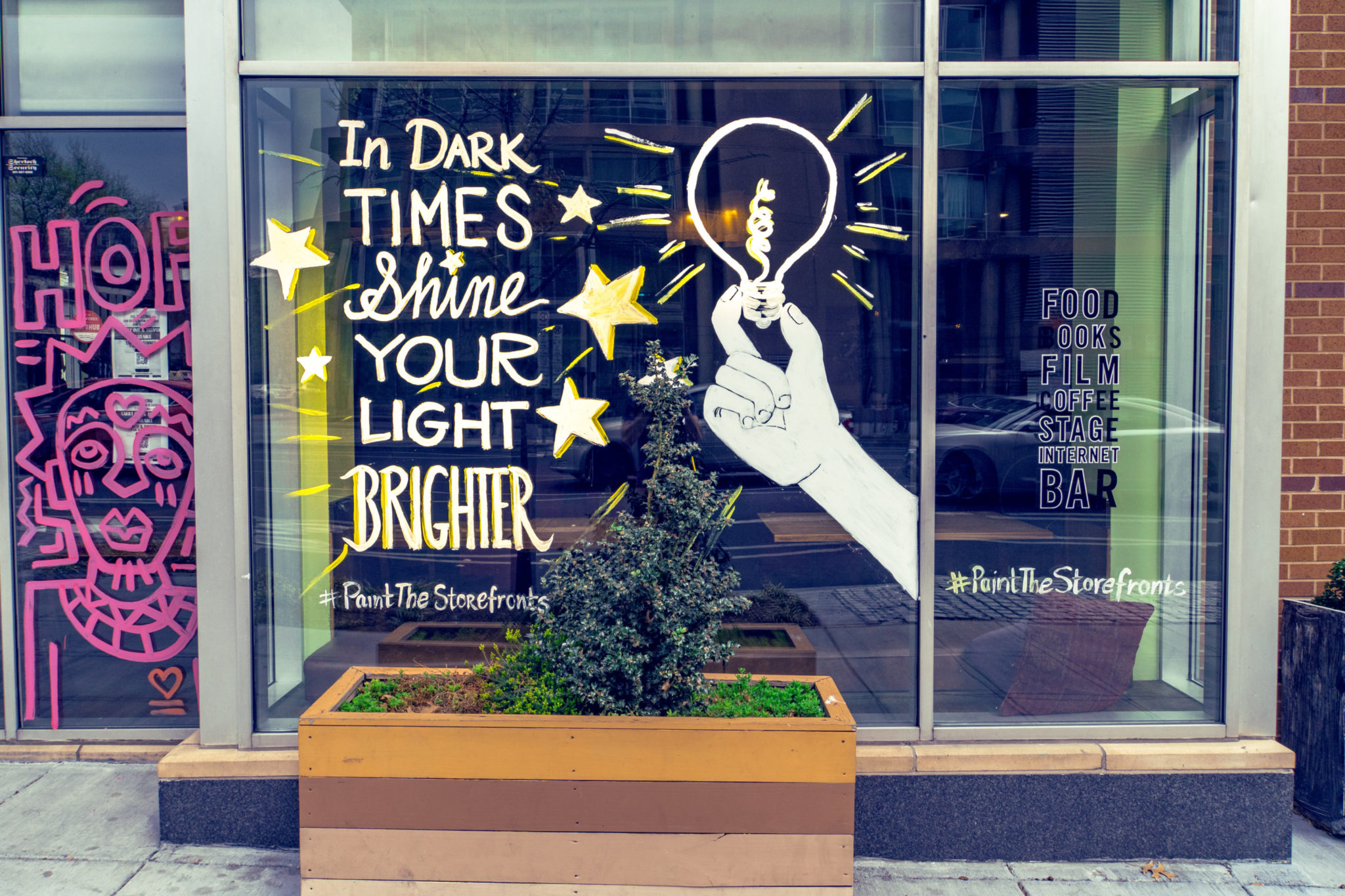 His artwork is warm, inviting, and speaks to a time when the world as we knew it was much simpler than now.
Tip #2: Support our front-line workers.
If there's one positive thing that 2020 has brought us, it's the unwavering support of front-line workers. While most people were advised to quarantine and used the opportunity to binge-watch the latest Netflix series (we know we took advantage of that), front-line workers were stocking shelves in grocery stores, taking care of sick patients in hospitals, and were all around doing what needed to be done to make this world a healthier and safer place.
Creating offers and incentives for front-line workers is a great way for your business to give back and show your community that you care. Not sure how to go about doing this? RetailMeNot has provided a list of companies that have discounts and freebies specifically for front-line workers and may serve as some inspiration for you to come up with your own offer.
Related: Get resources to help you market your business during the coronavirus pandemic.
Tip #3: Be mindful of customers' concerns.
Let your community know that you're open for business and that you're doing all you can to ensure a safe and healthy atmosphere. You can accomplish this online by updating social channels with pictures of your employees wearing masks and gloves, or by putting signs in front of your store that outlines the safety procedures you're taking to make customers feel more at ease.
Your customers' concerns are your top priority, and gaining feedback on their in-store experience is vital to the success of your business. Ask customers in-store how you can improve and build on what you're doing now, and use your social media channels to ask followers what they've seen from other businesses in terms of safety.
Right now is the time to over-communicate the changes you've made so that consumers know you're listening and optimizing for their experience. While this is an ongoing process and will likely take some time and effort, it shows your customers that you truly care about them (and your employees!) and that you want to do what's best for your community.
Tip #4: Find new ways to engage your community.
We understand that your business is already dealing with a myriad of changes due to COVID-19, and the last thing you need is another project to work on. However, some projects are higher priority than others, and engaging with your loyal customers – as well as new consumers in your area – should be at the top of your list.
Now's the time to get creative! Whether that's hosting virtual events, like at-home paint nights where you supply the canvas and paints and have a live stream paint instructor, or if you're a restaurant that is making meal kits that families can create together within their own homes – you can build on what your business offers and find ways to make it accessible to consumers in a new way.
Showing your community that you're thinking of them and are trying to provide new services that will help them maintain a sense of calm during these times is a phenomenal way to engage people when your brand probably isn't at the forefront of their minds.
You going the extra mile to listen to consumers and implement changes that better the lives of the people in your community help to build stronger bonds and doesn't hurt in trying to keep your business growing. Show your community that you are thinking of them during these trying times, and they'll return the favor tenfold. Your business is only as strong as its brand and the community that serves.
Need help reaching consumers in your community? Fill out the form at the bottom of this page, and we can help you develop a stronger brand, make decisions that engage consumers, and find new ways to ultimately drive people to your storefront (in-person or virtually!).