Booking appointments or free consultations is incredibly important for many local businesses, from plumbers and salons to accountants and wedding planners. It's how you get new customers and bring in revenue. But actually getting those appointments scheduled often takes way more time than it needs to.
In fact, it takes on average seven emails to set up and confirm an appointment. Plus, one-third of people would prefer to schedule an appointment themselves rather than call the business or fill out a contact form.

So how can small businesses simplify and speed up the process while providing a good experience for their customers and potential customers?
Online scheduling software is the answer. With appointment scheduling software, customers can easily book an appointment with your business without all the back-and-forth—and in a way they prefer. And you save time you can put back into running your business. It's a win-win.
Say hello to our scheduling software
We're excited to help small businesses begin easily scheduling appointments with customers.
After a quick and simple setup process, you can start scheduling appointments on your website or from a customizable link and managing them with ease.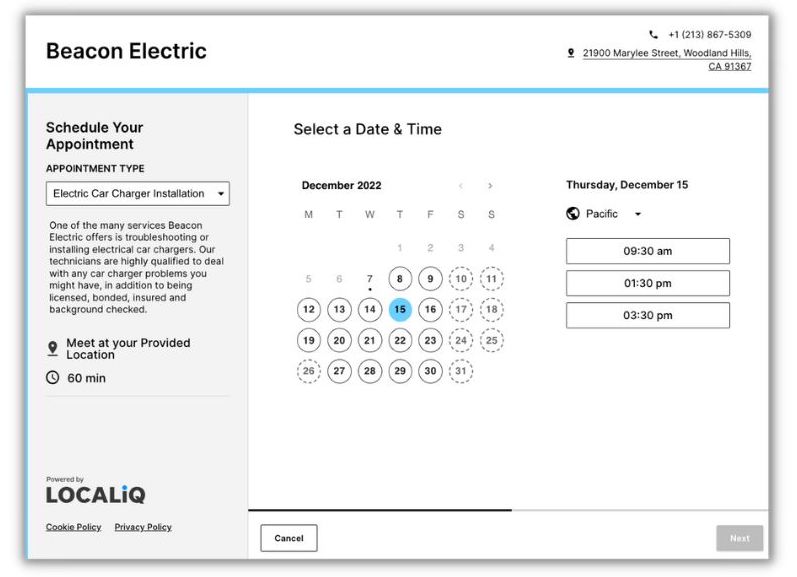 Our free scheduling software also includes features such as customizable themes to complement your branding and the ability to integrate with your Google Calendar so customers can only choose appointment times that work best for your business.
Once customers schedule their appointment, they'll receive automated email reminders, so you don't have to worry about no-shows or sending manual reminders yourself.
Businesses that use our scheduling software get access to an all-in-one dashboard to make appointment management easy. Within the dashboard, you can see appointments, receive notifications of new bookings and cancellations, and view all activity associated with your leads. Within this dashboard, business owners can also explore more free and premium features to help them build a strong online presence and manage leads.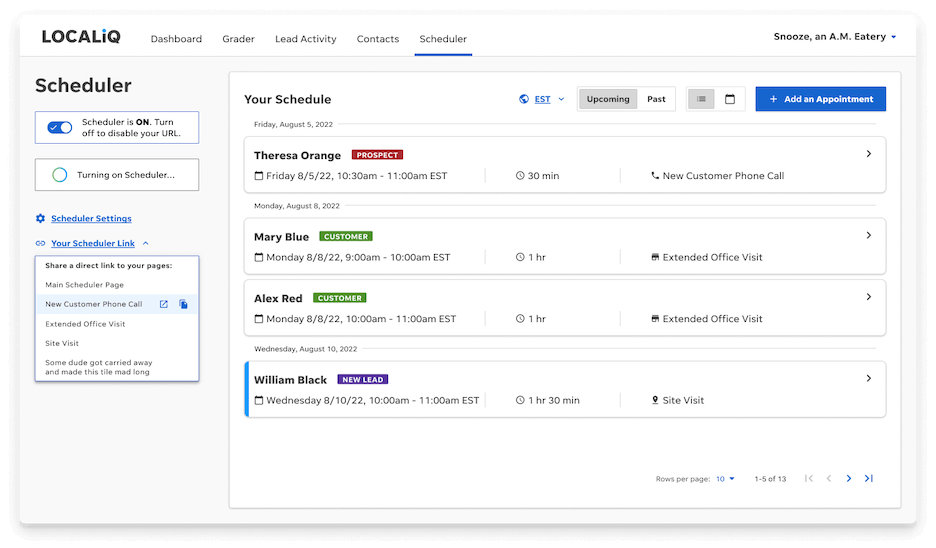 The ability to see all information regarding appointments in a single dashboard simplifies scheduling management for busy business owners.
You can choose from a free or pro version of our scheduling software:
Our free scheduling software provides businesses with one appointment type, three widget colors, rescheduling and cancellation options, and more.
The pro version of our scheduling software provides additional appointment types, widget colors, and features, including custom questions so you can prequalify customers as they request an appointment.
Both our free and pro versions include access to our dashboard and suite of other free and premium features.
Benefits of using scheduling software
Why use scheduling software? Here are a few benefits to consider.
Easily convert customers: Today, customers expect the ability to schedule an appointment online. By providing the option to schedule an appointment through a link or your website, you're making it easier to convert a website visitor into a customer.
Be available 24/7: Many people are searching for your services after business hours. Online scheduling software allows you to capture these searchers after hours and convert them into customers.
Free up time: If your business handles a lot of appointments and scheduling, then you know how time-consuming it can be to coordinate. Scheduling software alleviates this pain point, allowing you to focus more time and energy on serving your customers while still booking appointments and consultations.
Who should use scheduling software?
Wondering whether or not scheduling software is right for your business? Small businesses in need of an appointment scheduler include home services businesses like roofers, pest control, HVAC; professional services businesses like lawyers, accountants, and real estate agents; health and wellbeing businesses like gyms, salons, and spas; and lifestyle businesses like interior designers or photographers.
This list isn't comprehensive, of course. Basically, if you offer any type of service that requires an appointment, including free consultations, phone meetings, and more, then you would be a great candidate for scheduling software.
How to get started
Ready to try it out? Try our free appointment scheduler now, and learn more about ways we can help out here.