Building a strong brand is critical to the success of any business—no matter the size. A brand is a promise to your customers to deliver on the benefits of your product or service, and a cohesive brand strategy ensures that you're communicating that promise to your customers across all interactions. A differentiated articulation of your value is the key to growing your business and building lasting relationships with your customers or clients.
We've been on a journey to evolve the brand of LocaliQ. Last year, we shared the beginning of that brand evolution by debuting a new logo and our first brand advertising campaign. You will now see further expression of the new visual identity throughout our brand presence.
Our new logo is a beautiful example of why we chose this new look and feel. We're increasing our commitment to transforming our customers' businesses, putting our innovative technology and years of digital marketing expertise toward our mission of helping our customers grow. That's why our new logo embodies potential and movement, forward and upward.

We've put a huge amount of work into this brand evolution. Here's why we believe this work is important not just for LocaliQ, but for any business looking to succeed and scale with digital marketing.
A backstage look at our brand work
We believe that all businesses have the potential for growth. And knowing that, LocaliQ exists to help businesses convert that potential into more leads, more customers, and more revenue, all through the transformative power of the digital marketing platform that we offer.
A well-articulated brand strategy is the foundation for all marketing, and we are now rolling out our updated visual identity and messaging to our website, social channels, and all customer touchpoints.
To arrive at these finalized assets, our work included:
Defining who we are, what we offer, and why
This was arguably the most important part of the work—defining the value of what we offer to customers. It meant clearly outlining what products we provide, and how LocaliQ is a transformative catalyst for growth when a business is ready to invest in digital marketing.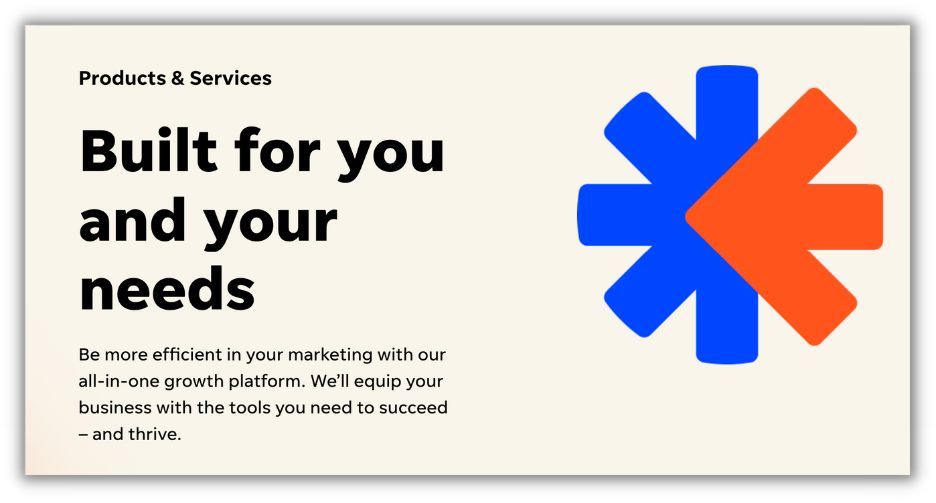 Explaining our differentiation
LocaliQ offers a fully integrated growth platform that combines technology and expertise to equip any business to prosper within their local market. LocaliQ is part of Gannett, a company that has been connecting consumers and businesses in local communities through the power of news for over 100 years. It's this deep understanding of local consumer behavior that uniquely positions us to help small businesses succeed and grow in those communities.
One of our core assets to that end is the Cross-Media Optimization (XMO) technology that powers our ad products, simplifying budget and ad management across key digital platforms and continuously tweaking campaigns based on our customers' unique goals. This is one way our platform can optimize the impact of spend and effort at every stage of the marketing funnel.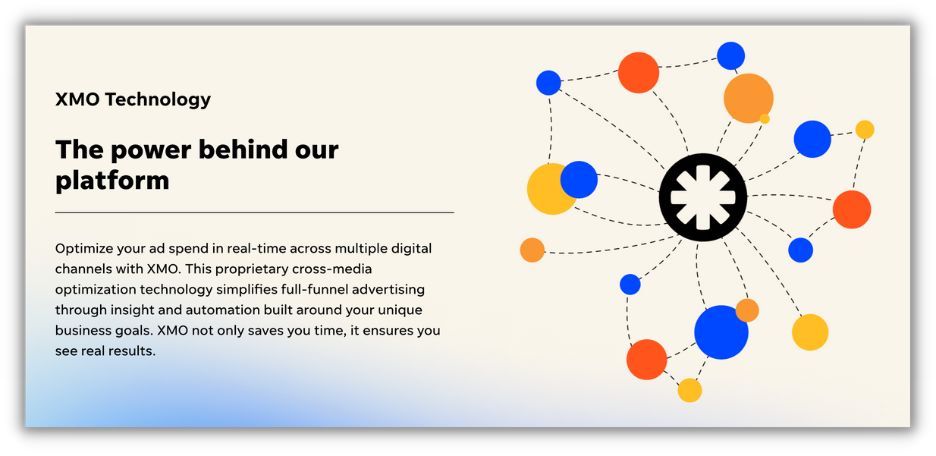 Streamlining our brand story
Over the years, Gannett has acquired a number of innovative, leading companies in the digital marketing space, including ReachLocal, WordStream, and ThriveHive. We've taken the best pieces from each to apply to our commitment to accelerate our customers' growth. All of these businesses are now aligned under the LocaliQ brand.

This work was intensive, but also fun! It was exciting to make so many important decisions as a team. These included decisions about the types of images we wanted on our website—imagery that would best reflect our customers and our brand values. Decisions about how to bring our brand elements to life through dynamic new designs. And decisions around the best ways to communicate our refreshed positioning to inspire our customers.
More details on the new LocaliQ.com
Having an easy-to-use website that clearly communicates who your business is, what you offer, and who you serve is crucial for success, which is why we've invested in redesigning and rearchitecting our own website.
As we thought through each section of our website, our customers were our top priority. We knew we needed to address their pain points and their needs, so we used that as our guiding light every step of the way.
On our new website, you can find:
1. Rebuilt product pages that more clearly explain the features and benefits of each of our solutions and how they work to help businesses reach their specific marketing goals.
2. More information about how the LocaliQ platform can help customers get better results through streamlined lead management, better budget allocation, and industry-leading ad optimization.
3. Our insights-packed free resources, including our blog, Marketing Lab, and tools like the Website Grader—all with a new look!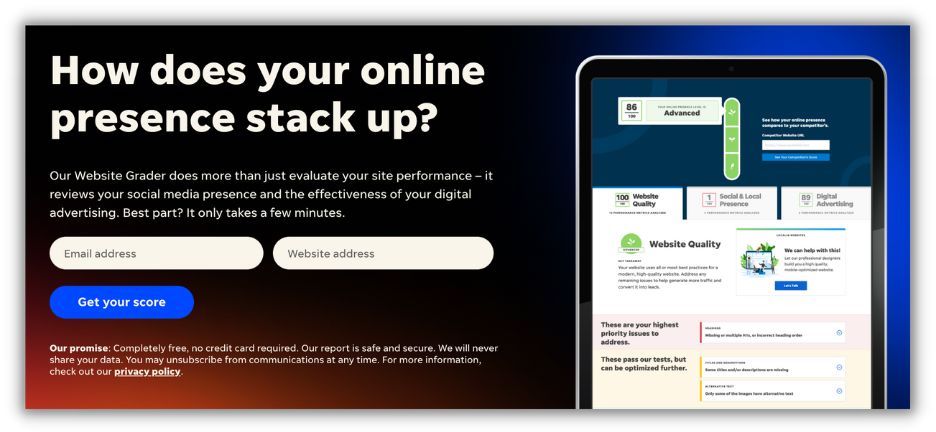 Updating a website is a necessary step in the expression of any brand, since it's likely the first interaction most prospective businesses will have with you. And a well-designed, well-architected website can help you simplify and streamline the customer journey to convert more leads into sales and customers.
My colleague Jon Camerata, Chief Sales Officer of DMS, put it really well:
"Great marketing, which starts with a great website, makes my teams' jobs so much easier. When we have conversations with the types of businesses we're best positioned to serve, those prospects already have a strong sense of how we can help them get to where they want to be."
Check out the new LocaliQ.com
We encourage you to take a look around the updated LocaliQ.com to learn more about who we are, and if you want to dive even deeper, sign up for a demo!
While this is a big step in our brand journey—it's not the end. We have even more exciting updates coming to our website in the coming months. Stay tuned!