We love helping our customers get the best results they can from their digital marketing, including their campaigns on Google Ads. That's why we're thrilled to share that LOCALiQ is a Google Premier Partner—putting us in the top 3% of all Google Partners! We're excited for how this distinction impacts our customers, and we're honored to be recognized for our team's hard work in helping local businesses use Google to grow.
Let's talk more about what this designation means for our customers and our team!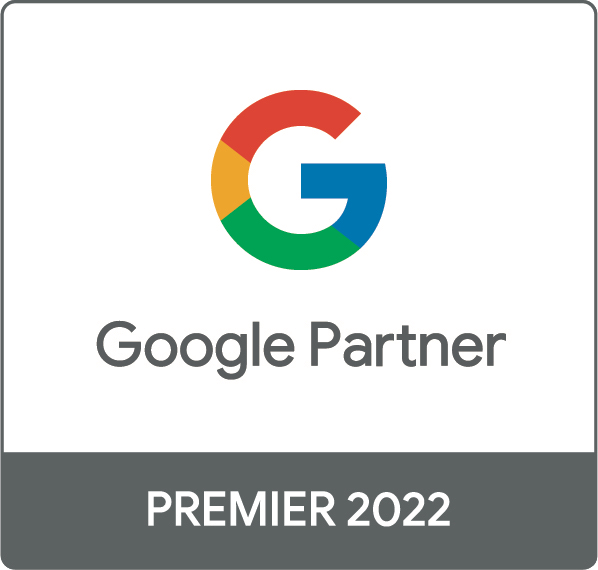 What is the Google Premier Partner program?
What does it mean to be a Google Premier Partner anyway? Great question. Google Premier Partners are recognized for maximizing campaign success for businesses, driving growth by maintaining high-performing campaigns, and demonstrating Google Ads skills and expertise with certifications.
In 2022, Google revamped its program with some new requirements (and new benefits for partners). One additional requirement is that at least 50% of account strategists must be Google Ads certified (LOCALiQ has over 300 Google Ads certified team members!). Another is that Premier Partners must have a minimum optimization score of 70%, meaning that campaigns are optimized to perform at the highest capacity, leading to more focused campaigns that yield better results for LOCALiQ customers.
Google also looks at customer growth, retention, and product differentiation, meaning the types of solutions our customers are running across Google.
LOCALiQ was found to outperform 97% of other Google Ads providers in these areas, in order to keep our Premier Partner status.
According to Davang Shah, Senior Director of Google Ads Marketing, Google Premier Partners "stand out based on their commitment to developing product expertise," as well as building new customer relationships and helping their current customers grow.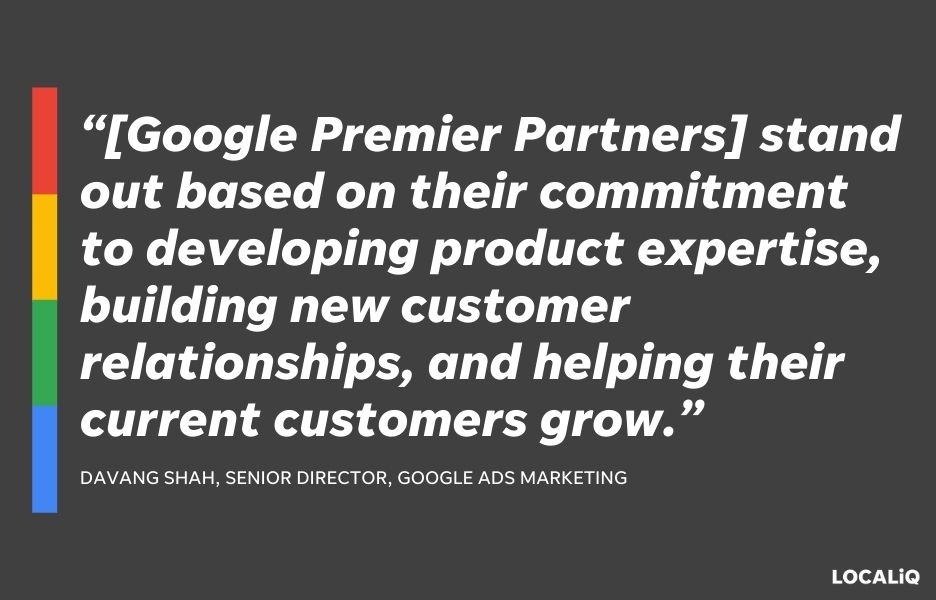 All this combined means that Google has found we're excelling in delivering results for our customers on Google.
Benefits of working with a Google Premier Partner
By meeting (and exceeding) these requirements, LOCALiQ is now in the top 3% of all Google Partners—which is an honor for our team, but more importantly, a huge win for our customers.
As a Google Premier Partner, we not only have a proven track record at driving success for our customers, but we also get next-level access to Google insights and product betas, support, and further education for our teams.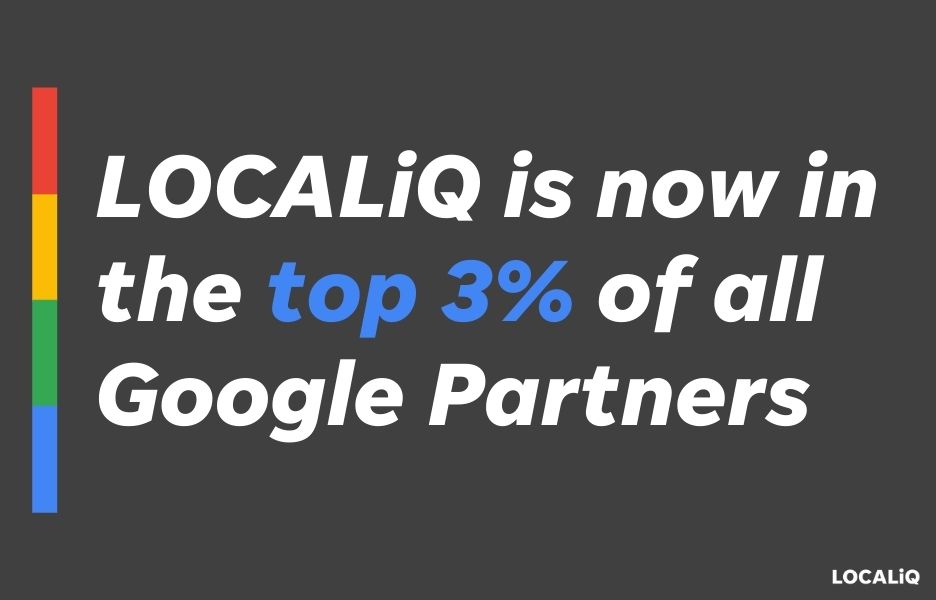 This translates into better results for our customers, the ability to stay on top of Google's updates and changes as they happen in real-time, and innovative tools and resources from Google to support our customers' growth.
Google outlines the benefits of working with a Premier Partner perfectly:
Maximize your results
Work with experts
Achieve more together
"We're thrilled to be recognized as a Google Premier Partner," said Bala Menon, Chief Client Officer at LOCALiQ. "This designation shows our commitment to helping our customers succeed, and we look forward to continue delivering best-in-class service, support, and technology to help them reach their unique marketing goals."
Looking forward to growing together in 2022
We do all we do to support local businesses hoping to succeed and grow. And we're looking forward to continuing to support that growth on Google and beyond in 2022. Want to learn more about our digital marketing solutions on Google? Reach out today.
Related: Get Google Ads tips and updates from our experts!