Many small businesses have a love-hate relationship with reviews. On the one hand, great reviews go a long way in promoting your business. On the other hand, negative reviews can hurt the credibility of your business and keep customers away. While disgruntled customers exist and negative reviews happen from time to time, it's a fact that the majority of reviews are positive and help grow your business.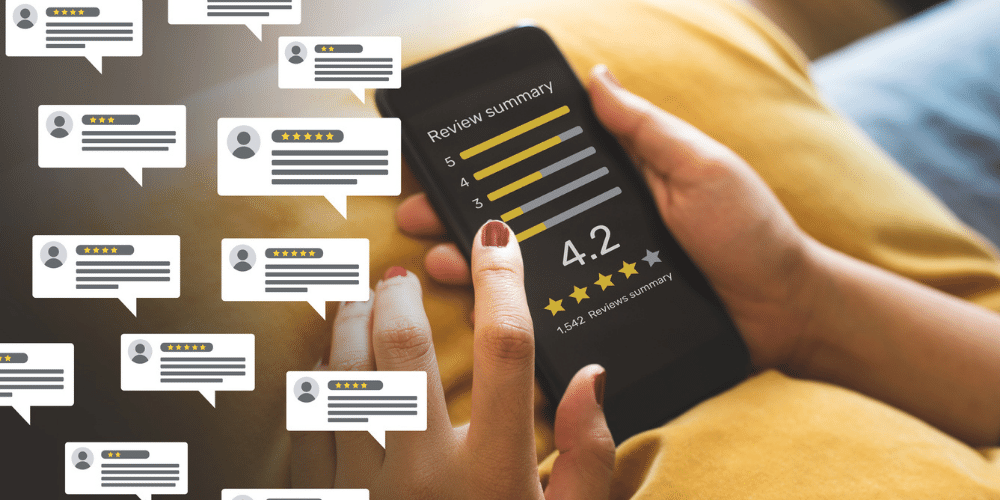 7 benefits of online reviews
In today's digital world, small businesses must embrace reviews. This means asking customers to leave reviews, keeping a close eye on them (monitoring your reputation), taking the time to respond to customers, and sharing your best reviews on social media. Here are the most important reasons why reviews are critical for small businesses and should be top of mind:
1. Reviews help you get found online
When you search for a business, it won't take you long to find what others have to say about it — it's probably going to be one of the first results they see. Google takes review ratings from multiple sites into consideration when determining the order of businesses it returns in local searches. In fact, according to LocalSEO Guide, online reviews and specific keywords influence local search engine visibility more than any other factor.
When consumers go straight to Yelp and search for a local business, your ranking is also influenced by your rating, as well as the number of your reviews. The same is true for searches on Facebook. (You should know that while most local searches still start in Google, Yelp and Facebook aren't too far behind in terms of how people are looking for local businesses.)
Plus, there are thousands of apps and services that use review data to help local shoppers make purchasing decisions. Yelp reviews alone are used by more than 100,000 developers, including Apple, Microsoft, real estate apps, and in-car navigation systems.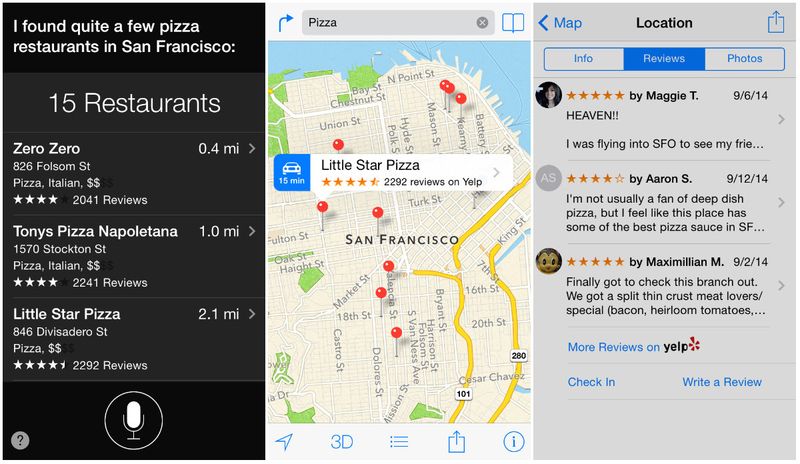 Reviews and review sites also play into your overall web presence. You don't want incorrect or outdated information about your business floating around the web — you want your prospects and customers to have a good experience with you no matter where they're interacting (or trying to interact) with your business. And, keeping your name, address, and phone number consistent across the web not only presents a consistent presence for your consumers, but it can also help your business rank better in search engine results.
2. Reviews give your business credibility
People who leave reviews have nothing to gain or lose. They had an experience, good or bad, and want to share it. And guess what? People are going to listen. In fact, studies show that close to 90% of consumers trust online reviews as much as personal recommendations.
And, review sites have made an even bigger push to keep reviews unbiased in recent years. For example, Yelp now displays a little warning on a page that they've found to be soliciting reviews from customers (don't worry — there are still some ways you can get reviews on Yelp without outright asking for them). Yelp doesn't tolerate anything less than authentic, and that's probably why so many people trust strangers to make purchasing decisions for them!
Related: Get online review stats that show just how important reputation management is for your business!
3. Reviews impact purchasing decisions
Before spending money and time at your small business, most consumers do their research. There's just something about reading insight from someone's experience at a business before you try it out yourself. Nearly 70% of consumers are influenced by online reviews. Before buying a product, eating at a new restaurant, or doing business with a company, people read reviews from competitors and take them into consideration.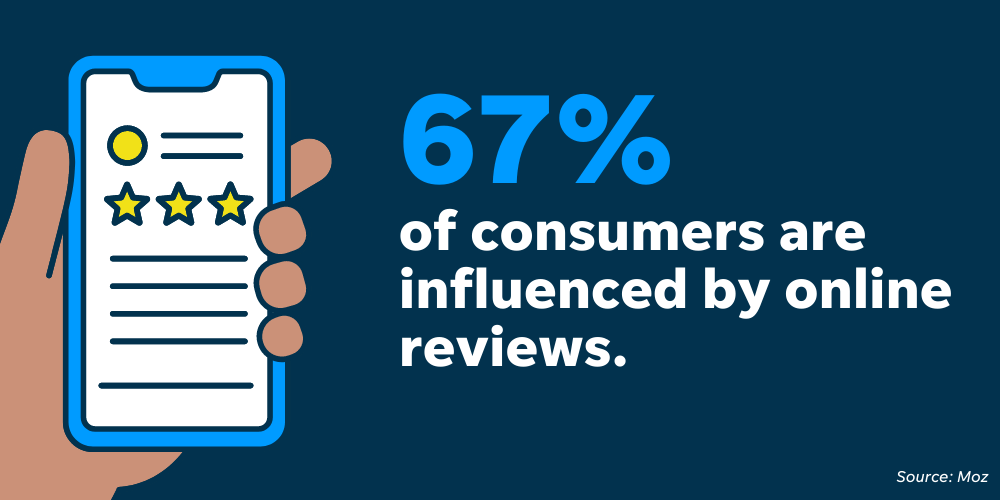 Think about it: You're visiting a new city for the first time and turn to your closest friend for a lunch recommendation (and by closest friend, I mean Yelp). You narrow your choices down to two Italian restaurants – one with some mixed reviews and another with over 100 glowing reviews. Which one will you choose?
The better your business's online reputation is, the easier it is for people to make the decision to try your business. Not too many consumers are willing to take a risk on a business with few, or mostly negative, reviews.
4. Review responses show that your business cares
Not only do people pay attention to what others say about your business, but they're also watching how you handle it. Whether they're positive or negative reviews, does your business take the time to respond? Almost 80% of consumers feel that a business cares about their consumers more if they respond to online reviews than if they do not.
So, how should you respond to reviews? Here are some resources to help:
And remember: Your response to your reviews and how you handle them can be just as important as the reviews themselves!
5. Reviews provide important feedback
There's a lot you can learn from the reviews left for your business. What do your customers love about your business, and what are they not so crazy about? Paying attention to your reviews helps you do more of the good and less of the bad.

See if there are common themes in your negative reviews – maybe people are having a hard time getting ahold of you, they're finding incorrect information about your business hours online, or they're receiving slow service. From there, you can fix issues before they become a bigger problem.
Plus, you can use your positive reviews to confidently market what you find to be most popular with your customers.
6. Reviews help build trust with customers
An important advantage of running a small business is that your business operates on a personal level. You're part of the community and often personally know your customers. Visits to your business are often part of a daily, weekly, or monthly routine.
Reviews are a great opportunity to connect online with your customers and build trust, which is an important component of any successful business. If customers see that you engage with reviews and use them to improve your business, they can feel confident that your business delivers on what they promise.
And, positive reviews that highlight your company's mission statement and values can help prospective customers understand the type of business you operate.
Related: Customer testimonial videos can take this a step further! Find out how to create these videos for your business.
7. Reviews facilitate word-of-mouth marketing and referrals
Yes, we've been referring to reviews as the more formal write-ups you see on review sites and directories, but we think it's also important to mention the smaller chatter you see on social media — the talk and commentary that's out there about your business. Word of mouth generally happens over time, after your business has been noticed and you've got people talking about you. The more chatter–especially positive–the more word-of-mouth marketing and referrals you may be getting for your business.
Here are some examples of chatter: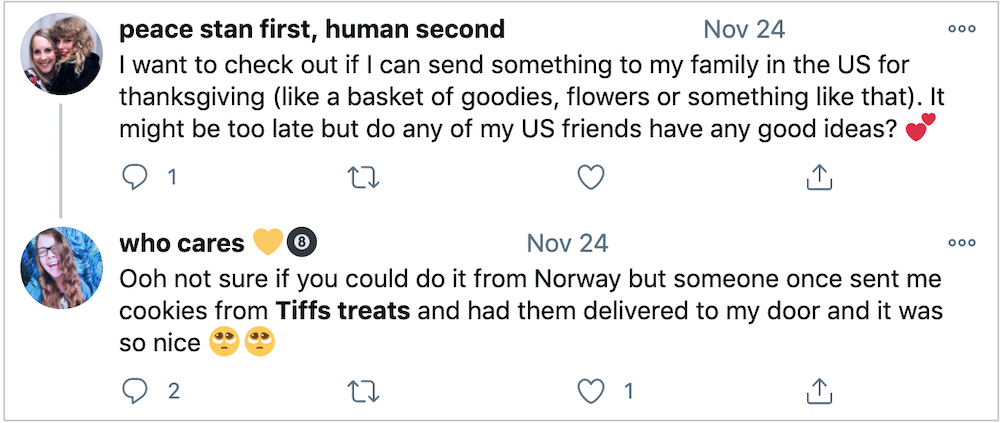 Had the most amazing date at #pizzerialocale last night. Food may have been better than the date ?
You have to check-in at Core Power Yoga this week! I got $10 off my class.
I wish the #greatdividebrewery offered gluten-free beer!
Opportunities for reviews, referrals, and chatter are everywhere, and word of mouth about your business is not new. In fact, as a small business, it's most likely your most effective marketing tool. The great thing about review sites these days is that all of this word-of-mouth talk about your business can be monitored and tracked.
Online reviews and your small business
Online reviews actually matter and can be the deciding factor between you and your competitor. So, don't be afraid of reviews. Embrace them and their power! Get listed on social media and review sites and give your customers and audience the chance to talk and learn about your business. You'll find that you learn a lot, too!
To grow your business and maintain a positive reputation, keeping up with the online presence of your business is crucial. If you're unsure how to get started, contact LOCALiQ. We're here to help!