Branding is creating an image in the mind of your customers—ideally, one that sticks around long after they make a purchase.
Branding is often thought of as a luxury reserved for large corporations, but it's essential for small businesses, too. (I'd argue almost more so.) A strong branding strategy can differentiate you from competitors, increase customer loyalty, and grow your profits.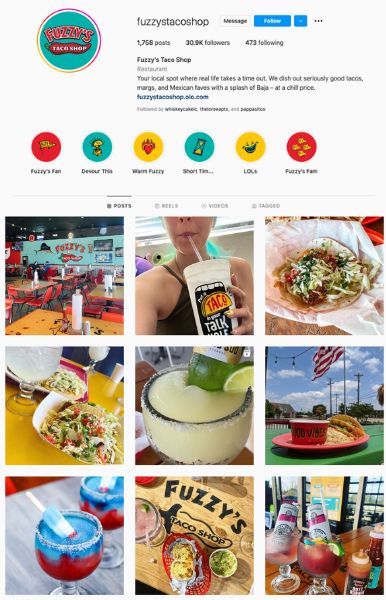 This restaurant's branding comes across clearly on its Instagram.
What does small business branding look like in action? We developed this guide to help you get started:
Let's jump in!
What is small business branding?
Branding is the process of creating a memorable image, identity, and feeling that your customers can associate with your small business.
In a tangible sense, a brand is made up of elements like:
Logos
Color palettes
Font choices
Tones of voice
Taglines
And more
Intangibly, a brand is the essence (or "vibe") that a company portrays to its customers and that its customers feel as they interact with the company.
We'll dig into the branding process later in this guide.
Why should I brand my small business?
If you're just starting out, branding may seem like a luxury—especially if you're busy trying to attract customers to your products or services. While you don't need to close your business to determine your brand, you should invest time and energy into the branding process while your business is still young.
Not only is your small business brand part of the impression that you leave behind with customers, but it also guides the business decisions you make down the line. The earlier your brand your business, the better.
Let's examine a business with impeccable branding: Starbucks.
Many of us could draw the green siren logo from memory—the very same logo that was featured in the window of the very first Starbucks location in Seattle.
Has its brand changed over the years? Of course, as you can see below. But the essence of its brand has remained the same. Not only has this strengthened its brand presence over the last 30-plus years; it's crafted an incredible story for the Starbucks brand and the people behind it.

Today, you can see the Starbucks logo everywhere: on its cups and mugs, employee uniforms, food packaging, printed marketing materials, and social media accounts. The Starbucks brand is so imprinted on its customers that people associate the smell of coffee with it long after they've left the cafe.
The Starbucks of today is far from a small business. But the Starbucks of 1971 was the definition of one—and they invested in branding from day one.
A strong brand allows customers to recognize your products or services and differentiate you from competitors. It also creates consistency across media and from year to year as your business grows.
Small business branding ideas
Let's dig into seven branding basics for small businesses.
1. Consider your target audience
Start conceptualizing your brand by considering who you want to reach.
If you haven't defined your target audience yet, do this before beginning the branding process. Your target audience—their demographics, interests, pain points, and personalities—will determine the essence and identity of your brand. Why? If your brand doesn't resonate with them, they won't become a customer.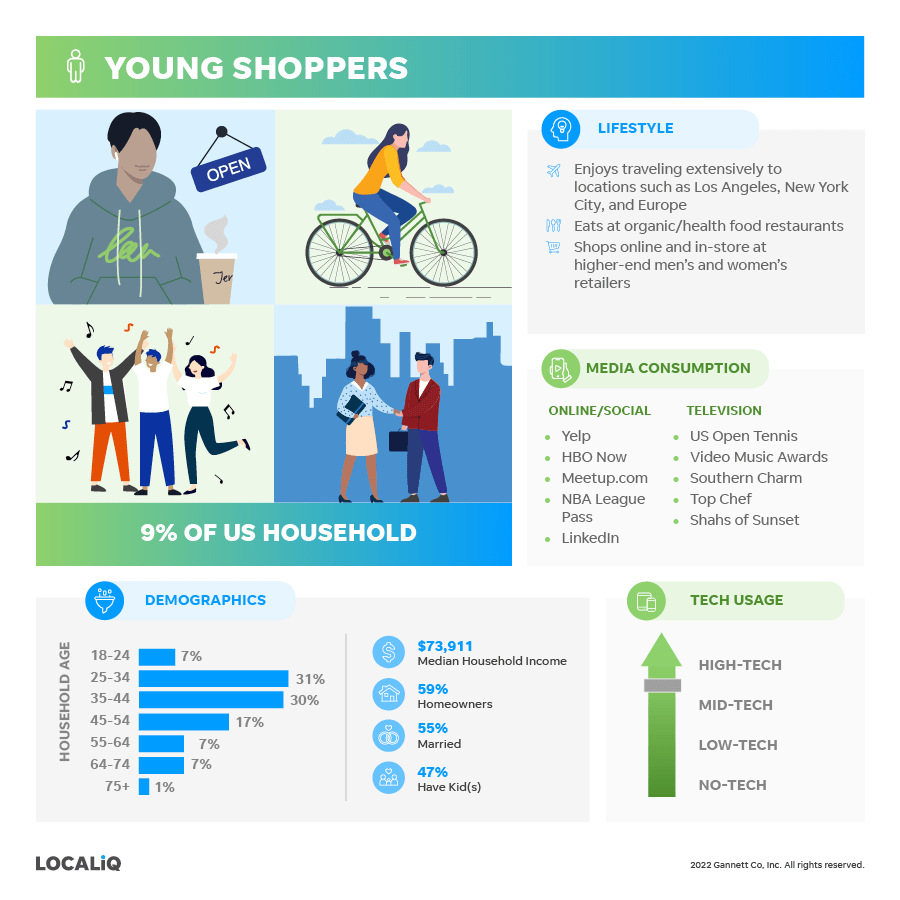 Hint: Our target market examples can give you a jumpstart here!
Consider digging into other companies and brands your target audience prefers and analyze their branding.
Once you've defined your brand based on your target audience decide how best to communicate that image through a company logo, color scheme, marketing materials, signage, and other methods.
For example, let's say you're launching a car detailing business targeting luxury vehicles. Your branding would likely be sleek and modern, featuring a simple color scheme with black or royal blue and a bold, simple font. Assuming your business targets wealthy customers, you could also analyze luxury brands to identify design themes and patterns to feature in your own branding.
2. Establish a brand voice
Your brand's voice is how you want to "sound" on social media, your marketing and advertising, and your website.
Your brand's voice is the personality of your business. Your target demographic will identify with this voice and feel like they can trust you because it sounds like them and other brands they respect.
Blake Lively's Betty Buzz, a line of non-alcoholic sparkling mixers, uses a playful and consistent tone of voice across all of their creative materials. This resonates with Blake's public persona.
Its most recent ad has the 2B's – Blake and bubbles doing all the talking. A fun spot by husband and Jack-of-all-trades Ryan Reynolds ' agency Maximum Effort.

By the way, #BettyBuzz is named after Blake's grandma & aunt. Her youngest daughter is also named #Betty ..

(3/4) pic.twitter.com/YGeTpHkC6J

— BrandGully (@BrandGully) May 12, 2022
When establishing a consistent brand voice, here are some things to consider:
Know your audience: Your brand voice should be based on who you're talking to, whether young adults, retirees, single mothers, or construction workers.
Understand who you are as a company: It's important to know what makes your business unique before developing a voice for it.
Use social media as an opportunity to experiment: Ask customers how they feel about your brand communication style and use it as an opportunity to refine it further if needed.
Write in the first person: Speak like yourself rather than in the third person.
3. Create a business name
Your brand name should be memorable, catchy, pronounceable, and consistent with your brand voice.
Mashable is an online publication focused on social media news. The name Mashable was chosen because it sounds like "mashup," which describes what Mashable does—shares a variety of content in one place for easy consumption.
Confirm that your name doesn't conflict with another company's trademarked name or an existing name in your community or industry.
If you discover other businesses using names you're considering, alter yours so you don't compete in search results or on social media. Similarly, make sure your business name is available on channels like Facebook and Twitter (or wherever your target audience hangs out).
Lastly, if you plan on building a website for your new business (which you definitely should!), check for a matching domain name that features your business name.
Related: Have a website already and want to see how it stacks up? Try our free website grader for actionable insights!
Here are some additional tips on how to brainstorm for a business name:
List words related to your industry.
Examine competitors and other companies in your industry.
Use a tool like Brandings, BrandBucket, or Naming Force to get new ideas and inspiration from existing brands.
Think about what makes your company unique and memorable—brand personality, core values, or mission statement—and use this as inspiration for your name.
Keep it short and sweet. Distill your business name to one word if possible, or use alliteration (like Betty Buzz) or rhyming to make it memorable.
Related: Our pals at WordStream curated 260+ business name ideas for you!
4. Create a logo that represents your business
When it comes to branding, your small business logo is the most important element. It should allow your customers to identify your business, even if they see it in a small size or from a distance.
Make sure that your logo represents your company's values and personality. MailChimp's logo does an excellent job of combining simplicity and creativity. The chimp combined with the bright yellow is instantly recognizable, and its expression is playful and fun.

You can develop a logo yourself on Canva or hire a professional. The latter can cost anywhere from $800 to $2,500 or more, depending on the complexity of your design and how fast you need it.
Here are some tips to help you create your own logo for your small business branding:
Choose colors that represent your brand identity and personality. Colors evoke different emotions. Red = excitement, blue = trustworthiness, and yellow = optimism, so choose colors that resonate with your target audience and the values you want your brand to portray. (Get more details on color psychology here!)
Make sure your logo can be used as a favicon (the small image next to the website address in a web browser)
Choose similar colors consistently across all marketing materials.
Avoid fancy or custom fonts in your logo as they are hard to read from a distance and won't translate well online or on social media platforms such as Facebook or Twitter. (Get more tips to make your social media accessible here.)
5. Develop a strong tagline
A tagline is a short phrase that sums up what your business offers and what makes it different. A good tagline should be catchy, memorable, and unique; it shouldn't be too long or need additional context to understand.
A company's tagline can also create a memorable slogan that sticks in customers' minds when they see your ads or hear about your brand. Think: Nike's "Just Do It."
The tagline for Walmart, "Save Money. Live Better." communicates that Walmart helps shoppers save money and live better by providing quality products at low prices. Plus, when you hear that tagline, you immediately think of the Walmart brand.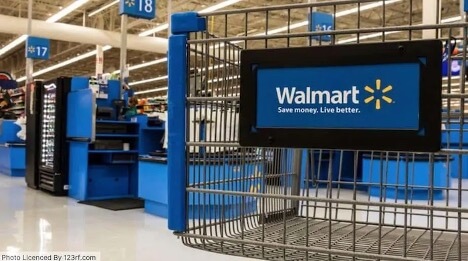 When developing your tagline or slogan, return to your target audience research. Pay attention to the values that matter most to your shoppers and the pain points your business solves for them. Consider using tools like Google Ads Keyword Planner or Facebook's free keyword suggestion tool to dig into keywords and topics commonly used by your target audience.
Related: Get our guide to local keyword research to find more relevant ideas!
Branding is key for any small business ?
Armed with your new small business brand, splash your branding across social media and your business website. Use these platforms to share information about your business with current and potential customers, and ensure your brand is consistent across every channel.
As you can see, creating a brand is not as difficult nor as time-consuming as it may seem. If you think of your small business's image from the start, you can ensure it grows with your business and helps retain loyal customers.
Your brand is a living, breathing part of your business. As you reach new levels of your company—releasing new products, hiring more people, redefining your mission or marketing strategy—don't hesitate to update your brand. If you maintain its essence, it can help you craft a memorable brand story for years to come.
Want more branding tips? We've got you covered: