In the age of COVID-19, it has become essential for healthcare systems and physician practices not only to continue caring about patients — both their lives and their patient experience — but to show them you care.
As a result, humanizing healthcare now has become more important than maybe any other time in modern history, and LOCALiQ's national research has found that 68% of consumers want to connect with their brands on an emotional level — even before the pandemic. It was also found that 7 of 10 healthcare decision-makers wanted to feel like a top priority when seeking care.
Now imagine how much more that attitude may have increased as a result of the pandemic.
Oddly, one of the best ways to make current and potential patients feel like the top priority they are is to humanize your healthcare brand through the use of technology.
Specifically, technology that can increase the communication between your business and your patients, making conversations faster and more responsive — even proactive. These days, customers expect answers now, not later, no matter how quickly that "later" actually is.
Customers want 24-hour, 7-days-a-week service. In fact, data from Forrester shows that "45% of US online adults will abandon their online purchase if they can't find a quick answer to their question." HubSpot also found that almost two-thirds of customers expect a response to any marketing, customer service, or sales query in 10 minutes or less. While a patient is not making a purchase, they can still abandon their search, or worse, choose another healthcare provider.

Fortunately, this is where web chat can swoop in and help save the day! (Or at least your bounce rate.)
Web chat is one of the simplest, most efficient ways to enhance the patient care-seeking experience, from standing out online through appointment booking, follow up, and beyond.
What Is Web Chat?
Web chat most typically includes two methods: chatbots and live chat.
Chatbots
Chatbots are programs that automate conversations between humans and computers. Chatbots are typically found in a pop-up window in the bottom right of a website, sometimes with fun, even customizable avatars.
There are two kinds of chatbots. One type is scripted, where the program will provide predetermined responses to questions and/or comments initiated by the patient.
But, just like dealing with automated customer service on the phone can be maddening (How many times have you thought, "Just let me speak to an actual human!"), interacting with these scripted chatbots can be frustrating.
This frustration can lead to the loss of potential patients, but fortunately, there are more advanced chatbot options to consider.
AI Chat
One way to circumvent the problem of customer frustration in response to predetermined answers is to use AI chat. This other type of chatbot is considered a form of artificial intelligence. It recognizes certain words and phrases that a consumer may use and adapts accordingly.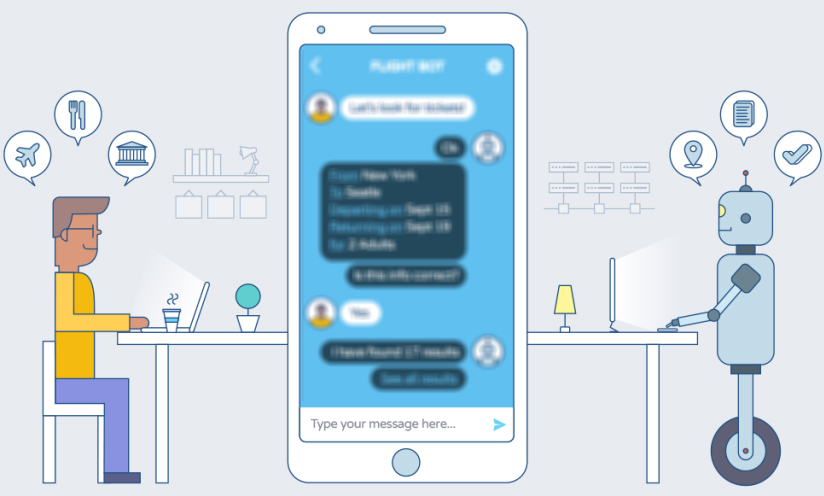 You might be thinking, "Artificial intelligence? At my practice? For my brand?"
Even in the year 2020, artificial intelligence can sound intimidating!
By recognizing certain phrases and terms, AI chat can address a great number of initial support queries. Research from IBM indicates that 80% of their "Tier 1" (initial support) queries can be answered in this manner.
Eighty. Percent.
Consider how using AI chat might free up current employees to assist with other, more pressing issues in service of your patients and your business.
Live Chat
Live chat is the other type of web chat that has proven extremely useful when communicating with patients, including prospective ones. Live chat consists of just what it sounds like — messaging with a customer service representative or another employee in real-time.
Live chat can provide the human touch that has suddenly become even more important in 2020.
One thing to consider when using live chat in healthcare marketing, of course, is HIPAA compliance. While not necessary for simple customer service inquiries, any communication that contains protected health information (PHI) falls under HIPAA rules. Encryption and user authentication are two ways that live chat providers can secure sensitive data.
Not all live chat providers are created equal, however. Be sure to check into your live chat provider's HIPAA compliance status because not all providers are compliant. (LOCALiQ offers HIPAA-compliant live chat as one component of a complete digital marketing strategy.)
Don't forget to consider your options for addressing ADA (Americans with Disabilities Act) compliance as well.
The Best of Both Worlds: Live Chat With AI
Using some combination of live chat and AI chat may be a perfect solution for your healthcare business or brand. AI chat can "staff the front desk" online when actual customer service representatives aren't available if you aren't working with a live chat provider, or they can address simple queries that get asked repeatedly.
Live chat can allow for more complicated exchange between your business and customers, and chatbots are also capable of escalating consumer concerns for an actual human to address through live chat.
3 Key Reasons to Use Web Chat for Your Healthcare Brand
Web chat helps you meet the patient where they are during every step of their journey to find the healthcare solution that meets their needs.
Here are three reasons why you should be using web chat to support your healthcare advertising and marketing efforts:
1. Web chat is faster than your current customer service methods.
Other alternatives, such as contact forms or responding to Facebook messages, take longer. Eptica found that responding to Facebook messages took over 24 hours, while chatbots and live chat are often immediate.
2. Customers prefer web chat.
Talking over the phone, which can also provide the desired human contact, is no longer preferred by customers, as 70% would rather use messaging.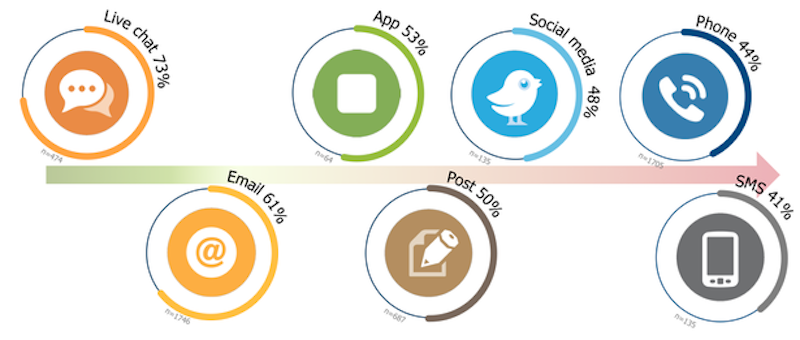 In healthcare, this might be especially important as consumers may not want to ask sensitive questions over the phone, where they might be overheard.
Live chat, specifically, is preferred over all types of customer communication, and live chat is one of the fastest-growing support channels.
3. Your competitors are using web chat.
A 2016 study by Oracle found that 80% of businesses already use chatbots or are planning to by the end of this year. Grand View Research also predicts that by 2025, the global chatbot market will reach $1.25 billion.
While healthcare marketing is traditionally not as fast to adapt to trends as other types of marketing, it seems like this is a good opportunity for you not to miss the boat!
6 Ways to Use Web Chat in Your Healthcare Marketing
The number of ways to use web chat in healthcare marketing, just like in other industries, is growing and will keep growing.
Here are five ways to start using web chat for your healthcare brand right now:
1. Answer Questions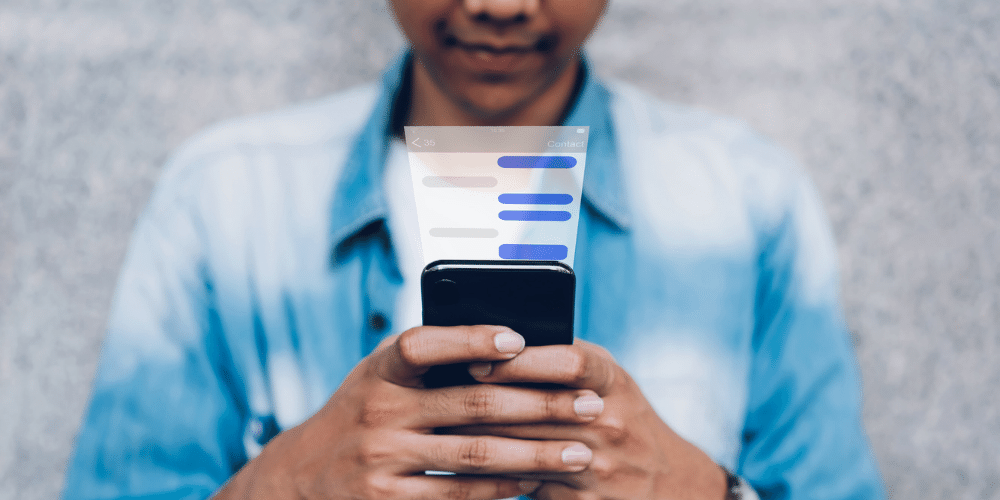 Answering basic questions about services you provide or your office logistics is an easy way to use chat in a healthcare setting. This can be especially useful now when patients may have questions about office protocols or safety procedures. 
2. Make Appointments
Typically, patient encounters with a healthcare system begin through an online search using a mobile device. From here, 44% of these searchers will end up making an appointment. Using web chat can easily capture these opportunities, which may be lost otherwise with clunky contact forms or other methods. 
3. Engage Proactively 
Using web chat on your website doesn't always mean waiting for the customer to ask a question or book an appointment. Instead, what about offering to direct consumers to more applicable information based on their browsing of your site?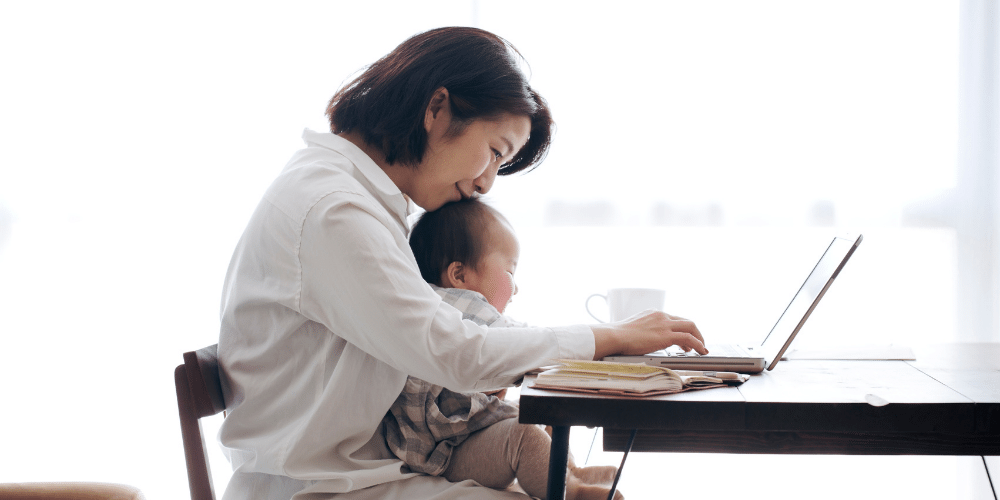 For example, if a potential patient is looking to your website for questions on lung cancer, web chat technology could offer them additional lung cancer resources by directing them to a branded cancer FAQ sheet that they can download and take with them as they consider their healthcare options.
Of course, a simple, proactive, "What can I help you with today?" that a chatbot or live chat representative asks can also work wonders for gaining insight on customer behavior and consumer concerns.
The possibilities are quite literally endless.
4. Gather Feedback
Gathering feedback on the patient experience from the initial search for care providers through follow-up care and office or treatment reminders is essential for any healthcare business to thrive. Web chat gathers more feedback than traditional methods because the conversations typically last longer, and using post-chat surveys is also an option.
5. Manage Your Online Presence
One especially useful type of patient feedback is the online review. A recent Patient Pop study showed that almost 70% of people considered online reputation to be very important when making healthcare decisions.

Live chat can help you address patient concerns immediately — not within a day or longer. Prevent those negative reviews by providing excellent customer service and diffusing the situation almost before it starts.
6. Collect Lead Information
Most web chats allow you to capture a person's name, email address, and/or phone number when the chat starts. This enables you to collect lead information that you can follow up with or add to your email list to nurture through email marketing.
How to Get Started
There are many companies out there who provide chat services, including live chat, bots, and live chat service support, or some combination of all three. A short web search can help you find the right combination of services for your price point.
A quick reminder, though, that in the healthcare industry, it is important to find a provider who is HIPAA compliant. HIPAA compliance should be a carefully considered factor when deciding not only which provider to use, but also how to implement their services.
Use Technology for the Human Touch
Patients are your first priority, and how you get (and keep!) them should be too.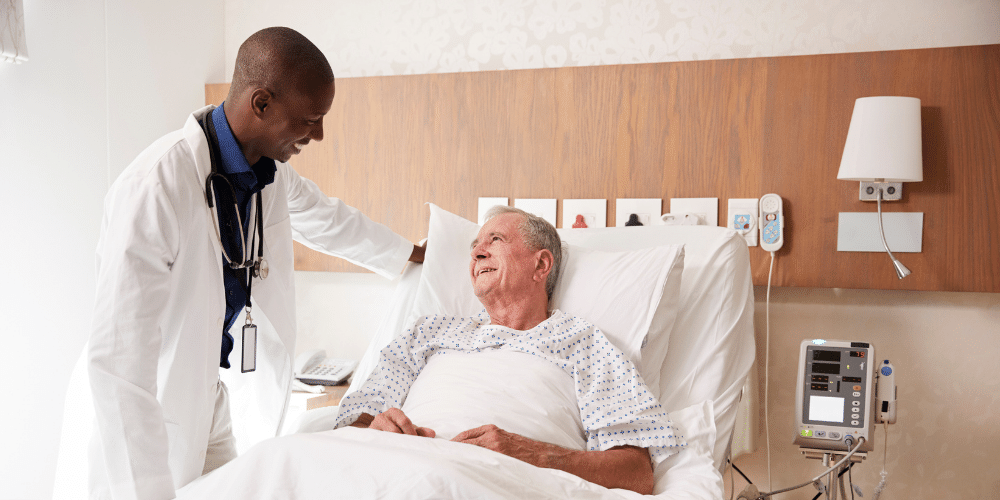 Using technology — specifically, live chat and chatbots — as a way to make patients know that they in fact ARE this priority is not only a useful method for humanizing your brand but a way to make someone feel important.
These days, isn't that almost better than anything?