Let's face it: we all hate waiting.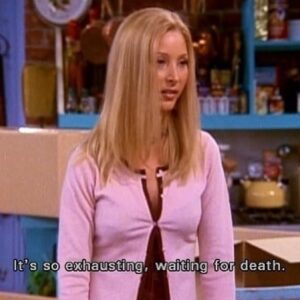 Your customer support shouldn't be something people have to wait on. Call or email inquiries may not always be instantaneous enough. However, providing 24/7 support while running a growing business can feel impossible. What are your options? The best and easiest to deploy option is live chat. To help you understand why live chat is so important for your business, we're answering questions like:
What is live chat for business?
Why does my business need live chat?
Live chat website examples.
This post will prove how web chat is something you shouldn't wait on if you want to make the most of your website traffic.
What is live web chat?
Live chat is a way to communicate with customers in real-time on your website. It is a tool that provides businesses with ample engagement opportunities, from marketing to support, and can improve the overall customer experience and capture more sales.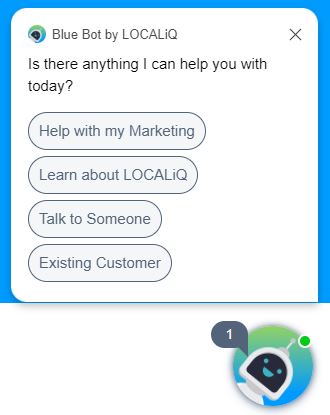 An example of live chat.
Why add live web chat to a website? 12 big benefits
Here are 12 compelling reasons to implement live chat for your business:
Related: Is your website ready for live chat? Find out with our free, instant website grader.
1. Customers expect it
Live chat is no longer a small business luxury, but a need-to-have tool if you want to see digital marketing success. In fact, more than 40% of customers expect live chat on your website.
Between the rise of social media messaging tools and texting becoming a main form of communication, your customers have become accustomed to quick and convenient chats. You can easily meet this customer need through live chat.
2. It's convenient
With live chat, customers don't have to make a phone call, wait on hold, or send an email and wait a few days for a response. They can either initiate the chat session on their own or be prompted by a pop-up.
They're already on their computer, and already on your site. Not only are waiting times in queue greatly reduced, but the speed of resolution is greatly increased as well. This explains why live chat is customers' preferred mode of communication when interacting with businesses.
Since 12% of customers expect a response within 15 minutes or less, and 46% expect one within four hours, live chat is the easiest and quickest way to improve your customer communications.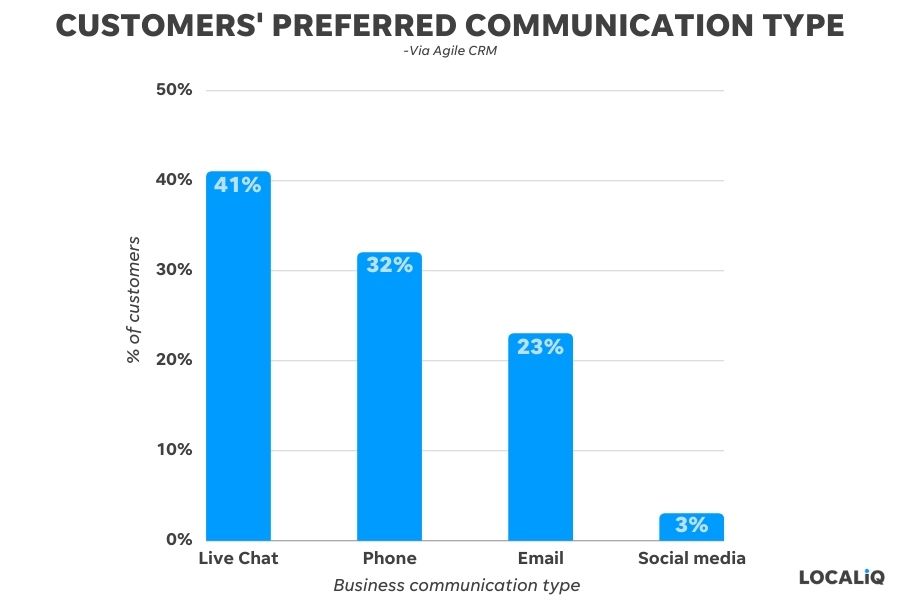 3. It can save you money
Live web chat can greatly reduce customer support expenses and lower average interaction costs. For example, web chat can be about 17-30% cheaper than a phone call. Live chat agents can handle multiple clients simultaneously as well as multitask other aspects of their support or sales role.
Keep in mind that web chat allows the customer to multitask as well. This way, taking a phone call or tending to something happening in their house doesn't end the engagement with your business.
With live chat, you're solving customer pain points while maintaining business growth—all without wasting your marketing budget.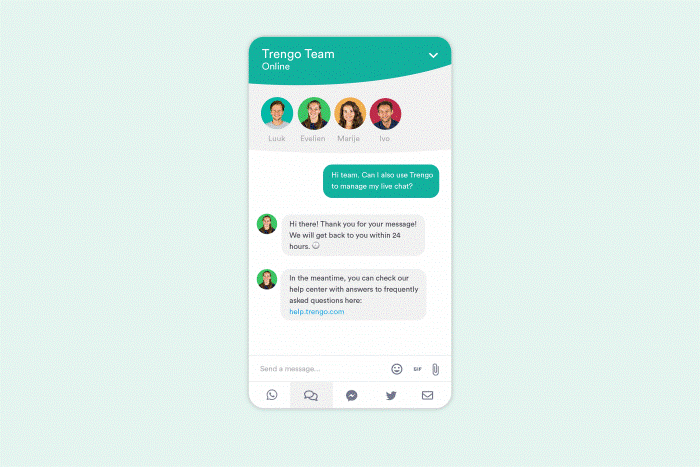 This example shows how live chat can respond while also encouraging the customer to complete other actions on the site.
4. It can drive more traffic to your website
Live web chat can be a local SEO secret weapon since it turns your website into a one-stop-shop for answers. In the future, customers will know that instead of just Googling for an answer, they can come back directly to you for that conversation and get the information they need straight from the source.
This creates a more integrated and complete customer experience that you can impact. It also drives more traffic to your website, which can help with your SEO.
5. It strikes while the iron is hot
If a user is browsing your site, they're most likely interested in your product or services. Live web chat allows you to take advantage of that exact moment of interest—not the minutes (or hours or days) following it. In other words, live chat can help you ensure you're not losing leads.
6. It's more personal
The specificity of live web chat is endless. You can choose to have the website chat feature only be active on certain pages of your website or to only invite the visitor to chat after a certain amount of time.
You could even have different team members monitor the chat on certain pages. Not only that, but you can ask chatters' their names and use them again by later to add a layer of affability.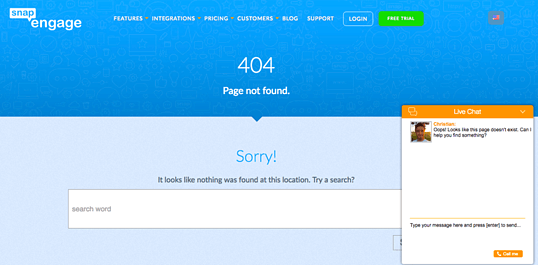 In this live chat example, the chat pop up is personalized to the users' specific experience.
7. It provides valuable insights
You need data to make data-driven marketing decisions, and live chat can help you collect more customer data in a pinch. Engaging in live chat with your website visitors will help you identify and understand their demographics, pain points, and more.
This can allow your business to continually improve your products or service offerings to more specifically address the needs of your target audience. You can also view the scripts from prior conversations, which make great training tools.
8. It keeps your business competitive
Enabling live web chat to respond to customers will most certainly make your business stand out. Think of live chat as the front-line soldiers in the battle to win your customers over from your competition.
In one study, 38% of customers who bought products from e-commerce sites that utilize live chat did so because of the additional information or confidence they gained during the interaction.
Customers also prefer web chat over any other form of communication, so by offering that service for them, you're setting yourself apart from competitors in your industry.
9. It can be inclusive and diverse
Live chat is great for team members and customers whose first language may not be English. You can offer chat in other languages as needed. This helps ensure you're maintaining a level of inclusion and diversity within your business strategy.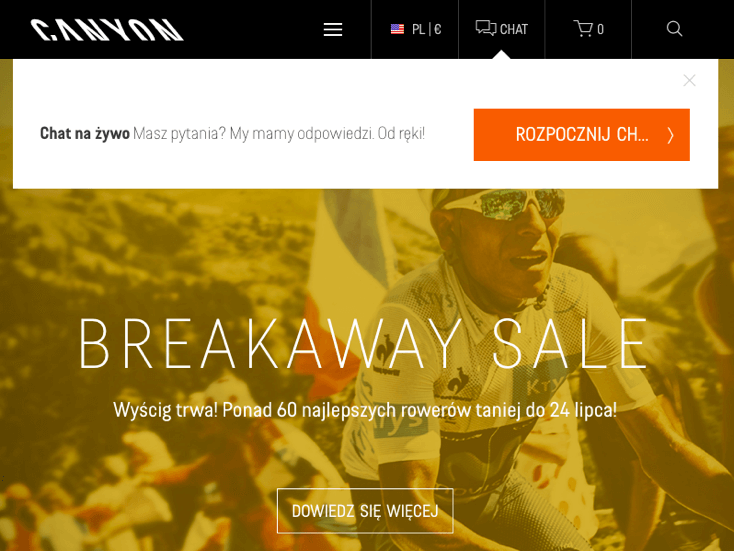 10. It makes your brand more likable
Web chat facilitates a more personalized interaction with your audience. Live web chat is like texting with a friend. The customer has chosen to engage in this more casual dialogue and is thus more inclined to share exactly what they're looking for or what questions they have.
11. It makes your business money
Having web chat ready to initiate a conversation or personally respond to any concern a user has will help them move through the buyer's journey. Responding immediately while prospects are in a buying frame of mind can reduce bounces from your website and increase sales.
12. It's easy to implement
It doesn't take a ton of time or resources to add live chat to your website. You can have your website provider add it to your website, use an online tool, or leverage a marketing partner to do it for you. Once it's up, all it needs is a quick test for quality assurance, and it basically runs on its own! This is a great add-on for busy businesses that don't have a ton of time or budget.
Live chat website examples
Not sure how live web chat could look fit into your local marketing strategy? Here are a few niche market examples to help paint a picture for businesses of all industries:
Simplistic live chat from the health education industry
This live chat example isn't too pushy—which is perfect for pre-med students on the fence about their next steps. Since this website has a lot of options for what visitors can do next, this is also a great example of how live chat could be used for an overwhelmed visitor. They might not be sure whether they should look at the course offerings or more information, so having live chat here gives potential students and families another helpful starting point.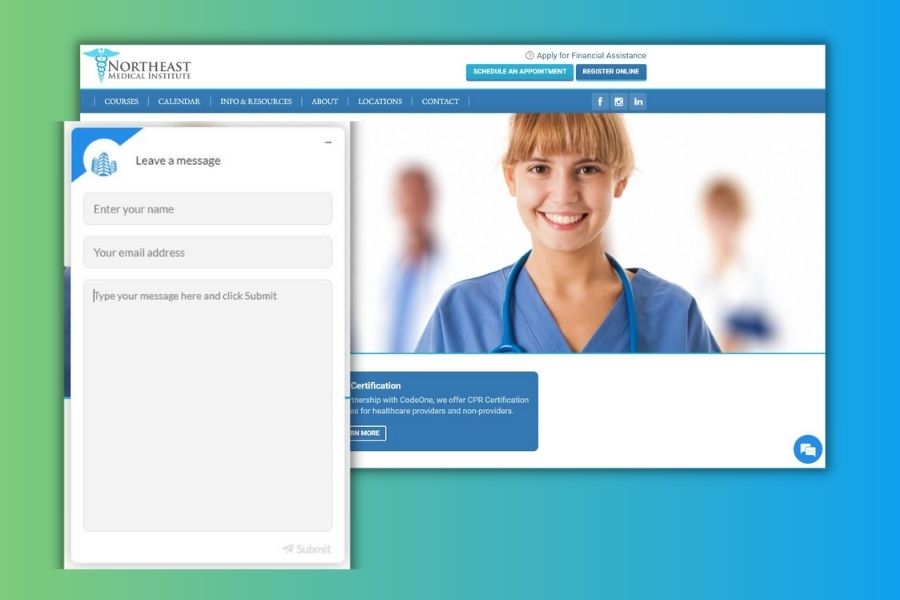 On brand live chat from the fitness industry
The friendly tone and colors on this fitness website live chat example helps the business to maintain brand consistency. Plus, the sense of urgency in the note regarding the reply time shows customers that the brand truly cares.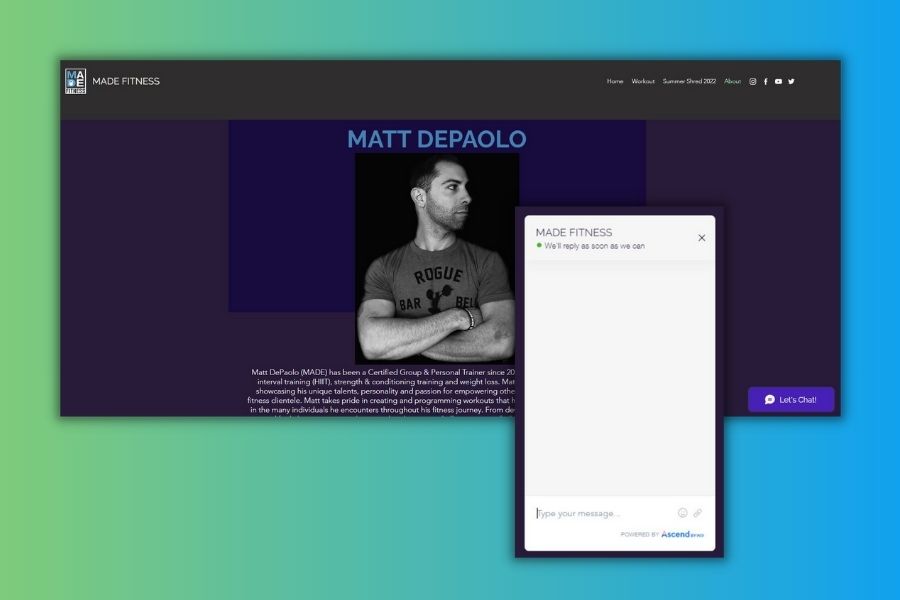 Easily accessible live chat in the home services industry
You can't miss the bright yellow chat callout at the bottom of this home services website. The prompted options in this home services live chat example covers everything and anything current or potential customers might be looking for.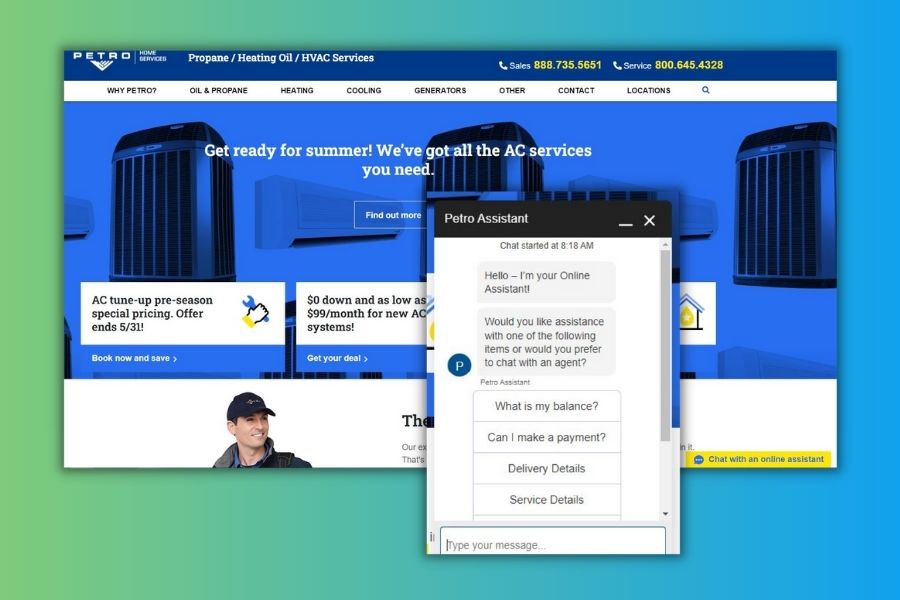 Lead driven live chat for B2B services
One of the toughest hurdles in B2B marketing for businesses with longer sales cycles is driving leads. With live web chat, that's no problem for this IT security company. The short list of options the chat box presents gets right to the point. When you limit what live chat users can do, they might have a higher chance of simply opting into a lead-generating option. Additionally, the self-serve answers help to give interested customers a chance to engage more with the brand.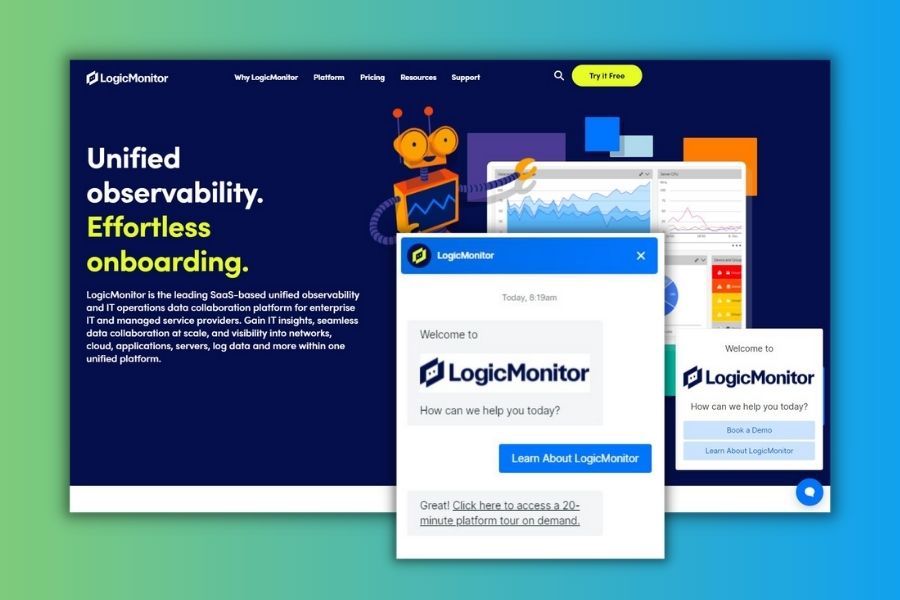 Thorough live chat for real estate
We found two live web chat examples for real estate that take different approaches to the same goal: getting the thorough information real estate businesses need to drive leads. With auction.com, the can't miss positioning of the chat pop up in the middle of the page could push users to fill out all their information before they move on. Meanwhile, xome.com motivates their chatters with a compelling introduction, and casually walks them through the process of inputting their information.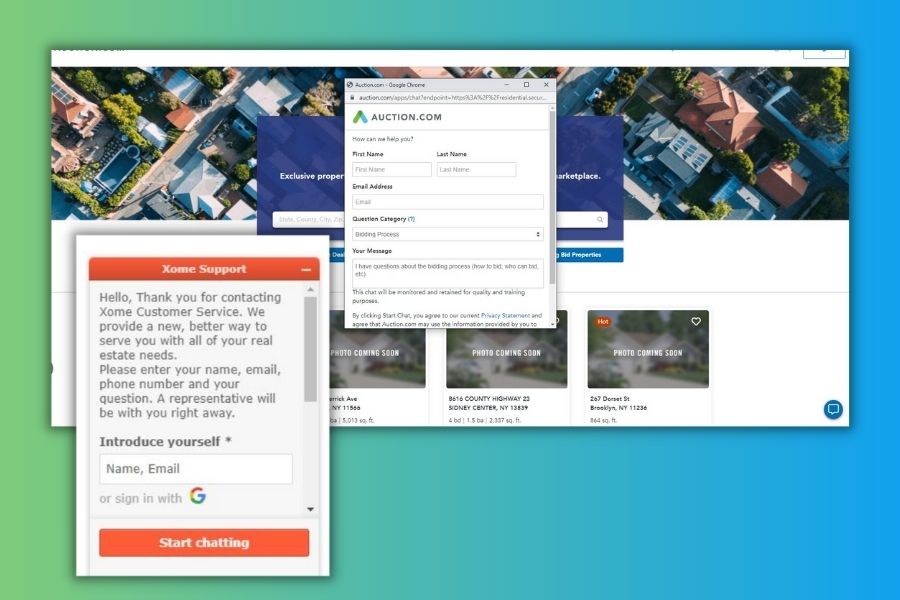 Proactive live chat from the pet industry
You don't have to only let chat users come to you. Setting your automatic chat pop up to be proactive can help drive sales, like in this pet industry live chat example here. This is the perfect example of live chat being used as a marketing tool, rather than a customer service tool, since it's specifically promoting a product.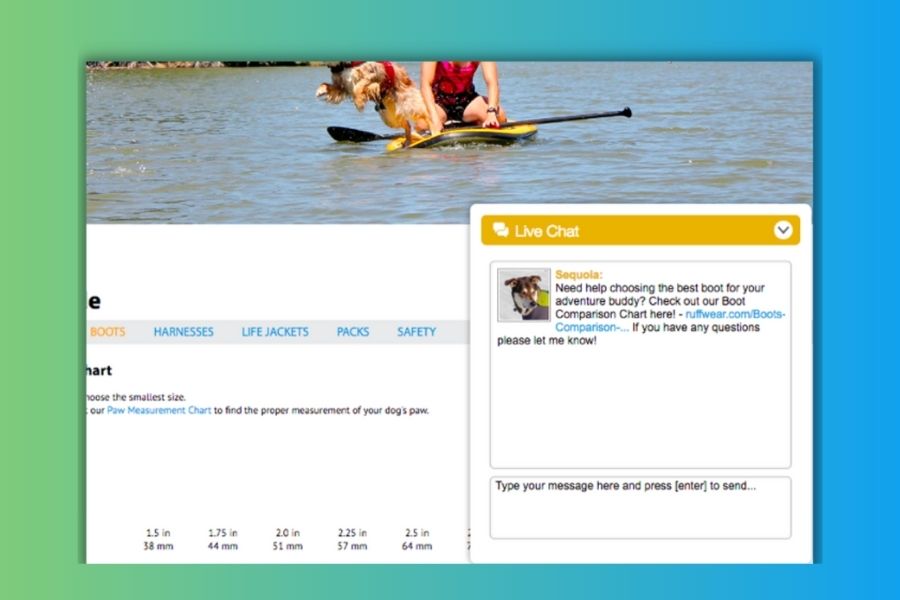 Personalized live chat from the finance industry
We couldn't round up our list without a personalized live chat example. It's a best practice to keep your live chat as friendly and personable as possible, since chatting is a more casual form of communication. Giving the name of the rep here adds a personalized marketing touch to the live chat experience.
Results worth chatting about
When your customers are yelling from the rooftops looking for an answer from you, you'll want to be there. These live chat benefits and examples make it clear how adding this tool to your website can improve your marketing ROI. Make sure that your business gives your customers the immediate and personal customer experience that will keep them coming back again and again by adding live chat to your website!