If you've ever tried to rank on the first page of Google, you probably know the frustration of seeing a competitor's site outrank yours.
Sure, maybe your article has better content, more in-depth research, and more original ideas—but if your competitor has a higher Domain Authority than you, it often won't matter. You'll likely have to work overtime to ensure you're not stuck in second place (or on the second page) forever.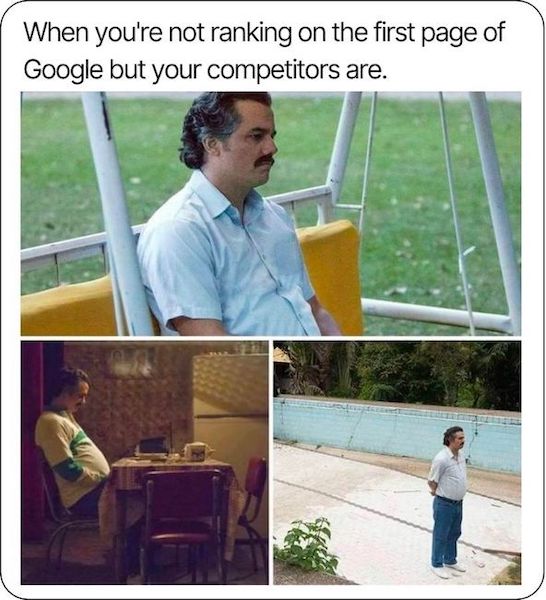 But why does this happen? How does a site with lower-quality content get ranked higher than one with better content?
The answer is simple: they have a stronger reputation than you and Google trusts them more. If you want to rank #1, you (almost always) need higher domain authority than the sites you're competing against.
But what exactly is domain authority? How do you get it? And why does it matter so much?
In this guide, we'll show you what's going on under the hood and how domain authority impacts your ability to rank well for queries related to your business. We'll also discuss some practical tips to help you improve your domain authority score so you can perform better in search results.
What is Domain Authority?
Domain Authority (DA) is a metric that predicts how likely a website is to rank well in search engine results pages compared to its competitors. This metric was initially developed by Moz.
It ranks every website's "authority" on a scale from 1-100, where the higher your number, the greater your ability to write an article and have it rank on the first page for its target keyword or keywords.
Every website in the world has a domain authority score, whether its owner is aware of it or not.
Although it was Moz who introduced the concept of Domain Authority, many other SEO tools have since developed scoring systems that roughly infer the same logic.
For example, many SEO experts use Ahrefs' Domain Rating as a measure of a website's strength. Others in the industry rely on SEMRush's Authority Score or Majestic's Trust Flow.

These tools generate a Domain Authority score by calculating several factors including the number of root domains linking to a website, the number of total links, and the strength of those links. The score is then issued from 1-100.
A high DA score indicates that a site is likely to be trusted by Google and other search engines. Similarly, a low DA score indicates that it needs to work harder to earn its rankings against more competitive keywords.
It's important to emphasize that while we often use the term loosely to describe how strong a website's metrics are, it's generally understood that Domain Authority should be treated as more of a general guideline than a hard-and-fast rule.
Why is Domain Authority important?
If Domain Authority is meant to be a general guideline rather than an authoritative metric, why should you care?
Because it's better than nothing. It at least gives you a place to start.
If you have a new site trying to rank on page one for a term that's dominated by large sites that have extensive libraries on a specific subject, there's almost zero chance you'll be able to claw your way up there.
If you already have a high-authority site, you can target more competitive terms because you can assume you'll have a higher chance of ranking for them than your competitors. Inversely, if you're a site with less authority, you can build your authority by focusing on less-difficult searches to start with.
Moz, the inventors of the term, put it best:
"(Smart SEO) is about understanding where you realistically have a chance at competing. Knowing that your DA is 48 is useless in a vacuum. Knowing that your DA is 48 and the sites competing on a query you're targeting have DAs from 30-45 can be extremely useful. Likewise, knowing that your would-be competitors have DAs of 80+ could save you a lot of wasted time and money."
A more simplistic way of looking at it, perhaps, is that Domain Authority provides you a benchmark on where you stand in the eyes of Google.
Established websites like the New York Times and Buzzfeed routinely score in the 90s (out of 100). They've been around for a long time and have published thousands of highly-linked to, highly-shared articles over the course of many years—of course, they have a strong reputation.
If these sites were to publish an authoritative post covering a different angle on a subject they're already known for, there's a very high chance that the new article will rank favorably and drive them tons of traffic going forward.
Concerned that you may not have a very high Domain Authority? Unless you're in direct competition with those that do, don't fret! You only need to be comparable (or better than) the other sites that you're directly competing with.
Even then, there's a reason for optimism.
According to WordStream, "Smaller websites with lower Domain Authority scores can still outrank competitors if they create high-quality, informative, fresh, and relevant content for users."
The tricky thing about domain authority is that although Google has officially claimed that domain authority is not a ranking factor, the metrics that are used to calculate the score are.
As it turns out, the number of (and quality of) links is "one of the most important ranking factors in Google's algorithm," as evidenced by Backlinko's industry study of 11.8 million Google Search results, proving that pages with the highest number of total backlinks tended to rank best on Google.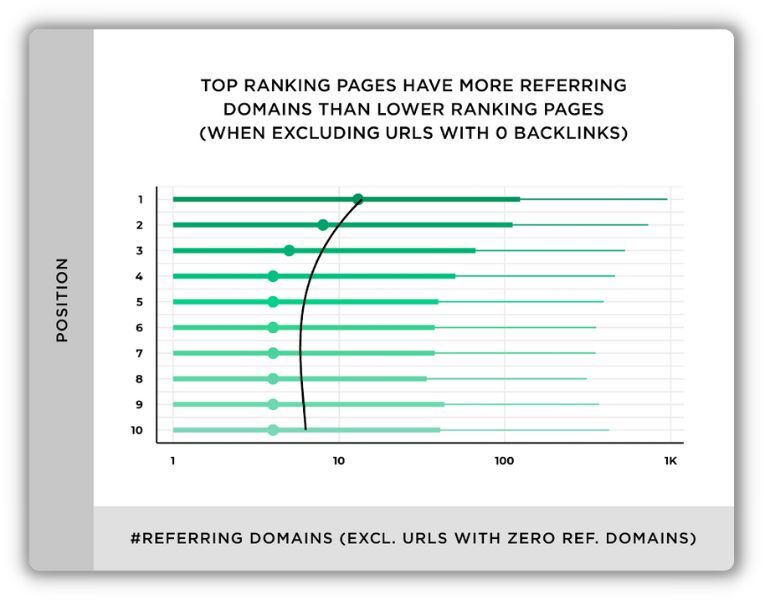 How is Domain Authority calculated?
The 1-100 domain authority score is based on different factors, depending on the specific tool used in the assessment. While their algorithms are proprietary, it's well known that a website's rating is established based on its backlink profile—specifically, the quantity and quality of incoming links.
That said, your backlink profile isn't everything. Tools such as Ahrefs have clearly stated that they consider the quality and quantity of links that a website passes outward as a quality score indicator as well.
The more websites the referring domain links to, the less authority it passes onward to these sites.
In other words, if you have 1,000 backlinks coming from 100 different domains with an average DA of 20, your domain authority may be lower than someone who only has 50 links from five high-authority domains with an average DA of 30.
These algorithms also look at how long your domain has been registered and how often you update your content. The sites that consistently rank #1 are those that are actively engaged with their audience and have built up their reputation as an expert in their field.
What is a good Domain Authority score?
The sites with the highest Domain Authority scores tend to be large, established sites with thousands of external links. Smaller websites, inversely, typically have lower Domain Authority scores and must rely on targeting less competitive topics and long-tail keywords.
Here's how to break it down:
Poor Domain Authority
Generally speaking, a low domain authority score falls between 0 and 20. These are typically newer sites or solo blogs run by one person as a hobby that hasn't been able to devote a lot of time to procuring backlinks.
These types of sites usually receive a low amount of monthly traffic, but depending on how competitive their niche is, they can still do well.

For example, the Endless Crate music blog is run by one person, and with an authority score of 4.5, they're receiving 1,300 monthly organic traffic.
Okay Domain Authority 
A score between 20 and 30 indicates room for improvement, but you're doing something right to have gotten out of the "poor" category!
Good Domain Authority
A domain authority score between 30 and 50 means that your site is doing well and can start to focus its efforts on ranking for more difficult-to-rank-for topics.

Excellent Domain Authority
Once your score is in the 50 to 60 zone, you're on your way to greatness. Many sites live comfortably in this zone and make big-time company money every month.
Best Domain Authority
Once you've cleared that and you're in the 60 to 100, you've got an outstanding domain authority score.
For context, Facebook is the #1 most authoritative website on the internet according to Ahrefs backlink data. It has a perfect 100 level of authority thanks to 104 billion unique backlinks.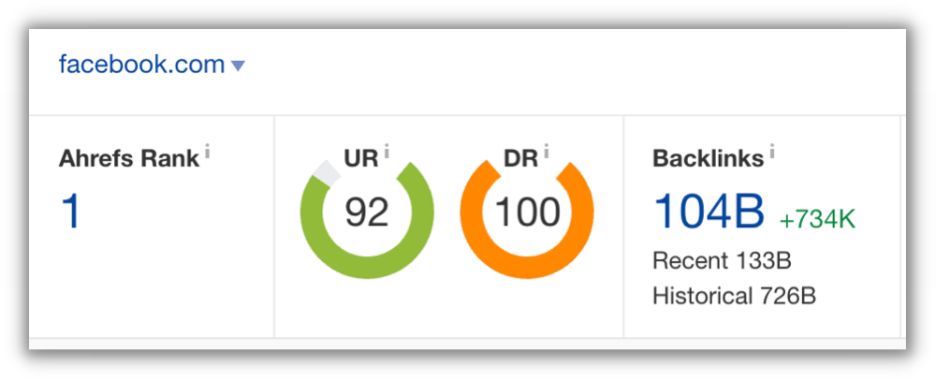 How to check your site's Domain Authority
You're probably wondering what your site's domain authority is. Here are some ways to find out.
Free tools
These free tools can help you check domain authority quickly.
Mozbar. If you're searching for a free solution to check a website's Domain Authority, look no further than Moz's free Chrome extension, Mozbar.
Ahrefs Authority Checker. Don't want to install a Chrome extension? Simply copy and paste any URL into Ahrefs Authority Checker here.
Paid tools
These are the professional SEO gold standard tools:
Each will be able to provide you with not just the domain authority of any site on the internet, but a ton of other information useful to growing your site as well.
Benefits of high Domain Authority
It is generally accepted by SEO experts that, while you shouldn't rely on a Domain Authority score as the definitive source of your website's search engine performance, it often correlates with other SEO indicators, like keyword rankings, average position, and organic traffic.
Even if Google's not technically looking at domain authority, it would be foolish to write off the metric as useless.
There are also other reasons why domain authority still has a great deal of value to businesses, including…
1. Domain authority increases your chances of ranking
Yes, anomalies do exist, but an overwhelming majority of #1 ranking articles have a higher domain authority than their counterparts.
And it's easy to surmise why. One of the factors PageRank, the algorithm used by Google to determine how to rank pages, looks at is the number of links to a website to determine how important the site is and how likely a person would be to click on it.
The theory behind this is that more important websites are likely to receive more links from other websites (i.e., if something were trustworthy and useful, people would reference it. More links = more trust.).
The example below shows the #1 and #2 organic search results for "best vets Dallas." The first result, Yelp, has an incredibly high domain rating and over 91 million backlinks according to Ahrefs. The second result has a good domain rating and a good amount of backlinks, but it's difficult to compete with a site like Yelp.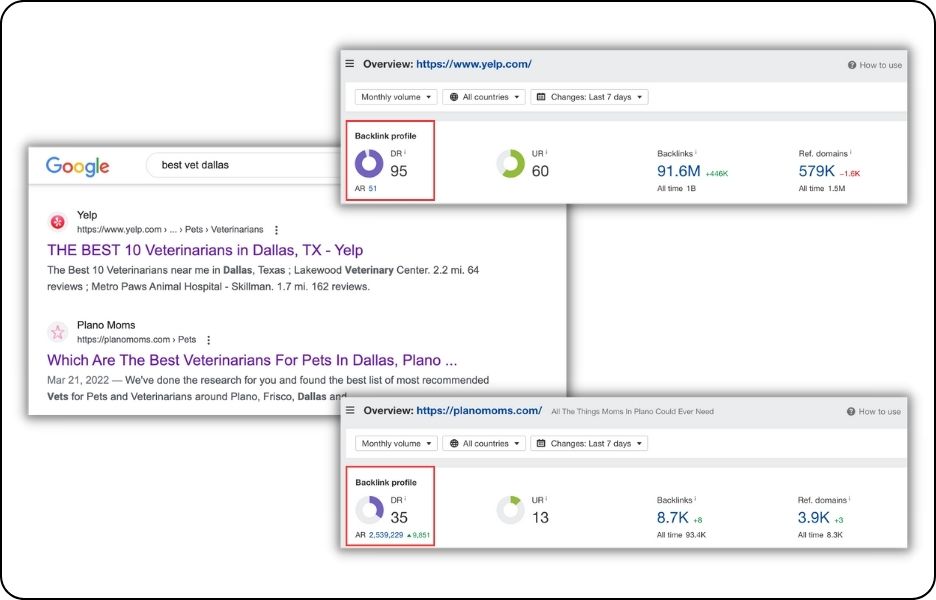 It is not the only algorithm used to decide the order of search results, but it is a significant component of Google's search ranking system.
2. Helps prioritize outreach and vet link prospects
You're busy, they're busy, we're all busy.
If you want to increase your domain authority and be exposed to a new, engaged audience, you'll want to get new backlinks to your site. Aside from creating quality content that attracts backlinks, you may also need to be proactive. Reaching out for backlinks can be helpful, but guest posting on high-domain authority sites can help you get backlinks and showcase your expertise.
But where do you start? There are roughly 4.4 million new blog posts published every day. The sites that you want to try and be featured on naturally are the ones that will benefit you the most!
Savvy digital marketers will make a short list of sites they want to reach out to. The ideal outreach list includes sites with not only topical relevance, but…you guessed it, a high domain rating as well.
For example, the WordStream blog has a high domain rating and over 1.5 million backlinks, so they get a lot of outreach about guest posts.
You can use domain authority to identify which sites have the strongest backlink profiles and target them to try and acquire links from your site, improving your own link profile in the process.
3. Increased traffic, referrals, and brand recognition
Of course, you have to work very hard in order to get to this point in the first place, but once you're at the top of the mountain, everything seems to come just a little bit easier.
High-authority site owners responsible for increasing traffic, referrals, and brand recognition have a much simpler task.
Here are a few examples of how:
Traffic
Sites with high domain ratings will receive more traffic from Google than sites with lower ratings, if only because their content is seen as more relevant and authoritative by their algorithms. Which means their content gets shown to more people.
Additionally, because of their authority, they'll have a better chance of their new content ranking #1 than their competitors, allowing them to potentially devote resources to other areas of the business, giving them even more of a head start.
Referrals

The very nature of more people seeing your content, while also being ranked #1 for many searches, means you're more likely to get linked to more.
Sites with higher domain ratings get more links from other websites since those websites consider them more valuable resources for their users. This leads to more traffic and higher rankings on Google's results pages.
Brand recognition
The ever-important aspect of marketing a successful business—building brand recognition—becomes infinitely easier as a result of thousands of more page views, links, and references around the web.
If you're consistently ranking the first page for important searches performed by your target audience, they'll quickly begin to notice you and associate you with having a solution to their problems.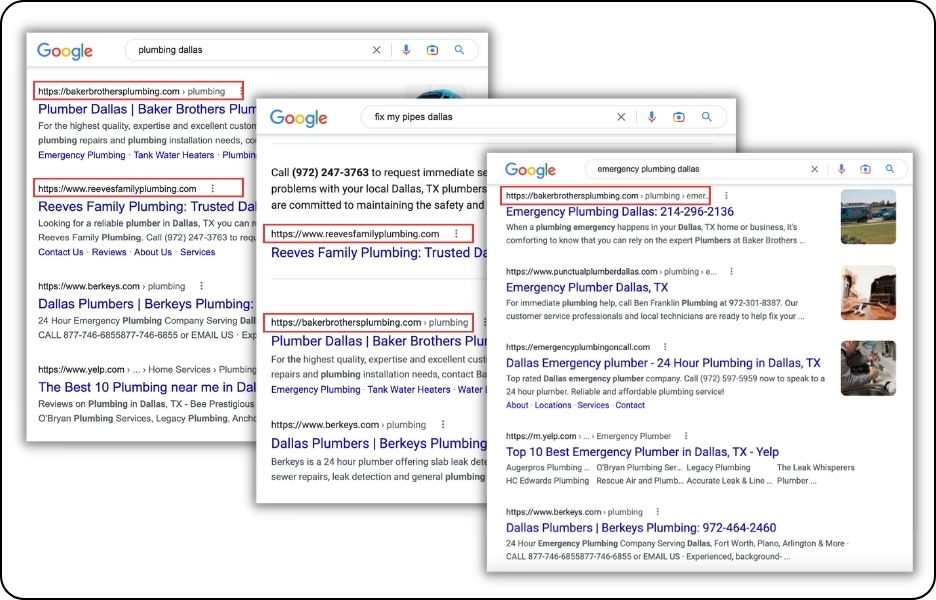 Two of these plumbing businesses show up on the first page of Google for multiple relevant searches.
Considering that the more someone is exposed to your business, the more likely they are to become a customer, this is undoubtedly valuable real estate.
How to improve your Domain Authority
Now that we've established the importance of having a high domain authority score, here are four ways to improve it.
1. Acquire high-quality backlinks from authority sites
A good rule of thumb for acquiring high-quality backlinks is "quality over quantity." Do not go out and try to get hundreds of links from low-quality websites and expect them to help your website's search engine rankings.
Those types of links are considered "low-value" links because they don't add anything of value to your website (and may even hurt it). Instead, focus on getting high-quality links from authoritative sites that have relevant content related to yours.
From Google's algorithm's perspective, if other reputable sites in your niche are linking toward you, that must be a vote of confidence that you are, in fact, credible and worth ranking higher.
The good news is that, once you're placed prominently on these larger sites, it's more likely that other sites will see your placement and link to you from them as well.
2. Create link-worthy content
To get your domain authority score up, you need high-value links. To get those you need to create content that is link-worthy in the first place.
Think of the things that you would want to share with your audience. Why would you do that? Because it would be useful to them if they knew about it. It's the same thing but in reverse.
Start with a topic that is relevant to your business and your target audience, and then create a "linkable asset"—whether it's the most useful article possible for them in their situation, an infographic, a video, an ebook, or a piece of software. The more useful it is for their audience, the more likely they are to share it.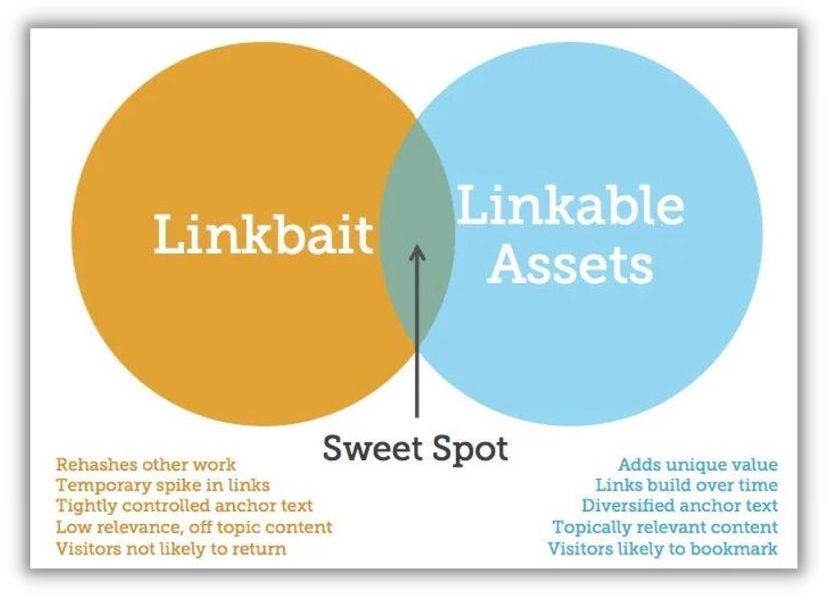 3. Audit your site and remove bad links
The key to improving your domain authority is to first audit your site and remove bad links.
There are a number of SEO tools that you can use to do this quickly and easily, including Ahrefs, Moz, and SEMRush.
The goal of this audit is to identify any broken links that need to be fixed or unnatural spam links which could hurt you in the eyes of the algorithm.
This includes both repairing broken internal links (i.e., creating a 301 redirect for those on your own site that lead to deleted pages) and disavowing potentially spammy external links.
4. Improve your internal links
Internal links are the glue that holds a website together, and they're an essential part of SEO.
Internal links are links from one page of your site to another page on your site. They're how search engines understand the structure of your website. They're also a great way to improve user experience by helping visitors get around easily.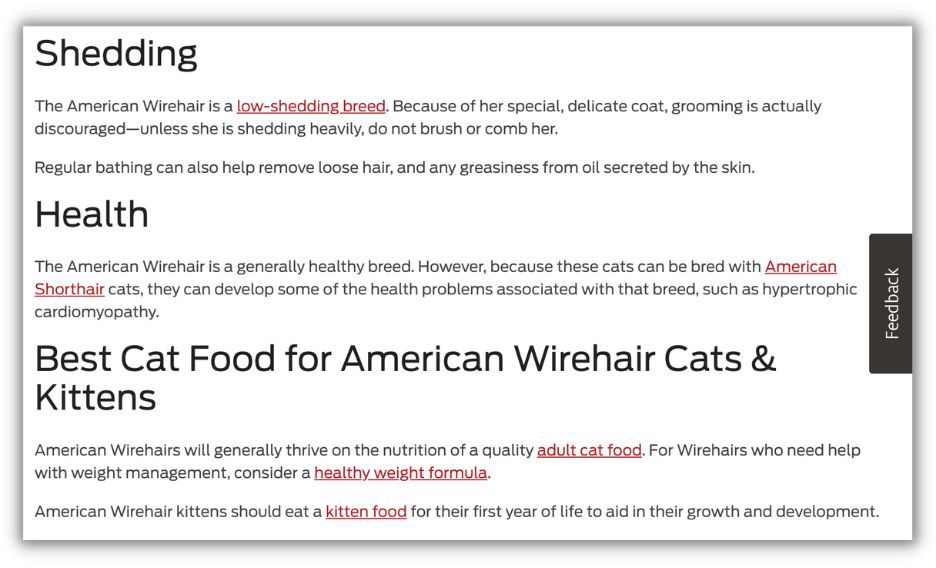 This article from Purina links to related content on its site.
If you want to improve your internal linking strategy, use Google Search Console to identify your best pages and ensure there are as many internal links (from relevant pages) linking to them as possible.
No page on your site should have zero links pointing toward it. You can use this tool to see where your most important pages are located, so you know where to focus your efforts first.
Domain Authority: The big picture
As you can see, Domain Authority isn't the end-all-be-all of SEO, but it is a metric that can help you understand how your site is doing in the eyes of Google, and there are very legitimate reasons for taking it seriously.
If you're looking to move up in the search rankings, managing your DA is a great place to start.
Ultimately, though, remember that you're trying to solve real human problems for real human readers. Google's goal is to create a great experience for its users. It will behoove you to make it as easy as possible for them to do just that.