Niche marketing is a way of specializing in a highly specific product, service, or population to get your business to stand out above the crowd. Niche marketing can help you to get more customers, not because you meet more needs, but because you meet a special need.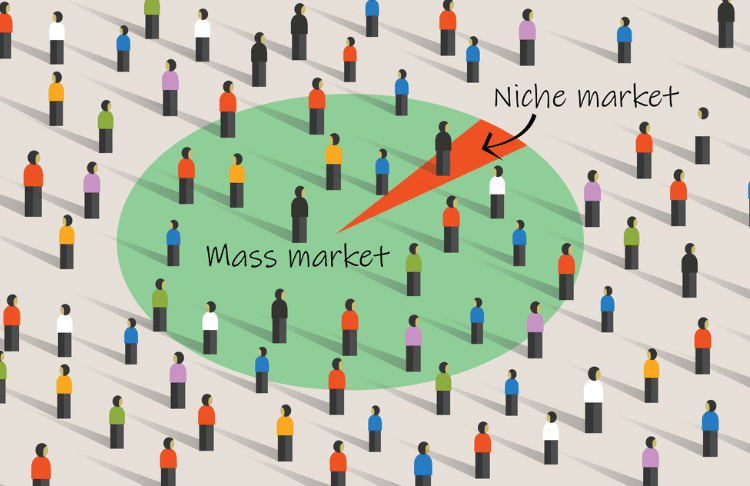 While there are many benefits of niche marketing, actually finding your niche market can be difficult. Among the different types of customers that you can market to for your business, which one do you pick? How do you find the most profitable fit for your products and services?
In this post, we'll go over some examples of niche markets as well as a process to help you find your niche market to help you start thinking about a niche marketing strategy that could work for your business.
Why Niche Marketing?
Finding and catering to your niche market can help your business grow in many ways. When you specialize in something specific, you can leverage your expertise to distinguish yourself from your competitors and showcase your capabilities in a unique way. Another nifty thing that niche marketing can do is help you to get the most bang for the buck for your sometimes-limited marketing budget.
Knowing that you need to make every marketing dollar count, niche marketing can help you to abide by the Pareto Principle, better known as the 80/20 rule. This theory purports that roughly 80% of your results will come from just 20% of your efforts.
When applied to marketing in general, that means 80% of your efforts are not directly tied to your results. In other words, less is more, and this is where niche marketing comes in.
Examples of Niche Markets
Narrowing your focus and not trying to be all things to all people can help you establish a stronger business reputation. With this strategy, you can become THE expert and attract more profitable customers to your business.
As you're trying to find your niche market, it's helpful to see niche examples that already exist.
Here are some specific examples of several small businesses and their niche markets:
Law Firm Niche Markets
Single dads in Northern California.
Car accident victims in Phoenix.
Coal miners with mesothelioma.
Personal Trainer Niches
New and expecting mothers in the suburbs.
Military/police programs candidates.
Triathletes attempting to qualify for Ironman events.
Physical Therapist Niche Markets
Runners recovering from plantar fasciitis.
Stroke victims who have lost mobility and motor skills.
First responders with work-related back injuries.
Home Repair Niches
Retirees who need ADA-compliant renovations.
House flippers in Central Ohio.
People who live in neighborhoods over 30 years old.
Catering Niche Markets
Parents of kids with an upcoming Bar/Bat Mitzvah.
Retail employers with more than 10 employees at/around the mall.
Working moms with school-age children.
Computer Security & Technology Niches
Victims of identity theft.
Parents of teenagers getting their first cell phone.
Baby boomers learning computer skills.
Examples of Niche Businesses
By embracing a niche marketing strategy, you can get your business to stand out above competitors who are taking a more general approach to marketing. Niche marketing involves targeting a specific demographic, where you might have several products or services that are beneficial for that particular group.
However, it can also involve providing a specific product or service, from which a broader market might benefit. In this case, you might consider your business to be niche more so than your market.
For example:
CPAs who do taxes for the self-employed.
Law firms that specialize in family law only.
Hair salon that only does blowouts, no cuts.
Dog training for older or formerly abused dogs.
How to Find a Niche Market
As every business is unique, there is no right answer for how to find your niche market. In fact, there are several approaches you can take.
Below is a list of 14 sources that can help you on your search for a niche market that aligns with your niche market strategy.
1. Think About What Your Business Offers
Make a list of the core product or service you provide, and then brainstorm variations or highly specific uses for it. If you provide moving services, variations include moving for families, offices, or college students; or short or long distance moving. Each of these variations could potentially be a niche.
For example, College HUNKS Hauling Junk carved out a niche for themselves in that they started by focusing on, you guessed it, hauling junk. Since growing a loyal following, they've expanded their services to include residential and commercial moving and more.
2. Think About What You Value as a Consumer
Set aside your identity as a business owner and focus solely on yourself as a consumer — of your own service, or just in general. What interests or intrigues you? What do you avoid? What added convenience or benefit do you wish you could have? What do you consider worth paying more money for?
If you find your niche based on something that is of importance to you personally, you will be naturally better at marketing it; and your shared concerns with your audience will enable you to better resonate with them. Finding your niche in something entirely new to you, on the other hand, means that you may be in foreign territory with your marketing methods.
3. Make a List of Your Strengths
Your strengths are one of the best sources for finding your niche market. If you are a real estate agent and you find that you have your biggest successes with newly married couples, you may have just found your niche market. If you are a dentist and you are particularly good at tooth extractions, you may consider this your niche.
4. Look at Your Competitors
It's important for companies to have competitors because they can help your business in many ways — even in your quest to find your niche market. Take a look at their services and see what they are lacking. Monitor customer reviews to find out what additional benefits they desire, or where they feel they are not being served. Find your niche market by filling in the gaps created by your competitors.
5. Learn From Your Audience
In addition to your competitors' audience, you can also learn from your own audience. Rather than fishing through reviews, however, you can directly ask your audience questions. Conduct surveys, polls, and interviews, either online or in-person to find out what specific needs or preferences your customers have, or to find out which types of customers are the most satisfied. Collecting data in this manner is a great way to not only find your niche market but to increase social media engagement too.
Whether online or off, asking your audience questions to help you find your niche market will help you to build your business through customer engagement. It will also strengthen your relationship with your customers and build trust by showing that you care about their needs and value their input.
6. Search Through Reviews
There are many ways to tap into the power of online reviews for improving your business. In terms of finding your niche market, review sites such as Yelp, Google My Business, and TripAdvisor can help you discover the deeper needs of your customers. These deeper needs can be the material around which you build your niche market.
7. Look at Niche Products
If you are a service-based business, you may be able to find your niche market by looking at niche products. For example, an appliance repair business may choose to specialize in eco-friendly dishwashers. An auto repair business could offer services specifically for hybrid vehicles.
8. Think About Manufacturers
Another way to find your niche is to focus not on a particular end-user population, but on manufacturers. If you install cabinets, you might find your niche by focusing on cabinet manufacturers who subcontract to installers.
9. Look at Existing Groups
People in a particular niche tend to gravitate toward other people in that niche, both online and off. They contribute to online forums, stay active in Facebook groups, join clubs, and attend meetups. Simply looking at what types of groups exist, without even having to delve into these groups, can assist you in finding your niche.
You may also want to look at groups that your broader target audience participates in. Read through their commentary to identify needs, preferences, complaints, and desires that may enable you to find your niche market.
10. Check Out Social Media
Many of the groups listed above exist on social media platforms. However, there is another way that social media can help you to find your niche. Most platforms enable you to look at topics and hashtags that are trending. Sometimes, these trends can be indicators of an up and coming niche. Drones, for example, are a hot topic on social media. A person with the applicable skills could then find their niche market in people who need drone repairs.
11. Look at Interest Lists
With today's culture and smart technology, websites, and applications that generate content tailored to individual users is very popular. These sites can be related to anything: music, news, books, jobs, and more. The account creation process for these applications asks you to check off or list your interests.
Browsing around on these applications and the interests they list, such as on sites or apps like Mix, Goodreads, and Meetup, can be a great source for finding your niche market.
12. Take a Peek at Category Lists
Another similar way to find your niche market is through the hierarchical category lists often found on websites. Shopping and magazine websites are two particularly good places to find extensive lists of products or topics, with several subcategories beneath them. The subcategories in these lists could all be niches.
13. Identify Keywords
Keywords are the words and phrases that people type into search engines to find the information they're looking for. Businesses include frequently searched keywords to make their website more informative and to make their blog stand out.
Keyword research tools such as Google's Keyword Planner or WordStream's free keyword tool aren't just good for search advertising campaigns. You can also use them for finding your niche market by identifying the specific things people in your target audience are searching for. Popular keywords on specific items can provide you with ideas on finding your niche market.
14. Look at Autocomplete
Most search engines today have the ability to suggest what you are searching for based on the first one or two words you type. These autocomplete suggestions can provide niche ideas. For example, when you type "landscapers that …."  into Google's search box, the autocomplete comes back with the following suggestions:
"Landscapers that do grading"
"Landscapers that do drainage"
"Landscapers that do sod"
Not only are these niches, but they are also based on popular searches. Autocomplete can help you to find niche markets that serve a popular need.
Get Started with Niche Marketing
There many advantages to niche marketing, even more approaches to finding your niche market, and a countless number of niches to find. Depending on your business and your audience, you may find some approaches that work better than others. However, it can't hurt to try them all out, as your ultimate niche market may be one that you didn't even know existed!