Finding work-life balance is difficult for most people—but it can be especially challenging for business owners. You pour your heart, soul, and oh so much time into your business that it leaves less time for those important things like family, friends, and relaxation.
When it's time to take a break, stress less, and figure out how you can really have it all, here are some work-life balance quotes to inspire you.
Table of contents
Keep reading or skip to the section you want to check out:
Take a deep breath, and let's go!
What is work-life balance?
First, what is work-life balance anyway? Work-life balance means finding harmony between the time and attention you give to both work and your life outside of work. Good work-life balance means you have time to complete your duties at work, your duties at home, and enjoy time for yourself and with loved ones.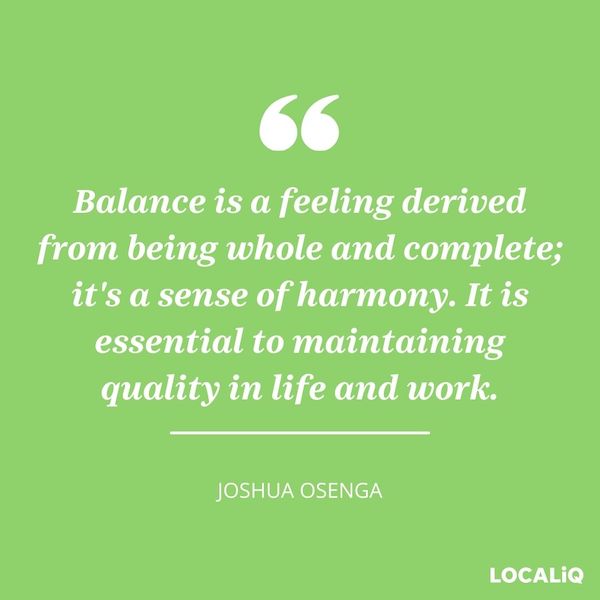 Why is work-life balance important?
Small business owners have long faced challenges around creating healthy work-life balance. In fact, one report found that 33% of small-business owners work more than 50 hours a week, 25% work more than 60 hours per week, and 70% work at least one weekend. That doesn't leave a lot of time to enjoy your life outside of running your business, does it?
But the truth is that creating healthy work-life balance is actually good for you, for many reasons. Here are some work-balance benefits to consider:
People with good work-life balance are more productive.
Better work-life balance can prevent burnout.
Employees with good work-life balance are more engaged at work, which leads to less turnover (this is great to keep in mind for your employees!).
Those with a good work-life balance have less chance of experiencing stress-related health problems.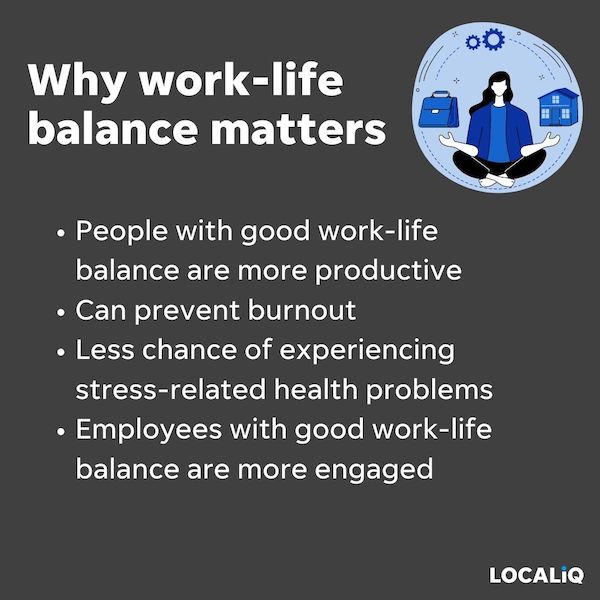 These benefits speak to the importance of creating work-life balance for yourself and for your teams. Now let's dig into some work-life balance quotes to inspire you to stop and smell the roses!
Work-life balance quotes for when you need a break
For business owners especially, it can be challenging to take a break. Your business is so important to you that it can be hard to let go and step away. But, taking even just a day off can help you take the first step toward a healthy work-life balance. Hear from some experts:
"Taking breaks isn't about cheating yourself, it's about treating yourself." – Curtis Tyrone Jones
"Taking time to do nothing often brings everything into perspective." – Doe Zantamata
"Time is really the only capital that any human being has, and the only thing he can't afford to lose." – Thomas Edison
"Never get so busy making a living that you forget to make a life." – Dolly Parton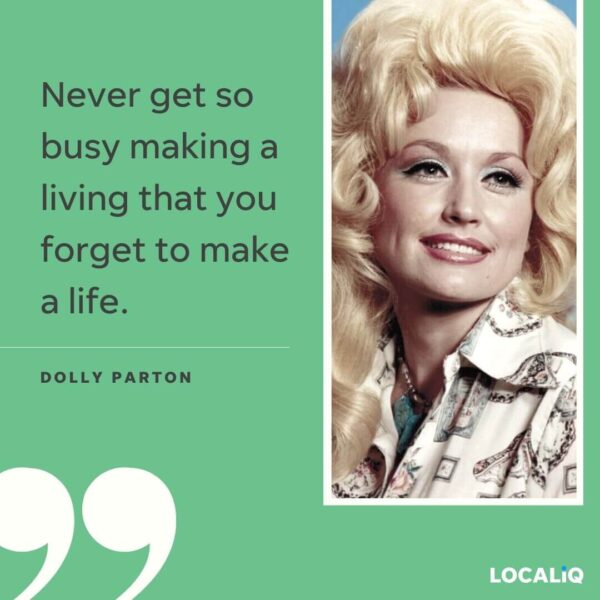 "You can't do a good job if your job is all you do." – Katie Thurmes
"Balance is not better time management, but better boundary management. Balance means making choices and enjoying those choices." – Betsy Jacobson
"We think, mistakenly, that success is the result of the amount of time we put in at work, instead of the quality of time we put in." – Arianna Huffington
"Either you run the day, or the day runs you." – Jim Rohn
"Time and balance are the two most difficult things to have control over, yet they are both the things that we do control." – Catherine Pulsifer
"Life will always get busy, make time to do the things you love." – Lailah Gifty Akita
"Creating a culture in support of a work-life balance is an opportunity to figure out your priorities and then decide what would make you feel good." – Rena DeLevie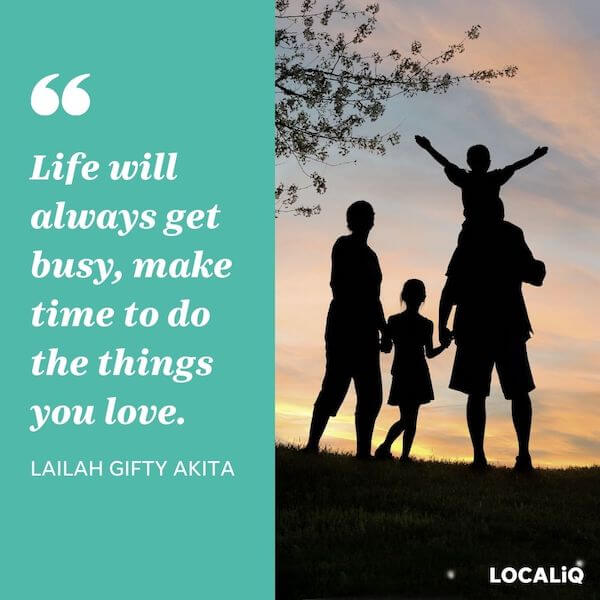 Work-life balance quotes for when you're feeling overwhelmed
When you're overwhelmed by your daily duties at work, it can seep into every aspect of your life. And that's a recipe for disaster when it comes to work-life balance! Here are some work-life balance quotes to read when you're feeling overwhelmed (it happens to everyone!).
"Trying to do it all and expecting that it all can be done exactly right is a recipe for disappointment. Perfection is the enemy." – Sheryl Sandberg
"Many of us feel stress and get overwhelmed not because we're taking on too much, but because we're taking on too little of what really strengthens us." – Marcus Buckingham
"Promise me you will not spend so much time treading water and trying to keep your head above the waves that you forget, truly forget, how much you have always loved to swim." – Tyler Knott Gregson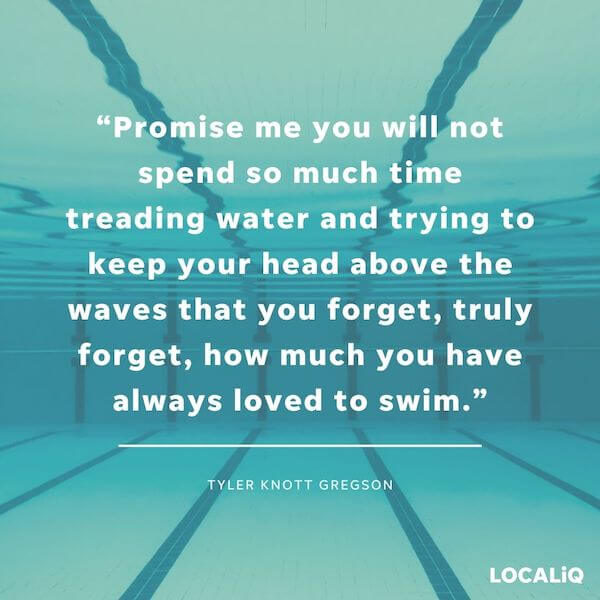 "Time is the coin of your life. It is the only coin you have, and only you can determine how it will be spent. Be careful lest you let other people spend it for you." – Carl Sandburg
"Whether it's the best of times or the worst of times, it's the only time we've got." – Art Buchwald
"The key is not to prioritize what's on your schedule, but to schedule your priorities." – Stephen Covey
"Most of us spend too much time on what is urgent and not enough time on what is important." – Stephen Covey
"There is virtue in work and there is virtue in rest. Use both and overlook neither." – Alan Cohen
Inspirational work-life balance quotes
Sometimes you just need a little bit of inspiration! Get inspired with these work-life balance quotes:
"Be steady and well-ordered in your life so that you can be fierce and original in your work." – Gustave Flaubert
"You will never feel truly satisfied by work until you are satisfied by life." – Heather Schuck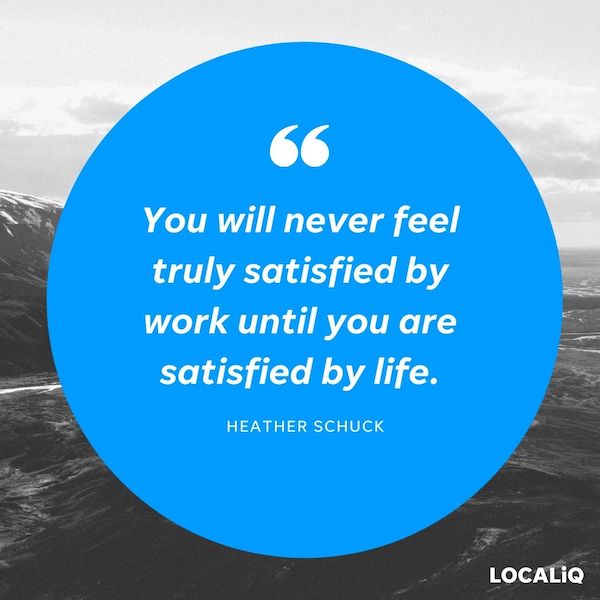 "You have to balance your passions, not your time." – Lisa Sugar
"You can't have everything you want, but you can have the things that really matter to you." – Marissa Mayer
"Always take some of the play, fun, freedom, and wonder of the weekend into your week and your work." – Rasheed Ogunlaru
"Your mind will answer most questions if you learn to relax and wait for the answer." – William S. Burroughs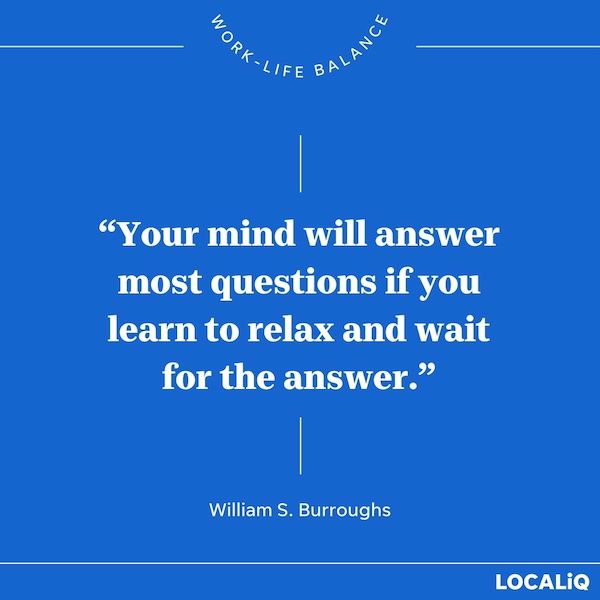 Funny work-life balance quotes
Sometimes you just need a good laugh to pick you up. Here are some funny work-life balance quotes for those days:
"Almost everything will work again if you unplug it for a few minutes…including you." – Anne Lamott
"The bad news is time flies. The good news is you're the pilot." – Michael Altshuler
"Doing nothing is very hard to do… you never know when you're finished." – Leslie Nielsen
"Hard work never killed anybody, but why take a chance?" – Edgar Bergen
"I always give 100% at Work: 10% Monday, 23% Tuesday, 40% Wednesday, 22% Thursday, and 5% Friday."​ – Anonymous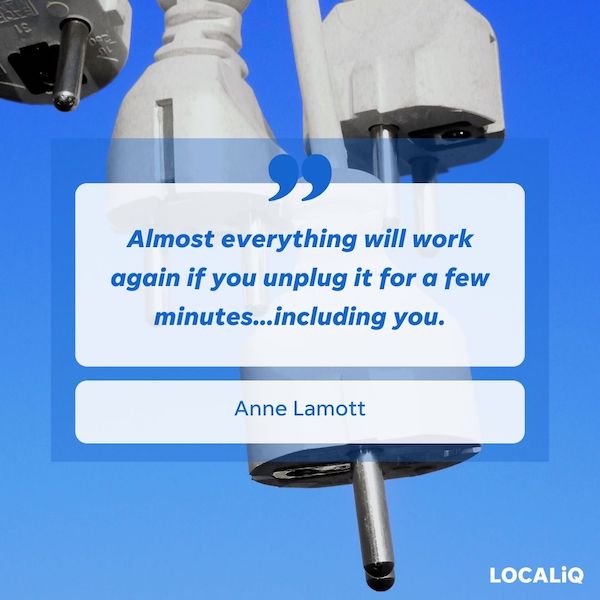 "Beat the 5 o'clock rush, leave work at noon." – Anonymous
"The reward for good work is more work." – Francesca Elisia
"One of the symptoms of an approaching nervous breakdown is the belief that one's work is terribly important." – Bertrand Russell
"I work for myself, which is fun. Except when I call in sick, I know I'm lying. – Rita Rudner
"Work is the greatest thing in the world, so we should always save some of it for tomorrow." –  Don Herold
"We need to remember what's important in life: friends, waffles, work. Or waffles, friends, work. Doesn't matter, but work is third." – Leslie Knope
3 quick work-life balance tips
Feeling inspired after these work-life balance quotes and want some quick tips? You're in luck!
1. Create a no-phone zone
Technology has made many aspects of life easier, but it's also made it more difficult to create work-life balance because you're always one call, email, or text away from work—even when you're at home (or on vacation). Create a no-phone zone or time for yourself where you don't answer, look at, or check your phone. This can be a great first step to creating a work-life balance.
2. Take days off!
This is a hard one for business owners, but it's something that needs to be done. If you're in an industry that's seven days a week or even 24/7 like plumbing, healthcare, retail, or real estate, you can get burnt out very easily. It's important to take days off periodically to rest and recharge.
3. Hire the right team (and outsource)
One way you can help yourself take more days off is by hiring a team, or even just one employee, who can support the business when you're not there. By training and trusting your employees, you can give yourself the opportunity to establish a work-life balance because it won't all come down to you.
This also applies to hiring partners who can help you with other aspects of your business, such as accounting, marketing, and more. By allocating some of your budget to outsourcing work, you can free up time for yourself and leave some tasks to experts in those fields. (Get help creating a marketing budget here!)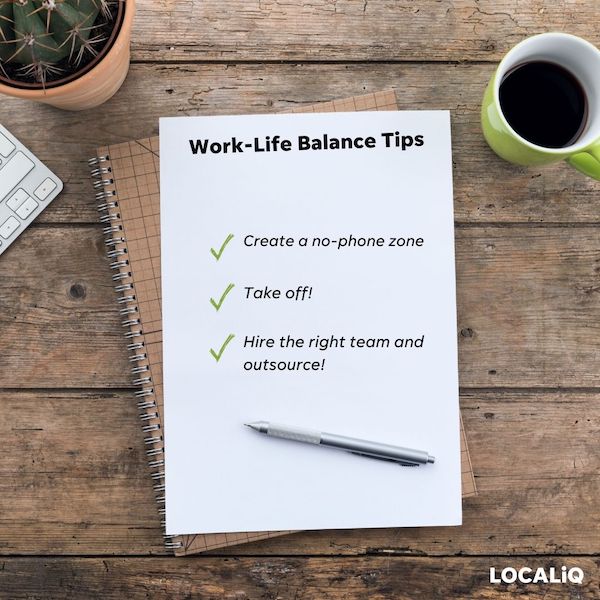 Work-life balance Instagram post templates
Want to use any of these work-life balance quotes for your own Instagram posts and captions? I've got you covered with Canva templates you can customize and download here! (Not a Canva pro yet? I created a guide for how to use Canva you can check out!)
Post these for #wednesdaywisdom or #selfcaresunday, or just when you want to remind your audience (and yourself!) to slow down and take a break. We also have you covered with Instagram captions here.
Want more ideas for your marketing? Check out marketing ideas for every month of the year here! 
Get inspired to create a good work-life balance
With a little time, the right inspiration, and support behind you, you can create a work-life balance that works for you. Don't forget that your business can't be successful if you're perpetually burnt out or exhausted. You need energy and creativity to keep your business running, which requires rest and relaxation every once and a while! You deserve it ?
Like quotes? We've got more inspirational and motivational small business quotes here.