Did you know that Facebook is home to a staggering 2.93 billion monthly active users? That's a lot of potential connections, friends, and customers.
But as a Facebook user, thinking about going head-to-head with billions of people for social media support is daunting and disheartening.
Whether you're recovering a hacked account, trying to remove offensive content, or asking a question, contacting any support team—especially Facebook's—can be extremely time-consuming and confusing.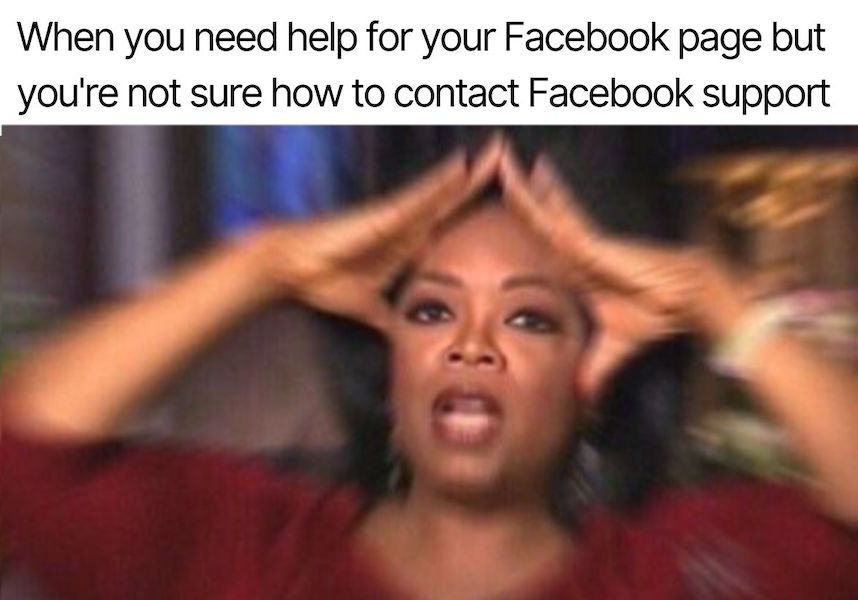 We're here for you.
Thankfully, Facebook offers many options when seeking support. We developed this guide to show you all the ways to contact Facebook customer support.
Table of contents
What is Facebook support?
Facebook support helps you manage your Facebook account better. It aims to provide you with the best possible user experience by supplying helpful information, assistance, and guidance on topics like privacy and security, Marketplace, Groups, your business page, and many more.
Facebook support also offers other useful functions such as monitoring your account activity, getting assistance from experts, and generally getting the most out of Facebook.
7 ways to contact Facebook support
What methods of support does Facebook offer? We dig into these below.
TL;DR: Facebook does not offer phone support. You may find a couple of phone numbers floating around the web (spoiler alert: those are 650-543-4800 and 650-308-7300), but they won't be very helpful. Both lead to pre-recorded messages that encourage you access the online Help Center.
The good news is that we've covered all the available options in this section. Read on!
1. Facebook Help Center support
If you aren't sure how to use a feature on Facebook or want to report a bug or issue, the Fa is the place to go. The Facebook Help Center has answers to thousands of questions about everything from account security to account deletion and everything in between.
For example, if you're unable to log in or change your profile picture, you can learn how to resolve these issues by visiting the Account settings topic page.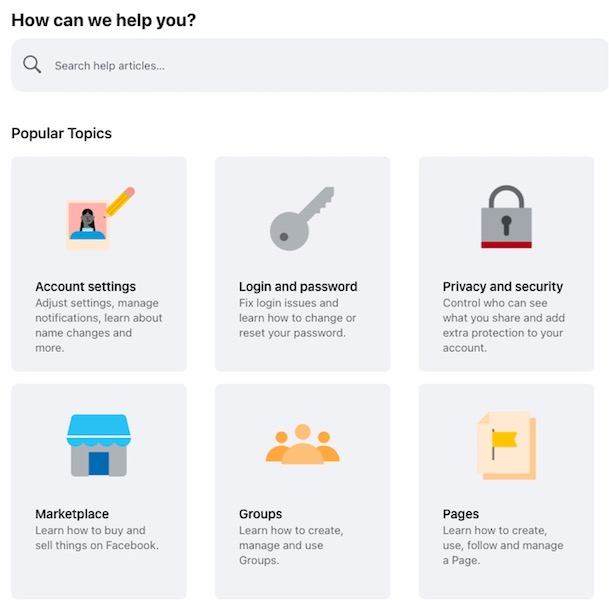 2. Facebook Live Chat
Facebook Live Chat supports businesses that advertise on Facebook with one-on-one support through a live online chat window.
Advertisers can get answers to their Facebook advertising questions by clicking "Get Help" on the Facebook for Business website and chatting with a trained Ads Specialist.
To access the Facebook Live Chat feature, go to the official help page or click on the link below the chat button. Conversations will appear in your Messenger tab. At this time, Live Chat is only available for Facebook for Business users. However, Meta recently released a live chat option for Facebook users locked out of their accounts.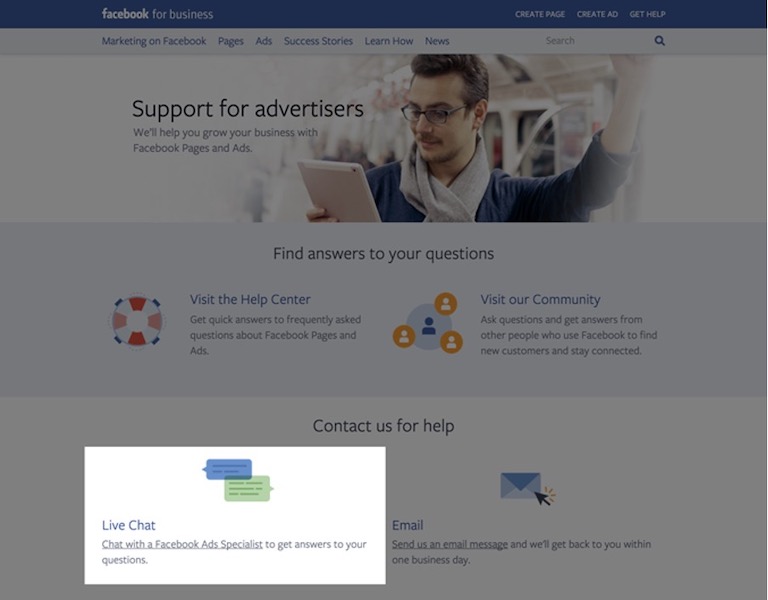 3. Meta for Business support
Visit the Meta Business Help Center if you have issues with your Facebook Ads. This knowledge base will help you resolve issues and answer questions like:
Troubleshooting ads
Creating and installing a Facebook pixel
Monetizing your content
Selling products on Facebook and Instagram
Why your ads are getting disapproved
Verifying your business a social media platform
Meta also offers Meta Blueprint, a collection of online courses, workshops, and certifications that users can take to learn new ways to leverage their Facebook Page for business growth. Courses include Promote Your Business From Your Facebook Page and Ad Policies for Content, Creative, and Targeting—among dozens of others.

4. Facebook email support
Facebook doesn't provide a standalone support email address. (Can you imagine how crazy that inbox would be?)
Instead, they offer nearly a dozen emails for users facing specific problems. We've collected them below.
5. Facebook official pages
Facebook utilizes its own product—Pages—to support other Facebook users and businesses. The below official Facebook Pages offer support on various topics and for various communities.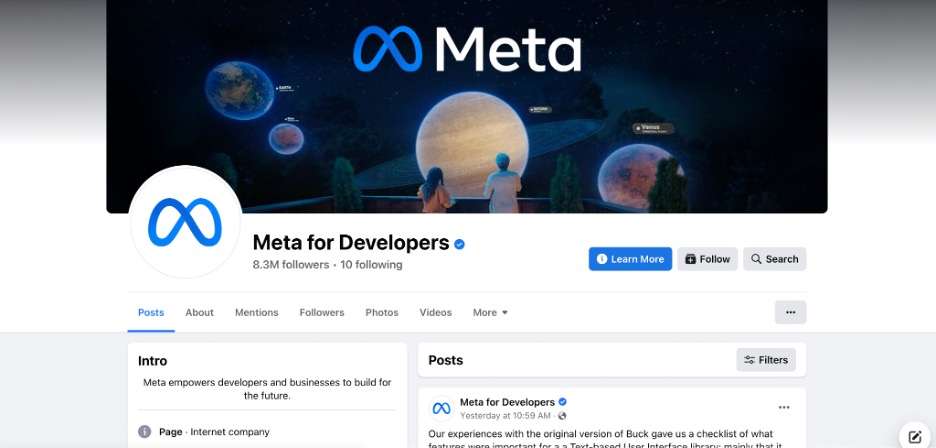 6. Facebook contact forms
Facebook offers contact forms for several common user issues and questions.
7. Offline Facebook support
If all online methods fail to resolve your problems or issues, you can write to:
Facebook Headquarters
1 Hacker Way
Menlo Park, CA 94025
The United States of America
In addition, if you wish to reach Bulletin's designated agent to report copyright infringement, you can contact:
Facebook, Inc.
FAO: Facebook Designated Agent
1601 Willow Road
Menlo Park, California 94025, USA
+1 650 543 4800 (phone)
Benefits of self-service Facebook support
Why might someone want to access Facebook's self-service Help Centers instead of contacting Facebook support directly? Here are some benefits:
It's easy. The Facebook Help Center is designed to make finding information quickly and seamlessly. You can search topics by keyword or browse through categories and articles relevant to your issue or question—without having to wait for live support. Better yet, you learn new skills for the next time you encounter a similar issue.
It's reliable. Facebook updates its Help Center regularly with the latest content from Facebook and Meta experts, so you know that what you're reading is relevant and accurate.
You need help with a straightforward account issue. People often need help with simple problems, like struggling to log in, forgetting a password, or needing to change their profile or contact information. Self-service Facebook support is the best way to solve these issues.
It's accessible 24/7. As long as you have a Facebook account, you can access the Help Center information for free, anytime, without even logging into Facebook. The FAQ section is easily navigable through the Help Center.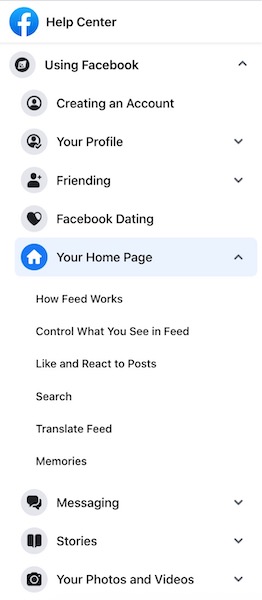 How to contact Facebook support directly
If you'd rather bypass the self-service Facebook support options, here's a step-by-step process for contacting Facebook support. (Tip: This process is a bit easier on a desktop.)
First, log into your Facebook profile. Click on your profile picture in the top right corner. This should drop down a menu. Click "Help & Support."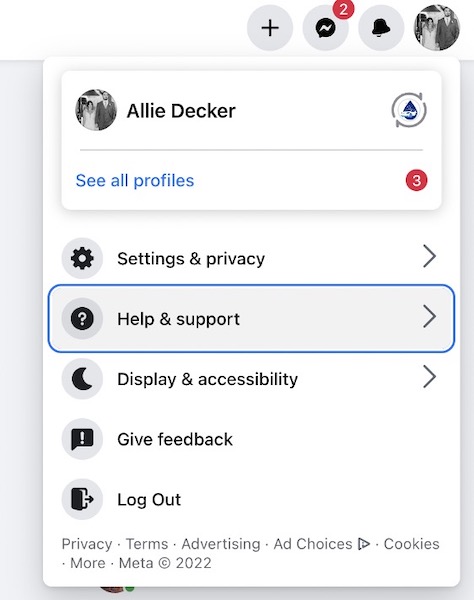 You'll see three options in the next menu: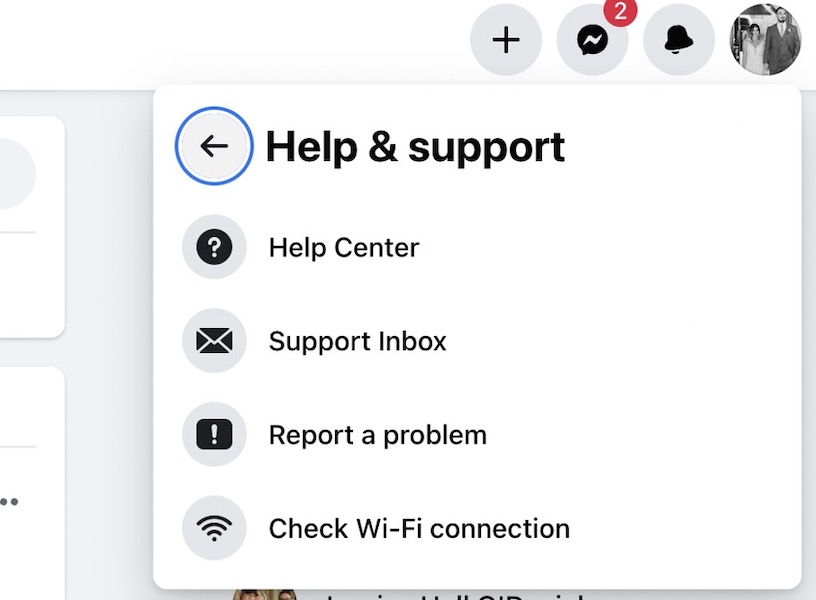 Clicking "Help Center" will take you to Facebook's Help Center page. You can search for self-help articles there.
Your Support Inbox is the "place to get updates about things that you've reported, check and reply to messages from the Help Team, and see important messages about your account." If you report a profile or a post on Facebook, you'll see notifications here.

Clicking on "Report a Problem" will pop up a couple of forms where you can submit feedback to Facebook or report any tech glitches or broken features. You can even attach and submit screenshots and screen recordings of the glitch.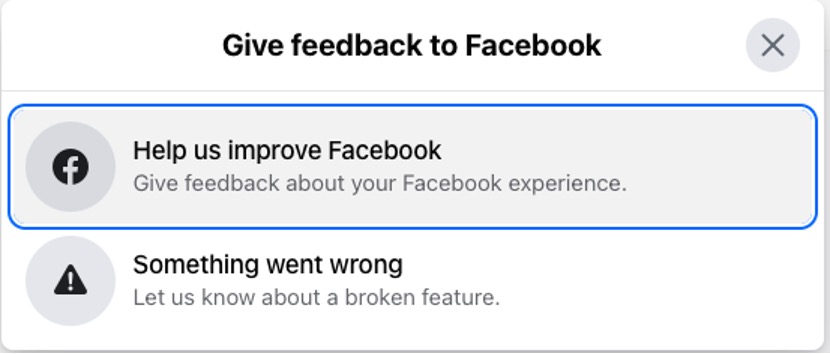 Get the support you need from Facebook
While we hope you never have to reach out to Facebook support, the time may come when you need help on the platform. We've detailed the common ways to contact Facebook support in a troublesome situation.
Not only does Facebook support help solve any issues, but it can also be helpful for learning new features and ways to grow your business on the platform.