My work in Diversity and Inclusion started in 2013 when I founded the Detroit Regional LGBT Chamber of Commerce. I got a call from the city doing a residents' survey within 12 hours of my moving back. It was just a coincidence, but I took it as a sign. They were eager to ask me for my opinion, so I figured I'd give it to them. And for the past nine years, I've run an organization built on strong principles of inclusion, diversity, and equity.
In 2017, I was named as Crain's Detroit Business 20 in their Twenties for my work with the Chamber and Pride Forward, Gannett's LGBTQ+ employee resource group (ERG). Which brings me to my current role as the Diversity and Engagement Program Manager, where I manage all 12 ERGs for Gannett.
So needless to say, inclusivity in all aspects of work, life, and marketing is very important to me.
Over the last few years, more and more businesses have started observing and supporting Pride Month in June. While it's great to publicly support the LGBTQ+ community, there's a thin line between true support and hopping on a trend.
Changing your social media profile pictures to a rainbow version of your logo is nice, but it only counts if you're truly investing in and supporting the LGBTQ+ community year-round.
Source: Reddit
In this post, I'll share thoughts on how your business can participate in Pride Month marketing, and how to do it right!
Is Pride Month marketing right for your business?
Here are some simple questions to think about as you plan your Pride Month marketing:
Does it align with your brand values? As a business, you likely have a set list of core values. If inclusion, diversity, and equity are part of your brand values, then this observance will likely align.
Do you support the LGBTQ+ community year-round? Think about how and if your business is supporting the LGBTQ+ community throughout the year.
What will your Pride Month commitment look like? Think about how you're planning to observe or celebrate Pride Month. If your commitment is to simply add a few signs or change your profile picture, this may not be the most effective way to show your support. But if you're planning to partner with local organizations, volunteer your time, or donate proceeds to LGBTQ+ non-profits, then you could move forward with a Pride Month marketing strategy.
If you don't feel that Pride Month marketing is a fit for your business, you can still show your support through social media or by making a donation to an LGBTQ+-friendly organization.
Pride Month marketing dos and don'ts
If you're planning to move forward with a Pride Month marketing strategy, keep these tips in mind.
Do truly learn to understand and support. Don't just go along.
As I mentioned, there's a thin line between just going along and truly supporting when it comes to LGBTQ+ marketing. For example, pre-COVID, I stumbled into a coffee shop that had a pride flag in the window. I was very impressed until I saw signage that said "Proceeds of this Pride Blend coffee will go to GLAD."
I had to do a double-take and realized their sign missed an "A" in GLAAD. As in "Gay & Lesbian Alliance Against Defamation," the largest LGBTQ+ media organization in the US (and probably on the planet). I'm sure this came from someone with a good intention, but it fell short and bordered on pandering to the community.
However, I still bought the coffee. We all must lead with an inclusive mindset, but we all still have blind spots.
That's why showing your support for an organization like GLAAD is great, but you might even consider taking it a step further and calling the organization to ask how your business can best support them. Their answer may surprise you.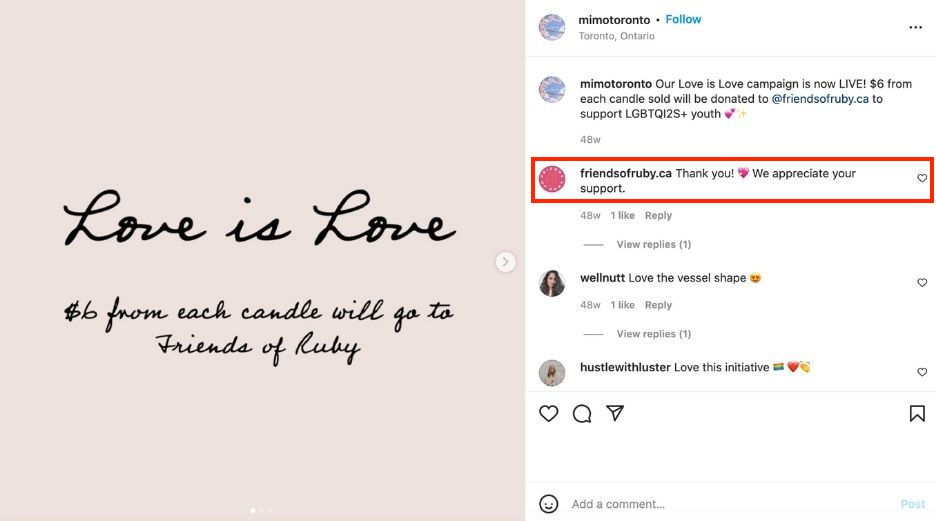 Do get involved. Don't do the bare minimum.
Like any good business, you should know your customer needs. This coffee shop knew its customers are more accepting of the LGBTQ+ community, so they embraced the cause with their fundraiser and by adding a big pride flag in the window to show support.
But your customers need to know that you're doing more and not just jumping on a trend or keeping up with the competition. Think of ways you can stand out and truly embrace Pride Month beyond a marketing strategy or tactic.
You can look for organizations in your area to support, talk with members of the LGTBQ+ community about how your business can get involved, and serve as a meeting place for organizations and groups.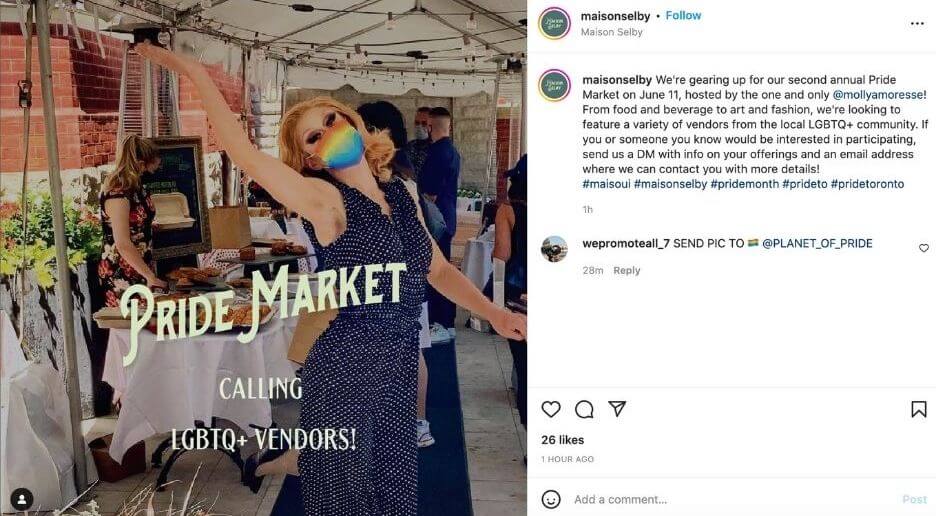 This event venue hosts an LGTBQ+ market featuring vendors from the community.
Do reflect the community. Don't keep it strictly to Pride Month.
Our community loves to see diverse, real pride marketing messages. Diversity within ads, including more body-positive imagery or age representation, would attract more members of the community because representation matters.
But we want to see inclusion past Pride Month—for example, working at your business. Why would you expect people to shop with you if you don't have people in your business that look like them or reflect the diverse community?
Another way to reflect the community is to buy products from LGBTQ+-owned businesses to feature in your business or help create your products. Supplier diversity is important. Look at who you currently purchase your items and services to support your business, then intentionally expand your purchases to businesses owned by members of the LGBTQ+ community or other communities not represented in your supply chain.

Eli Tea, an LGBT-Owned business, on the shelves at Good Cakes and Bakes bakery in Detroit, MI.
Find your local LGBT Chamber of Commerce and search their directory to get started. You can also move some things off your shelves and give LGBTQ+ owners space to sell their products (with an agreement, of course). This is all about sharing the opportunity and giving back to the community while capturing an additional consumer base. Hopefully, you have a loyalty program so you can keep in touch with the new traffic.
Do remember the history behind Pride Month. Don't stop your efforts on July 1.
Conversations about the commercialization of Pride have been a theme over the last decade. Don't get me wrong, the LGBTQ+ community loves a cute float and a parade to take the family and friends to, but what about this same energy all year round?
After those 30 days, the decorations disappear like Christmas trees, rainbow items go on clearance, and some businesses erase all acknowledgment of the LGBTQ+ community while the Fourth of July decorations spring up. I get it. Every cultural holiday or observance has a start and end date, but your educational series, donations, and marketing campaigns don't have to stop.
For example, the Detroit Pistons do a very good job in making sure their LGBTQ+ programming is year-round. Activating the stadium for a Pride Night, hosting several LGBTQ+ panel discussions with staff and community groups, or even having the dancers hype up a local LGBTQ+ party. Their intention is not to just sell tickets to a game but also to have the community know they are with them and have a strong ally all year long. Your company can do this too by volunteering time, donating goods or services, or even recruiting at an LGBTQ+ community career fair.
A photo from Pride Night at Little Caesars Arena in 2019. Yes, that's me!
LGBTQ+ Pride Month, like many other cultural awareness months in this country, started out in protest. Fighting for equality and, sadly, all of them are still protests. Many also reflect on the growth and progress each movement has made. Be mindful of this as you plan your Pride Month marketing and think about how you can keep this energy throughout the year.
Do Pride Month marketing—the right way
Pride Month is a great time to educate yourself, your staff, and your customers about your appreciation for diverse perspectives. Celebrating Pride Month with your marketing can show additional support for the LGTBQ+ community—when you do it the right way. And the right way comes down to caring about this community year-round. Yes, amplify LGTBQ+ voices and include them in your marketing during Pride Month, but don't break up with them until next June. Seek ways to support, include diverse representation in your ads, and be inclusive in your marketing strategies every month of the year.
Find consumer behavior reports about the LGBTQ+ Community from Community Insights Marketing.