Social media is a convenient platform for businesses to establish a brand presence, connect with their target market, and transform them into paying customers. But how, exactly, can you do that? It's one of the bigger challenges business owners and marketers face when it comes to social media marketing–especially as generating leads and sales is one of the top goals for most businesses investing in a social media strategy.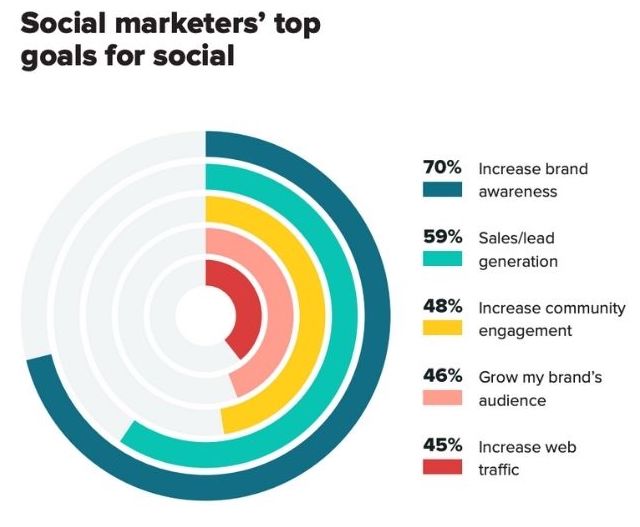 One way to generate leads and sales on social media is through paid social advertising. Social ads make it easier for you to reach a wider audience with the intent to convert them into a lead or customer. But, like with any type of advertising, there are many components that contribute to your success with this strategy.
One essential component of a successful ad strategy is a compelling and effective landing page. You may not think much about landing pages when it comes to social media, but the fact is that a great social media landing page can make or break your social ad campaign. In this post, we'll walk through:
What a social media landing page is
Why you need a social media landing page
How to create an effective social media landing page
Social media landing page examples we love
What is a social media landing page, and why do you need one?
A social media landing page is an independent page designated for social media marketing campaigns. It is called a landing page because users will land on it after clicking links in your social media postings. A landing page can call on users to sign up for an email list, answer a questionnaire, or others.
A social media landing page does not have links that lead out of it, only a link in the call-to-action (CTA) button. This design ensures that social media users perform your desired action instead of browsing around your website. Landing pages yield an overall average conversion rate of 26%, which gives you an idea of their effectiveness as a marketing channel.
Instead of directing users to your homepage where they're left with nothing to do but browse, social media landing pages offer users a clear CTA as your posts generate leads. It minimizes bounce rates and makes the most out of viewers who've been engaged in your posts.
Related: Get 50 powerful call-to-action phrases to use on your social media landing pages.
Building an effective social media landing page allows you to establish a more organic relationship with your viewers by allowing them to sign up for mailing lists or answer questionnaires and others at the minimum. At best, you can expect conversions from effective social media landing pages.
5 tips to help you create a successful social media landing page
Just because you've already had a social media landing page doesn't mean you're good to go–a winning social media landing page allows you to get the most out of your campaigns. Here's how you can create a successful social media landing page:
1. Craft a consistent brand message
One of the reasons you need to create a landing page is to provide further information about what you have to offer users and drive action. When crafting the copy for your social media landing page, ensure that its message is consistent with your brand and the social media post that attracts your audience.
Your audiences have clicked the link in your post because they were interested in the messaging of the post, so you can't give them a different message on the landing page. Failing to have a consistent brand message will leave them confused and make you lose conversions or potential customers. A consistent brand message also builds strong brand trust.
A way to do this is to ensure that the images you use in your social media post refer to the same product or service on the landing page. Especially with the growing traffic on social media, users are wary about click baits and other ads that hard-sell products. They might think that's what you're trying to do with an inconsistent brand message.
You also need to ensure that the landing page and the social media page both show the same price for the same product (if that's what you're promoting).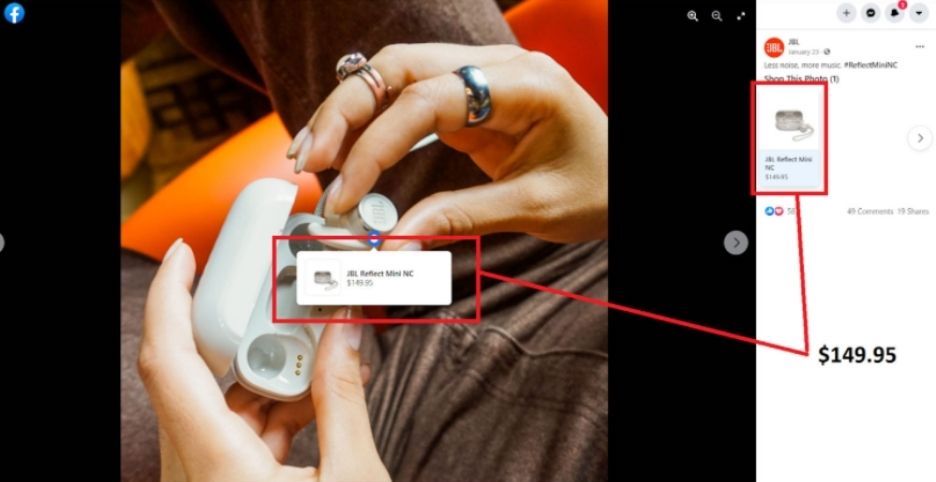 For example, the Facebook post from JBL above shows the exact pricing and product on the social media post and the landing page: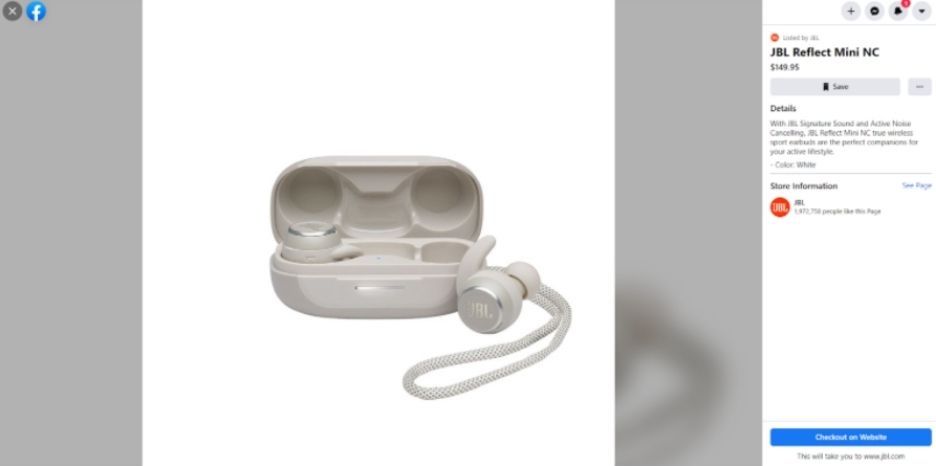 If a user were to click "Checkout on Website," they will be redirected to the actual checkout page on their website, which also contains the same price: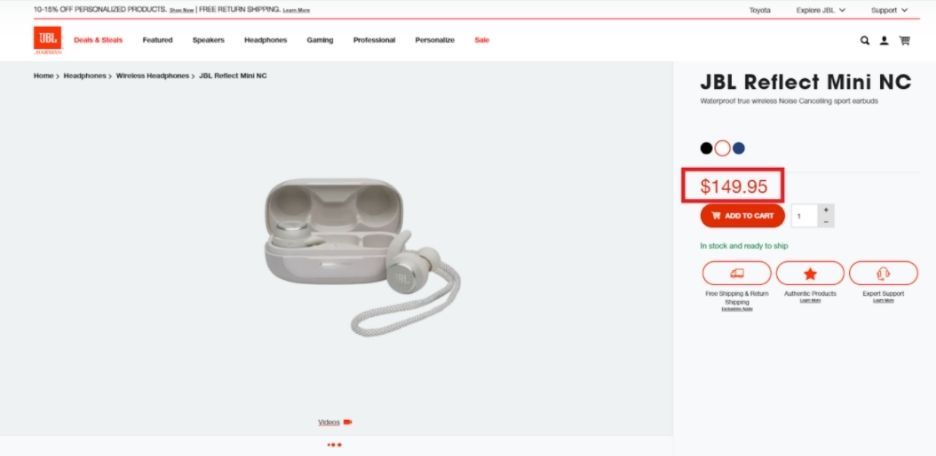 The messaging from the social media post through the landing page up until their checkout section has been consistent with the image, product, and price. This consistency gives the audience the assurance that they didn't click on the wrong links and are on the correct pages.
Related: Get more helpful landing page best practices here.
2. Keep it simple
A social media landing page is supposed to be a standalone page–meaning, it should be simple from its messaging down to its layout. It's not the same with your website, where you should put everything the customer needs to know about your business.
Social media landing pages have a single purpose: to convert your leads. You will need a simple layout to make your messaging clear and convince the user to click on the CTA. Use the active voice to make your point more concise and direct, which will help users to understand easily what you want to say. Here's a good example of a simple landing page from Host Gator: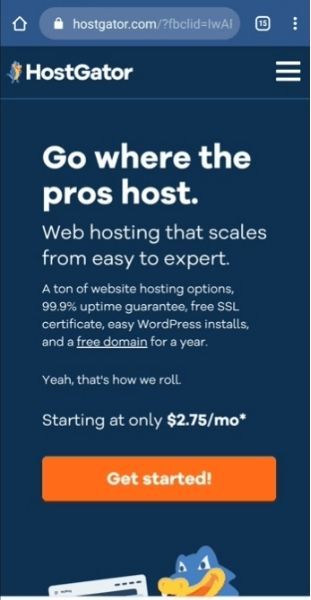 The landing page above has simple, straightforward copy and CTAs that users wouldn't miss because their orange color contrasts with the blue background. Let's talk about CTAs in more detail in the next section.
3. Add a strong CTA
We can say that users who made it to your social media landing page were engaged with your posts. Now comes the challenging part–creating a strong CTA that would make or break the post-to-landing-page journey you've set for them. The CTA or the call-to-action might be considered the essential element in your social media landing page.
The visual elements and catchy headlines and text are necessary for informing the users about the page's message. However, the CTA button urges them to do your desired action. Three main elements make the CTA: the color contrast of the button with the background, the text, and other details that will urge the users to click the button. Here's an example: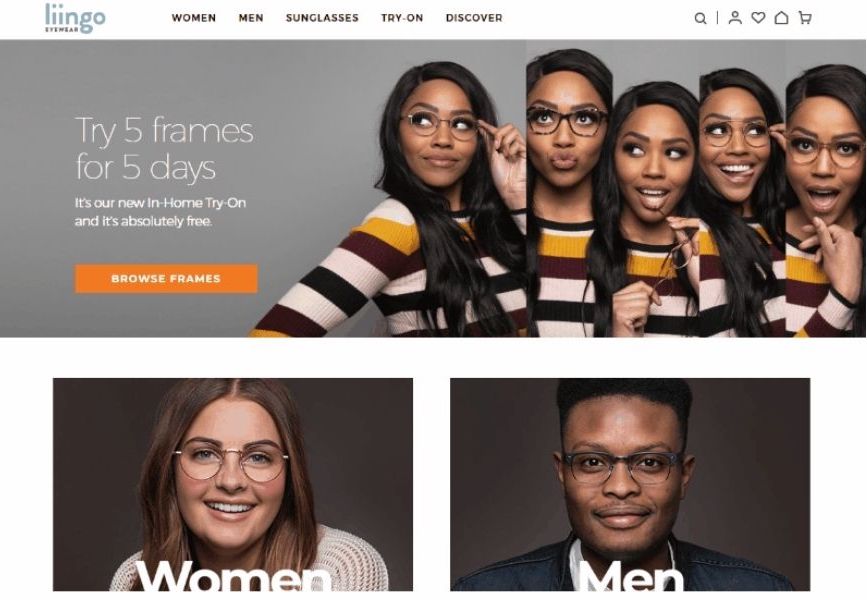 The bright orange color of the "See Yourself" button stands out in contrast to the dark background, so it's easy on the eyes. The "Virtual Try-On" animation also catches users' attention as they scroll the page. You can also consider complementing your CTA by showing discount popups that appear when your visitors engage with your page.
It's best to be clear and simple about your CTA and avoid using unnecessary words. It should tell what the users should do next now that you've got them with your social media post. Always aim for one CTA only.
According to a study, social media landing pages with only one CTA offer more conversions than those with two CTAs by 1.6%. To make your CTAs more effective, you may personalize them by adding the user's name. There are findings that personalized CTAs earn more conversions of about 202% than your typical CTA.
4. Optimize for mobile devices
Most users today are on their mobile devices, making up more than half of the web traffic–that's why you should optimize your social media landing posts for these types of layouts. If you fail to tailor your landing page to smartphones, your users wouldn't see it correctly. They would also need to scroll left and right to read your text–when you're on social media, who has the time to do that?
You also need to optimize your social media landing page's loading speed. According to a study, only two seconds of delay in loading social media landing pages results in a 103% higher bounce rate. Here are other things you can do to optimize your landing page for mobile devices:
Rely on a web page design that's more responsive: This will prevent getting your landing page from getting distorted as its elements are resized automatically. That will make it fit more perfectly on mobile screens. (Test your website's performance with the LOCALiQ website grader.)
Auto-fill functionality: Fill out the name, email address, and other information to make your page convenient for mobile users.
Remove distracting elements: Distracting elements that work on a desktop browser but not on mobile, such as background images, need to go.
Minimize image size: Having larger image results in slower loading time
A social media landing page that's optimized for mobile devices will give the audience a better user experience. That significantly contributes to higher conversions. To test the optimization of your landing page for mobile devices, you can always check the page on your smartphone or use Google's mobile-friendly test.
5. Always test the page
We all know by now how fast-paced the digital space is. A landing page can easily be outdated if you fail to track it over time.
Optimize the page regularly to receive better results. If you find that your landing page takes too long to load, take a look at the HTML and remove unused or redundant lines of code. You may also reduce image sizes by cropping them. Using a responsive page design also helps improve website performance.
Aside from measuring page load speed, you also need to track landing page performance. Use reliable analytics tools for tracking your performance on social media and websites. Keep comparing your click-through rates or CTR to your conversion rates. That allows you to track the number of users who took the actions you have set for them.
Related: Find out how to measure website performance here.
Finally, you need to perform A/B testing to find a combination of elements that will maximize click-throughs and conversions. Your social media landing page may look perfect now, but it can always be better. Keep studying the numbers it provides for you and keep working on the page to increase conversions further.
Create your best social media landing page today
Social media landing pages might be standalone pages, but they're essential to an effective marketing campaign. Social media has its pros and cons. One of the pros is the instant connection with people, and one of the cons is its fast-paced orientation. It's becoming more challenging to grab the audience's attention on social media. Landing pages are the perfect tool to get that attention–and that conversion.
So, ensure consistent messaging and a simple layout. Use a strong CTA on your social media landing page. Optimize your page for mobile devices. Also, test and improve your page.
Follow these tips, and your social media landing page will yield the best results.
About the author
Sam Molony is part of the marketing team at Mailshake. Sam's goal is to inspire people to not just "hang in there" but to thrive. When Sam's not publishing or promoting new content, you can find him playing sports and cooking up a storm in the kitchen.