At the beginning of 2020, grocers couldn't have anticipated that they would encounter such a profound and immediate challenge to their business as well as changes that would impact the way they operate for the foreseeable future.
Grocery stores have long been essential to local communities across the country. But never has that been more true than now, when grocers have literally been "essential workers" — keeping America fed and stocked with supplies throughout community shutdowns and stay-at-home orders.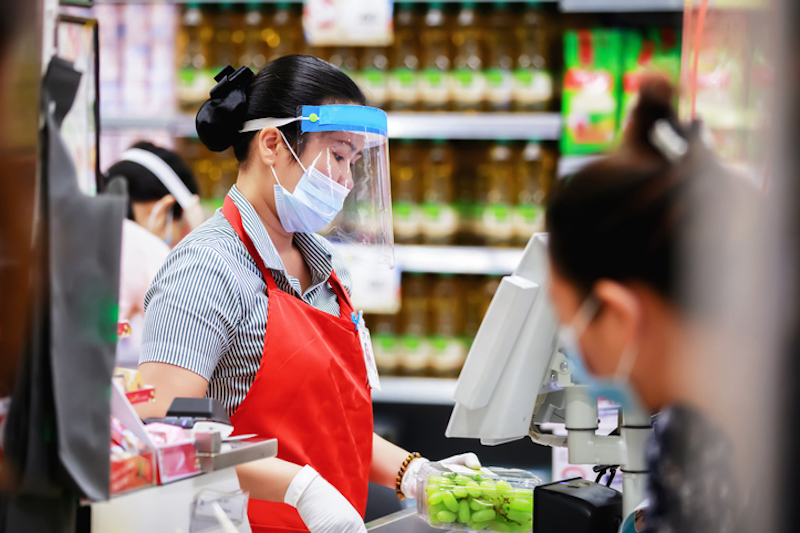 It's safe to say that priorities for many grocers and grocery marketers have shifted.
But one thing that hasn't shifted — and shouldn't — is the importance of local food to customers. If anything, it's only grown in importance.
In late October, election coverage crowded out much of the growing warning signs around COVID-19. Consumers had largely returned to visiting grocery stores as infection and hospitalization rates remained low in many areas through September, but public concern about a new fall surge was growing quickly. We at Forager wanted to get a sense of how consumer behavior and priorities around their grocery buying needs may have shifted from March to October. 
We surveyed 1,000 U.S. adults about their views on the availability and attributes of local food. Respondents reflect all manner of household types, incomes, and ethnic backgrounds and came from every state in the U.S.
What the Data Says About Consumers & Local Food
What we found is that the consumer continues to speak when it comes to wanting local food — though lately, their voices are growing into shouts for more local food.
Here are five data points from our recent survey clearly highlighting consumer's increased urgency and frustration when it comes to finding local food plus some ways you can use these data points to inform your grocery marketing in 2021.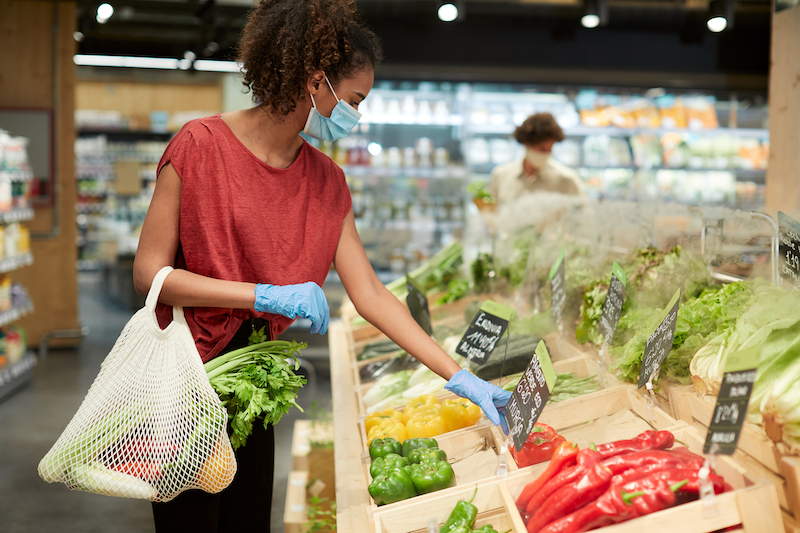 76% of consumers say it's unfair that grocers don't have more local food.
This was the most striking number in our survey. We consistently see high demand for local in these analyses, but only recently have we seen an attitudinal shift in how consumers see grocers' efforts to deliver on local. Now, with renewed danger from COVID-19, consumers are eating to protect their immunity.
96% of consumers see local fresh food as the healthiest, most nutritious food available.
Studies continue to show that as food ages after harvest, its nutritional value falls significantly. In many parts of the nation and for much of the year, most fresh food is transported to its destination from warmer, distant places often more than a week after it is harvested. It then often sits in a warehouse for days before it reaches a grocery store and eventually a store shelf.
Most local food, by contrast, is harvested and delivered far faster since it does not have far to travel, and many grocers arrange for this food to be delivered directly to a store in their chain rather than a central warehouse, speeding its delivery to the shelf even more.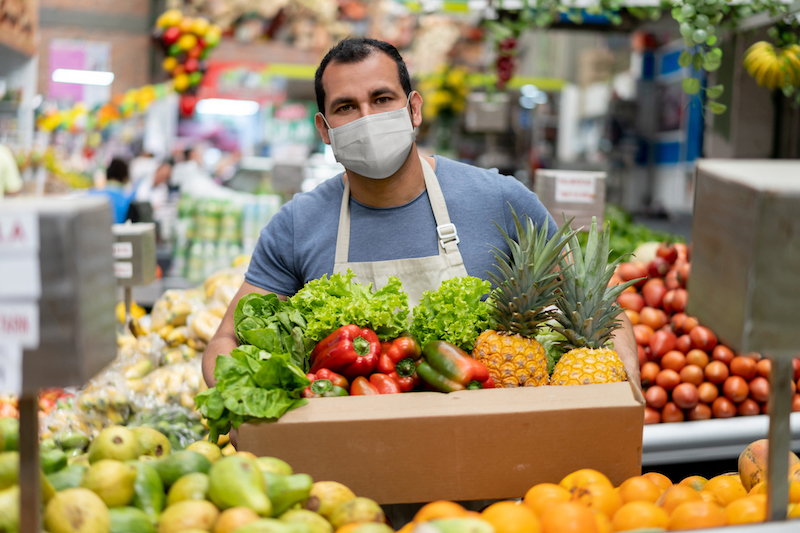 Consumer awareness of this gap and its implications for freshness, quality, and supply chain sustainability is growing rapidly — we are all watching our food system and showing that we know what drives quality in fresh food.
93% of consumers say grocers have a vital role to play in supporting and growing local food economies.
In the years leading up to the pandemic this spring, Americans were moving consistently to eating more and more food prepared outside the home vs. in-home food preparation (aka cooking!). One of the biggest comments made at the largest independent grocer conference last winter was that Millennials don't know their way around a kitchen.
In the weeks and months following the initial shutdowns throughout the U.S. that closed nearly all restaurants and commercial foodservice kitchens, that trend has been reversed. What was about 50% out-of-home and 50% in-home is now closer to 75% in-home. Almost all of this food is coming from grocery stores.
So it's no big surprise that consumers, who want more local food and are getting most of their food from grocers now, expect grocers to play a key role in expanding local food.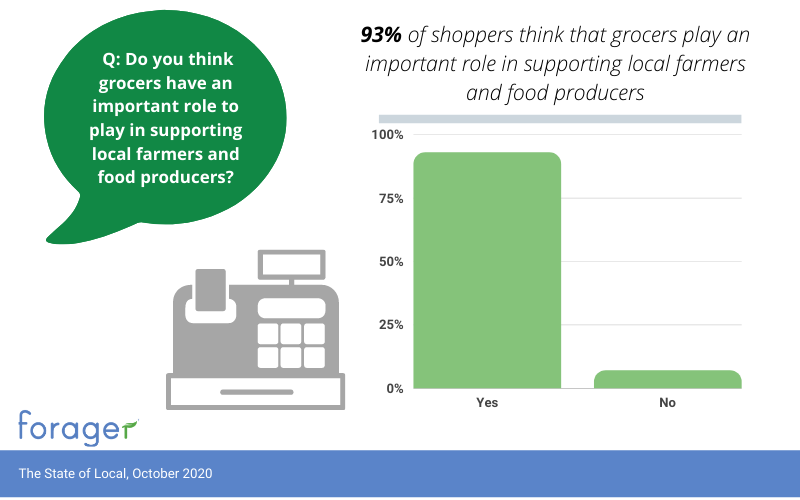 Only 17% of consumers have easy, regular access to as much local fresh food as they want from their grocer.
There are some grocers who have worked hard (and it is hard without the right technology) to build a large, diverse local supply chain of top quality fresh food. But most have seen their capacity to support local decimated by years of staff cuts, ever-changing corporate priorities, bankruptcies, and shrinking margins.
These dynamics have compelled grocers to squeeze every dollar of cost and every ounce of efficiency out of their supply chains, driving them more and more into the arms of large scale farming and its distributors — industrial food.  
85% of consumers would switch to a new grocer if that grocer carried more local food.
While we know consumers have returned to grocery stores, we also know that trips are declining and basket size per trip is climbing significantly. Consumers report their need to reduce the number of different grocery stores they visit due to exposure concerns, emphasizing the importance of selection and convenience for grocers who want to capture the attention of wary consumers.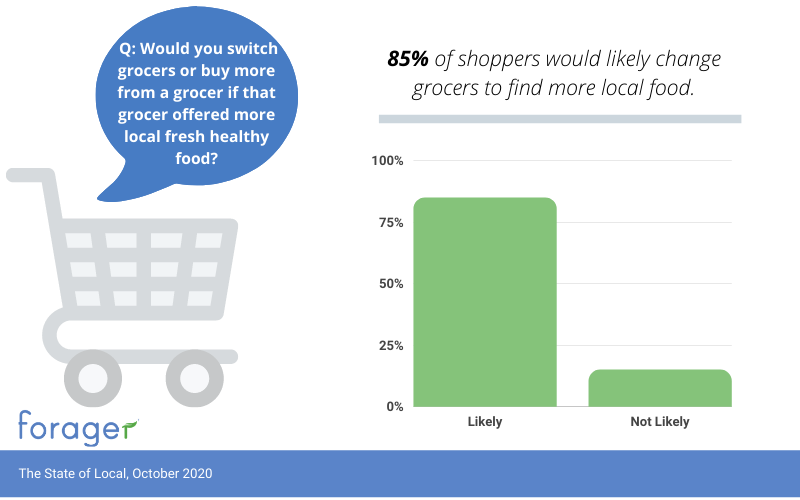 What This Data Means About Consumer Behavior & Grocery Purchasing
It's useful to look back at where the consumer was just weeks before COVID-19 reached the U.S. in force. With the new year just started, many were beginning to think about improving their diets through resolutions and investigating foods that could deliver nutrition with unparalleled convenience and efficiency (so-called functional foods). Many were thriving with continued record low unemployment amidst multi-year economic growth, though some talk of a recession in 2021 had begun.
But, by late February, we saw cruise ships quarantining off California, Americans abroad rushing home on last flights out and many more stranded overseas, and there was the early word of community spread out of the Sacramento, CA area. Days later, our long shutdowns began, and eerily silent streets across the U.S. drove home the point to all of us that our world had changed.
 In this moment and the intervening time, something changed about us and our relationship with our food system.
It's like a lightbulb has gone off in the consumers' minds: images of food rotting in fields and milk being dumped, empty store shelves, and the reality that most of us know someone who has faced food insecurity or COVID-19 itself in the past months, has fractured our mild discontent with our food system and replaced it with something much more visceral and immediate.
How to Use This Data to Inform Your 2021 Grocery Marketing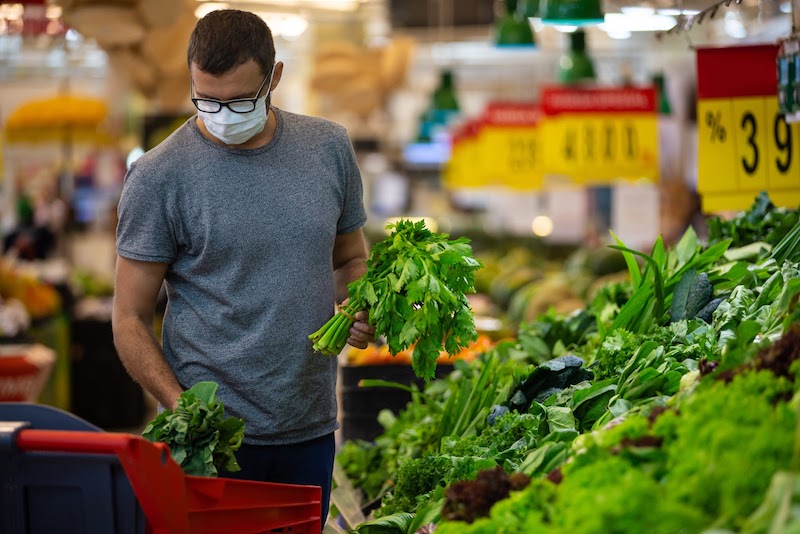 Experience has taught us at Forager that the single best thing you can do to grow local is getting your leadership to publicly commit to it — not just as a goal, but as a real project with KPIs and buy-in from across your category management and merchant organization. Make local priority number one and things start to happen. Imbue everyone in your company with your passion to expand local, and watch their passion come through and become the foundation of success.
So that takes care of the procurement and selection side, but what about the big issue: marketing?
Back to the reality that consumers are encountering brands, including grocery brands, more and more online during the pandemic, it's clear up front that only those grocers who market their local programs beyond including local fresh food in their digital circular from time to time are going to get credit from consumers for the local they do buy and offer.
In this content-hungry age, the stories that emerge from your local supplier base are gold — if you can tell them. Americans are fascinated with where their food comes from. They want to know what motivates and shapes the work of the local farmer, fisher, and producer. The fact that these people have been living right under the nose of largely unaware consumers for years only adds to the tantalization.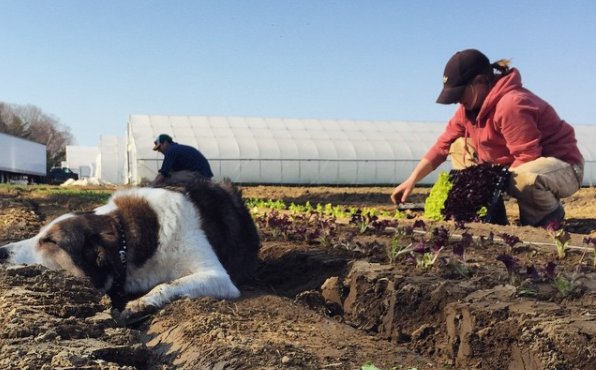 The challenge is in capturing this content first and avoiding the perception that you, as a grocer, are taking over a supplier's own story or are somehow responsible for their success when you market to consumers.
These challenges are most easily overcome by building direct relationships with local vendors — understanding who among them is a good candidate for online marketing to attract consumers. Then, you can get the word out about their stories through branded content, which puts them in the public eye and uses social media and display advertising to drive awareness.
Once a schedule of social media posts has consumers seeing suppliers they want to buy from under your brand, the next step is ensuring that those consumers get what they want both via e-commerce and in-store shopping. It is still fairly rare to be able to select for 'local' in online shopping portals. And in-store, a consumer who makes a trip to buy a product from a producer they learned about via your social media may see something else they like if they don't see that product, or they may conclude that you talk a bigger game than you deliver, and engagement will not lead to the action you want or the loyalty that comes later.
The important takeaway is that your marketing should match up to what you can deliver. Simply knowing the importance of local and local food isn't enough if you're not able to deliver on what is promised. However, aligning your marketing with your grocery brand can help build trust and loyal customers long after the pandemic ends.
About the Author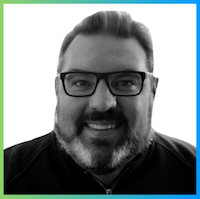 Joe Blunda is the CEO of Forager, a local food supply chain technology startup headquartered in Maine. Joe grew up in the local food tradition and leads a team of dedicated experts in partnering with retailers in their efforts to expand local buying throughout the U.S.