Did you know that 46% of all Google searches are looking for more information about local businesses?
Google search is undoubtedly one of the most powerful tools for local businesses to reach a wider audience and scale their business.
However, with Google's extensive options, consumers are spoiled with choices regarding the service providers they want to use. Although positive customer reviews and ratings can improve your chances of being selected, you need something more to immediately draw your customers' attention.
That's where the Google Guarantee comes in. A Google Guarantee Badge under your brand name will instantly earn your customers' trust as they know they can rely on a Google-verified business.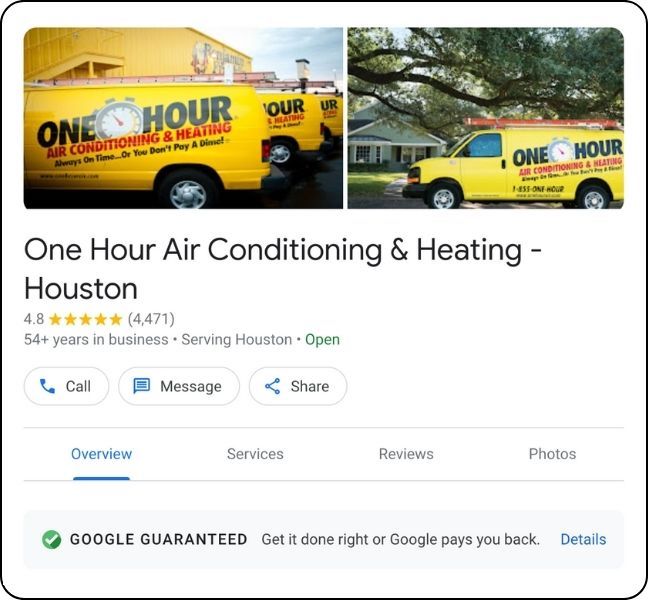 Here, we'll explore how Google Guarantee works and how you can use it to make your business more trustworthy and attract potential customers with Local Services Ads.
What is Google Guarantee?
Google Guarantee is a certification program that aims to increase customer confidence in local businesses. This program informs customers that Google guarantees a company is more reliable and trustworthy than others, helping to build customer confidence and loyalty, and ultimately leading to more business.
The program offers verified businesses a Google Guarantee Badge, a distinctive green and white check mark that gives customers additional confidence and security when booking services. Customers can do business with a Google Guarantee Badge holder, knowing they're in good hands since they've been vetted by Google and meet specific standards. Additionally, customers who find your business through this program can get a refund if they aren't happy with your service.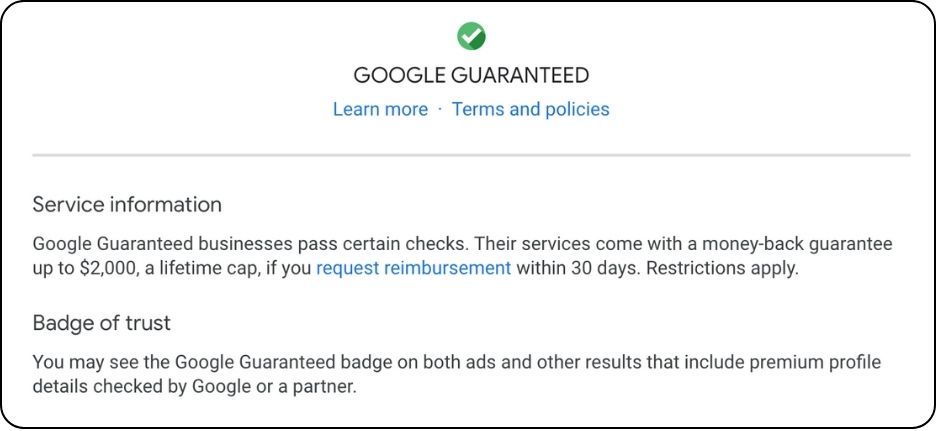 With more than 80% of consumers using Google to evaluate local businesses, Google Guaranteed could be a powerful lead-generation tool to help you stand out from your competitors.
How does Google Guaranteed work?
The Google Guaranteed Badge signifies that Google guarantees the quality of your services. However, for any reason, if a customer isn't happy with your services, Google may reimburse them for up to the initial amount paid. Typically, customers must file a reimbursement request, and Google will decide whether to proceed.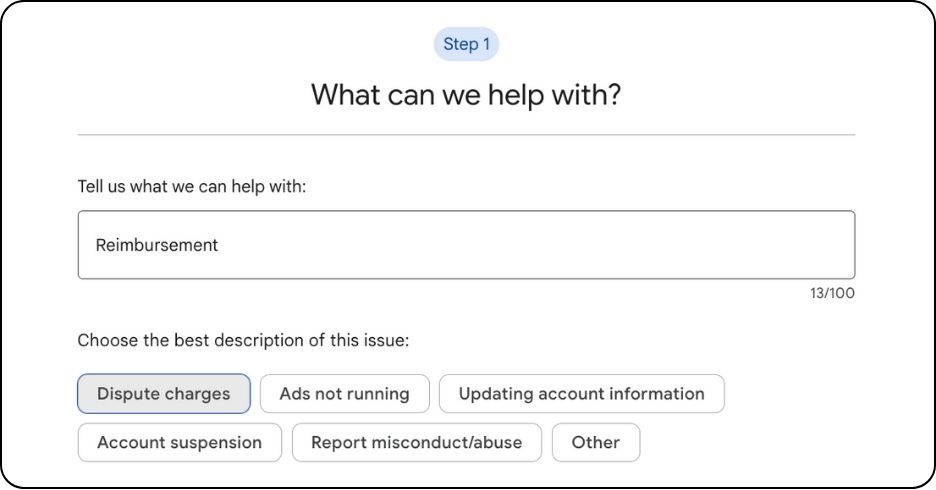 In this way, the program protects consumers and provides a valuable avenue for them to spend their money confidently.
However, there is a lifetime limit to how much Google will reimburse per customer, which varies from region to region. The following are the lifetime limits per customer in each country:
United States: USD 2,000
Canada: CAD 2,000
United Kingdom: GBP 1,500
Ireland: EUR 1,500
Spain: EUR 1,500
France: EUR 1,500
Italy: EUR 1,500
Germany: EUR 1,500
Austria: EUR 1,500
Belgium: EUR 1,500
Switzerland: CHF 2,000
Google Guaranteed program coverage has a few limitations that companies and customers should be aware of:
Customers can only claim reimbursement if they booked the work through Local Services Ads.
The reimbursement claim must be submitted within 30 days of the service.
The claim can be made only for the amount on the invoice for the original service provided, capped at the maximum lifetime amount.
The reimbursement claim can't include any add-ons or future services, damage to property, trip charges, diagnostic costs, or cancellation fees.
Customers can't request a refund if they're dissatisfied with the price.
Google is not responsible for any warranty against product defects. Customers should follow the merchant's or manufacturer's warranty instructions if an item is defective.
Google will not reimburse any insurance that protects purchased products against loss, theft, or damage after possession.
Who's eligible for Google Guarantee?
Although Google Guarantee has expanded to several regions over the last few years, eligible industries vary from region to region.
Here is the list of industries eligible in the US and Canada:
Industries eligible for Google Guaranteed program in the US: HVAC (heating, ventilation, and air conditioning), appliance repair, auto glass, auto repair, carpet and upholstery cleaning, locksmith services, pest control, pet grooming, photography, electrical, event planning, financial planning, garage door installation, home cleaning, junk removal, lawn care, plumbing, roofing, tree services, water damage restoration, window cleaning, and window repair.
Industries eligible for Google Guaranteed program in Canada: HVAC (heating, ventilation, and air conditioning), plumbing, appliance repair, moving, roofing, water damage services, locksmiths, window cleaning, carpet cleaning, lawn care, tree surgeons, rubbish removal, window installation, and pest control services.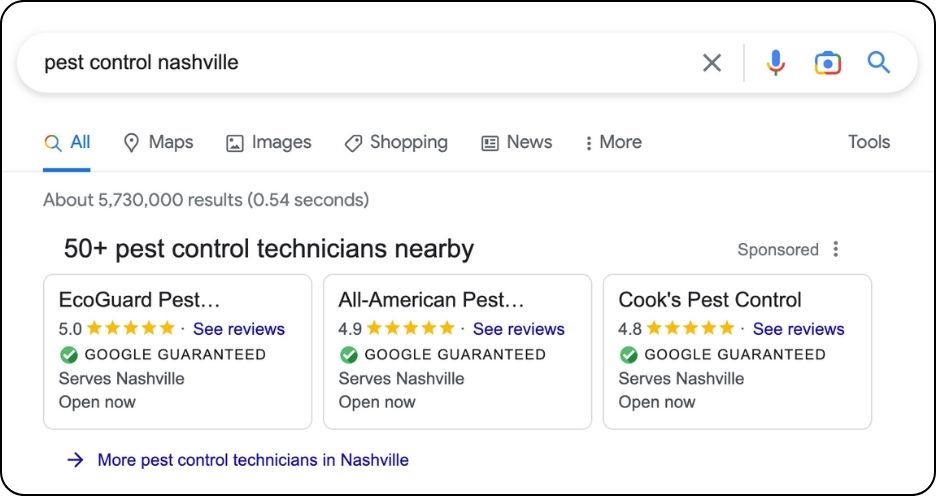 In addition, Google also covers professional services in areas like financial planning, law, real estate, and the childcare or preschool industries through its Google Screened program.
Is it worth it to get your business Google Guaranteed?
There is no best answer to this question. The Google Guaranteed Badge can provide many benefits for businesses, including increased visibility and trustworthiness. However, there is also a cost associated with obtaining and maintaining the badge. Ultimately, whether you want to get Google Guaranteed depends on your business's goals and needs.
Here are some of the top benefits (and drawbacks) of getting Google Guaranteed to help you decide if it is the right fit for your business.
Benefits of Google Guaranteed program
Your business can use Local Services Ads (with Google Guaranteed Badge) to reach the top of search results by appearing above other Google search ads.
It helps build consumer trust since Google has already vetted you as a reputable service provider and trusts you to provide quality service.
A Google Guarantee Badge helps your business stand out from competitors who aren't Google Guaranteed.
It confirms that your business is Google Guaranteed when customers voice search for local services.
Through Local Service Ads, Google Guarantee helps you generate more qualified leads, and you only pay for leads that are relevant to your business and services.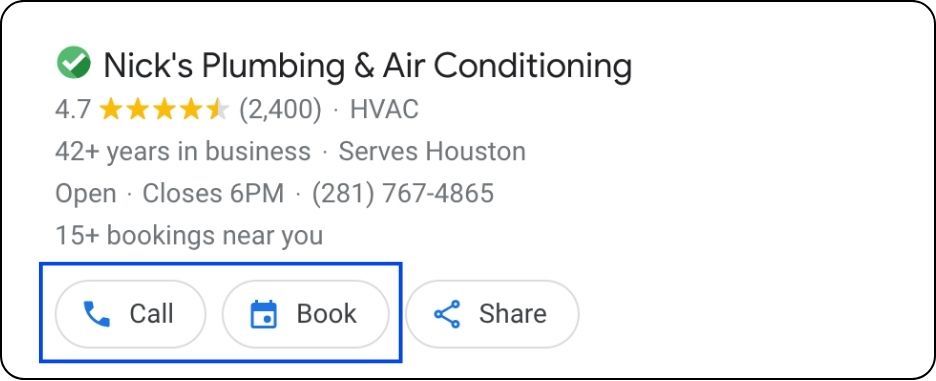 Your business would only pay if someone called or booked an appointment.
Drawbacks of the Google Guaranteed program
The application process can be lengthy and frustrating. It can take up to four weeks before your application is approved.
If your business has a large team, background checks on every employee can be challenging and time-consuming.
A Google Guarantee can only be applied to a single domain, which can be frustrating if you manage more than one business.
Only a limited number of industries are eligible for the program.
How to become Google Guaranteed 
To become "Google Guaranteed," you must first register for Google Local Services Ads. Upon registering with Local Services Ads, your business will undergo a comprehensive verification process before you can be featured as Google Guaranteed.
Several steps are involved in this process, such as background checks, verification of general liability insurance, and state licenses for businesses or owners. Once you pass the verification process, the Google Guarantee Badge will appear with your company's name, as shown below.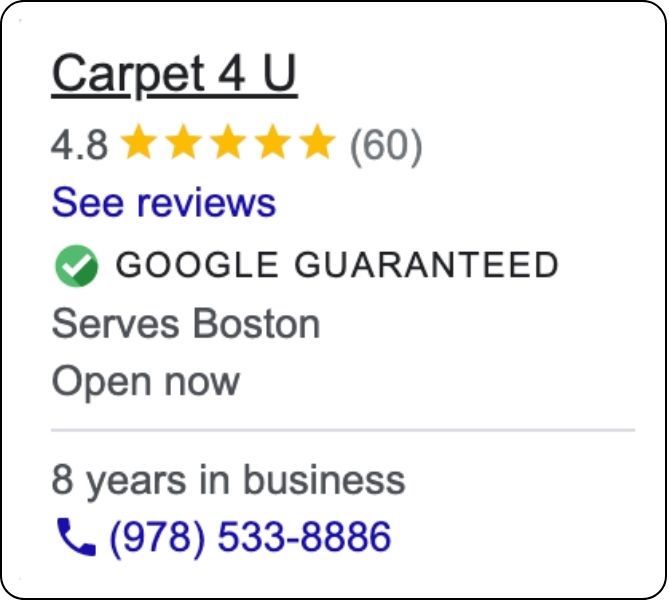 This screening process assures consumers that a Google Guaranteed business is reputable, and they can feel confident about taking advantage of the products and services offered by such a business.
Here are the various screening processes you must pass to become eligible for the Google Guarantee.
Background checks
Business owners and service professionals have to undergo background checks conducted by Google-partnered third-party risk management companies.
Third-party background checks equivalency verification
Sometimes, business owners themselves can get their service professionals verified by Google if they have passed the background check. These service professionals can respond to Local Service leads without passing Google's background check process again.
License checks
Businesses should have valid state, provincial, and national business licenses, and all their employees should be appropriately licensed.
Insurance checks
Each business must carry general liability insurance whenever applicable.
Advanced verification
Some companies may need to go through Google's advanced verification process. As part of this process, Google will review your company's Google Ads account and publicly available data or even conduct video interviews.
Review requirements
In order to run Local Services Ads and get Google Guaranteed, businesses must have at least five reviews with a 3.0 rating or above. (Just another reason why getting Google reviews is so important!)

Each of these Google Guaranteed businesses has high star ratings.
Once you have received your Google Guarantee Badge, it is vital to properly maintain the status if you want to prevent your badge from being revoked. Make sure to keep your licenses and insurance up to date, request customer reviews, respond to negative reviews, and check for regular updates from Google.
Google Guarantee frequently asked questions
Still have questions about Google Guarantee? We've got answers.
What's the difference between Google Screened and Google Guaranteed?
If you've run Local Services Ads or looked into them, you've probably seen two available options: Google Screened and Google Guaranteed. With Google Screened, businesses aren't required to verify their location, like they are with Google Guaranteed. Google Screened also doesn't guarantee any type of money-back guarantee like Google Guaranteed does. And, Google Screened is only available for certain business types such as professional services businesses like lawyers or real estate agents.

Related: Find out why Local Services Ads for real estate are such a good idea.
Does Google Guarantee cost money?
No, the Google Guaranteed Badge (as well as Google Screened) does not cost money as part of Local Services Ads.
What's the difference between Local Services Ads and Google Ads?
Local Services Ads are a type of Google Ads that allows services businesses to pay per lead rather than per click. In order to run Local Services Ads, you have to be an approved business type and be Google Guaranteed or Google Screened.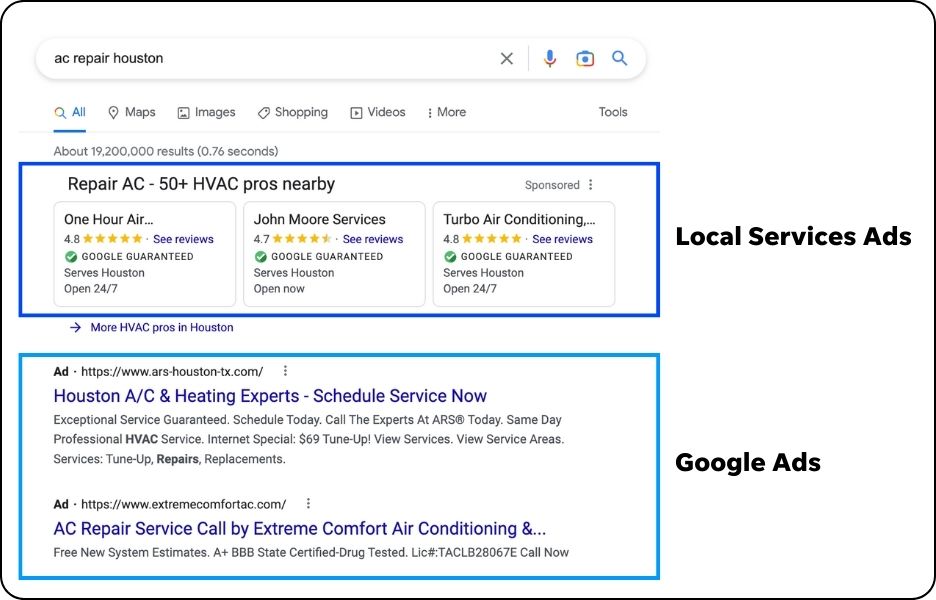 Get Google Guaranteed today
Some local businesses struggle to get their PPC strategies up and running to attract customers. Getting Google Guaranteed and running Local Services Ads can be an effective alternative to help your business to attract the right customers.
Want to learn more about running Google Ads and local PPC? Check out our Marketing Lab course.