Holiday marketing is a time-honored tradition. It's an opportunity for businesses to stand out from the crowd and connect with their audiences.
It's also a big business, with holiday spending projected to be about $1.26 trillion in 2022. With so much money on the line, it's not surprising that businesses are pulling out all the stops to attract shoppers.
Our holiday study found that shoppers are planning to spend over budget this year.
There are many tips, tactics, and best practices to try for your holiday marketing campaign, but the strongest predictor of success is simpler than you think: Get started early. The key is to get a jumpstart on your holiday marketing campaign before the holidays hit so you can be prepared and potentially grab consumers' attention early.
That's why we've compiled this article. If you're looking for some clever and catchy holiday marketing slogans to help your business stand out from the rest, you've come to the right place.


The art of a strong marketing slogan
Marketing slogans are an essential part of any successful marketing campaign. They capture the essence of your business and communicate it memorably.
A successful slogan sparks something inside your audience. It inspires an emotional response and causes them to ponder what you have to offer that they can't get anywhere else.
It doesn't have to be long or complicated; in fact, the shorter and simpler it is, the better.
A good marketing slogan should:
Make people stop and listen (or read): You want your audience to take notice of your slogan and react—whether they laugh, scoff, shake their heads, or screenshot to share it with their friends. Your goal is to spark their interest and make them want to learn more about your offer.
Be 'sticky:' This often means short and simple as consumers only have so long of a memory span. The goal is to create a slogan that sticks with people long after they've seen or heard it for the first time.
Communicate your business's value proposition: Aim to convey some benefit, value, or competitive advantage customers will gain when they purchase from you.
How do you create a good holiday marketing slogan?
Slogan writing (a version of copywriting) is tricky. Creating something unique and memorable takes time, effort, and thought.
Here are some tips for creating powerful marketing slogans:
Know your audience
Who is your target market? What do they care about? What do they buy? What do they want to buy? What do they need? How can you make their lives better in some way? The answers to these questions will help you create compelling marketing slogans that stand out and resonate with your target audience.
Know the problem(s) you solve
Dig deeper with your audience to understand why they choose your product over others. Identify the problems your product solves or prevents, even if those are pesky problems or major issues.
Example: M&M's slogan "Melts in Your Mouth, Not in Your Hands" calls out the common problem of chocolate candy melting before eating. M&M creatively communicates to its customers that their candies won't do that.
Use action verbs and adjectives
The standout words in any marketing slogan should be action verbs and adjectives—words that describe what people can do or how they feel when they use your product or service. A good rule of thumb is to use one adjective and one verb per line of text in your slogan.
Example: Dollar Shave Club's "Shave Time. Shave Money" cleverly explains how customers save time and money by subscribing to the Dollar Shave Club.
Make it align with your brand—or your campaign
Your slogan should align with your brand image. Luxury goods, for instance, tend to avoid colloquialisms like "sale," "cheap," or "fast." When crafting campaign slogans, stay aligned with the values and vibe you're projecting through your campaign.
Example: BMW's "Designed for Driving Pleasure" is an elevated and elegant way of saying "We built this so every time you're in this car, you're comfortable." But BMW's say sounds better, doesn't it?
Keep it short and sweet
If your slogan is too long, people won't remember it or even bother reading it all the way through. Use as few words as possible to express your message without sacrificing meaning or emotion.
Example: Airbnb's slogan is "Belong anywhere." You wouldn't think two words can convey so many different meanings, but Airbnb has managed to emphasize many of its values in this short slogan: travel like a human (its former slogan); book with locals, not hotels; everyone can be a host; and embrace adventure.

Make sure each word counts
If your slogan includes multiple phrases separated by commas or conjunctions, make sure each phrase is relevant to your brand and conveys an important message about your offering. Otherwise, trim it down until only one phrase remains in each sentence or clause.
Clever and catchy holiday marketing slogans
Now, back to our regularly scheduled programming: holiday marketing slogans. We've rounded up the top holiday phrases for marketing to inspire you as you start planning your campaign.
Below, we've presented holiday marketing slogans for:
Christmas
Thanksgiving
Black Friday
New Year's Eve
Christmas marketing slogans
Here are some Christmas marketing slogan examples followed by slogans you can try in your own holiday campaigns!
McDonald's, "Are you #ReindeerReady?"
McDonald's "Are you #ReindeerReady?" ad was launched alongside the hashtag #ReindeerReady. It put a creative spin on the night before Christmas as the characters in the ad prepared for Santa's arrival. Being "reindeer ready" was another way of saying, "Are you ready for the holidays?"
John Lewis's "Give a little love."
The John Lewis Christmas ad is an annual tradition that always manages to tug on the heartstrings. Its 2020 slogan was no different.
Public acts of kindness during the pandemic inspired the ad and the slogan.
Another thing to note: The slogan "Give a little love" isn't too specific to Christmas and can be used year-round, allowing the John Lewis ad to be memorable well past the holiday season.
Catchy Christmas marketing slogans
"Count on [brand] for all your shopping needs this Christmas."
"This holiday season, give your customers something they'll never forget." (This works well for a B2B company.)
"A Gift for Every Reason and Every Season."
"Santa Claus is coming to town! Celebrate Christmas with [brand]!"
"Bring your holiday spirit home with you."
"Make someone's Christmas special with [product]!"
"A time for giving and sharing with friends and family!"
"Christmas isn't about how much you buy but how much love you give. Give love with [brand]."
Thanksgiving marketing slogans
Thanksgiving is all about bringing people together, so it's a great time to promote your products or services as gifts that families and communities can enjoy together. (Don't worry; we've listed Black Friday slogans separately below!)
Chick-fil-A's "Thanksgiving (just heat and dig in)"
It's common knowledge how much labor goes into preparing a Thanksgiving meal. Chick-fil-A leveraged that knowledge through their Thanksgiving marketing campaign, encouraging customers to order Chick-fil-A catering in lieu of cooking for hours.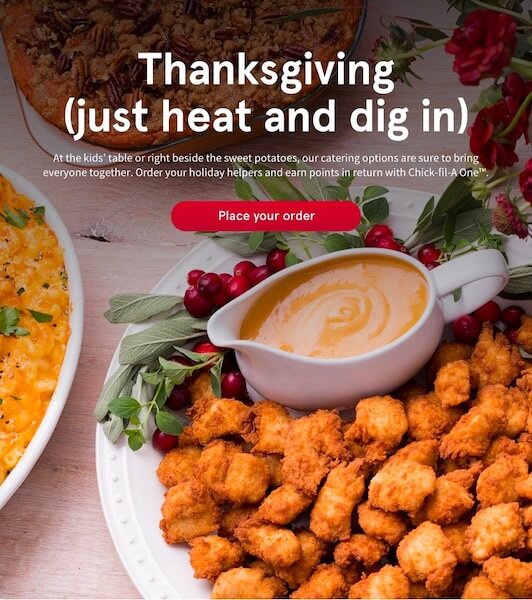 Clever Thanksgiving marketing slogans:
"It's the Most Wonderful

Time

Meal of the Year."
"Our Thanksgiving Day sale will have you gobbling up savings like turkey on the table."
"We're thankful for our customers, so we're giving them an extra day to shop this weekend!"
"Give thanks for friends, family, and the food on your table."
"A moment of gratitude is a moment of grace."
"Be thankful for what you have; you'll end up having more." (This slogan appeals to those who want more out of life.)
"Home for the holidays? Treat yourself!"
"Pumpkin pie isn't just for Thanksgiving anymore! It's a year-round flavor that everyone loves!"
"There's No Place Like Home for the Holidays."
Black Friday marketing slogans
Black Friday is the biggest "holiday" for retailers, namely DTC and B2C businesses. Let's look at a few interesting statistics about the Friday after Thanksgiving:
The average adult spent $430 during Black Friday sales
66.5 million U.S. consumers shopped in-store during Black Friday 2021. For those who shopped online, U.S. consumers spent $8.9 billion during Black Friday
Black Friday is a big deal, which means your marketing has to be top-notch.
Apple's "Black Friday is just the beginning"
Apple teases four days of amazing deals, claiming Black Friday is just the start of savings.
This clever slogan plays off the Black Friday buzz while assuring customers that they can save on new products throughout the whole weekend.
Pieminster's "Black Pieday Big Pie Giveaway"
This slogan promoted a simple giveaway campaign but is memorable all the same. Pieminster made sure to customize the clichéd promotion but weaving "pie" into the slogan.
Catchy Black Friday marketing slogans
"Get ready for Black Friday madness."
"Spend less time searching and more time shopping!"
"Don't just survive Black Friday; thrive!"
"No matter how you do it, do it with style."
"Black Friday: Get your holiday shopping done earlier than anyone else!"
"Bargain hunters unite!"
 "Get the deals before they're gone."
"Black Friday deals galore!"
New Year's Eve marketing slogans
New Year's Eve is one of the biggest celebrations in the world. People around the globe gather with friends and family and count down to midnight to celebrate a new beginning. It's an opportunity for celebration, reflection, and looking to the year ahead.
Netflix's "From New Year's Eve to New Year's Zzz's… We've got you covered"
A big New Year's Eve party or night on the town isn't for everyone. Some people don't like to stay up late, and others have small kids at home. The last couple of years in particular have resulted in many folks staying in and celebrating the stroke of midnight with friends and family, often in front of the TV.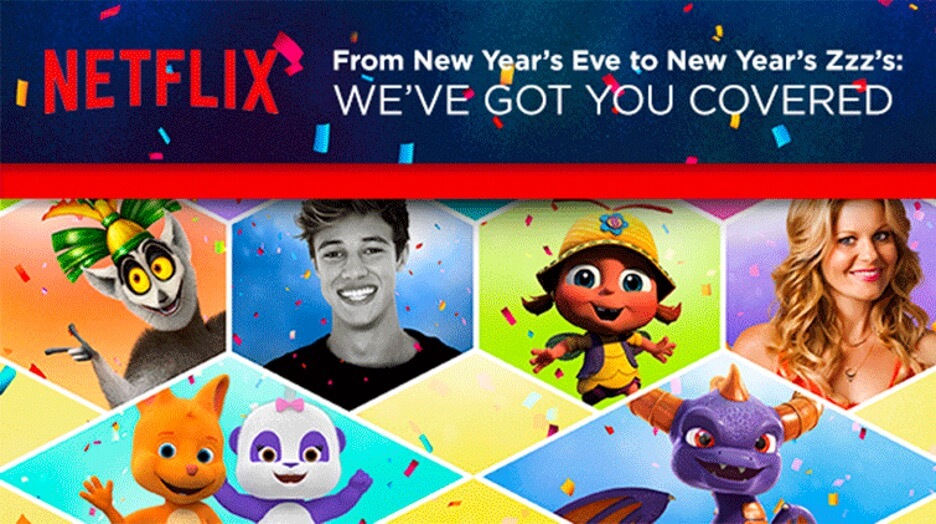 Netflix capitalized on this trend by relating to the homebodies and families-with-kids demographic by encouraging them to enjoy a movie or TV show on New Year's Eve.
Reebok's "New Year, New Gear"
This holiday marketing slogan example from Reebok could work for any retailer. It emphasizes that the New Year is a great time to welcome the new–which, in this case, includes new items. Plus, who doesn't love a good rhyme?
Clever New Year's Eve marketing slogans
"Countdown to midnight with us."
"Ring in the New Year with us!"
"Give yourself a fresh start this year."
"A hint of change is in the air!"
"You can't grow if you don't change."
"May your New Year be fun-filled and prosperous!"
"An old year is gone; a new one's begun, with happiness and hope for all mankind."
"Auld lang syne. Let's make this year our best yet!"
"It's a brand new year! What's one thing you want to accomplish this year?"
Start writing your holiday marketing slogans
Your holiday marketing slogans should grab attention, promote your campaign, and keep customers returning throughout the season. Whether used online or in print, a catchy and clever slogan can be a fantastic tool for holiday marketing.