In the world of sales, Black Friday is kind of a big deal. In fact, online sales alone for Black Friday hit $65.3 million in 2022. This sheer volume of shopping isn't by accident–it's by design. Effective Black Friday promotion ideas are behind virtually every sale.
No matter your industry or niche, this day marks one of the most profitable weekends for many businesses. With the right Black Friday promotion ideas, you can get in on the action, too.
Black Friday promotion ideas to try
Here are the best Black Friday promotion ideas:
Hourly promotions and flash sales
Scavenger hunts
Social media contests
Create a virtual spinner
Influencer-based promotions
Sales-based donations
Early access events
Group deals
Doorbuster deals (including digital)
One-time upgrade deals
Black Friday-exclusive gifts
Mystery discounts
Free shipping
Create gift guides
Black Friday email campaigns
In this list, you'll find some tried and true ideas, but also some less traditional ones. Keep your audience and brand voice in mind when determining what you'd like to try, as there's no one-size-fits-all approach!
🎁 Want even more promotion ideas for the holiday season? Get the free guide >> Holiday Promotions, Campaigns & Social Posts to Unwrap
1. Hourly promotions and flash sales
Ah, the power of FOMO. Have you ever made an impulse purchase because the deal was simply too good to miss?
If FOMO was a sales tactic, it'd be hourly promotions or flash sales. A deep discount is already enticing, but putting an extremely limited timer on that discount makes the deal even more powerful.
Run hourly promotions or flash sales on various items, discounting them a solid amount while making it clear the sale is for a very short period. If possible, include a timer above or below the item that shows how much time remains.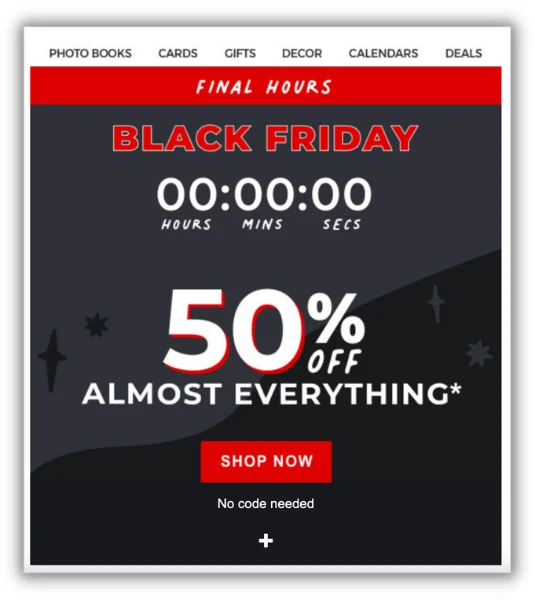 For added oomph, promote your flash sales throughout the day on your social channels, and call out that flash sales are starting in your email. (But, don't send an email each time you launch a new hourly promotion or flash sale, as this would come across as really spammy.)
✏️ Need email subject lines inspo? We've got you covered: Email Subject Lines for Every Month of the Year
2. Scavenger hunts
If you have a local following, set up a scavenger hunt around town or throughout your business location that promotes your business in a fun way. For bonus points, give discounts or prizes to people who complete the hunt successfully.
If your business is online only, you can still set up a digital scavenger hunt, too. Hide easter eggs or clues throughout your site or on your social media posts. Then, offer a prize, like a discount code or early access to a sale, to those who complete the scavenger hunt.
3. Run social media contests
Driving social engagement is easier said than done. While Black Friday is all about driving sales, it also presents a prime opportunity to get people to your social channels.
Run social media contests, inviting your followers to use certain hashtags or share pictures of their favorite product from your brand. Then, choose a winner or winners and give them some kind of discount or exclusive prize.
Make sure you celebrate the winners on your page (with their consent, of course) to drive further engagement. Once you have that momentum, don't let it stop—run holiday social media campaigns to continue promoting new products and building positive attention right into the new year.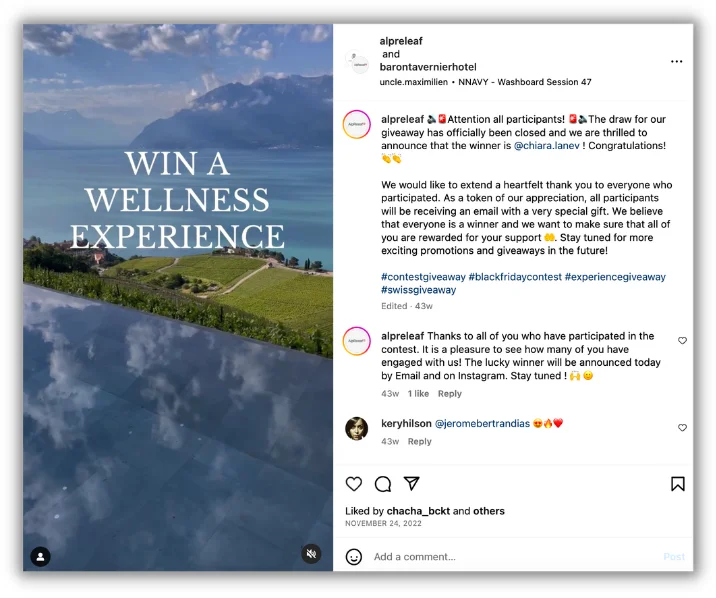 4. Create a virtual spinner
Give customers a chance to win one of several discounts via a virtual spinner wheel. Make sure people win some level of discount at minimum, as you want this experience to be fun, not demoralizing.
While you can gate your virtual spinner behind an email submission, ideally you want to make the spinner as accessible as possible. (But, gating it behind an email at another point of the year can be a great way to build your list.)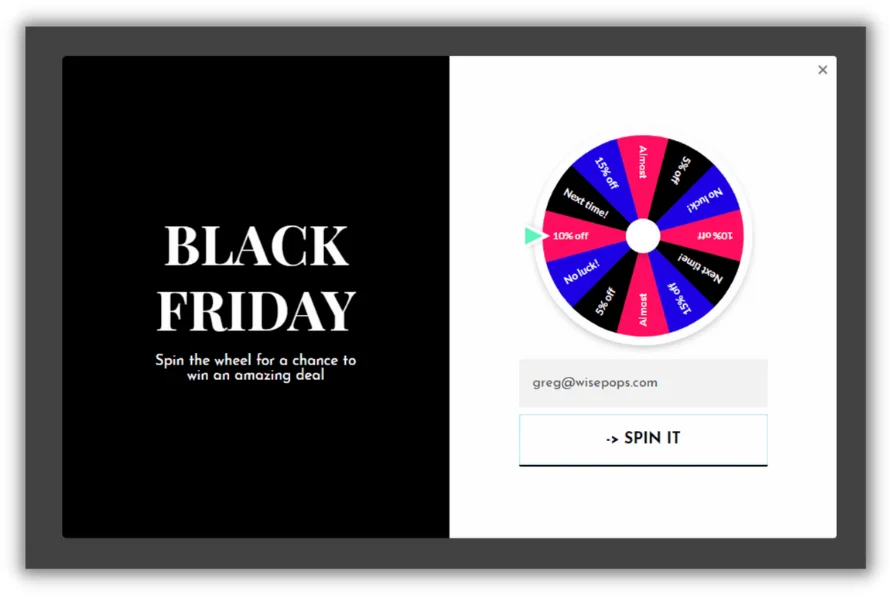 5. Run influencer-based promotions
If it makes sense for your audience or brand, find a relevant influencer in your space and pitch a collaboration. See if the influencer is willing to promote your brand and offer their audience a chance to win a free product, service, early access, etc.
This approach may require some negotiating and effort, but it can allow you to reach an entire audience, build your social following, and drive further sales during Black Friday.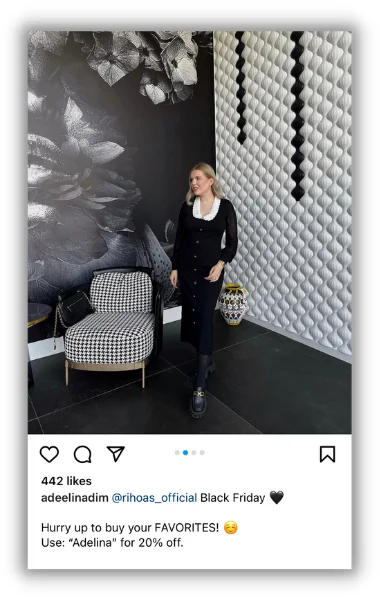 6. Try sales-based donations
Partner with a charity and pledge to donate a percentage of all Black Friday sales to their cause. Then, promote this partnership on your website and social media pages.
This type of promotion is a great way to do some good while also appealing to those who aren't as interested in saving money but are more mission-driven. Consumers are increasingly supportive of brands who back a cause, so don't sleep on this Black Friday promotion idea.
77% of consumers are more likely to purchase from businesses that support causes bettering the world.
9. Host early access events
If you have any kind of VIP or membership program, reward this group with an early access event that lets them take advantage of certain discounts earlier than others.
Wayfair acts as a prime example of how to run early access sales, with strong promotional emails and banner promos across their site.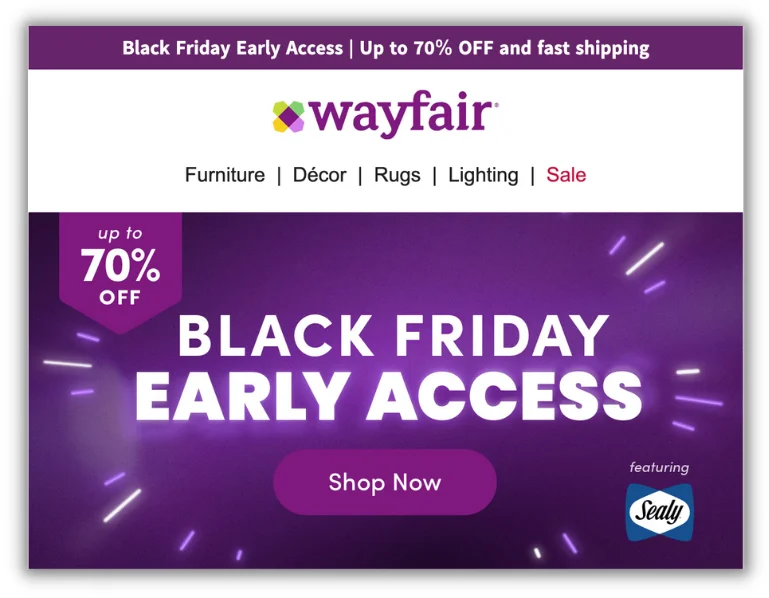 Whether or not you have any kind of membership or VIP program, you can also provide early access as a prize for your social media challenges.
8. Run group deals
Share the love with group deals, offering larger discounts on packages intended for multiple people. This is especially useful if you sell a service with ongoing costs, as you can lower the barrier of entry for people while hopefully establishing long-term customers.
Similarly, you can also offer limited-time referral codes for people who purchase. This incentivizes others to join, as they get a nice discount, without having the "group" barrier for people who may lack the large group required to take advantage of a bulk discount.
9. Try doorbuster deals (including digital)
Doorbusters are a classic Black Friday promotion idea. The concept itself is simple: put the best discounts at the beginning of your sale. Doorbusters reward those who arrive first, and generate buzz and a dash of (hopefully healthy) competition for your customers.
Traditionally doorbusters take place in physical retail stores. It's the 21st century, so don't let a lack of physical storefront stop you. Host digital doorbuster deals that are limited in quantity. Then, promote these doorbusters all over your social channels, email, and website. Add a countdown timer to really build some buzz.
10. Award one-time upgrade deals
Promote limited-time upgrades or cross-selling opportunities, whether on the product page or at checkout. Offer a discount on these cross-selling and upgrade items, but only if the core item is purchased. This not only incentivizes customers to purchase an additional item or service but also gives them the opportunity to experience more that your brand has to offer.
For example, if someone is booking a tune-up for their heating and air system, include a discounted upgrade to your package that includes free air filter replacements and a discount on their next service.
🛑 Free guide >> 6 Simple Steps to a Complete Small Business Marketing Plan (+Template!)
11. Create gift guides
Gift guides are a great way to promote a set of related products or services. Put together gift guides that highlight some of your major offerings, with related services or products tied in. At the end you can include a discount code, or simply have in-guide links that make it easy for people to add the items to their cart.
The best part about gift guides is how versatile and customizable they are. Have fun with it! Once it's finished, publish it on your blog and/or send it out to your email list.
Speaking of emails, don't forget to start planning your holiday email marketing. The new year is just around the corner and it's never too early to start mapping out December email marketing and beyond.
12. Give away Black Friday-exclusive gifts
Everyone loves a freebie. Give away exclusive gifts as your Black Friday promotion, such as gift bags or even company-branded merch. You can even make the free gift a mystery item. Whatever you go with, make sure it's something you can afford to part with at scale. Then, promote these freebies ahead of time to generate buzz.
Your free gift can be something as straightforward as a free gift card, or something more exciting like a mystery gift.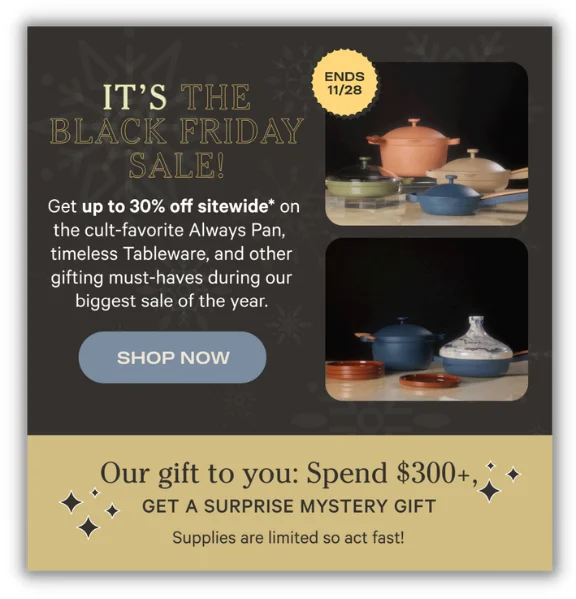 If you're looking to get buzz after Black Friday ends, kickstart a social media campaign on your company accounts and invite your followers to share what they got, and tag your account. These mystery gifts will likely arrive at customer homes after Black Friday weekend, but this doesn't mean you can't garner more interest in your brand after the fact.
Psst. If you're looking to further grow your following, make sure you read our guide on how to build a social media presence.
13. Run mystery discounts
Similar to the spinner wheel, mystery discounts are another fun way to drive engagement, garner sales, and entertain customers. Promote your mystery discount on your home page, and then give customers a random discount when they reach checkout with their items.
14. Offer free shipping
It might seem like a small gesture, but free shipping is a simple, nice perk to offer on Black Friday. While not a significant cost-saver in many instances, free shipping can serve as the little nudge some customers need to finalize a purchase they're on the fence about.
Still not sold? Free shipping is the top contributing factor for consumers when it comes to placing an order online.
If you decide to offer free shipping, make sure you calculate any impact this will have on your profits ahead of time. Can you afford to offer free shipping on all orders, or do you need to set a threshold to avoid eating too much cost?
15. Launch Black Friday email campaigns
It might sound silly, but it's important you promote your Black Friday promotions. What better way to inform your customer base than a Black Friday email campaign?
Put together a series of emails that focus on your Black Friday promotions. Start with an email that teases your upcoming sales, hinting at discounts and any new products or services. Once you've garnered interest in your Black Friday promotions, send daily emails from Black Friday through Cyber Monday, highlighting especially strong deals and hot products.
You can use these Thanksgiving and Black Friday email templates and subject lines to get started!
Use these Black Friday promotion ideas for a successful season
Black Friday is an excellent time to grow your business, net sales, and further establish your company with existing customers.
These Black Friday promotion ideas should have you well on your way to a stellar start to the holidays, but don't stop there. Keep your momentum going and map out your next marketing efforts to make next year your best one yet.