Knowing that social media marketing is essential for businesses today, many business owners and teams invest time in creating profiles and posting content regularly. But, there's more to leveraging social media for business than many realize.
While those activities are a big part of what social media marketing entails, it's easy to forget that social media engagement is equally important if you hope to get real results. Taking the time to analyze your audience's behavior and to interact is essential if you want to expand your reach, increase your engagement, and get more customers from social media.
Let's dig a little deeper into:
The importance of social media engagement.
How you can check your engagement rate on Facebook, Instagram, Twitter, and LinkedIn.
7 ways you can boost your social media engagement.
Only when you understand all three can you unleash the full power of social media to grow your business!
5 Reasons Social Media Engagement Is a Big Deal
Why can it be said that social media engagement is just as important as consistently posting to your social profiles? Consider five desirable results it achieves.
1. Social Media Engagement Improves Audience Quality
If you focus on racking up a ton of followers but forget about engagement, you'll run into one of a few problems. Either you'll end up with many low-quality followers, more followers than you know what to do with, or struggle to get any followers at all. Since the ultimate goal behind social media marketing is to drive bottom-line business results, none of those three scenarios are desirable.
On the flip side, if you engage regularly with your audience, you'll be able to pace your social media growth, keep it manageable, and build a quality following of potential customers.
2. Social Media Engagement Can Improve Your Marketing Reach
Lots of engagement on social media allows you to cast a wider net in terms of marketing. For example, if just 10 of your followers or fans like, comment, or retweet to their own networks, your content could be seen by more than 100 additional potential customers. This is especially true on platforms like Facebook, which choose how much visibility your posts get based on how much engagement you typically receive. So it's worthwhile to encourage your audience to take action when consuming your content on social.
Not only will more people see your content, but they'll be more likely to have meaningful interactions with you themselves. And that likelihood only increases when you get into the habit of engaging back by replying to comments, retweeting quote tweets, and so on!
3. Social Media Engagement Expands Your Ad Audience
As an extension of our last point, another benefit of social media engagement is an expanded ad audience. Facebook, Instagram, and Twitter all offer low-cost advertising to reach your friends and followers, as well as others with similar characteristics. So the larger your existing following on these platforms, the more people you can also reach through advertising.
4. Social Media Engagement Amasses Social Proof for Your Business
One of the most powerful tools in marketing, social proof includes likes, followers, positive comments, and so on. The more genuine social proof you earn from your audience, the more confidence prospective customers will have in your business. They'll get the innate sense that you're doing something right and that, as a result, you're worth their time and attention.
5. Social Media Engagement Can Lead to an Increase in New & Repeat Sales
Research has shown that nearly 9 in 10 consumers buy from businesses they follow on social media and that they tend to spend around 75% more with those businesses. So, in addition to providing quality content, if you focus on creating repeated positive interactions with your audience, you can generate quite a bit of new and repeat business.
How to Check Engagement on Top Platforms
Now that we've covered why engagement is important and its benefits, let's move on to how to check your engagement on four of the most popular social media platforms — Facebook, Instagram, Twitter, and LinkedIn.
How to Check Engagement on Facebook
Facebook's Engagement Rate consists of the total number of clicks, likes, comments, and shares. To check your engagement on Facebook:
Open Insights for your Facebook Page.
Select Posts.
Scroll down to the section titled All Posts Published where you'll be able to see how many people your posts reached and your engagement data.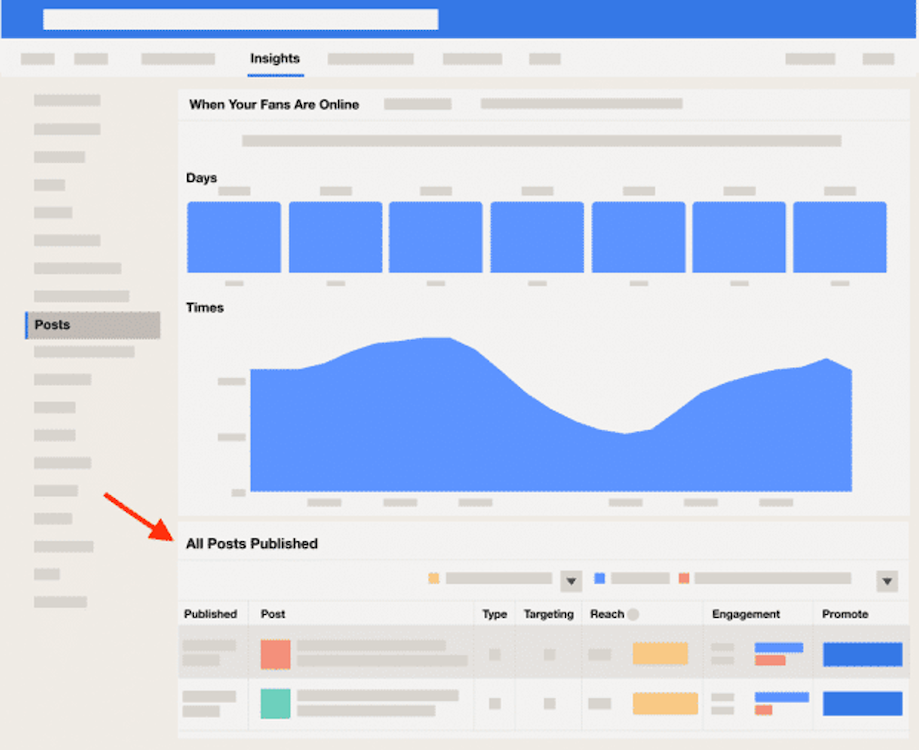 How much engagement should you be aiming for on Facebook? As you may know, Facebook penalizes pages with low engagement rates. When your audience rarely engages with your posts, Facebook shows them to fewer people over time. Therefore, you want as much engagement as possible so that your posts are shown to as many people as possible.
Statistically speaking, anything over 1% is good, 0.5% to 0.90% is the median across all industries, and anything below 0.5% needs improvement. Keep in mind, though, that because comments and shares require more from a user than simply liking posts, they carry more weight and are a better indicator of what messaging works best for your audience.
How to Check Engagement on Instagram
If you have an Instagram Business Profile, you have access to engagement analytics.
Here's how to find them.
Tap the menu icon in the top right corner of your Instagram profile, and then click on the Insights tab.
You'll see the Accounts Reached and Content Interactions overviews. Clicking on each will give you deeper insights including info on your top posts and stories and the number of taps on your website.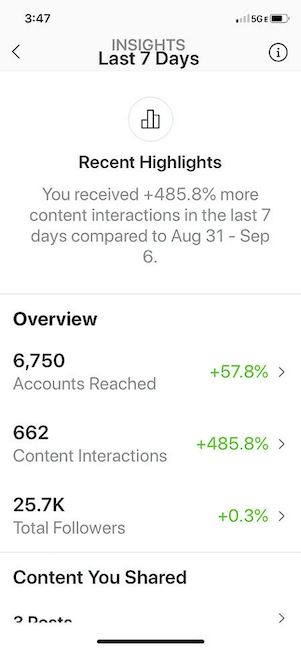 You can also click Insights on individual posts to see the number of likes, comments, shares, bookmarks, and other interactions.
And although you absolutely should have an Instagram Business profile for the most accurate data and efficient monitoring, you can keep tabs on your engagement without one.
You can do so manually by:
Enabling push notifications for likes and comments.
Doing hashtag searches periodically for your business name and any branded hashtags you have.
Checking tagged photos each day to see if there are any comments or questions from your followers.
Viewing your photo map from time to time to make sure you haven't missed any customer comments, compliments, or questions from photos posted to your business location.
In either case, what's a good Instagram engagement rate to shoot for? The median across all industries is 1.22% but some see as much as 3.57% percent engagement. So if you can generate anything over 1%, you're golden.
Psst: Get Instagram growth hacks to get more followers (and increase engagement) here.
How to Check Engagement on Twitter
Twitter can be an excellent tool for promoting your small business and nurturing relationships with your audience. To see your engagement on Twitter:
Log in to Twitter and visit analytics.twitter.com.
Select the Tweets tab at the top of the page.
Choose a time frame such as 7 or 28 days.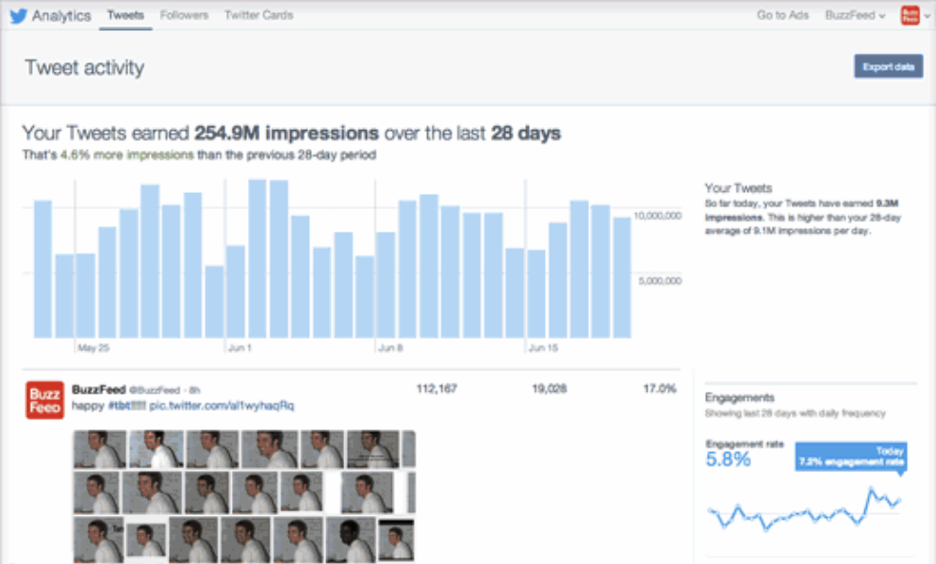 Here you'll see impressions, engagement, and the engagement rate for each tweet. In general, a good Twitter engagement rate is between 0.5 and 2.0%.
Pay attention to the tweets with the highest engagement rates to understand which messages resonate most with your followers. Also, take note of impressions and calculate the percentage of your audience who see your tweets. If it's lower than 30%, you might try tweaking and re-tweeting to reach more people.
How to Check Engagement on LinkedIn
Lastly, there's the world's largest professional network — LinkedIn. How can you check your engagement on this platform?
Log in to LinkedIn and navigate to your company page.
Select the Analytics dropdown in the top left corner where you'll see three categories: Visitors, Updates, and Categories.
Select Updates to view engagement metrics for your posts including impressions, clicks, comments, shares, and overall engagement rate.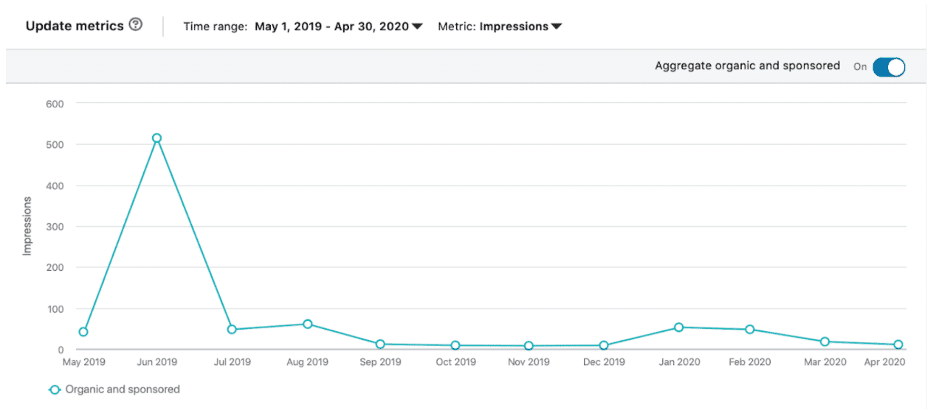 What's a good engagement rate for LinkedIn? Stats suggest that company updates see an average engagement rate of around 0.54% so you'll want to be somewhere in that ballpark.
Related: Find out how to create a great LinkedIn Company Page.
7 Ways to Improve Social Media Engagement
So you've checked your engagement rates and familiarized yourself with the analytics available on your social media profiles. Great — but don't stop there! Whether you're getting next to no engagement or a decent amount, there's always room for improvement.
What does that improvement involve? Definitely not spamming people's feeds in an attempt to attract more attention to your business.
Consider seven powerful (and non-intrusive) methods for boosting your social media engagement levels.
1. Promote Your Social Accounts Everywhere
Your efforts to boost engagement don't have to be limited to social itself; in fact, they shouldn't be limited to just your social channels. Display your social media info on your website and blog to encourage people to follow and connect with you.
If you have a physical location, have your handles displayed there also. You could place them on your business cards near the checkout, on your daily specials chalkboard, on your menus, etc. The more prominently you feature your social info and the more awareness you generate, the greater the chances of increased engagement.
2. Pick Posting Times Strategically
Various factors influence the percentage of your audience that sees your content including your time zone vs. theirs and the social networks you post to. In turn, these factors influence the amount of engagement you see.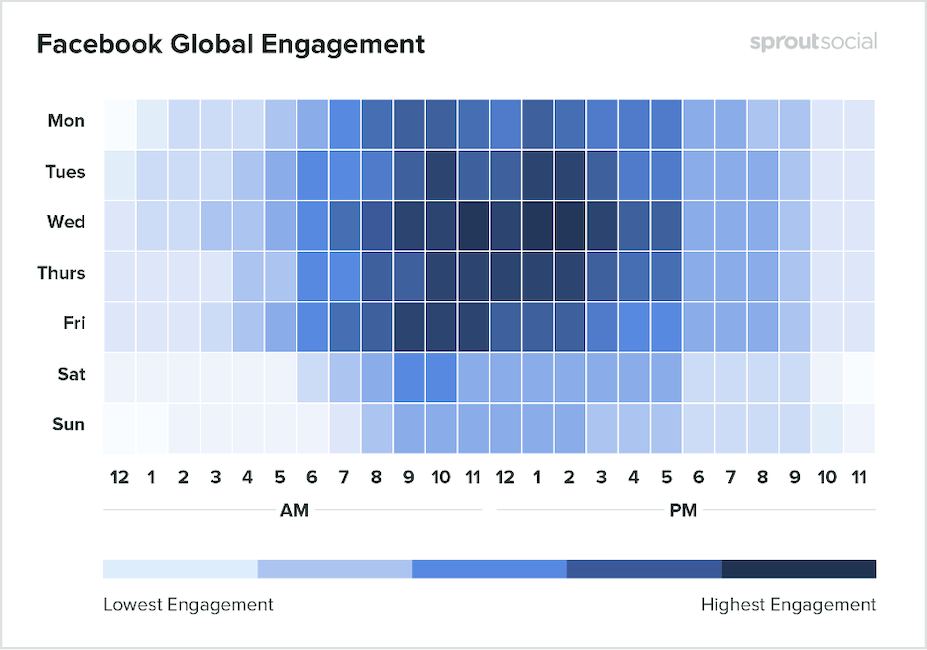 Yet, things aren't completely out of your hands. Not only are there guides on the best times to post, but you also have your own analytics to rely on. Use them both to narrow down the time slots that work best for your business.
3. Engage With Those Who Engage With You
Remember that high-quality, meaningful social media engagement is a two-way street. When people like or share your posts, comment, mention you, or use your hashtags, respond. Acknowledge the actions they take. It may move them and others to interact with you on social media even more in the future.
Additionally, it's beneficial to engage with other accounts even when they don't engage with you first. Liking, commenting on, and sharing others' content can draw attention to your business, expand your audience, and, more importantly, foster new relationships.
4. Share Visual Content
One study showed that Facebook ads with images are more effective. How effective? Between 75 and 90% more! And the power of using visuals isn't limited solely to Facebook. It's been proven time and time again that in general people respond faster and better to visual information. Use this to your advantage by incorporating visuals into your social media marketing campaigns.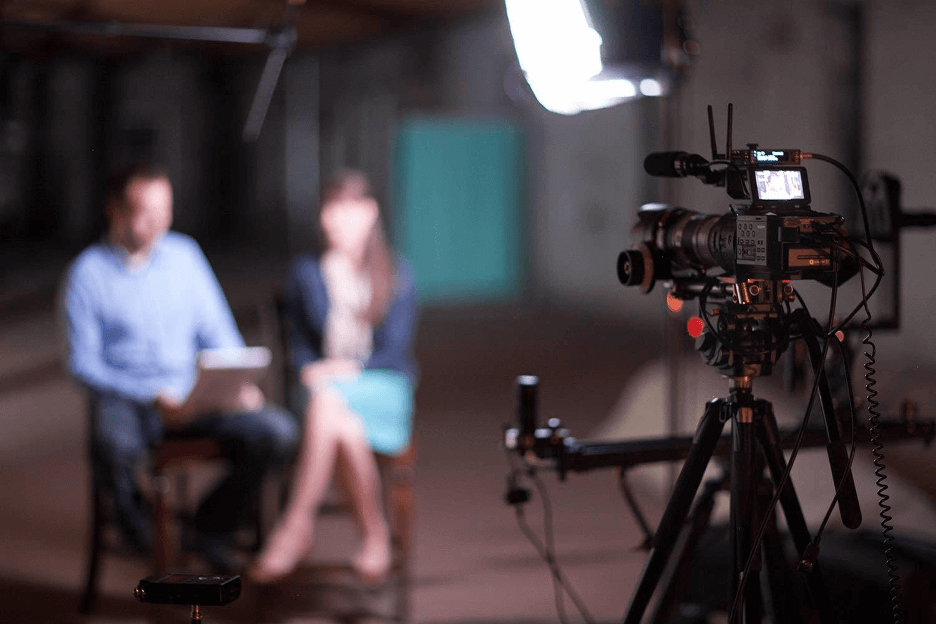 You might use behind-the-scenes videos, team photos, infographics, etc. It doesn't hurt to test various visual content types to see what resonates with your audience and boosts your engagement the most.
5. Create Emotional Content
Humans are primarily driven by emotion. Some research suggests that as little as 20% of our decisions are based on logic with a whopping 80% being based on emotion. The point? To consistently drive your audience to interact with you on social media, your posts must consistently appeal to emotion.
How can you do this? Content that sparks joy or that's humorous, amusing, or inspirational tends to perform well. You can also leverage other emotions such as surprise, empathy, sadness, and even anger to capture the interest of your audience and prompt them to take action.
6. Highlight Offer & Promotions
Post promotions to your social media profiles to remind your customers of the deals and specials you're offering. You could highlight a flash sale, your loyalty program, perks like free shipping, and so on. The options are endless and the results rewarding.
After all, people love promos and discounts, and they love talking about their promos and discounts. If you regularly highlight your most exciting offers, you can both boost engagement with your existing audience and expand your reach as they engage with your posts and create their own user-generated content (UGC).
7. Create Branded Hashtags
Speaking of user-generated content, you can encourage your followers to share it by creating a branded hashtag. Then, encourage people to include it in their posts related to your business, which will broaden your reach.
Footwear brand Allbirds is an excellent example of this, raking in over 12,000 user-generated posts on Instagram by encouraging the use of its hashtag #weareallbirds.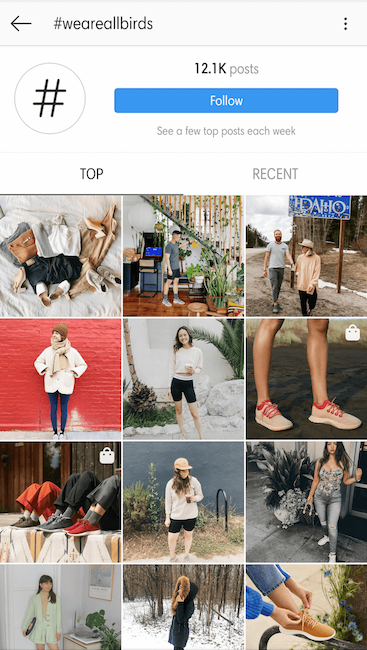 For an even more powerful effect, feature the top posts generated by your audience on your account. It will reward those you featured for their engagement, encourage them to interact further, and encourage others to submit UGC as well for a chance to be showcased by you.
Besides hashtags, you can employ similar strategies by asking your audience to @mention you in their posts, tag your location, and use other popular hashtags such as #photooftheday. All of these methods can create positive buzz about your business and equate to letting your audience do your marketing for you! It's just a matter of making engagement with your business a positive and rewarding experience for them.
Focus on Engagement for a Healthy Social Media Strategy
Keep in mind that social media marketing is more than posting to social channels; it also involves promoting engagement and being engaged. And the benefits of this big-picture strategy are huge. You can expand your marketing and advertising reach significantly, improve the quality of your audience, and amass a ton of social proof, all of which contribute to new and repeat business.
That said, you'd be wise to look over your social media analytics, make note of what's worked for you and what hasn't, and determine which of the seven engagement-boosting tips would be worth trying as part of your social media marketing strategy.