This year, inflation and rising interest rates have increased prices across the board: Housing, gas, groceries…the list goes on.
And another thing that wasn't spared? Search advertising costs.
Our latest data shows that search advertising cost per click (CPC) and cost per lead (CPL) increased almost universally across pretty much every industry. (We'll share the details in this post.)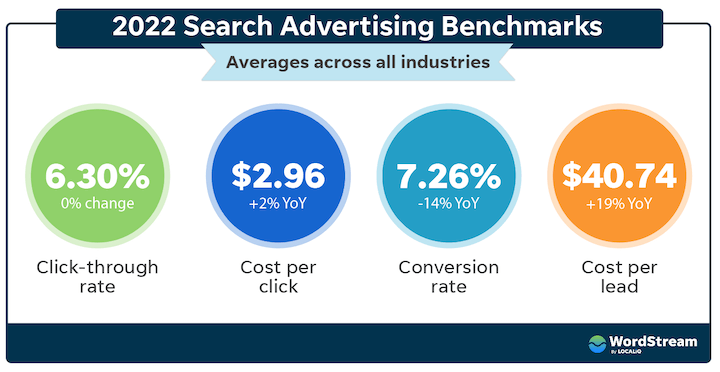 So as we enter a busy holiday season and a new year that brings a potential recession, what can your business do right now to combat rising search advertising costs without compromising results?
In this post, we're sharing:
Insights from our latest search advertising benchmarks
A few reasons costs have increased
How to adjust your marketing so you can continue getting results through the holidays and into 2023
Let's get started.
What the data says about rising search ads costs
As mentioned, our data shows an increase in CPC and CPL across almost every industry. These increases are even more pronounced than we've seen in previous quarters or years.
Let's take a look at a few increases in CPC year over year:
10% increase for physicians and surgeons
Nearly 8% increase for furniture
Nearly 6% increase for real estate
Additionally, 91% of industries saw increased CPL in 2022. Some standouts: The arts and entertainment industry saw a 134% increase in CPL, and the travel industry saw CPL increase by about 69% year over year.
While inflation is certainly to blame for some of these cost increases, there are other factors at play, such as more competition within Google Ads and the removal of broad modified match types, which has led to less relevant matching.
Related: Get a detailed breakdown of the search advertising benchmarks from WordStream.
How to win despite rising search ads CPLs and CPCs
We asked Yi Kang, our director of data science, what businesses can do to continue seeing great results despite rising search ads CPCs and CPLs.
Increase holiday ads budget
Your best bet for successful search advertising campaigns this holiday season is to increase your budget.
"In 2021, for the same campaigns running during the holidays, the median CPC is 7% more expensive and the median CPL is 22% more expensive," said Yi.
This increase means that running search campaigns with your 2021 budget will likely bring in fewer results.
And search advertising is an important component of a strong holiday marketing strategy, as 75% of shoppers will browse for holiday gifts online, and 91% will begin their holiday shopping journey on a search engine.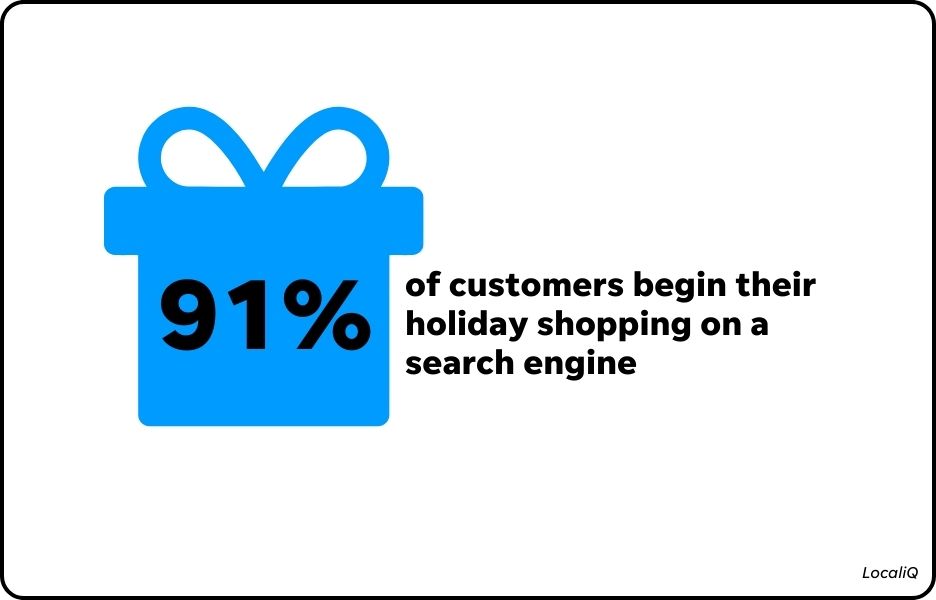 Factor increasing costs into your 2023 budget
Because costs have increased (and will likely continue to increase through 2023), it's important to factor these trends into your 2023 marketing budget.
"We anticipate that costs will continue to increase, at least slightly, through 2023," said Yi. "So it's crucial that businesses pay attention to their core audiences, focus on their best-converting keywords, and plan for these rising costs so they can remain competitive and see continued success."
You can get a rough estimate of how much you'll need to budget for your search advertising strategy by:
Determining how many leads you want your search ads campaign to drive in 2023
Multiplying that by the average CPL for your industry
(If you want to take it a step further) Dividing that by 12 to get a rough monthly estimate
While this number likely won't be spot on, it could give you an idea of how much you should spend to reach your overall marketing goals.
Yi said that industries that have seen pronounced increases in CPLs and CPCs, such as real estate, restaurants, and physical therapists, should pay close attention to these trends to help inform their 2023 marketing budget.

Advertise across search engines
When you think about search advertising, your first thought is probably about Google Ads. But don't count out other search platforms like Microsoft.
Microsoft Bing users are typically a bit older and have a higher average income than Google users. And Microsoft Shopping Ads have been shown to have a higher click-through rate than Google Ads.
By spreading your search advertising budget across multiple search engines, you can reach a wider share of your audience, increase your chance for conversions, and optimize your spend based on the searches and search engines driving the best results.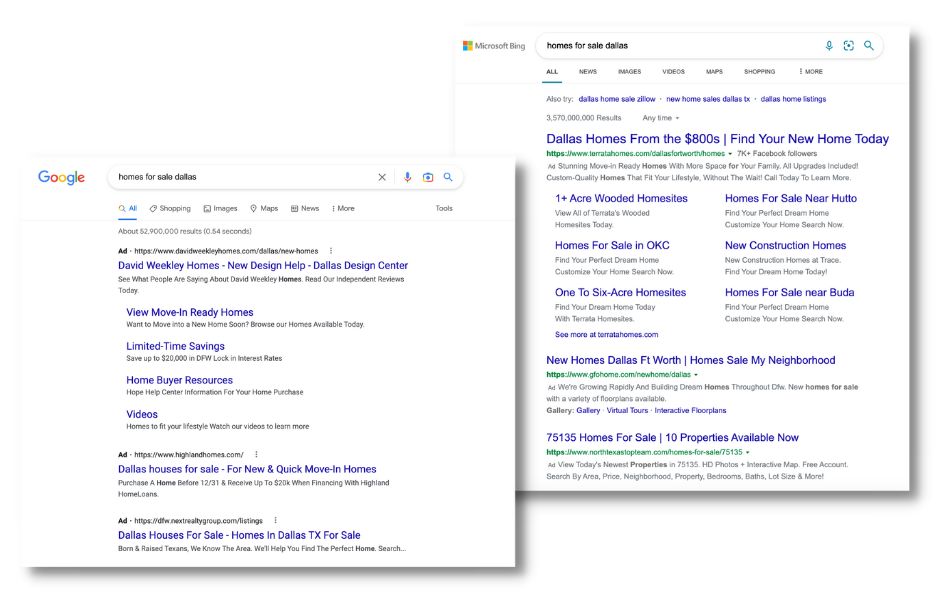 Running ads across multiple search engines can increase your chance of getting seen when and where it counts.
"Conversion-based optimization, like from LocaliQ, takes a data-driven, omnichannel approach to allocating spend. Being able to be present on search, social, and display helps keep your brand top of mind at every stage of the purchase journey," said Yi.
Invest in a cross-channel strategy
One of the best ways to continue seeing results while combating rising costs is to invest in a cross-channel marketing strategy.
By allocating your budget across channels, you can reach a wider audience and maximize your spend.
"Driving awareness and engagement up-funnel with a unified message could help create synergies," said Yi.
Additionally, cross-channel marketing strategies can actually make your search advertising more effective. In fact, there's a 59% lift in conversions when someone searches for a business after seeing a display ad.
Improve lead capture and conversion strategies
If you're paying a little more to acquire new leads, it's important to have the right strategy in place to capture and convert them into customers.
If your search advertising leads are tracked through a manual spreadsheet—or worse, going into the abyss—then you're essentially throwing away your budget.
Make sure your search advertising landing page has a contact form and a tracked phone number so you can see what leads have come in through this channel.
Then make sure you have a system in place for following up with leads—including automated email nurture streams and an established timeline for following up.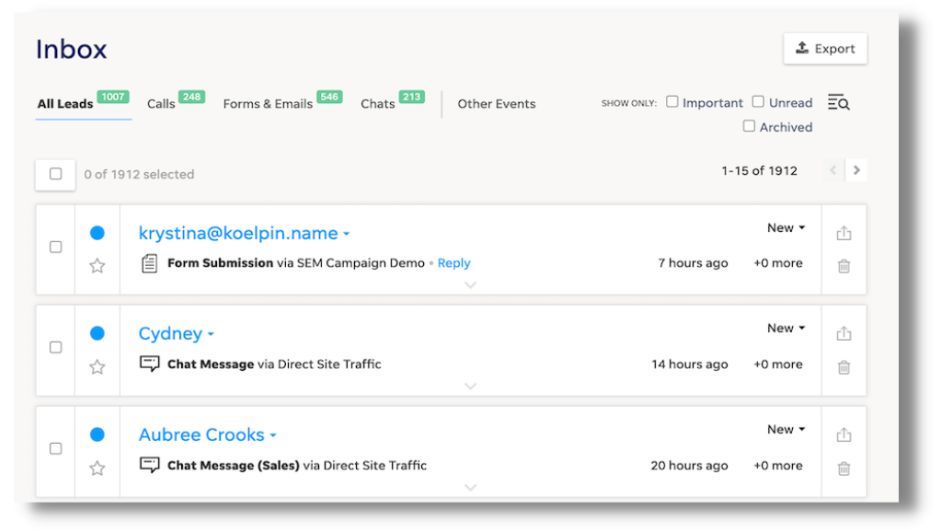 An example of a lead inbox where you can manage and follow up with leads.
Most customers will choose to work with the business that follows up with them first—which is why an established timeframe for lead follow-up is so important.
You can also use free tools like online scheduling software to help you capture and convert leads even easier from your search advertising campaigns.
🧐 Running Google Ads and not sure how they're performing? Get a free audit of your account plus actionable next steps >> Try WordStream's Free Google Ads Grader!
Make small adjustments now for big results later
It's important to keep a pulse on the trends that could impact both your search advertising results and your overall marketing budget. By implementing these small tweaks into your holiday advertising campaigns and planning for 2023, you can get better search ad results while maximizing your budget.