Mother's Day is May 14–are you ready?
No, I'm not just asking if you've ordered flowers for your mom (although, if you haven't, what are you waiting for?!). This is primarily a professional question.
You see, Mother's Day is a big one for US consumers. According to the National Retail Federation, 84% of Americans plan to celebrate the holiday. And in doing so, they'll be spending on meaningful gifts and experiences for their moms.
Now is the time to position your business as the one that could provide them with the ideal offering to celebrate Mom.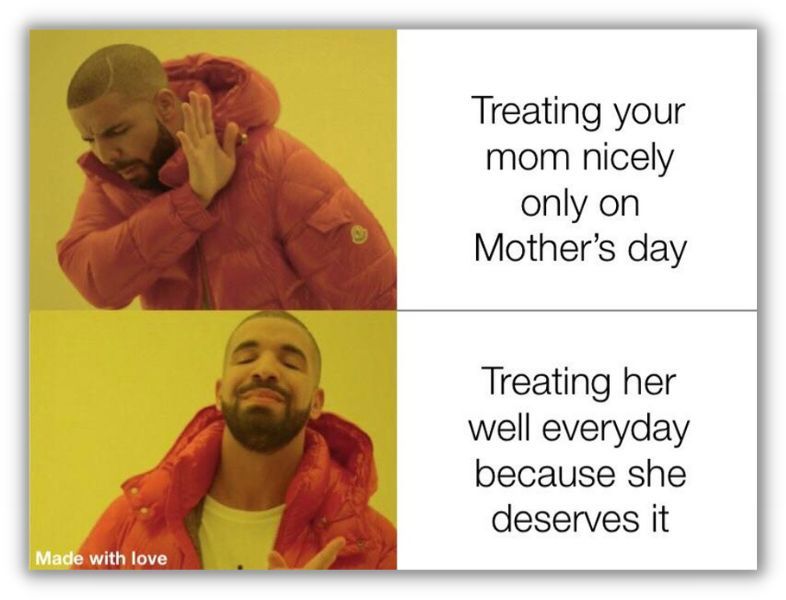 If you're stumped on how to get started creating great Mother's Day slogans, clever campaigns, and special offerings, you've come to the right place. No matter what kind of lead generation approach you take, these ideas can help.
Let's walk through all things Mother's Day marketing–from ideas for offers to messaging you can use to tout them.
Tips for your Mother's Day slogans and campaigns
Before you get started finding or creating the right Mother's Day slogans for your campaigns, here are a few tips to keep in mind.
Get creative
Maybe you're worried that Mother's Day marketing isn't for you. Sure, the florists and fancy skincare brands have something to say, but your business isn't traditionally associated with the holiday.
That's okay. Of course, there will still be some businesses that genuinely should not participate (use your judgment to assess whether yours is one of them), but the Mother's Day marketing lane is wider than you think.
Now is the time to get creative. Rethink the way you frame your offerings.
If you're stumped, check out this example from zoos that have taken a novel approach to Valentine's Day. Every February 14, they run a special offer: In exchange for a donation, you can name a cockroach after your ex. Some zoos will even feed the roach to another animal. Ouch.
While that's pretty rough for the exes out there, it's a fantastic example of creative marketing! Zoos turned a holiday that has nothing to do with their business into a marketing moment that gets them free press coverage and plenty of donations every year.
Now, I hope you'll come up with a kinder offering for moms (we've included some ideas in this post to help!), but the point is, you don't have to be a brunch place or purveyor of scented candles to get in on the Mother's Day fun.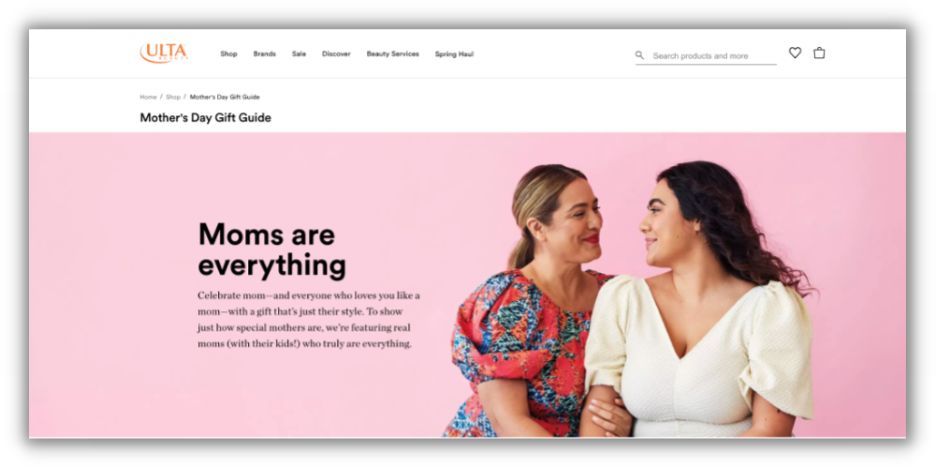 Celebrate all mother figures (and be sensitive)
The other way to expand your thinking is in your definition of a mom. Many Americans who celebrate Mother's Day use it to recognize all sorts of extraordinary, caring women in their lives. We're not just talking about moms and grandmoms; sisters and in-laws, stepmoms, aunts, foster moms, and women who've served as caretakers, mentors, or other types of "motherly" figures can all be celebrated!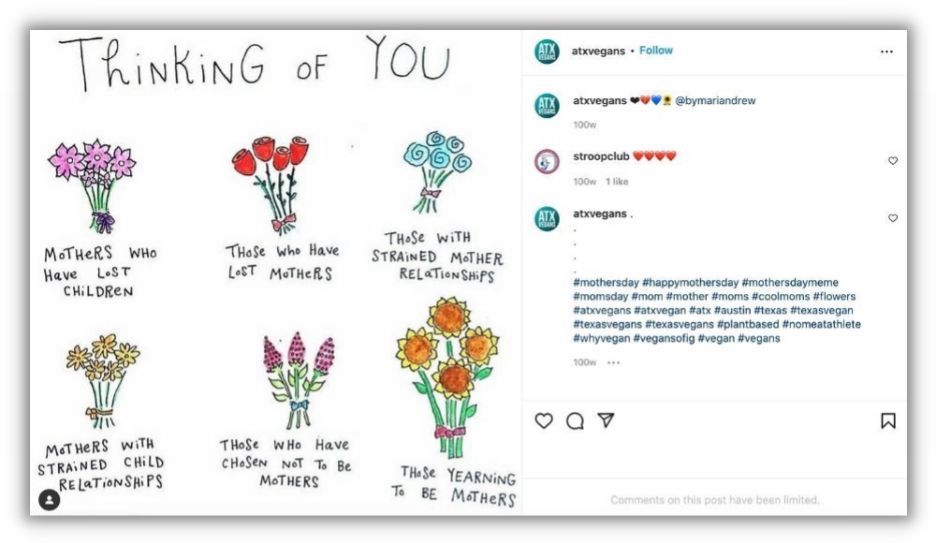 Sometimes considering your offerings through the lens of a slightly broader notion of "mom" can help you find unique ways to approach the creation of your Mother's Day advertising slogans.
Take a cross-channel approach
Once you've determined how you're going to get in on the Mother's Day fun, make sure to run your campaigns across your marketing channels. This includes organic social media, email marketing, paid social ads, and more. (Use these Mother's Day social posts to get started promoting your campaigns on those channels!)
The more places you feature your specials, deals, or promotions, the better chance you have at getting more customers and taking advantage of this seasonal marketing opportunity.
Here are some Canva templates you can use on social media (and in other channels)!
[Instagram] [Facebook] [Twitter]
Themes for your Mother's Day slogans
To begin brainstorming your Mother's Day marketing slogans, it may help to jot down some common themes associated with the day. What comes to mind when you hear the words Mother's Day? Maybe it's:
Self-care
Day of pampering
Spa day
Rest or relaxation
Giving your mom a well-deserved break
Helping out around the home or garden
Breakfast in bed
Mother's Day brunch
Showing appreciation and gratitude
Treating your mom to something she wouldn't do for herself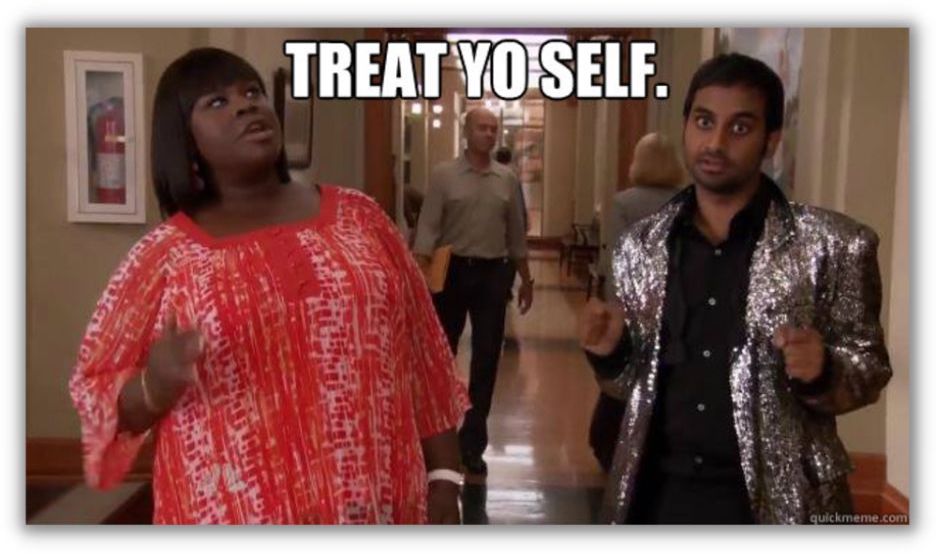 These are some broad thoughts to get you started, but don't be afraid to kick around ideas with your colleagues. They can help you hone in on concepts that are more specific to your business.
If you spend time interacting with customers throughout the day, you might even casually ask them about their Mother's Day plans or associations they have with the day. You never know when an unexpected response might uncover a marketing angle you hadn't considered on your own.
Mother's Day slogans (+ideas to use them!)
Once you've settled on the general direction you'd like to take with your marketing messaging, you can refine it into a cohesive advertising idea with a slogan to match.
Here are some suggestions to help you design the right campaign for your business, broken down by:
Slogans to accompany exclusive Mother's Day gift bundles
Who doesn't love a gift basket? Plenty of retailers have several products they could combine to create a special Mother's Day gift bundle. A home goods store might pair a scented candle with a cozy blanket and call it the Mother's Day relaxation gift basket.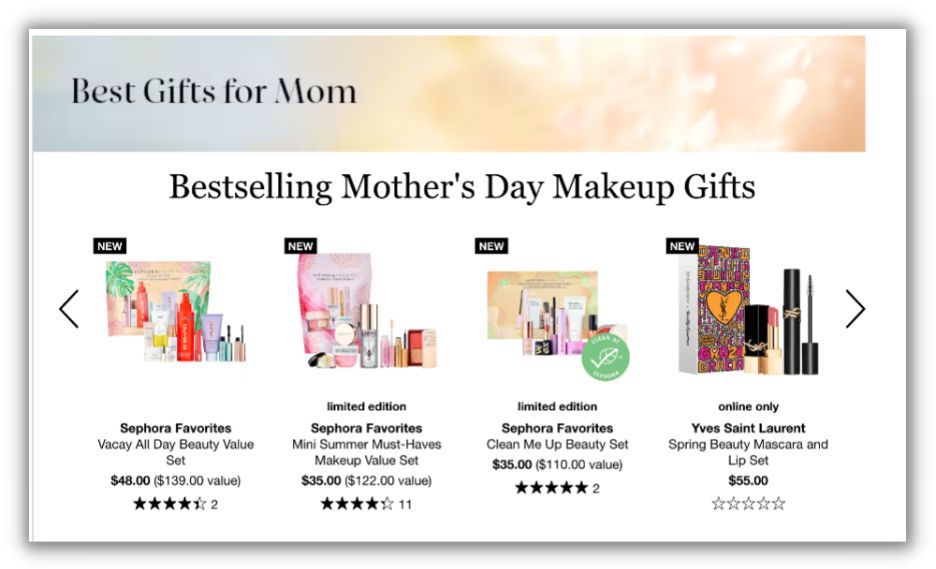 You may even consider partnering with another brand to co-create a special Mother's Day offer. A tea shop might partner with the bookstore across the street to provide a "Curl Up with a Great Read" gift package. Moms get a selection of special teas plus a gift card for the bookstore. They can pick up a new page-turner and settle in for an afternoon of reading with a mug of calming chamomile.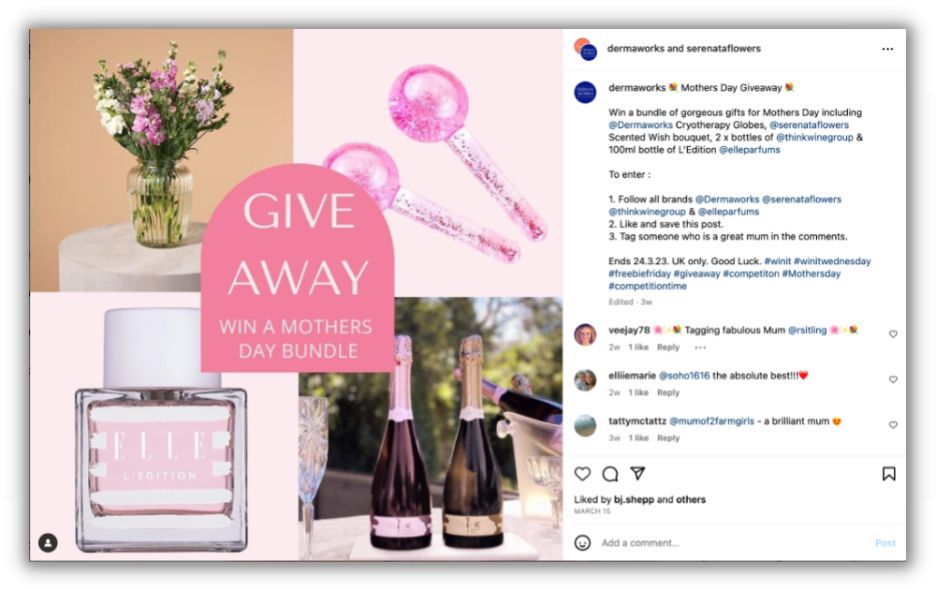 Service-based businesses can get in on the fun, too. A spa might offer a unique combination of treatments to help moms unwind. A home cleaning business could create a bundle with a house cleaning session and a bonus organization consultation to help make mom's closet look beautiful.
If you're thinking about running a special gift bundle for Mother's Day, one of these slogans might work for you:
Show Your Mom Some Extra Love
Just for Mom: Shop Our Special Gift Packages
Mother's Day Exclusive Offers
Limited-Time Gift Bundles for Mom
Treat Your Mom with Special Mother's Day Offers
Mother's Day Special Edition Gift Baskets
Only for Mother's Day: Shop Exclusive Gift Bundles
Mother's Day slogans for offers and promotions
Rather than creating a gift bundle, perhaps you prefer to offer a promotion or deal for shoppers. You could offer a free gift with the purchase of a specific product or when shoppers hit a certain dollar amount. You can provide a physical coupon in person or a coupon code online for shoppers to use at checkout. Or you can run a special on a specific product or service in honor of Mother's Day.
Running a promotion or special for Mother's Day gives you some flexibility in your messaging. This promotion could be an extra percentage off for the shopper to pass along to their mom. Or, you could frame it as a little treat for your buyer to enjoy while they're doing something thoughtful for their mom.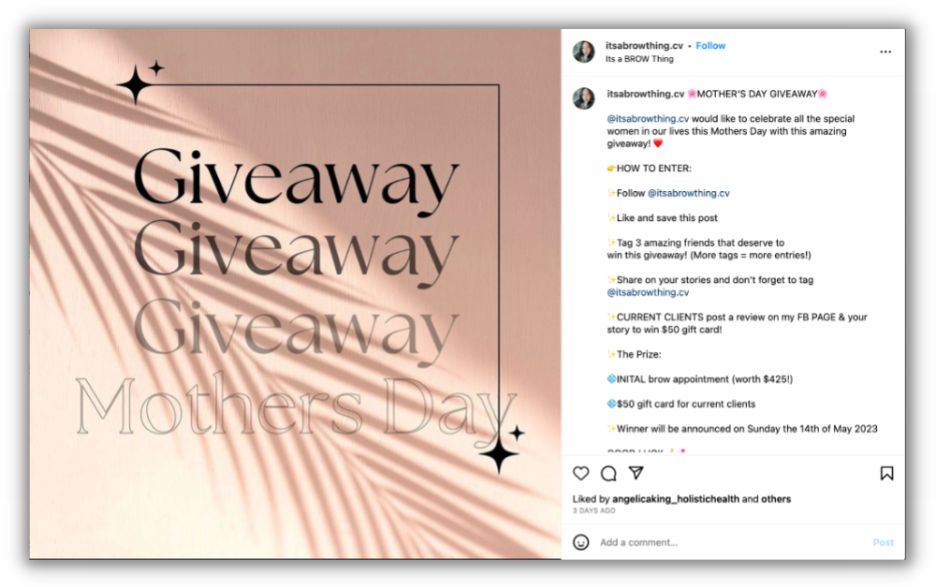 Here are some Mother's Day slogan ideas to help you advertise your promotion:
An Extra Surprise for Mom
Give Your Mom More this May 14
Something for Mom, Something for You
Treat Your Mom, Treat Yourself
Your Mom Deserves an Extra Special Something
Mother's Day Bonus Gift with Purchase
Moms: Use This Code for a Bonus Gift
Spend More, Give Your Mom More: Bonus Gift on Every Purchase Over [Dollar amount]
Slogans for Mother's Day experiences
The greatest gift any of us can give our moms is time together. Is there an opportunity for your brand to bring moms and their kids together for Mother's Day?
There are some obvious opportunities here for, say, restaurants that offer Mother's Day brunch, but plenty of other businesses can frame their product or service as a chance for quality mother/child bonding time.
A nail salon might offer a special two-for-one deal where mom and child can get manicures together. A florist might think beyond the traditional "flowers for Mother's Day" messaging and create a mother/child flower arranging class.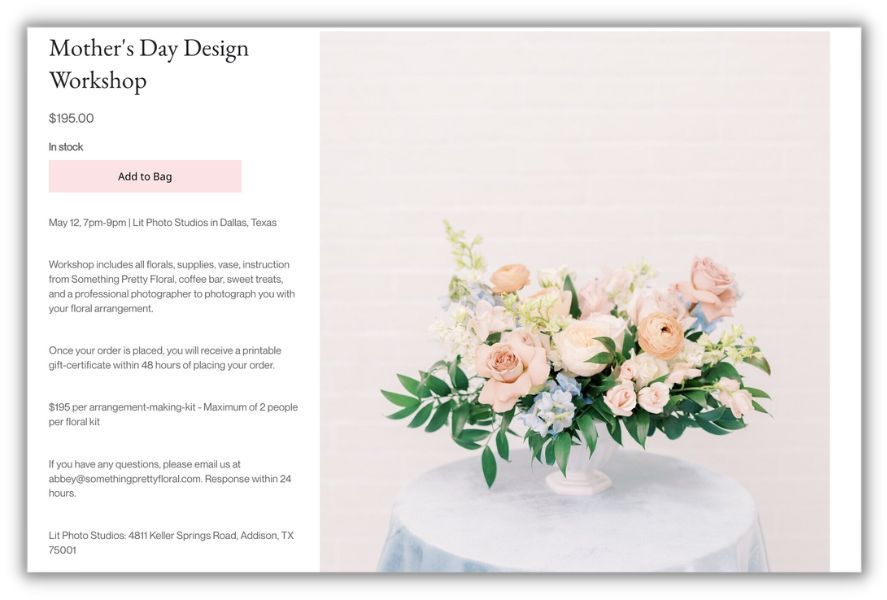 Even a brand that usually doesn't have much to do with the holiday can sell quality time together. A home improvement store might create messaging encouraging kids to help their moms tackle a DIY project around the house. Nothing says "family bonding" quite like painting the living room or weeding the back garden together!
Here are some Mother's Day slogans that are focused on spending time together with your mom:
Make Special Memories with Mom
Mother's Day Memories to Last a Lifetime
Give Your Mom the Gift of Time Together
Time Together: The Most Precious Gift of All
Spend Time with Mom: [Brief description of your offering]
Celebrate Mother's Day Together
Let Us Handle Your Mother's Day Plans
Mother's Day Plans? Done.
Join Us for Mother's Day: See Our Special Offers
Slogans to promote last-minute Mother's Day gifts
If you've ever ventured out on Mother's Day morning, chances are you've seen someone panic-buying a grocery store bouquet or drugstore chocolate sampler for their mom. Maybe you've even been that poor soul.
Procrastinators still deserve the chance to treat their mom to something nice. Consider creating a small selection of "grab-and-go" gift offerings you'll have on hand in the days (and minutes!) leading up to Mother's Day.
If your business offers gift cards, this is a fantastic opportunity to highlight that. An e-gift card can arrive in a mom's inbox instantaneously!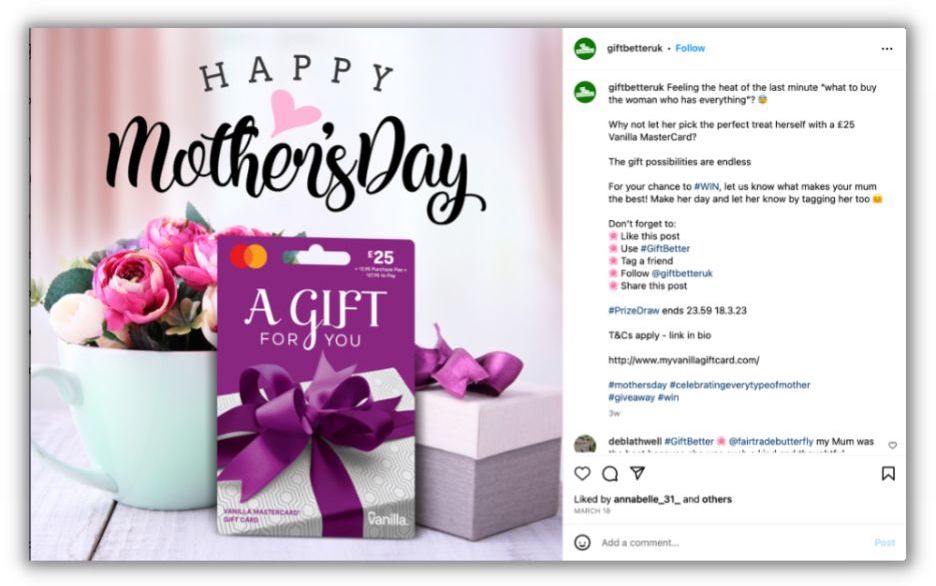 Here are some marketing slogans for offerings designed for last-minute shoppers:
Mother's Day Gifts for Procrastinators
Get Your Last-Minute Mother's Day Gifts Here
Better Than a Grocery Store Bouquet: Shop Our Last-Minute Mother's Day Gifts
Mom Will Never Know You Got This Last-Minute
Forgot About Mother's Day? We've Got You Covered.
Mother's Day Crisis Averted
Day-Of Mother's Day Gifts
We've Got Last-Minute Gifts for Mom
Expedited Shipping on Mother's Day Gifts: Get It By May 14
Forgot About Mother's Day? Digital Gift Certificates Available!
Mother's Day messages for parents with young children
We as adults are responsible for putting together our own surprises for the moms in our lives. But for parents with young kids, Mother's Day celebrations are often a collaborative effort.
A classic example here is Mother's Day breakfast in bed. While little kids might be able to help prep a yogurt parfait or carry the tray into the bedroom, chances are it's an adult who's frying up the bacon and brewing the coffee.
Your business's Mother's Day slogans can acknowledge the fact that, often, there's an invisible adult hand that's helping very young children do something special for mom:
Make Her First Mother's Day One She'll Remember
Help Your Kids Celebrate Mom
Make Mother's Day Special, Together
Mother's Day Gift Ideas Your Kids Can Help With
Mother's Day Crafts for Kids
From You & The Kids, For a Very Special Mom
Choose the right Mother's Day slogans for your marketing
Holidays are always an exciting time for brands to create marketing messaging that induces urgency and drives sales. A little creativity and a healthy dollop of appreciation for moms can help you find the perfect Mother's Day marketing slogan for your business!