Knowing your audience is so important, for almost everything. You need to know your audience to know your jokes will land. You need to know your audience to choose the restaurant for dinner. And you need to know your audience to market effectively.
That's why the buyer's journey is so important.
Here, we're going to cover what the buyer's journey is, why it matters for your marketing, and how you can make your marketing effective by keeping this journey in mind.
Let's jump in.
What is the buyer's journey? 
The buyer's journey describes the stages that a person might go through when making a purchase, including awareness, consideration, and decision. That means this journey represents the relationship that your prospects and customers have with your business—from learning about your product or offering all the way to becoming a customer.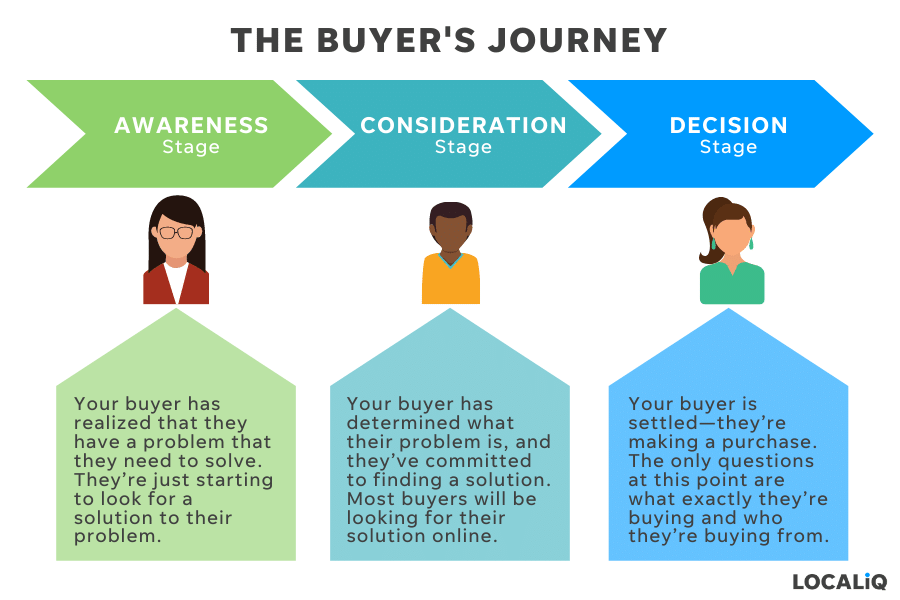 Stages of the buyer's journey
Let's take a closer look at each stage in the buyer's journey.
Awareness stage
At the awareness stage, your buyer has realized that they have a problem that they need to solve or, less immediately, something frustrating that they're looking to make easier. That means they're just starting to look for a solution or figure out a different tool or method to use.
What's the first step? It depends. In some cases, it might be asking coworkers or friends if they're experiencing the problem, too, and maybe even asking what they use to solve the problem. But in most cases, it'll be looking it up online.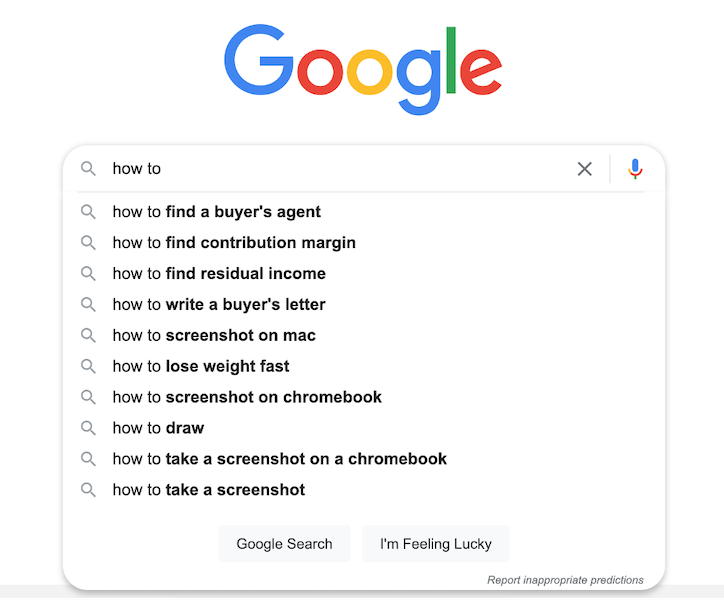 There's a reason "how to" searches are so common.
That's true for large corporations, e-commerce stores, digital marketing agencies, and even small local businesses. In fact, BrightLocal found that 93% of consumers find local businesses online. That makes your online presence, including your website, SEO, content marketing strategy, and even social media key for reaching buyers during the awareness stage.
Related: Find out the best brand awareness strategies for your business (with examples!).
Consideration stage
During the consideration stage, the buyer has determined what their problem is, and they've committed to finding a solution. Again, most buyers will be looking to find a solution to their problem—whether it involves a purchase or not—online.
They'll likely be looking for educational material, including "how-to" content similar to the awareness stage that they're ready to put in place and other content that's focused on related solutions so that they can determine what product or offering will help them best. That makes content marketing, emails, SEO, and even events key for this stage.
Decision stage
Your buyer is settled—they're making a purchase, the only questions at this point are what exactly they're buying and who they're buying from.
At this stage, comparison pages or content downloads with your major competitors are helpful, as well as excellent product pages and CRO.
Another thing that helps reach buyers during the decision stage? Reviews. BrightLocal found that 93% of customers read reviews of local businesses before making a purchase or not.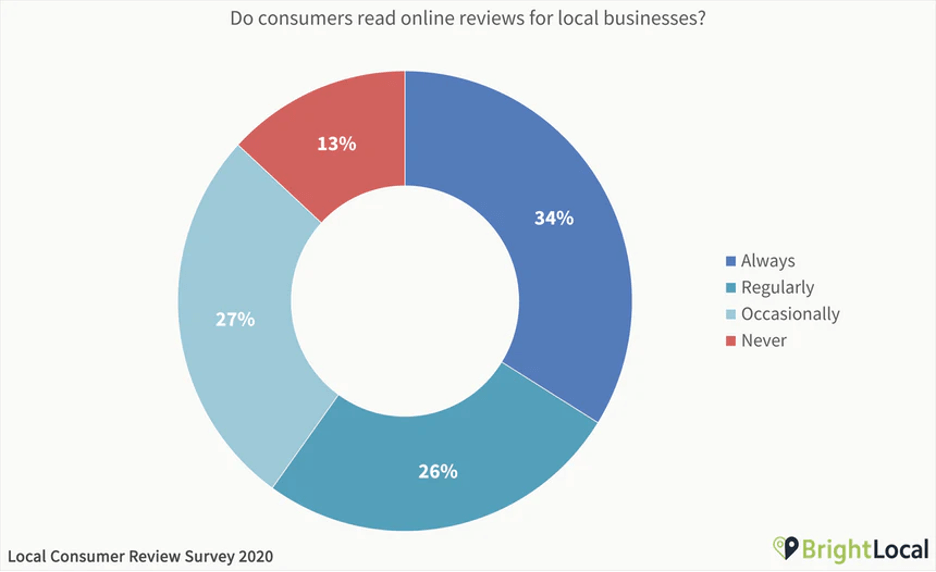 So, to make sure you're not losing buyers at this stage, focus on getting great Google reviews, testimonials for your website, Yelp ratings, and more.
Why is understanding the buyer's journey so important?
You need to know about the buyer's journey so that you can effectively appeal to your target audience, and these are the stages they might be going through.
Notice that I said "might?" The buyer's journey isn't a firm path that every prospect needs to follow, and it's important not to treat it like one. If someone's ready to buy immediately after learning about your company, for instance, you don't want to turn them away because they haven't completed the cycle and moved through consideration.
But the buyer's journey is the path that many of your prospects and customers do go through on their way to making a purchase. That's why it's important to understand—-and why it can impact your marketing plan.
How the buyer's journey impacts your marketing
Marketing is easier—and more effective—when you know who your target audience is. Part of that is knowing what they're looking for right now. It could be education, it could be information, or it could be a solution. That depends on their stage in the buyer's journey.
So when you're planning out your marketing, you need to consider not only which persona you're appealing to, but where they are in terms of making a purchase.
Let's cover how the buyer's journey impacts some major marketing channels:
Email marketing
Content marketing
Social media
Email marketing
Your email marketing will be more effective if you align your copy and your offer to where your buyer is in the journey. If they're receiving your emails, it's likely they're in the consideration and decision stages, so we'll focus on those.
Now, to put this example into perspective, I'll fess up here: I'm an awful cook. I can make a mean peanut butter toast and a passable zucchini lasagna, but that just doesn't stretch to three meals a day, all the days of the week. So earlier this year, when my husband was super busy with work and I was going to be in charge of cooking dinner, I looked into meal kit options.
I went from the awareness stage to the consideration stage quickly—I knew I at least wanted to give one a try. Here's an email that I got from HelloFresh, one of the options I was considering.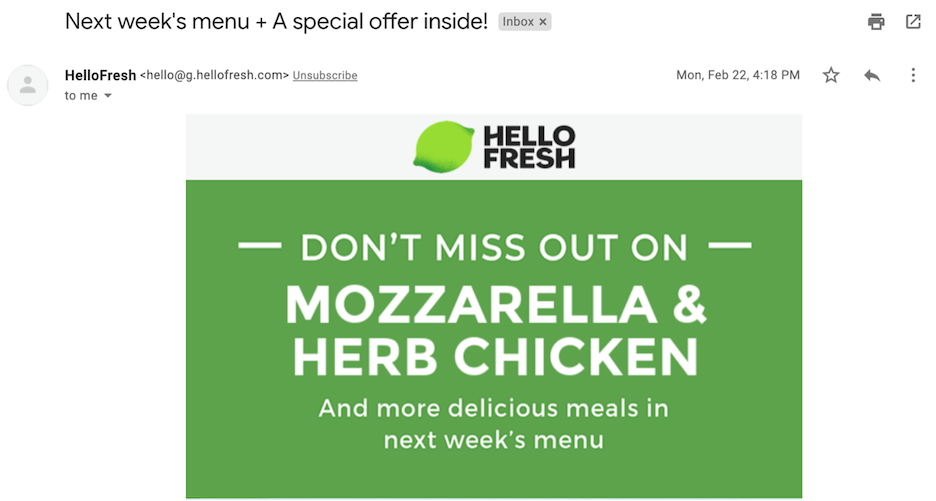 This is a good example of an email that's marketing to a buyer in the consideration phase. The subject line is straightforward, focusing on the appeal of the upcoming meal options. The body of the email features one recipe with a big, high-quality image of the meal, and a preview of the other meals.
In other words, it focuses on educating the buyer about the offering—in this case, some delicious chicken that even I could handle cooking.
Now, here's another example of a Hello Fresh email, one that's great for the decision stage.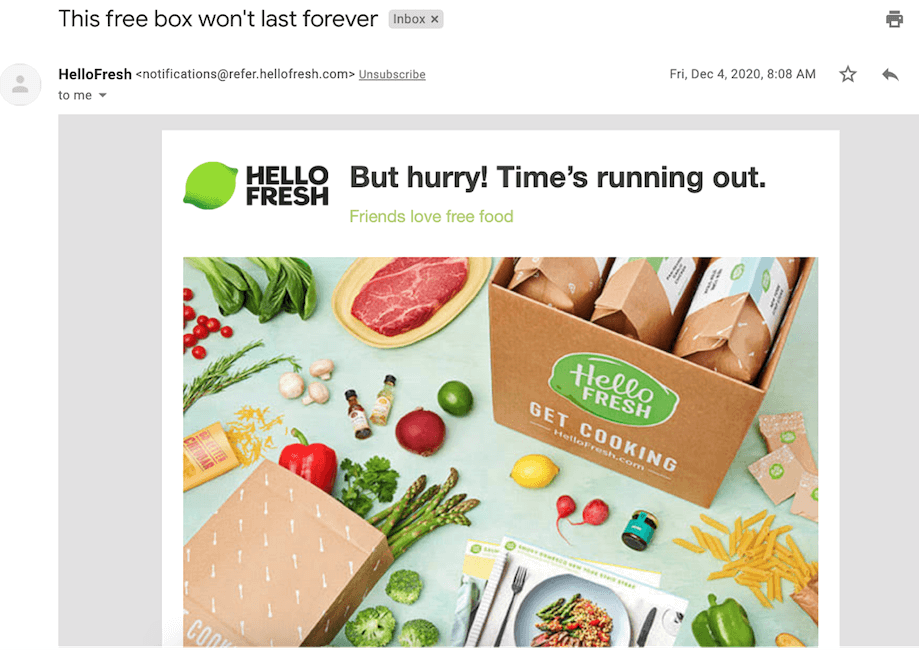 This email gets down to business because it knows that I've done my considering and comparing options. It presents an offer—a good one—and it creates some urgency with the reminder that the offer isn't good forever.
Content marketing
You want to keep the buyer's journey in mind for your content marketing. The good news is that it's easy to do that, especially with long-form content. You just need to consider the buyer's journey during your content planning, because this will shape the approach to the topic.
Here's a great example of a blog post on thought leadership that's tailored to the awareness stage.
Even from this title, it's clear that this guide is for someone looking to get started with thought leadership but not sure where or how to begin. So the post includes definitions of key terms and clear, manageable steps to get started.
Now, here's one that's focused on the consideration stage.

This post on Instagram growth hacks is writing for an audience that has decided what they want to do and knows why they need to. They're just looking for different ways to accomplish this.
Then, there's this blog post on web design and SEO which appeals more to potential buyers in the decision-making stage.
Now, this blog post is closer to exactly what LOCALiQ's offering can help with: website design and SEO. But it's also approaching this topic for an audience that's actively working on boosting organic reach through SEO and might be considering purchasing a solution. That's why it includes a CTA to talk to someone for advice when the other two blog posts don't.
Social media
I know what you're thinking here. Your company's social media profiles are more focused on building community than converting leads. But that doesn't mean that you can't still appeal to the different stages in the buyer's journey. In fact, the people in your community will likely be in those stages.
Let's take a look at some tweets from Glossier, a makeup and skincare company that markets to Millennials and Gen Zers. They also clearly run their social media with the buyer's journey in mind. This first tweet is perfect for the awareness stage.

If you've just started looking into the best place to get brow makeup or serum, you're going to be overwhelmed with options and, even more, advice on musts. A brand that's offering casual (read: not preachy, not technical) reminders to put on sunscreen is approachable.
Now, this next tweet leans a little more into the products and is a great example of stressing a benefit instead of a feature.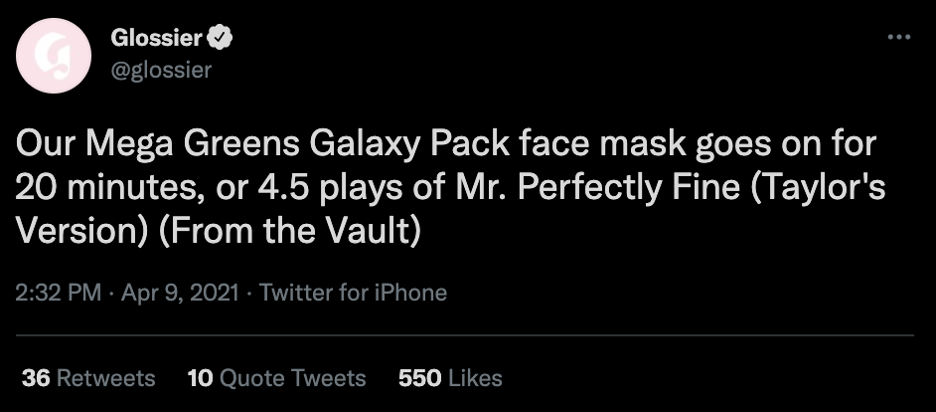 This tweet includes a product name and explains how to use it, but, even more, the benefit here is incredibly on-brand.
Now, what's the makeup equivalent of online reviews? Unboxing videos. Glossier asks for something similar in this decision-stage tweet.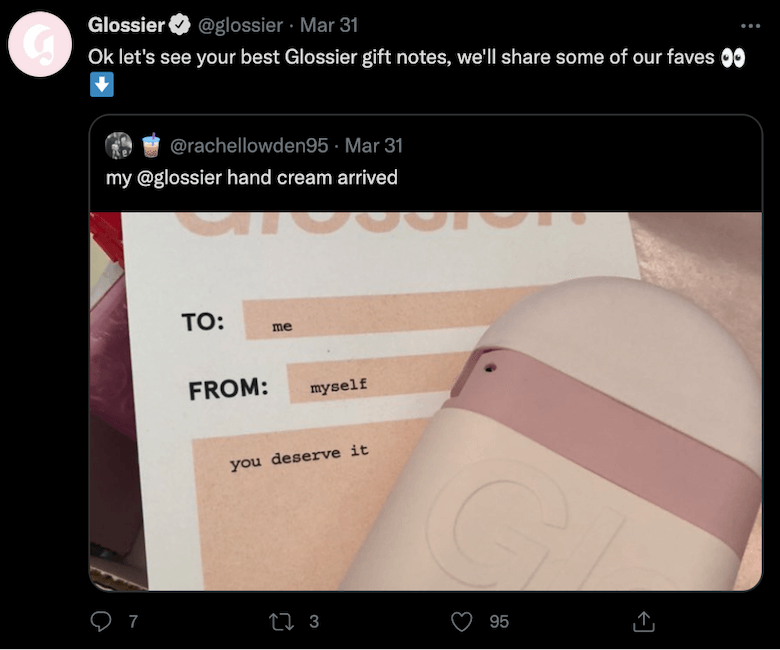 These tweets are great examples of creating social content for all stages of the buyer's journey. You never know when someone is going to follow you, or when they're going to check your social channels. But they're probably going to check, so be prepared.
Use the buyer's journey in your marketing strategy
That was a lot! To recap, the buyer's journey includes the three stages that most of your potential customers go through before committing to a purchase:
Awareness
Consideration
Decision
When you're planning your marketing, make sure you're taking into account which stage of the buyer's journey you're appealing to. For most marketing channels, you want to be appealing to each of these stages in order to reach your audience with what they need now. That way, you can use the buyer's journey to make your marketing even more impactful.