When promoting your business, you want to get in front of as many people as possible. With 1.6 billion users worldwide connected to a small business on Facebook, the social giant is a great platform to get more eyes on your business. And while Facebook itself may be helpful, Facebook advertising is a sure-fire way to get your business in front of even more potential customers.
No matter what type of business you run, there are benefits of Facebook advertising that can fit your unique needs. With various types of Facebook ads and multiple ad objectives to choose from, the flexibility Facebook advertising offers can cater to your very specific product or service and your business goals.
Today, we'll be breaking down 16 of the biggest benefits of Facebook advertising for small businesses.
Let's get started!
16 Facebook advertising benefits
See what makes Facebook advertising so great!
1. Facebook advertising drives engagement with your business
One of the benefits of Facebook advertising is that it increases engagement with your business on the platform, which can lead to more followers–and more sales down the line.
When you post a picture, a blog post link, or a status update on your Facebook page, users can engage with that post, whether by liking, sharing, or commenting on them. Once they've engaged with your business, not only are they aware of you, but they're also interested, which is a good way to start moving potential customers down the sales funnel.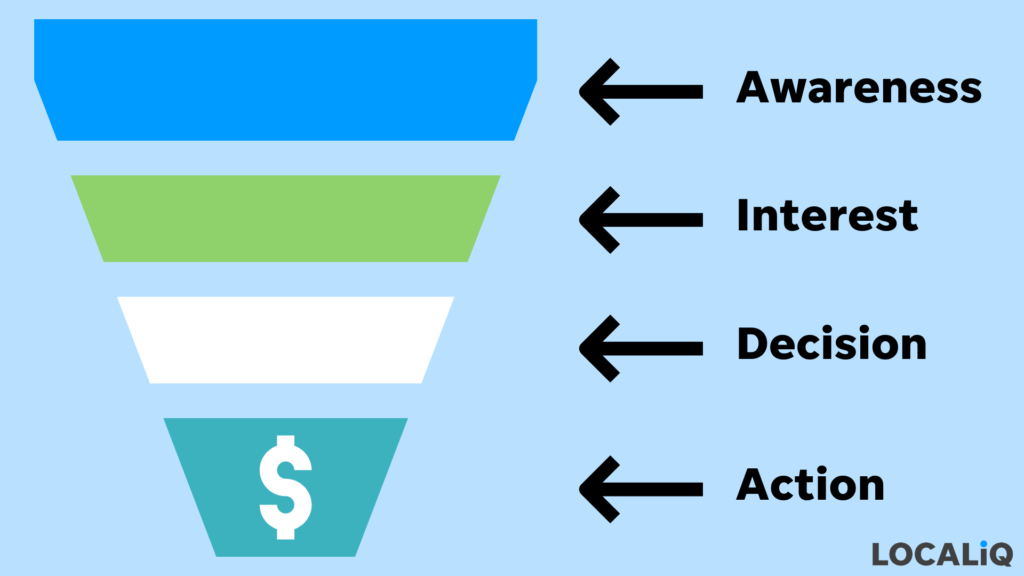 However, you might not see very much engagement on your page organically (AKA, without advertising). So, by running Facebook advertising, you're able to increase engagement for your page and your posts, which can help you grow your page and reach more potential customers.
2. Facebook ads work with your organic posts via boosted posts
Over time, posts get buried under more timely or relevant posts (and Facebook prioritizes posts from users' friends or family in their News Feeds). One unique thing about the Facebook platform is it can marry organic posts and advertising together via boosted posts.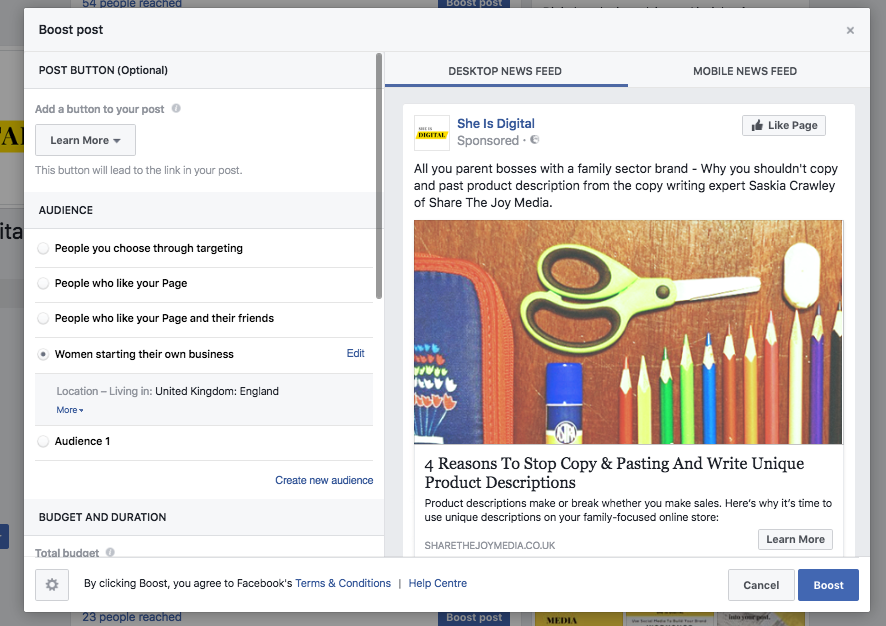 Unlike Google search, where you have to run your SEO and PPC efforts separately, on Facebook you can take an already posted organic piece and put just a few dollars behind it to promote it. Boosted posts are one easy way to get started with Facebook advertising and get your content in front of a wider audience.
Facebook advertising via post boosting benefits your business because increased shares, likes, or comments on your posts can increase your reach, expand your audience, and raise awareness for your brand.
3. Facebook ads can get your business more page likes
Another benefit of Facebook ads is that you can get more likes on your Facebook business page. When a person likes your Facebook page, it allows them to see your organic Facebook posts in their News Feed. So, while post likes are good for engagement and reach, you need page likes as the foundation of your Facebook marketing strategy.
Facebook advertising helps you get more likes to your page through Like Campaigns. These ads link to your page and the ad's call-to-action (CTA) is literally "Like Page."
This type of Facebook advertising campaign benefits your business because it helps you grow your social media presence and can help you be seen as trustworthy and established. Also, when users see that their friends like your page, they are more likely to visit it and like it themselves.
Additionally, users who like and follow your page then become brand advocates as they like, comment on, and share your posts on their Feed—which their existing network can see.
4. Facebook ads run on Instagram, too
Facebook owns Instagram, so when you run ads on Facebook you can choose to place your ads on Instagram as well, or you can choose to run ads only on Instagram. This two-in-one platform experience can help you to show to other potential customers that may not be on Facebook but are avid Instagram users instead. So when you sign up for Facebook ads you have the choice to capture two markets (Facebook and Instagram) in one!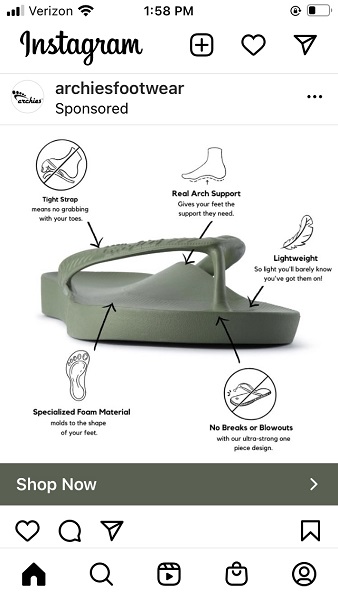 5. Facebook ads guarantee views
Wait, anyone can post to Facebook, right? Why not just create a business page and post there for free? We know that a Facebook page is a great way to boost your online presence and engage with customers. However, your page is a destination that users have to go to, usually not something that just shows up in their News Feed.
Organic reach for Facebook business pages is extremely low (5.2%—which has gone consistently down from 5.5% and 7.7% from the last two years prior), so even if you have followers, you're only reaching a fraction of them by relying on organic Facebook marketing alone. Plus, the only way you will show up in a user's News Feed is if they like your page and then adjust their settings to receive notifications.
Facebook ads, on the other hand, are placed right in front of users you choose (based on your targeting options—we'll cover how great those are a little later!) so you know your audience is seeing information about your business.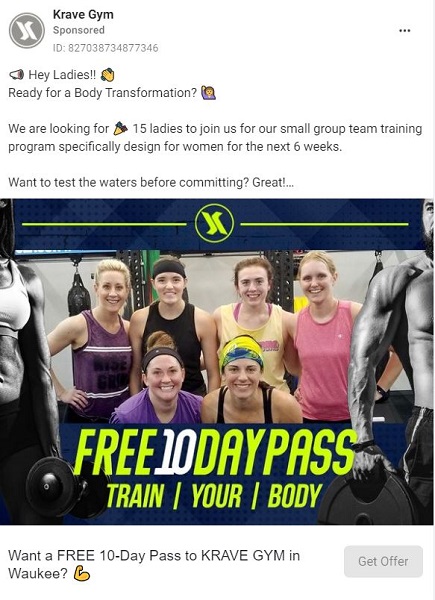 Related: See top benefits of digital marketing strategies like Facebook ads.
6. Facebook users click on Facebook ads
We could give you a million benefits of Facebook advertising, but if people aren't clicking on these ads, then there wouldn't be a reason to run them. Lucky for you, people do click on Facebook ads. In fact, 78% of consumers say that they've discovered products on Facebook. So, you know that Facebook ads are effective for businesses like yours and a great way to reach a new audience.
7. Facebook ads are optimized around specific business goals and objectives
The Facebook advertising platform provides specific campaign objectives that enable you to customize your advertising efforts to tightly align with your business goals. You can choose one of 11 different objectives for your Facebook advertising campaigns. These objectives range from top-of-funnel strategies like brand awareness and reach, down to bottom-of-funnel goals like lead generation or purchases.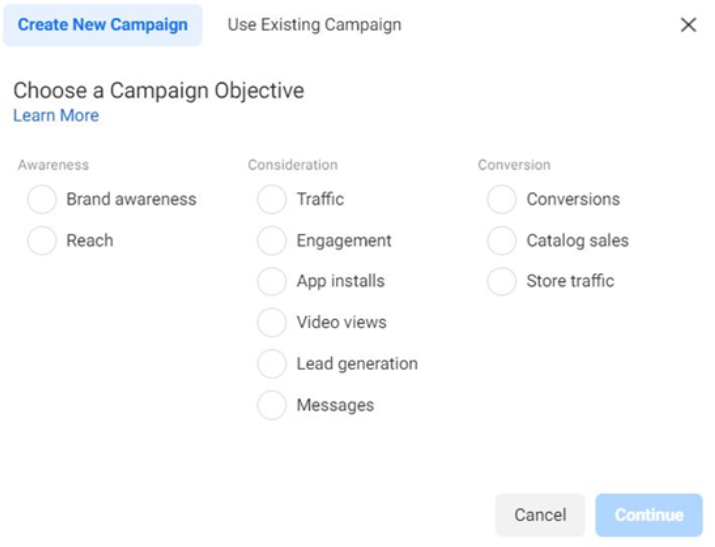 8. You can play with Facebook ad formatting
With ad format options that include single image ads, Facebook video ads, collection ads, or carousel ads to display your products or services as well as multiple places to customize your ad copy, another benefit of Facebook advertising is that there's an ad format to meet your needs. What's even better is you can try out multiple ad formats at the same time to A/B test what works best for your business!
On top of this, you can choose different call-to-action buttons to push your ad viewers to complete a certain meaningful action like a registration or quote request. So whether you have multiple items to show for purchase or want to share a customer story for signups, there will be an ad format for you.
9. You can get specific when it comes to who you reach
With more targeting options than ever, your Facebook ads can be shown to the people most likely to become your customers. This is one of the biggest reasons to advertise on Facebook. With the ability to target a highly specific audience, you can cater your content according to each audience, further increasing your ads' effectiveness.
Remember, you don't only have to show to people who have already known, liked, or interacted with your page. There's a whole world of targeting with options like age, gender, interests, job titles, or location. On top of that, you can also create custom audiences based on those most likely to be your customer.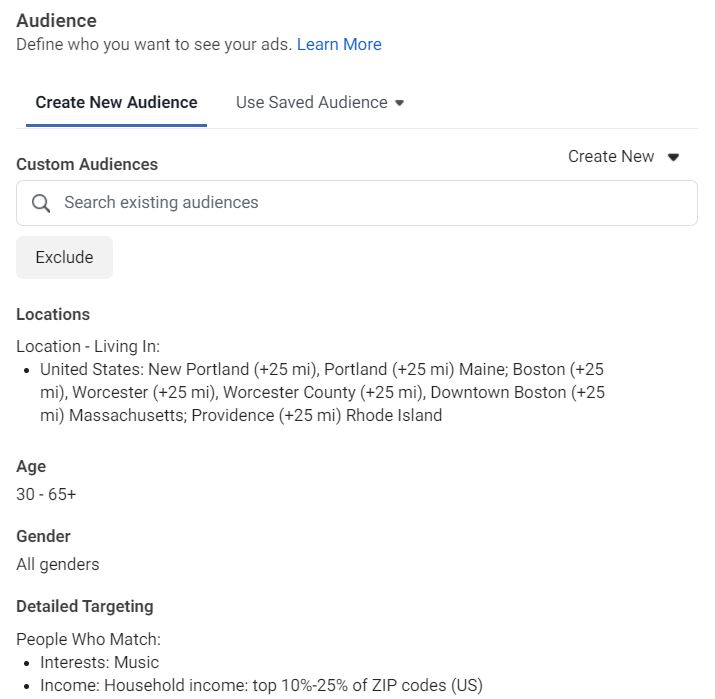 10. Facebook ads can be cheaper than PPC ads
Many factors go into your Facebook ad cost, including the type of campaign you run, who you're targeting, and your ad placement. But Facebook ads can have a cheaper cost per click than Google Ads.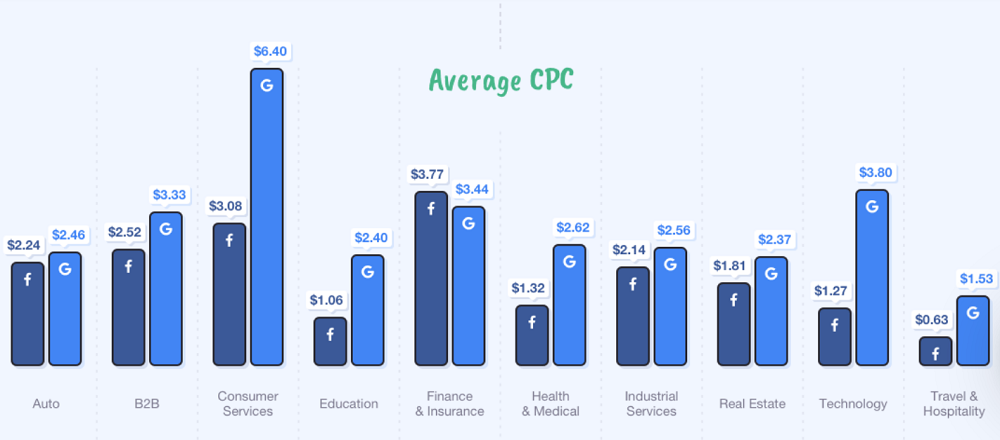 11. …but work best when they're complementing PPC
However, Facebook ads are actually most effective when run in addition to PPC.
In fact, we've found businesses tend to see a 3-29% decrease in cost per lead when implementing both Facebook ads and Google Ads.
Plus, 84% of the U.S. population uses Google search while 70% of them also use Facebook. That means if you want to increase your chances of getting the most leads possible, you'll want to be on both platforms.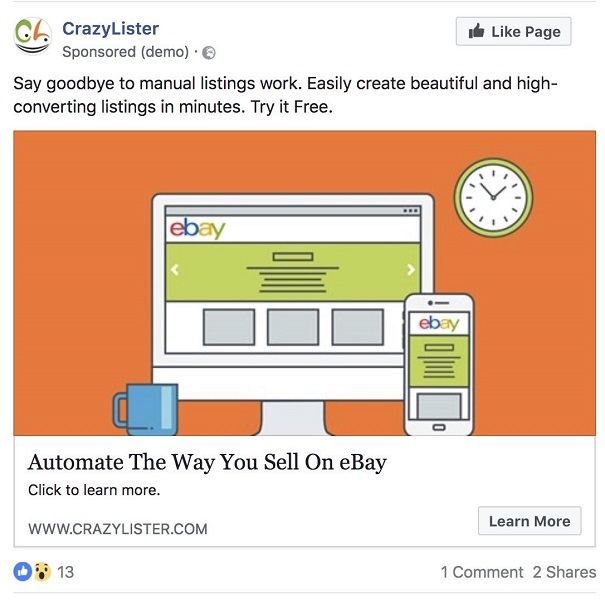 12. Facebook ads can increase website traffic
A Facebook page alone can drive traffic to your website, but Facebook advertising allows you to drive even more people to your website by running Website Visitors ads. These ads let you advertise a specific URL that your audience can click on from your Facebook ad.
Website Visitors ads are meant to get people to a specific page on your website, such as a product page, landing page, blog post page, etc. You can get existing customers to learn about a new product, get new customers to better understand an existing product, showcase your expertise on a topic to build trust, and drive conversions.
13. Facebook ads and SEO work together
One of the benefits of Facebook advertising you might not know is that it can actually work hand in hand with your SEO efforts.
Here's one example: 76% of US consumers have purchased a product they saw in a brand's social media post, with 44% buying later online. Meaning nearly half will look your business up later on a search engine to purchase rather than purchasing directly from your Facebook ad. This is when your SEO takes over the relay.
Plus, that increased traffic to your website we talked about from your Facebook ads gives you greater domain authority, which will improve your rankings on search engines.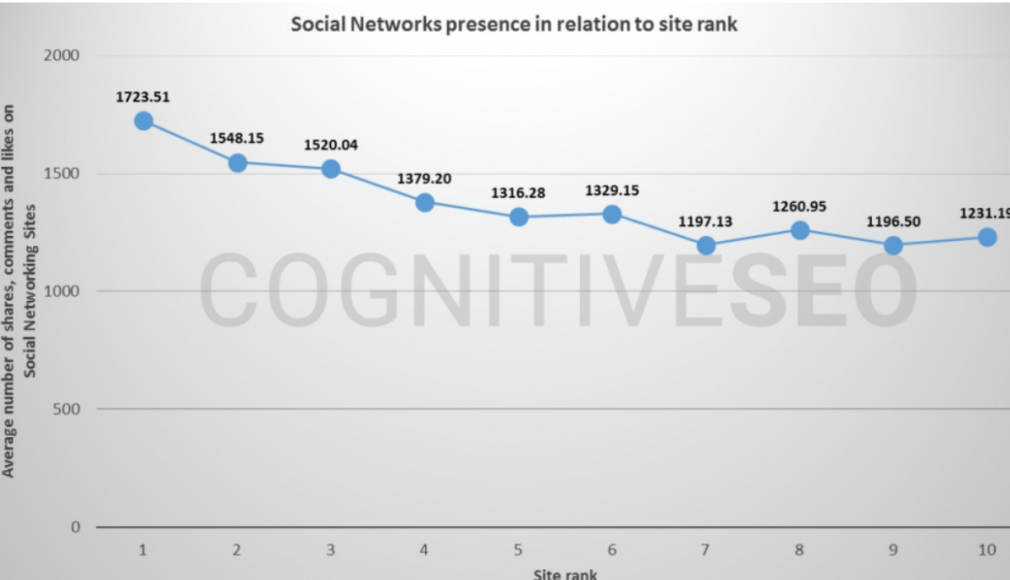 14. Facebook ads can generate leads
An often-overlooked benefit of Facebook advertising is that you can collect leads directly through your ads on the platform using Facebook lead ads.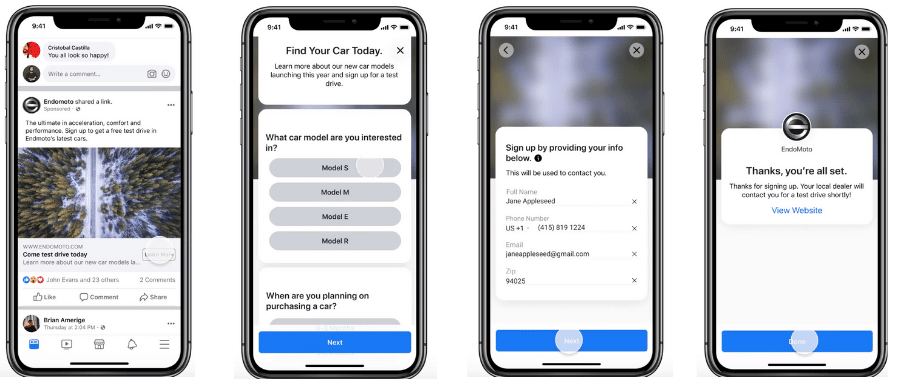 This is a huge benefit because it makes it as easy and seamless as possible for users to convert to a lead. The easier it is to convert, the more conversions that will happen!
15. Facebook advertising is easy to track
If there's one thing we've learned from working with small businesses, it's that even if someone doesn't convert the first time, they could still be taking some kind of action or be interested in your business. Facebook has a feature called a pixel that allows it to track actions visitors perform once they get to your site from an ad.
The Facebook pixel is able to track multiple actions like adding something to a cart, inputting payment information, or viewing content. You'll then be able to see this data later so that you can understand if there's anything stopping your customers from converting along the way.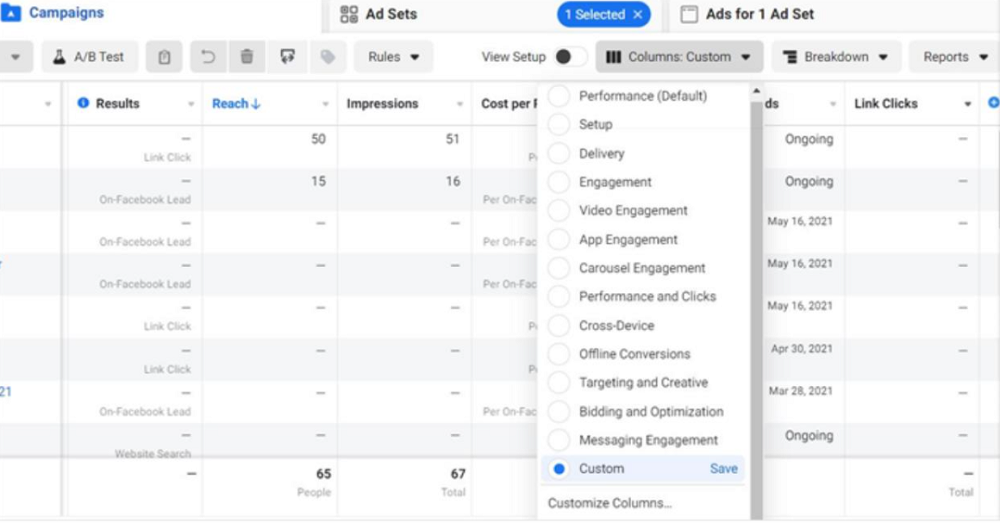 16. It's easy to get started with Facebook advertising
The last, but arguably most important, benefit of Facebook advertising is how you can get started quickly and without a big budget. You can choose to run a short ad campaign to test Facebook advertising's effectiveness for your business, or you can fully integrate it into your strategy now that you know the benefits of Facebook ads for your business. It's easy to get started because you can create an ad account right within your personal Facebook account or work with a marketing partner to help you get going.
Reap the benefits of Facebook ads!
So, is Facebook advertising right for you? Based on these 16 benefits, it most certainly is!
Here's a recap of all the wonderful benefits of Facebook advertising that we covered:
They drive engagement
They work with your organic posts via boosted posts
They can get your business more page likes
They run on Instagram, too
They guarantee views
Facebook users click on Facebook ads
They're optimized around specific business goals and objectives
Facebook lets you play with ad formatting
You can get specific when it comes to who you reach
Facebook ads can be cheaper than PPC ads
…but work best when they're complementing PPC
They can increase your web traffic
They can boost your SEO efforts
They ads can generate leads
They're easy to track
It's easy to get started with Facebook advertising
Facebook advertising is an excellent tool for not only getting in front of more people but getting in front of the right people who will engage with your posts, spread the word about your business, and become customers. The benefits of Facebook advertising help to expand your audience and ultimately increase sales. Now, time to find out for yourself by getting started!