Think about the last time you purchased from a new business. What did you do before hitting the "buy" button or driving to the store? I'd be willing to bet you checked out the brand's social media presence first.
Today, having a solid social media presence is a prerequisite for any business, big or small, B2B or B2C. Billions of consumers around the globe are active on social media, so your business needs to be there, too.
But it's not enough to simply create a profile or two and let them lie dormant. You need an active social media presence to build a thriving online following. Ready to take your social media presence to the next level right now? Read on to learn:
What social media presence is
Why building a social media presence matters
Simple tips for how to increase social media presence—fast!
What is social media presence?
Let's get this out of the way first: Your social media presence encompasses all aspects of your business on social media–from your username, to your cover photo, to what you're posting and how you're engaging across any social media site. This includes the top social media channels like Facebook, Twitter, Instagram, LinkedIn, Snapchat, and TikTok. Your social media presence is part of your business's overall online presence. 

Want to know how your social media presence (and overall online presence) stacks up? Try our free website grader to find out!
Why does social media presence matter?
Your social media presence is important for many reasons. For one, a strong social media presence can help you get more customers–which is probably one of your top long-term marketing goals. When your social media presence is optimized, you'll have an easier time reaching a new audience, educating them about your business, and showing them what they're missing if they don't do business with you.
Your social media presence can also help you build a brand community of loyal customers. By engaging with your existing audience, you can endear yourselves to your customers, create a more personal connection, and stay top of mind–which helps with customer retention!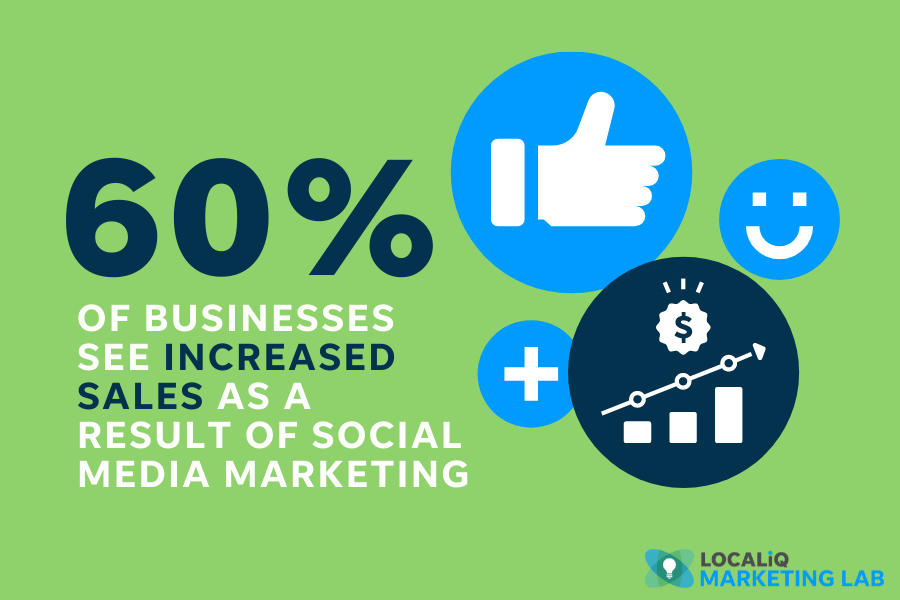 Learn more about the importance of a strong social media presence in our local social media marketing lab course.
How to increase social media presence
Now that you know what social media presence is and why it matters, here are 10 ways to increase your social media presence fast!
1. Start with an audit of your existing social media presence
Odds are good you already have some sort of social media presence. Before you can grow your following, you need to know where you stand right now. That's where a social media audit comes in.
Take a look at your existing profiles. On which platforms do you have a page or profile? Are your profiles all up to date with your current logo, business hours, address, and phone number? Are there any unofficial or unclaimed pages for your business? How many followers do you have on each channel?
Answering these simple questions allows you to understand your current social media presence and identify where there's room to grow and improve.
2. Evaluate your audience
Once you know where your social media stands, take a look beyond your brand. Who are you trying to reach on social media (i.e., who are your best customers)? These 12 questions are designed to help you identify your brand's biggest fans.
Once you've developed personas for your ideal customers, you can find where they hang out online.
Consider the demographics of each social platform. TikTok, for example, is overwhelmingly used by folks aged 18-29; if you're trying to reach Gen Xers, you might not need to establish a TikTok account (although TikTok's user base is growing, so you might want to look into it!).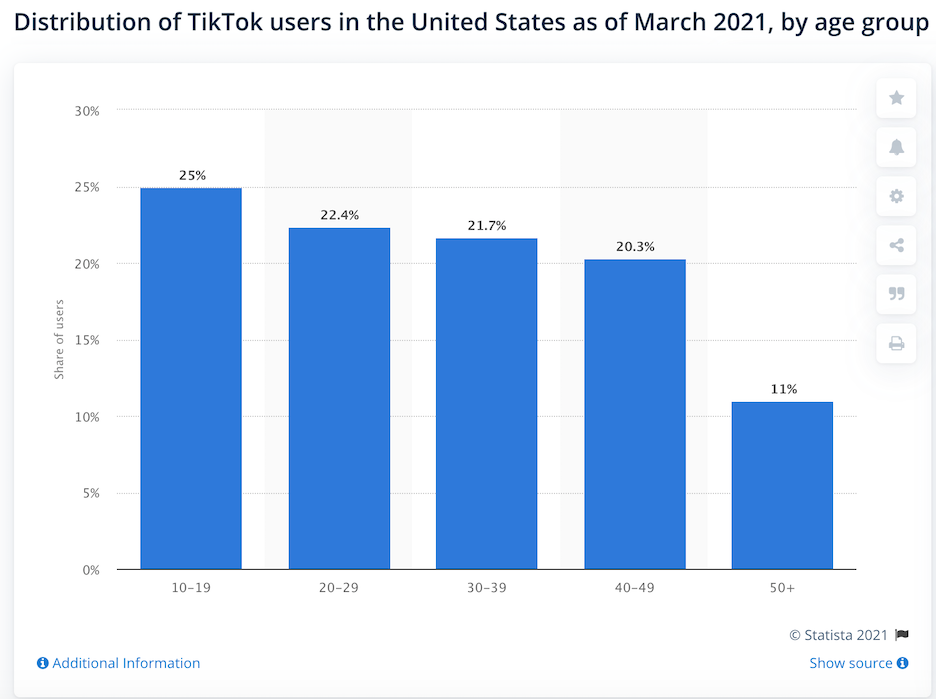 If you run B2B social media marketing strategies, you'll want to create a LinkedIn profile to reach business decision-makers where they are online.
3. Set goals for your social media presence
By now, you know where you are online and where you need to be to reach your desired audience. The next step is to set specific social media goals for your presence and performance.
When it comes to setting any marketing goals, it pays to be SMART. That's an acronym for setting specific, measurable, achievable, realistic, and timely goals.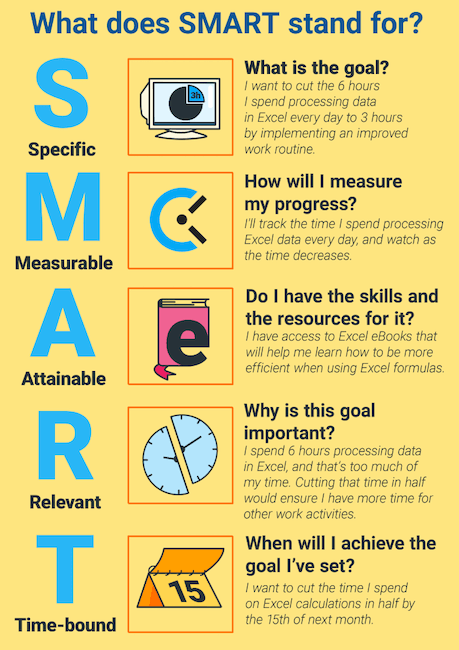 In the case of social media, a SMART goal might look like: "We want to increase our engagement on LinkedIn by 25% over the next six months."
Set SMART goals across all of your social channels. These goals need not be identical from one social platform to the next. They'll vary based on your current standing on each network, the potential reach and growth on that platform, and your overall social media strategy and goals. Having a goal in place can really help you focus on improving your social media presence!
4. Make a social media calendar
With your goals set, you know where you want to go. Next, it's time to craft a plan to get you there. That's where a social media calendar comes in. Consistent posting is critical in establishing a solid social media presence, and a social media calendar keeps you on track.
Decide on the number of posts you plan to share on each channel. Standards vary across social networks, with fast-moving platforms like Twitter usually necessitating more activity, while slower social channels like LinkedIn may require only one post per weekday.
Whatever rhythm you set, make sure it's a pace you and your team can maintain. If you can't post 15 times a day on Twitter like the big brands, that's okay. Be realistic so you can stick to your plan.
Once you've settled on a cadence, draft your posts in advance on your social calendar. Don't get too far ahead of yourself. Plan your content one to two weeks out, and allow for flexibility if something comes up and you need to switch your messaging.
Consider using a scheduling tool to manage all of your weekly postings. With the right tool, you can log into one dashboard and schedule everything out across all social at the start of the week, rather than having to log into various accounts every day.
Related: Try these free social media marketing tools to help increase your presence.
5. Lean into the social part
Once your social platforms are established and you've gotten into a groove with your posting, the real fun can begin. The beauty of social media is that it's social.
Most types of advertising are declarative. A billboard or print ad talks at your customers. Social media allows you to begin a dialogue with your followers. Take advantage of this unique opportunity!
Engage with anyone who posts on your social pages in good faith. Of course, it's fun to chat with people who love your brand, but it's also essential to respond to individuals with complaints. When you can handle the good and the bad with grace, you win the respect of your followers who are watching these conversations.
Social media is also an opportunity to let your brand's personality shine through. It's okay (and encouraged) to be more playful and "real" on social media. Even serious brands can let their hair down a little on social, within reason (see the state of New Jersey's Twitter account for inspiration).
6. Don't give a sales pitch
An important part of keeping things social and friendly (and a great way to increase your social media presence!) is avoiding the "hard sell" territory. Your social content should be informative and fun but avoid the temptation to make a direct appeal to buy something. You wouldn't make a sales presentation at a casual backyard barbeque; don't do it here, either!
The exception to this rule is social ads, which can be sales-oriented. But when it comes to organic social, keep it focused on education and engagement.
Your organic social media presence should focus on your area of expertise and help followers out. Share your industry knowledge. Post about special events. Create contests or fun polls or quizzes. Give back to your community with your team and talk about your experience.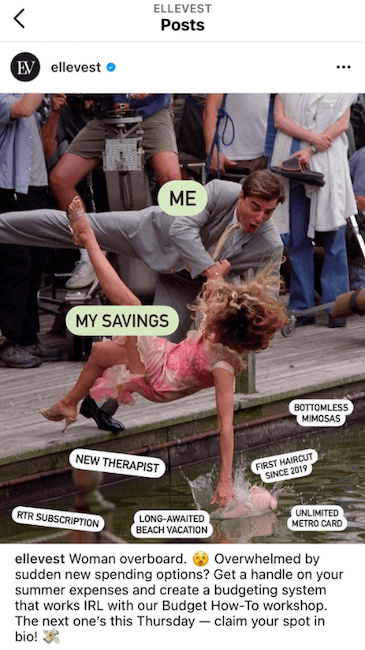 This recent post from Ellevest is an excellent example of educating, not selling. Many people are struggling to manage spending now that cities are reopening in the US. This women-focused investing app is promoting its free budgeting course using an iconic Sex and the City moment. Relatable, funny, and helpful—that's the social media marketing trifecta!
7. Be careful with trends
One of the best ways to gain attention for your social media presence is to get involved in fun online trends. Are you and your team game to create a sea shanty TikTok? Go for it!
Just be sure you understand the origins of a trend before you dive in headfirst. If it doesn't align with your company's mission or values, steer clear.
Similarly, if you participate in an online movement, be sure you've done the work to back up the marketing message. Last year, many consumers called out brands for posting black squares on #BlackOutTuesday, while doing little behind the scenes to stand up for Black employees.
People are watching what you do on social media. Always be sure that what you're posting is a positive and honest representation of your brand.
Related: Find out the social media marketing trends you should be using in your strategy.
8. Make the most of platform-specific features
Every social media platform has its strengths and weaknesses. Get to know each of the platforms your brand is active on, and take advantage of the specific tools on each social media channel.
If your brand is on Instagram, create stories with polls and quizzes. This post from Staples asking about the right way to hang toilet paper is playing into the strong feelings people have about the age-old over/under debate. It's tempting people to click and engage with the content, while gently reminding followers that you can buy more than just pens and ink cartridges at Staples.
If your business has a Facebook page, complete all of your information on your profile. Facebook allows brands to include a lot of information in their bios, from photos and videos to contact information and hours. Make sure you take advantage of all the features!
Also, make sure you're adhering to the community guidelines for each social site. Not doing so may result in your account being shadowbanned. Learn more about what a shadow ban is here.
Related: Use these Facebook bio examples to create the best one for your business.
9. Track your results
Once you've been active on social media for several weeks, it's time to start tracking your results. Are you on target to achieve your SMART goals?
Keep an eye on the metrics that align with those goals. If your objective was to boost LinkedIn engagement by 25% over six months, check in every other week to see if you're on track. Regular check-ins allow you to grow engagement steadily, rather than having to make a mad dash at the end of your six-month window. Plus, you can see how individual posts and tactics perform when you watch your metrics closely.
10. Experiment, experiment, experiment!
The final thing to keep in mind as you increase your social media presence is to embrace experimentation. One of the beauties of social media is that it moves fast, and you get real-time feedback from followers on your content.
So try out posting at different times. Test that new feature, try creating a video, share a fun cartoon—get creative! If you see strong engagement on a new type of post, you can lean into that type of content in the future. If you don't get any bites, you can pivot easily to other tactics.
What you learn about your messaging on social media can also inform your marketing plan elsewhere. If you find a tactic works well on your organic social media, consider using it in marketing with some dollars behind it, like paid social, print ads, or direct mailers.
Use these tips to increase social media presence
Businesses today are expected to have a social media presence. But it's not enough to simply exist in the world of social media. If you want to stand out, you've got to create a social media presence that speaks to your audience and opens up a dialogue with followers.
Lean into what makes each social channel unique. Invest time in engaging with your audience. Not only will your social media presence be fun for you to manage, it will generate results for your business.
And, just to recap–here are the top 10 ways for how to increase social media presence for your business:
Audit your existing social media presence
Evaluate your audience
Set social media goals
Create a social media calendar
Engage with your audience
Don't give a sales pitch
Be careful with trends
Make the most of platform-specific features
Track your social media results
Experiment!
Also! It's important to make sure social media accessibility is a key focus for your business. Get our best practices to make your social media accessible here.