What's one thing that no business on earth can survive or thrive without? Customer feedback.
The reality is any business that doesn't listen to its customers is in danger of not having those customers much longer. After all, every business decision impacts customers directly or indirectly.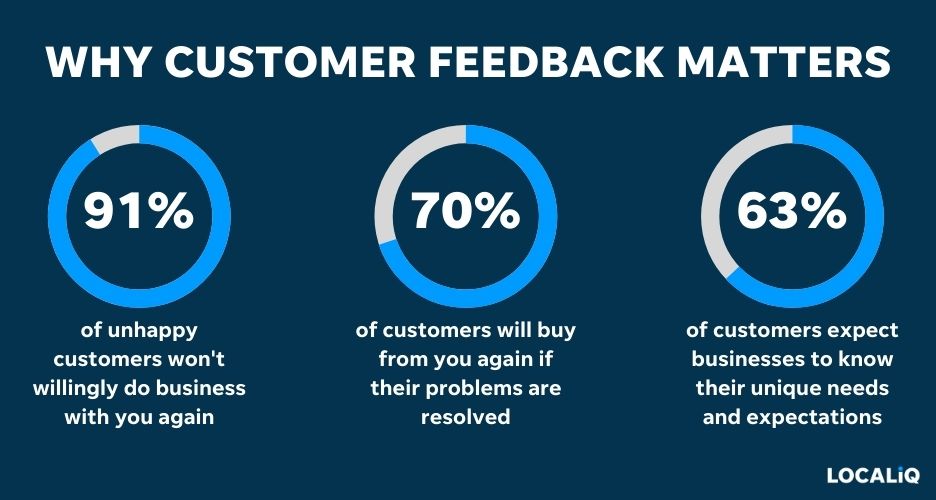 To make wise choices with long-term benefits, knowing how your customers' needs are being met is crucial. Here's what you need to know about:
How to get customer feedback.
Best practices for collecting customer feedback.
The importance of implementing customer feedback.
8 smart ways to collect customer feedback
Many factors play into how you choose to collect customer feedback. For example, your business type, when along the buyer's journey you choose to ask for feedback, or your other marketing strategies, could all impact your process. However, below are some universal ways to collect customer feedback that are fit for any business:
1. Chat with your customers one-on-one
This deserves to be covered first because it is perhaps the method that businesses shy away from the most. Yet, talking to customers one-on-one is the best, sure-fire way to collect feedback. And, no, building a customer relations strategy doesn't have to be awkward or uncomfortable! To make client conversations easier, remember two things:
You don't have to be all business. People will appreciate you being human and showing a genuine interest in them (without prying, of course).
Your main goal is not to figure out how you can improve at marketing and selling to them. It's to find out what more your business can do to help customers reach their goals. You're on the same team!
2. Prioritize user testing
User testing has numerous benefits, which makes it one of the best ways to gather actionable insights for improving your business. For example, it can yield more accurate information than delayed surveys since testers give immediate feedback and real-time reactions to whatever you're testing.
It can also get you more dialed-in information since you can limit tests to specific areas of concern. Rather than asking for general comments, you can get your customer's thoughts on certain things such as your online store's checkout flow or the usability of a certain feature of your software.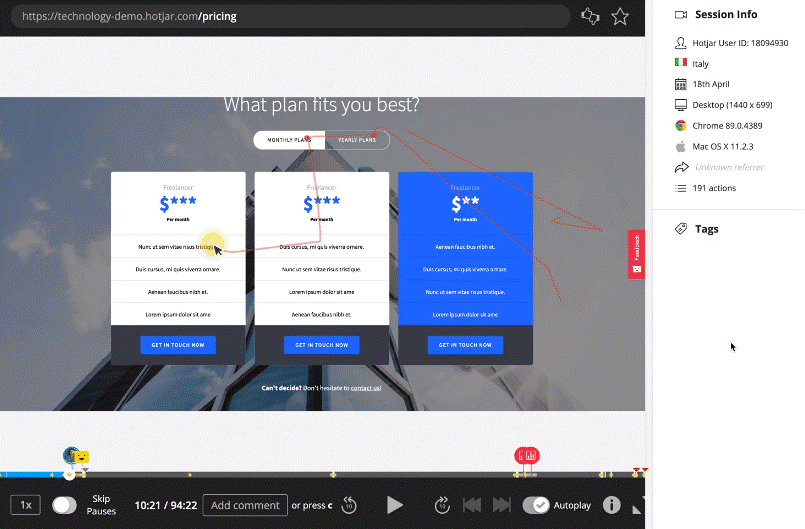 While user testing can be done anytime, it's especially useful before introducing a change or new offer to your entire audience or customer base.
3. Do short surveys
Short surveys can be used on-site, in-app, through email campaigns, or even in person to get straightforward feedback from customers. For example, after a product demo, the following could help you understand how customers felt about the experience:
"After your demo, do you feel more or less confident in your ability to use [your tool] efficiently?"
"Do you feel that all relevant features of [your tool] were explained and demonstrated thoroughly?"
"What would have made your demo of [your tool] better?"
These or similar customer feedback questions would reveal whether or not your demo was helpful and to what degree, what features a customer is most interested in, and what you could do better. That's a lot of information from just three questions! Plus, they require very little time and commitment from customers to answer—which can make people more willing to share their thoughts.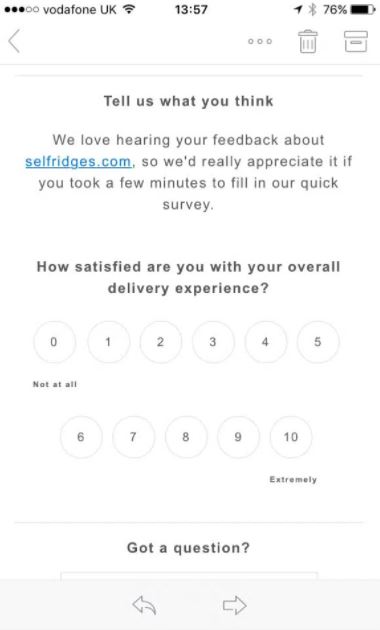 4. Conduct in-depth surveys
While short surveys can be less intimidating for customers, there are times when you'll want more information than a short survey can get you. For example, if you're doing original research for an in-depth industry report, you'll likely have a lot of questions.
In such cases, because a longer survey would require more time and effort for your customers to complete, it's critical to highlight the value they'll get in return. Share how you plan to use the information to better serve them in the future and consider offering incentives in the present such as gift cards or special offers.
Pro tip: Split long surveys into sections and set a condition that will allow customers to submit responses to only a portion of your questions. Many people will likely choose to complete the whole survey. And, from those who don't, you'll still have more information than you would if they had abandoned the survey altogether because it was too long.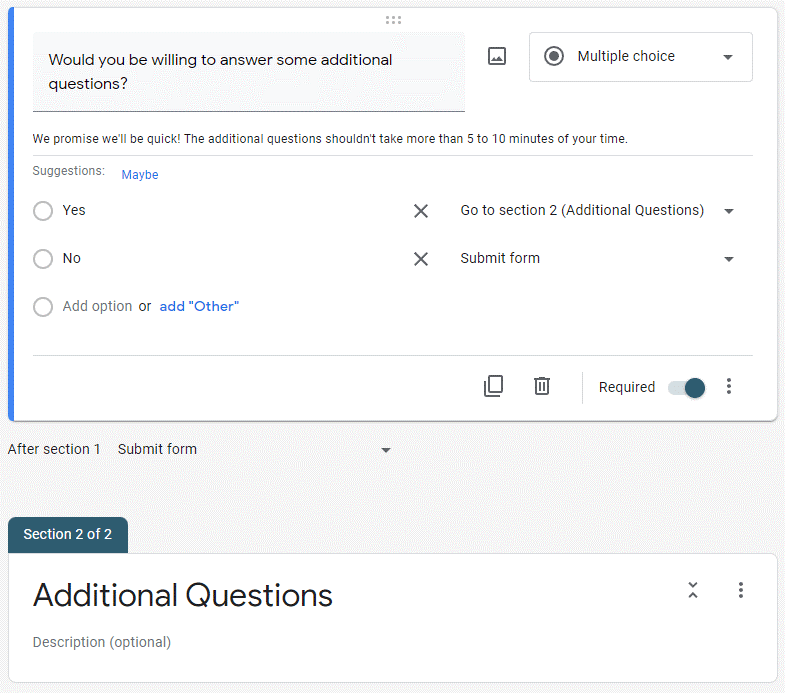 5. Let social media bring customer feedback to you
For many people, social media is a place to let loose, talk about goals, proclaim opinions, and share experiences. That's what makes it such a great place to learn about your customers; you may find out things that you might never have known otherwise!
Pay attention to common threads across the conversations your customers engage in. Join in on relevant discussions when you can. Start conversations and ask questions of your own. If you do, you'll always have a steady supply of insights to inform your business decisions.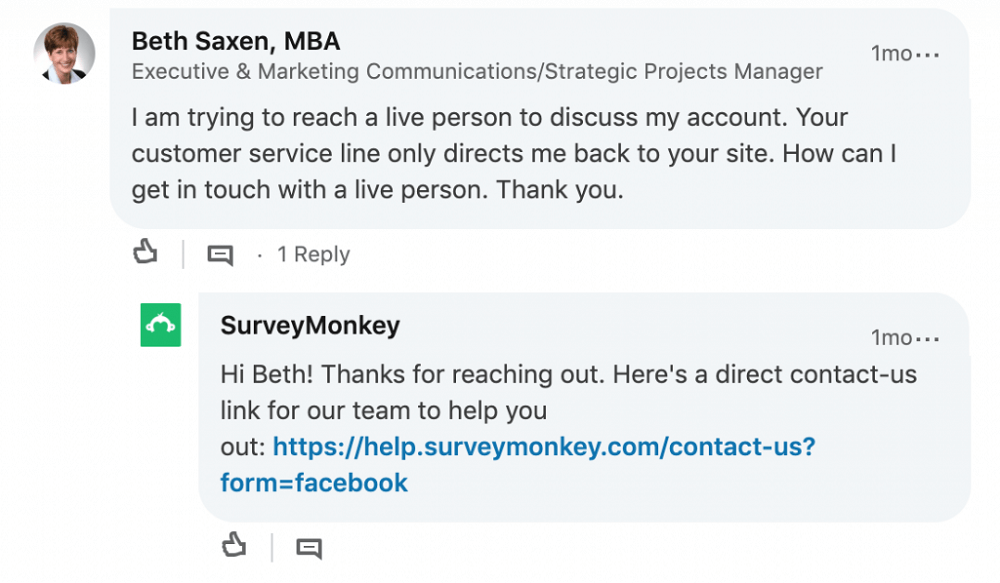 This social media comment helps the business better understand the customer's path on their site. 
Building a brand community on social media can also be a valuable way to collect customer feedback because you can tap into a network of customers who are loyal to your business.
6. Review live chat transcripts
Customer support teams are on the front lines–talking directly with customers every day. With live chat specifically, they're interacting with customers in real-time right when problems arise, questions pop up or good experiences take place. Using live chat on your website can reveal a lot about the practical aspects of your user experience and the emotions at work behind the scenes. Only when you understand both, can you strategically maintain and improve your overall customer experience.
7. Analyze recorded sales calls
As with live chat transcripts, recorded sales calls can be a goldmine. For instance, they can reveal questions and concerns that haven't been sufficiently addressed in your marketing. By improving your marketing through tactics like call recording, you can guide prospects through the sales process efficiently—making your sales team's job a lot easier.
8. Set up a suggestion board
Suggestion boards that allow customers to submit feature requests and even vote on which improvements would be the most beneficial are great options for collecting customer feedback.
This method of gathering feedback can tell you a lot about the use cases of your customers, their biggest pain points, wants and needs, and what your company's focus should be moving forward.
7 best practices to stick to when collecting customer feedback
Quality also matters when it comes to customer feedback, so you're probably wondering, "How do I get better customer feedback?" Here are seven ways.
1. Highlight the benefits of sharing
It'll be much harder to get customers to cooperate if you approach feedback collection from a company-centric, "we need your help" standpoint. Your company's interests are not your customers' primary concern. You need to highlight the benefits they will enjoy as a result of their giving honest, constructive feedback.
You can also mention the opportunity to help fellow consumers make smart decisions, especially if you're in a competitive industry where it's hard for people to know what brand to trust. For example, if your customers experienced that frustration before doing business with you, they may be inclined to help others like them embrace your solution.
Related: Download our free guide on how to build trust and win customers using branded content. 
2. Use your main modes of communication
The main marketing channels you use to communicate with your audience are often the best ways to collect comments because they don't require customers to break their patterns of behavior to comply.
Take your social media strategy, for example. It's likely that some of your following consists of current and previous customers. So you could post questions, send direct messages, or even use custom hashtags to encourage the submission of testimonials and other user-generated content.
Related: Get tips to improve customer communications.
3. Give yourself a buffer
Getting negative customer feedback is inevitable. So it can be beneficial to have a buffer in place so that such feedback isn't automatically made public.
For example, you could pre-qualify customers by:
Asking if they're satisfied with your product or service
Directing them either to a private feedback form or a local listing site like Google based on their answer.
This will allow you to address customer complaints and correct issues one-on-one before they can do damage to your reputation.
But, of course, it's not necessary or wise to obsess over concealing all negative comments. After all, consumers are skeptical of 100% positive reviews. However, there is a benefit to being able to process customer pain points internally (instead of publicly) and take action on them.
Related: Find out how to respond to negative reviews. 
4. Embrace constructive criticism
As a follow-up to our last point, don't run from constructive criticism or make the mistake of asking questions that only prompt customers to explain what they like about your product or service. In fact, you can make bad reviews good for business! Give them the invitation and the freedom to tell you what they feel you could do better.
5. Be specific
Again, while you don't want to corral customers into giving an answer that's not 100% aligned with how they feel, you should be specific about the feedback you're looking for.
Are you interested in learning people's views of your customer service team? Your pricing? Your competitive advantages, if any? If so, you should ask for thoughts on that specifically. The responses you get in return will be more relevant and actionable than generalized comments.
6. Thank your customers for their feedback
Another thing you should do to manage your reputation when requesting customer feedback is express your appreciation for any comments you receive (whether they're good or bad). You can do this in advance when requesting feedback and after customers share their thoughts. In doing so, you reiterate that you really care about what your customers have to say and value their time.
7. Act on customer feedback
Last but not least, act on customer feedback. If you don't, adhering to all of the other best practices and all of your efforts to collect feedback will be in vain.
While you probably can't and shouldn't implement every suggestion you get, do try to prioritize the top things that your customers request. This will improve your customer experience overall. People will be more likely to continue sharing their ideas and comments with you since they know you're actually listening!
Honest customer feedback is invaluable
How do our customers find us? What problems are they trying to solve with our product or service and what features correlate to those efforts? What persuaded them to choose us over our competitors? What could we improve about our website/app/customer service/sales process?
There's no better way to get answers to these and other critical questions than by asking your customers directly. So test our different methods of collecting feedback like one-on-one discussions, online reviews, surveys, or suggestion boards. If you stick to the best practices outlined above, you'll have a wealth of pure, high-quality feedback with which to grow and improve your business!