You'd be hard-pressed to find a business that's disinterested in winning more customers. From franchises to small shops, B2B, and B2C—everyone is looking for opportunities to share what they do with new people.
The trick is in figuring out how to do it. Small business owners specifically have limited time and resources, which means that creative and straightforward solutions save the day. Check out these easy wins we'll cover today to get you more customers:
Build a mobile-friendly website
Focus on local SEO
Claim your Google My Business profile
Explore partnerships with other local businesses
Encourage customer reviews
Leverage referral marketing
Build an online community
Get SMART about your marketing goals
Let's dive into the details of these manageable but powerful steps small business owners can take to get more customers.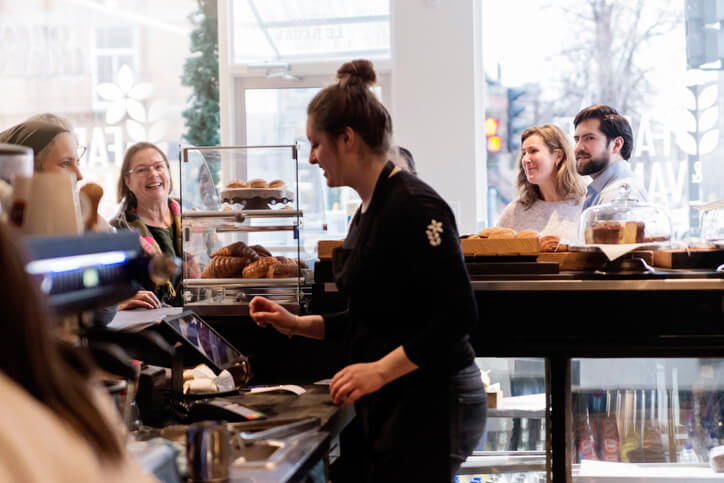 1. Build a mobile-friendly website to attract online customers
Standing out in your community to bring in new customers starts with making your presence known through local marketing. In today's world, that means building your visibility online.
And the foundation of your online visibility is your website.
Your website doesn't need to have dozens of pages, flashy videos, or a million-dollar design. For small business websites, what matters most is functionality on both desktop and mobile with a focus on communicating the basics of your business.
When it comes to functionality, having a mobile-friendly website is almost more important these days than designing one that works on a desktop. Google uses the mobile version of websites in indexing. Indexing is how Google assesses and, ultimately, ranks websites. So you must create a website that works on phones and tablets.
Using responsive design techniques is the best way to ensure things display correctly on your site, no matter what type of device consumers search on. You can also quickly test your site's current mobile-friendliness using Google's free tool.

2. Focus on local SEO to get more local customers
Another critical element of a functioning small business website is a focus on local SEO. However, with so much competition across the internet, the odds you'll outrank a multinational business in your industry are slim. But when you understand Google's local SEO ranking factors and use them to drive your site development, you might find yourself ranking at the top of the list for businesses in your area.
In terms of the elements of your website that consumers can see, make sure you tackle the basics. If you have brick-and-mortar stores, include your address, hours, and phone number. If you sell online, make sure your inventory remains up-to-date.
Creating a maintainable site with just the essentials is better than building a complex site that's hard to keep updated.
This plumbing website uses a local SEO approach that includes locally focused keywords and information about their locations.
3. Claim your Google My Business profile to entice local searchers
Another critical element in announcing your presence online is claiming your profile on Google My Business. Google is the dominant search engine, and nearly half of all Google searches are for local businesses. Of those local searches, 78% result in an in-store purchase. That's huge!
Claiming your Google My Business profile ensures customers see the correct information about your business when searching for you.
It also means you'll show up in Google Maps results. This is especially critical because people searching in maps are often looking for a business to attend to an urgent need. You want to be there to catch the eye of those high-intent searchers.
4. Explore partnerships with other local businesses
If there's one thing 2020 taught us, it's the importance of working together and looking out for one another.
Small business owners often face similar challenges in attracting new customers, but you have the power to help each other out. Look around your community for other local businesses that are adjacent but not direct competitors. What's a helpful or desirable offering to complement what you do or sell?
If you're a graphic designer, that might be a copywriter. Or a fitness studio owner might pair up with a local physical therapy office.
Contact your fellow small business owners and see if they're open to establishing a formal referral relationship. This might mean creating incentives and discounts for their customers who choose to patronize your business (and vice versa). Or it could simply be an informal agreement to send folks your way.
For example, the startup Impossible Foods partnered with Burger King to bring greater attention to its meatless burger. In return, Burger King was able to position itself as the more health-conscious, cutting-edge fast-food chain.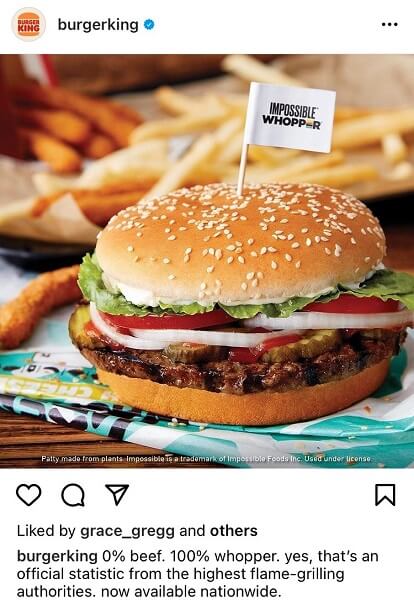 No matter how you choose to approach it, local partnerships can be a significant source of new customers for both you and your small business partners. Plus, it helps fuel the local economy, which is a win for everyone in your community!
5. Encourage customer reviews to win over new business
Asking folks to say nice things about you can feel intimidating or awkward, but positive customer reviews help attract new customers. It's been proven that having more reviews—good, bad, or indifferent—wins attention and new customers. People will buy from a brand with more reviews, even if a lesser-reviewed product or service seems to be of a higher quality.
Make it easy for customers to review your small business by including a link to your review platform or Yelp profile in your email signature or on e-receipts. If someone has purchased from you, create an email automation sequence to follow up with them and gather writeups about their experience or item.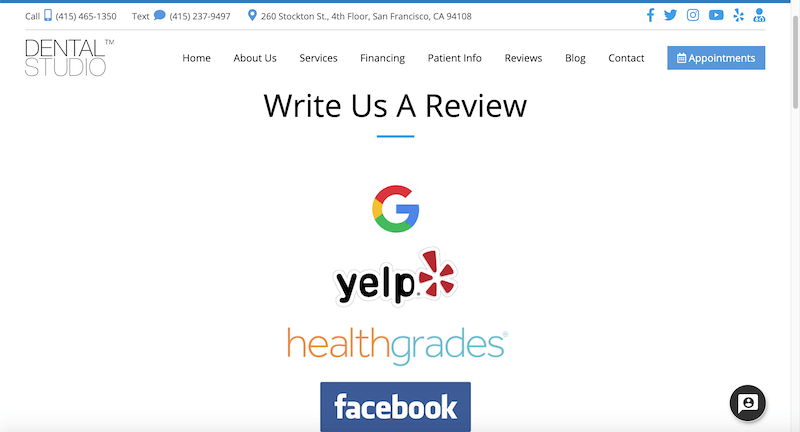 Don't let a fear of bad reviews prevent you from asking for customer feedback. When surveyed, customers have admitted they trust brands with some negative reviews more than those with perfect five-star ratings.
6. Leverage referral marketing for new customers
People trust business recommendations from people they know, so you want to get more word-of-mouth out there about your business. How do you do it? Asking customers to refer your business is a great place to start!
You might streamline and formalize this process by creating a referral program. Referral programs usually include an incentive to current customers who send friends or colleagues your way. For example, Dropbox is well-known for having a referral program that offers free storage when friends you've referred sign up for service.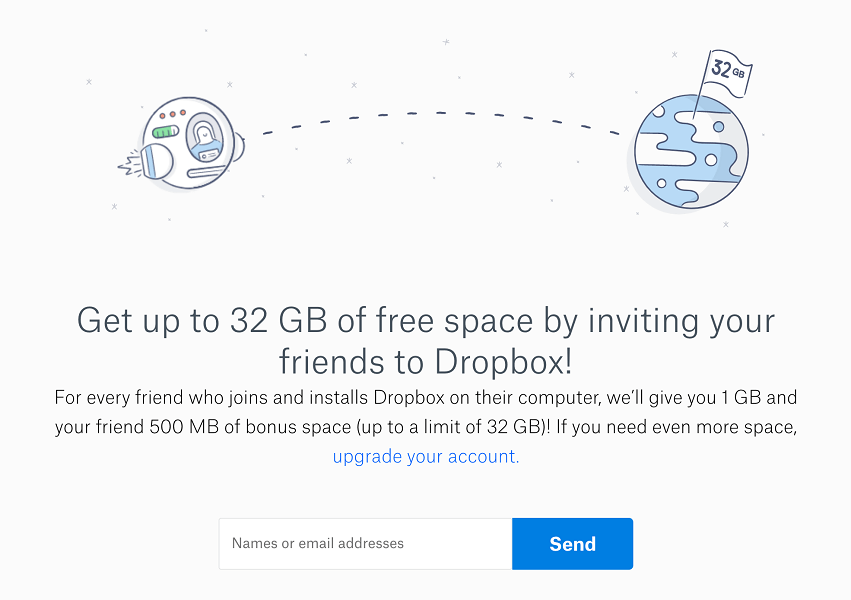 Even if you don't yet have the means to offer incentives, asking current customers to keep you in mind for referrals is a solid first step. Sometimes simply asking for the referral is the nudge a customer needs to pass your name along!
7. Build community online to nurture your customers
Don't think of your online community as a place to sell your products or services directly. Instead, create a group where you use your expertise to establish a gathering space for new customers who'd be interested in your product.
Let's say you own a distillery. You could launch a Facebook group where people can talk about their favorite spirits, watch videos about how your team makes the product, or learn mixology recipes from both your experts and each other.
The group isn't explicitly selling your product, but it's a place where potential customers will gather. Folks who are interested in learning about spirits and cocktail culture are likely also interested in products produced by small distilleries.
A real-world example would be the Nike Run Club. Nike founded the group as a space where runners can connect with friends and other runners on the app, plus meet up with local runners in real life.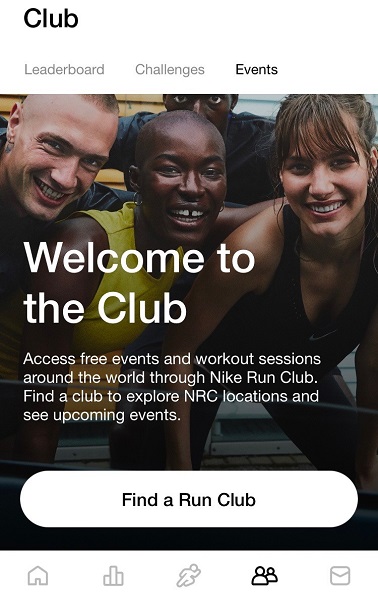 If you have a vibrant online community where folks can gather and learn, people will join even if they don't know your brand. Once they're in, they're more likely to become new customers. Plus, an active community keeps you top of mind with existing customers, who are more likely to become repeat buyers.
Starting an online community doesn't have to be a costly endeavor. A free Facebook group, Twitter Space, or Slack channel can do the trick. There is a time investment, however. You'll want to check in regularly to engage with members, chime in on discussions, and share your knowledge.
8. Get SMART about marketing to focus on acquiring customers
Undertaking marketing for your small business is a crucial part of getting new customers. At the heart of any marketing campaign is a solid set of marketing goals. That's why the best marketing plans incorporate SMART objectives.
SMART stands for specific, measurable, achievable, realistic, and time-specific. Zeroing in on an objective that hits these five criteria is crucial to your success.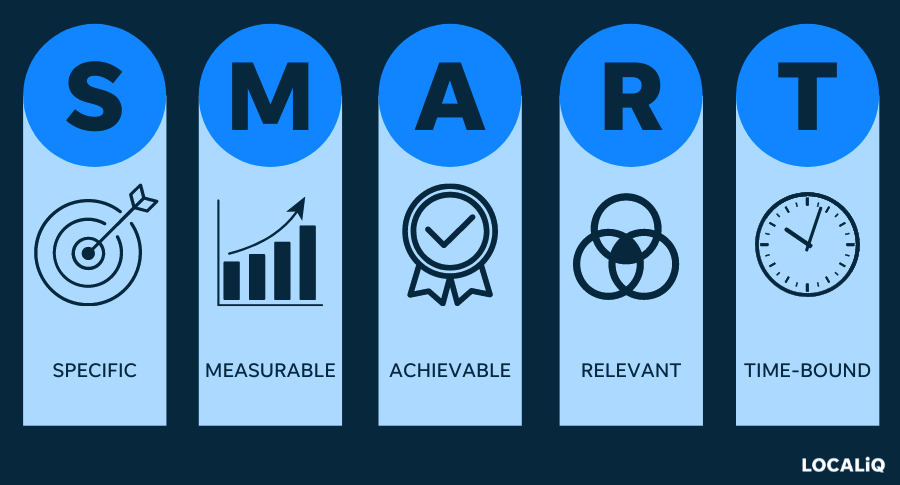 A wishy-washy marketing objective looks like this: "We want to generate more leads." A SMART objective, on the other hand, might be: "We want to increase sales by X percent on Y product over the next two months."
A SMART objective gives you something clear to work toward, which helps you create a more effective marketing plan.
RELATED: Download our ultimate small business marketing plan template.
Small businesses today have dozens of marketing options, from social media to direct mail. Starting with a SMART objective can help you identify the right tactic to reach your objective.
Once you've zeroed in on your tactic, SMART objectives can help you shape a marketing idea that will be cost-effective while still working to get new customers for your business.
Of course, part of a SMART strategy is measuring how the results align with your stated objective. That's where tracking comes in. For example, on social media, analytics are baked into paid campaigns and business profiles. Or Google Analytics allows you to monitor traffic and behavior on your website.
Even if you're running offline marketing tactics like print ads or direct mail, it's possible to track results quantitatively. Tracking tools like UTMs, QR codes, or call tracking can help you draw a direct line between your marketing campaign and your bottom line.
Get more customers tomorrow by trying these tips today!
Small business owners face many challenges, but you have drive. That's why, even in the best of times, you're always eager to grow and get more customers. You also have ingenuity. Your budget may not be unlimited, but your ability to tap into these winning strategies knows no bounds.
With creativity, consistency, and collaboration, you can always connect with more customers and help secure the long-term health of your business. So don't hesitate to jump right into these tips and get more customers for your business ASAP!