Local businesses had a tough year last year because of the pandemic, but even without a global health crisis, running a business is a peculiar challenge to begin with. With many physical limitations in place due to the effects of COVID-19, it is now more important than ever for local businesses to develop a solid online marketing strategy via local SEO.
Whether you are new to local SEO or not, this SEO checklist will help you identify areas to fix in order to boost online traffic visibility as well as sales and profit this year.
Your 7-Point Local SEO Checklist
Use the seven items in this checklist to improve your local SEO for better results in 2021.
1. Understand Google's Ranking Factors
The three most important ranking factors for the local SEO algorithm remain unchanged: proximity, prominence, and relevance.  According to Think with Google research, "where to buy" + "near me" mobile queries have grown by over 200% in the past two years — e.g where to buy flowers near me, where to buy pumpkins near me.
To optimize for proximity, fill in your current NAP (Name, Address, and Phone) details on Google My Business and relevant local directories. (More on those two below). The most important factor here is consistency. Use the same citations everywhere your business is listed. If an automatically-generated citation is inaccurate, reach out to the editor or the publisher of the website to request appropriate changes.
Prominence is dependent on how credentialed your business is. It is informed by reviews, ratings, social signals, mentions, links, domain authority, etc. Aim to establish your business as a reputable brand.
Improve relevance through local keyword optimization and local content marketing. Use relevant keywords on your listings, website, blog posts, social media posts, etc. This boosts your chances of being found by the right target audience.
2. Optimize Your Google My Business Profile
Optimizing your Google My Business page is the inevitable first step for any company trying to win at local SEO. More so, it is a free tool that can be exploited for immense benefits including more web traffic and increases in SEO ranking.
With Google My Business, the goal is to appear among the top three of Google's local listings, since those are the only three visible to a Google user at first instance. It is important to complete all relevant information accurately for maximum visibility, and it's extremely important to claim your Google My Business listing.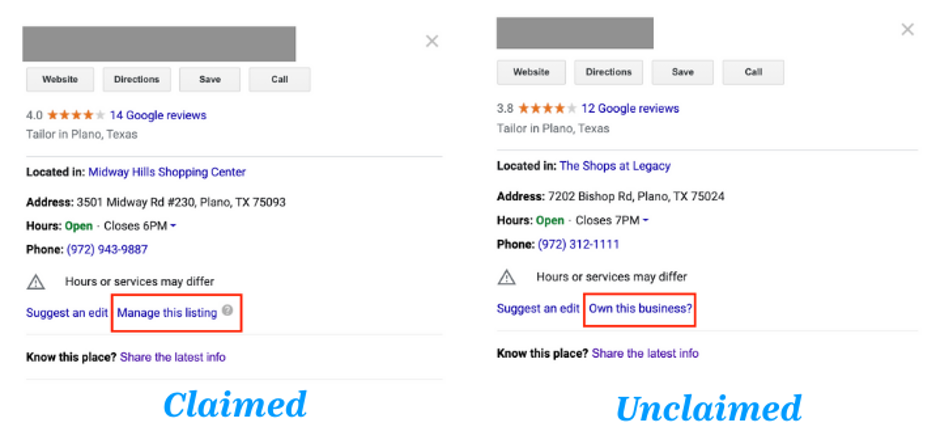 In 2021, there are certain features you must take note of and utilize appropriately. For instance, GMB adjusted to the COVID-19 pandemic by including the option to add pandemic-related announcements in order to update customers as needed. Note the highlighted parts in the restaurant listing below.
Besides these, business owners can also update service attributes, alert customers to required safety measures, post COVID-19 updates, and more.
3. Optimize Your Website with Schema Markup
Schema markup is a form of website code that ensures that search engine results return more informative details about your company as well as its products and services. Schema markup is different from the meta description.
Schema markup defines the form of each piece of content for better presentation on the search engine results page (SERP). Microdata such as schema markup does not seem to have any direct effect on rankings, but it does improve click-through rates, which can help you perform better in search results and drive more people to your website.
See examples of the schema markup at work:
Read more about schema markup here.
4. Pay Attention to Your Online Reputation
One can argue that creating and maintaining a strong online reputation is paramount to local SEO. For justification, see the following reasons:
Reviews are important to local SEO ranking. For one, negative reviews hurt a brand's image, and that leads to traffic losses. On the other hand, Google favors credible brands; positive reviews win you credibility points, thereby improving your ranking.
Social media helps you to build a following, and depending on how you engage your audience, it may boost your brand reputation.
Media mentions for a brand raise the brand's image, increases interest in the business, and generates website traffic.
Those three areas are critical to your business's online reputation. Take the following steps to optimize each aspect:
Negative reviews are inevitable. However, you can be smart about responding to them. Offer the disgruntled reviewer a chance to change their perception of your brand. Take a cue from the 1-star review below and the detailed response given by the business owner:
Look for ways to get Google reviews for your business to boost your online reputation.
Use link building to earn mentions on local news and local events sites. This is explained better below.
5. Focus on Local Link Building
Link building remains an important SEO tactic. But as usual, for local SEO, the specific directions are different. When it comes to local link building, focus on getting high-quality links from the following prime sources:
Local Directories
Update your business information on relevant online listings. Choose only directories that are valuable and reputable. Make sure your business information is consistent across all your local listings.
Business owners often forget to update their directory listings, and this may affect SEO, especially when the status of the business has changed, yet the online information is misleading. Keep a record of inventories that your business is listed on and update them regularly with any new or relevant business information.
Guest Posting
Guest posting allows you to build your brand's credibility by sharing useful posts on other websites/blogs to reach your target audience. Many websites accept guest posts with links to your brand website and brand mentions. Aim to get your posts published on authoritative websites in your niche and neighborhood.
Local Press
Don't underrate local newspapers. A 2019 survey showed that local newspapers remain, by far, the most significant providers of journalism in their communities. More so, local news outlets have played an increasingly important role while the pandemic rages on. Write press releases to be published on local news sites or talk to reporters and supply them stories relating to your business. You can even become a columnist in local media and publish regular commentary on brand-related topics.
You can also look into branded content to help you spread the word about your business with your local news publications.
Sponsor Local Events
Sponsoring events brings a lot of publicity to your business, guarantees valuable links to your website on the event page, and earns your business media mentions. All of these boost traffic. To sponsor local events, start small and don't limit your idea of sponsorship to funding. You can sponsor events by donating snacks to attendees (if you run a catering service).
6. Invest in Local Content Marketing
Research local keywords relevant to your business and integrate them into your blog posts, website, social media posts, online profiles, etc. For more targeted results, add your location to the title and meta tags of blog posts and social media posts. See the SERP below, note how each business result features the name of the city: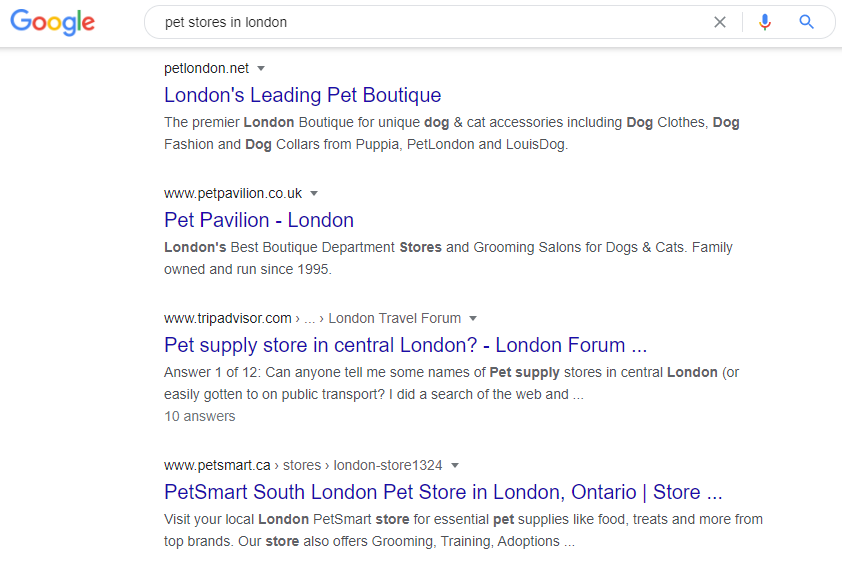 In any case, while using the right keywords is important, especially for targeting specific places, content marketing goes beyond keywords.
Take a cue from Airbnb. Despite being a global brand, this content marketing example from Airbnb is relevant because, at the foundational level, their business strategy is local.
One of the notable features of Airbnb's content marketing strategy is that the company shares real stories of real customers.
Airbnb's content strategy is meant to "inspire our guests, empower our hosts, and make sure everyone feels a sense of belonging in our community."
The key lesson from this is that to make content marketing work, don't focus on your company; instead, turn your focus outwards toward the value you bring to your customers. If this strategy has worked for Airbnb's millions of users, it can work for your business as well.
However, content marketing is not limited to written words. Including different forms of media (including videos and podcasts) will boost your content marketing strategy. For example, your content marketing strategy can incorporate live videos, YouTube videos, webinars, vlogs, web series, short films, as well as user-generated videos, among others.
7. Check Your Mobile Usability
Most people use their mobile devices to access information about local businesses. It only makes sense that your local SEO strategy focuses on optimizing specifically for mobile users.
In addition, Google is moving to mobile-first indexing, meaning the mobile version of your website is indexed and ranked rather than the desktop version. And, come May, page experience signals (including Core Web Vitals) will become an official Google ranking factor. Therefore, optimizing your website for a greater user experience is a smart and proactive strategy that you must implement now.
Before taking steps to optimize your web pages, use Google's Mobile-Friendly Test tool to determine areas if your website is mobile-friendly.
If your website is not yet mobile-friendly, the most important first step would be implementing responsive web design, which adapts the UI of the web page automatically to whatever device a person is browsing for. Besides the quantitative SEO value, delivering consistent UI and UX across devices strengthens your web presence and reinforces your brand image.
Local SEO Success in 2021
You might need to invest more in local SEO than you have done in previous years. At a time when people are physically disconnected, marketing online is the best way (if not the only way) to grab the attention of your target audience. The measures above, if implemented appropriately, are sure to improve your local SEO and lead to business growth.
About the Author
Guy Sheetrit is the CEO of Over The Top SEO, an award-winning marketing agency that provides customized SEO marketing solutions for e-commerce, local, and Fortune 500 companies. He can be found on Twitter and LinkedIn.