With the rise of TikTok and Instagram Reels, it's safe to say that short-form videos are here to stay. Maybe you're already a TikTok or Instagram Reels pro. Or maybe you haven't yet waded into those waters. Whatever the case, YouTube has a short-form video solution to help you start expanding your audience on an already-huge platform: YouTube Shorts.
Creating YouTube Shorts is an easy way to repurpose content or add video marketing to your strategy. We're digging into what YouTube Shorts are and why they might be a good fit for your business.
What are YouTube Shorts?
Regardless of whether you have a lot of experience creating YouTube videos or not, it's easy to get started with YouTube Shorts.
YouTube Shorts are very similar to Instagram Reels or TikTok videos: short-form, vertical videos that people can consume quickly. Unlike Stories, YouTube Shorts last on your channel and don't disappear.
People can enjoy YouTube Shorts on their desktop computer or smartphone. Here's what one looks like in action:
YouTube Shorts length
YouTube Shorts must be between 15 and 60 seconds. You will not be able to upload a YouTube Short that's less than 15 seconds long.
Why your business should make YouTube Shorts
YouTube Shorts allow you to attract new subscribers, repurpose content, and widely market your services or products. Creating and editing YouTube Shorts is just as easy as creating Instagram Reels or TikTok videos.
To be honest, you really don't have a good reason not to.
YouTube has a large and established audience
YouTube Shorts are a great competitor to TikTok. TikTok hit one billion monthly active users, but its audience is mostly Gen Z. Compare that with YouTube's global audience of 2.5 billion and how it's used by 80% of people between 18-49 years old (and 95% of teens).
If you're already creating Instagram Reels or content for TikToks, then posting on YouTube isn't much more work. Plus, you'll reach a whole new audience. YouTube is the second most visited website on the internet. And as one of the oldest online platforms, YouTube comes with an established audience that sees YouTube as a stable and trustworthy source.
Long-form and short-form content creates variety
People enjoy a wide variety of video content—quick dances, short tutorials, unboxing videos, and creative skits. It makes sense that they would also enjoy consuming video content in different forms.
Younger generations are more likely to seek short-form content like video clips and tutorials and user-generated content, according to Google. By creating and posting a combination of long-form and short-form content, you can appeal to the desires of your audience regardless of what they're craving.
If you want an idea of what YouTube Shorts will look like on your YouTube Channel, check out the image below: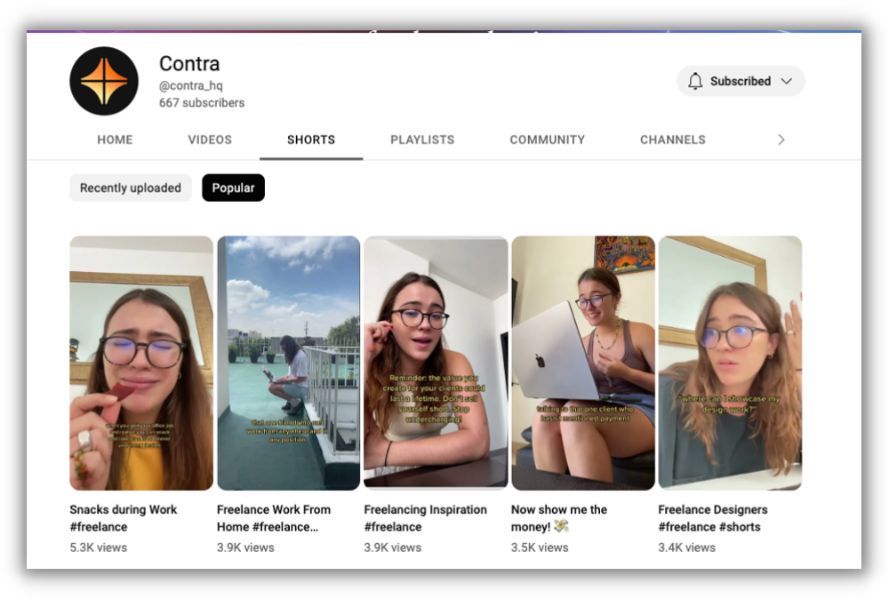 Your competitors are using YouTube to market their businesses
If you're not using videography to market your business, you are in the minority: 86% of businesses use video as a marketing tool.
For your small business, YouTube presents an amazing marketing opportunity. You can:
Show off your products and services
Help customers better understand your offerings
Show behind-the-scenes content
Talk directly to your audience
YouTube Shorts create overall channel growth
YouTube's Culture and Trends report found that 59% of Gen Z use short-form videos to discover topics that they then watch longer versions of. YouTube Shorts are designed to be used on mobile, but they are creating more views on YouTube channels as individuals explore long-form videos created by the same brand.

What to know about YouTube Shorts requirements
Before we dive into the nitty-gritty of how to make YouTube Shorts, let's review a few important rules:
YouTube Shorts must be between 15 and 60 seconds. You can combine several 15-second Shorts into a video to create a one-minute-long YouTube Short.
YouTube Shorts must be vertically shot.
You can use any audio in YouTube's library to further customize the sound of your YouTube Shorts.
YouTube Shorts can be created from original footage shot on YouTube's app, through clips of your original content, or by remixing content.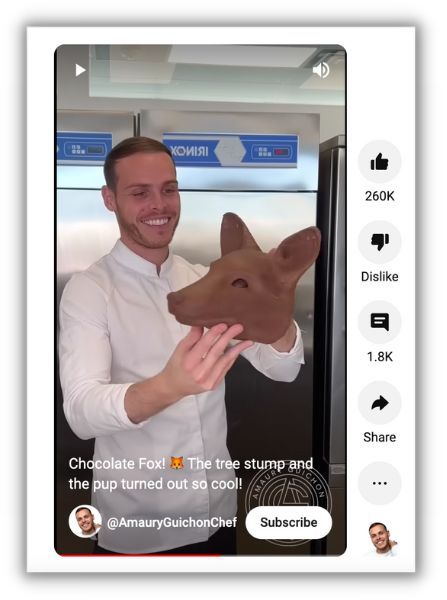 Creators can earn ad revenue after gaining 1,000 subscribers and 10 million Shorts views in 90 days. You'll have to apply to be accepted into the program and create original content.
How to make YouTube Shorts
Creating a YouTube Short is a straightforward process. Simply open the YouTube app on your phone, record and edit a short video, and create your first YouTube Short!
Brainstorm content ideas
The type of content you create will ultimately depend on your goals and interests. Try out these YouTube video ideas if you're feeling stuck:
Behind-the-scenes content. How do you make your product? What do you do in a work day? Share some information about how you do what you do.
Answer frequently asked questions. You probably get some of the same FAQs. Why not create a YouTube Short answering a few?
Create a trailer for a long-form video. Try taking a few clips from one of your long-form videos and create a YouTube Short promoting the video.
Give audience members advice. If your business can teach people actionable skills — like switching out a doorknob or creating the perfect Excel sheet — then you're able to present this advice in a YouTube Short. In fact, one of the most popular reasons why people watch YouTube videos is to learn something new.
Condense information into instructions. Teach your audience an important lesson in a helpful YouTube Short. You could talk them through assembling a cabinet, sewing a craft, or customizing a recipe.
Reuse TikTok and Instagram Reels content. There's no reason to recreate the wheel when you've already put work into TikToks and Reels. Just use the same content to reach a new audience.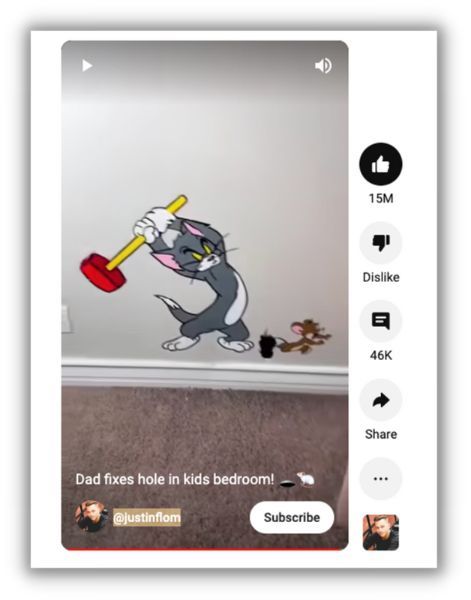 Get started
To create a YouTube Short, you'll first need to download the YouTube app to your smartphone. Log into your account and hit the plus sign button. Then tap "Create a Short."
You'll be asked for camera and microphone access if you are using YouTube to film for the first time. You have to allow access to both to move on to the next step.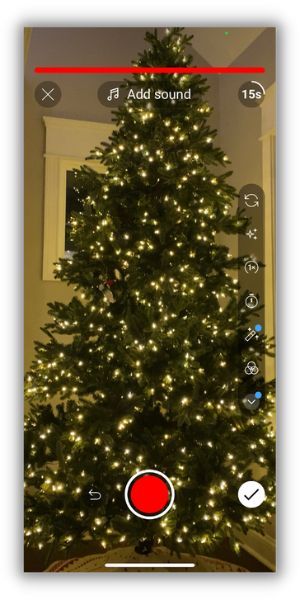 Record your YouTube Short
Just press and hold the capture button or tap it once to start filming. Shorts will default to a minimum of 15 seconds. If you want to shoot a longer video, tap the 15 in the top right corner and change it to 60 seconds.
As you record, you can add more segments. Tap the red record button again to pause recording, and tap again to resume.
You'll see a list of icons on the side to creatively capture more footage.
Flip the camera. You can either have the camera face you or away from you by clicking "Flip."
Choose an effect. Effects range from different types of zooms, distortions, blurriness, mirrored concoctions, and even street views from around the world. It's worth playing around with these effects or looking at how other creators have used them.
Use a green screen. Hit the green screen button to have a green screen behind you.
Choose different lighting, flash, or filters. Change up the look and tone of your video by changing a different filter or lighting.
Choose a different speed. Tap the "Speed" button to slow your video down to 0.3X or speed it up to 3X.
Use the timer to shoot hands-free. If you need a little bit to prepare before filming, tap the "Timer" button. Set the countdown for anywhere between 3 and 20 seconds.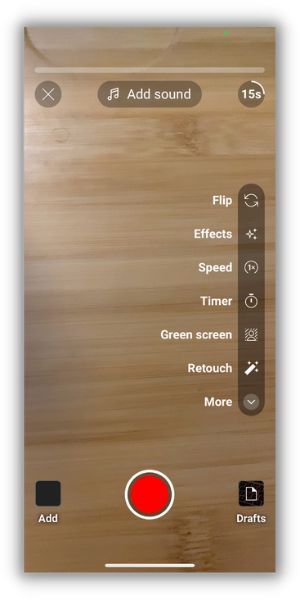 Preview and edit your YouTube Short
When you're all done recording, it's time to work on editing your footage and preparing for publication. YouTube Shorts allows you to customize your videos with the following:
Add music or sound. Tap the sound button to choose from a wide variety of songs and sounds. After you've selected a song, you can adjust the audio clip to a specific part of the song for the length of your video.
Add text. Just like Instagram, you have the option to add text in different colors and different colored backgrounds in seven different fonts.
Add your own voiceover. Hit the voiceover button to add your own original audio to a YouTube Short. Tap and hold the red button to record audio. You can adjust the volume.
Correct the timeline. With all these elements, you want to have them in the right place. Click the "timeline" button to adjust any text and voiceover you've added to your video.
Create YouTube Shorts from video clips
Don't want to film new footage? No problem. It's really easy to upload clips of your videos and transform them into YouTube Shorts.
Find your original video or live-stream footage.
Under the video, tap "Create" to open your clip in the "Shorts" creation section.
Now, adjust the crop of your video. Pan left or right. Drag the sides of the timeline to adjust the start and end times.
Tap "Next."
Add creative touches like filters, effects, music, or other customizations.
Once you're ready, hit "Upload."
Upload your video
Once you've recorded your video and added filters, text, voiceovers, or music, it's time to upload your new content! Don't forget to caption your YouTube Short (just like an Instagram photo).
On mobile
Your YouTube Short will automatically set your visibility to "public" unless you change it. Select your audience. Then choose a comment setting for your video–whether you want to allow all comments or hold potentially inappropriate comments for review. Lastly, if your video includes paid promotion, add a paid promotion label to disclose that it's an advertisement.
When you're ready, hit "upload" to make your YouTube short live! If you're not satisfied with your YouTube Short yet, just save it as a draft and return to it later. Don't forget to promote your work!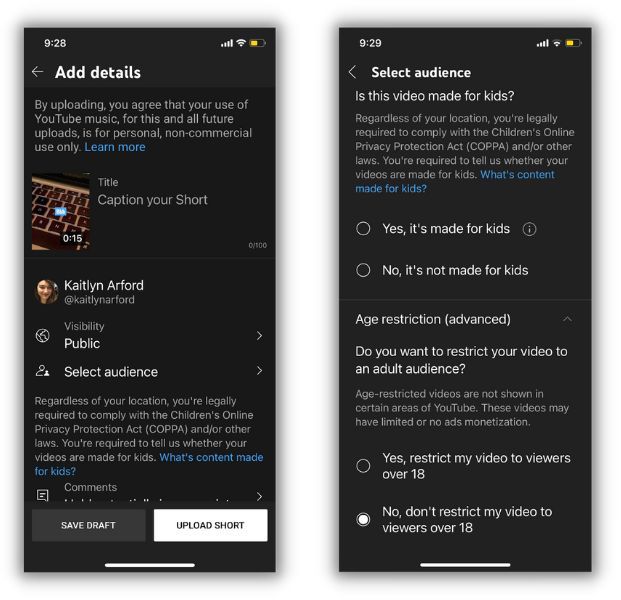 On desktop
While you can't shoot YouTube Shorts from your desktop, you can upload the content there.
Go to your YouTube Studio
Tap "Create" in the top right corner
Upload your YouTube Short
Add a caption and select the visibility and audience details
Publish your YouTube Short
Customize your YouTube channel layout
Viewers will find your YouTube Shorts in a variety of ways:
By checking their notifications
On the YouTube homepage
By subscribing to your YouTube channel
In the dedicated "Shorts" tab
But you can make sure that your viewers will see your YouTube Shorts by customizing your YouTube channel layout:
Sign into your YouTube Studio
Select "Customization" and toggle over to "Layout"
Click "Add section"
Scroll to videos. You'll be able to highlight your videos and Shorts.
Click "Publish"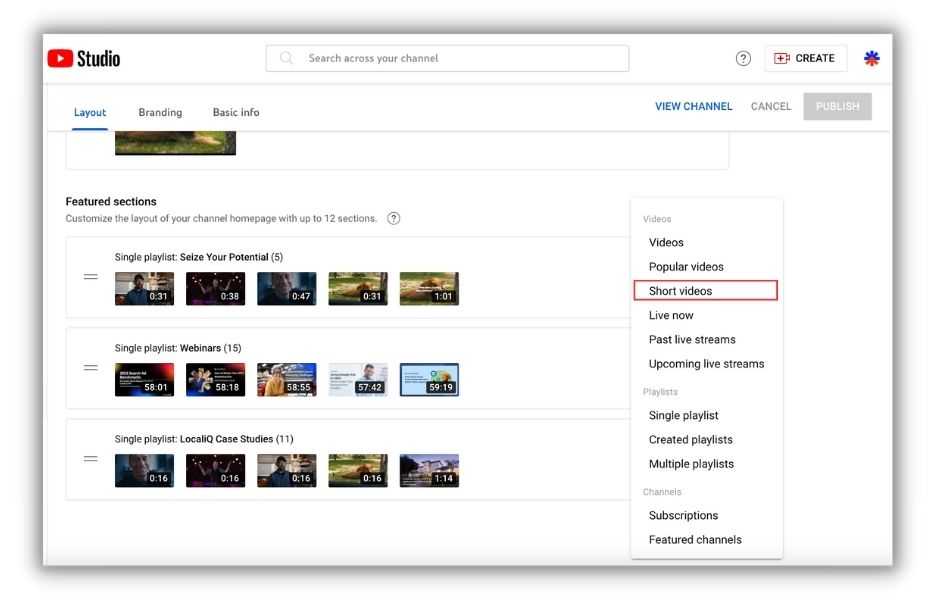 While this is an optional last step, it can really help your reach.
Create your first YouTube Short today
YouTube Shorts allow you to reach a whole new audience and grow your YouTube channel. Brainstorm some new ideas or repurpose video content from Reels and TikTok.
As you film and edit YouTube Shorts, remember that uploading a YouTube Short is just the first step. You'll want to experiment with posting different types of content and create a content calendar so you post regularly. Continue creating and posting content, and see what works for your business!