YouTube Shorts are for everyone, whether you've posted short-form videos before or not. If you're looking to connect with a new audience and grow your brand, then you need to start sharing YouTube Shorts.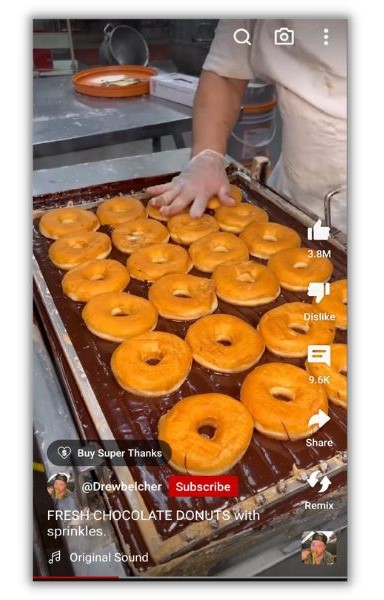 Donut miss out on what YouTube Shorts have to offer.
Of course, you may already know that. The challenge many small business owners face is figuring out what types of content to share. That's why we're sharing 20 different YouTube Shorts ideas that you can implement on your busiest days.
These YouTube Shorts ideas will kick-start your next creation.
What are YouTube Shorts?
YouTube Shorts are just like TikTok videos or Instagram Reels. They're short-form videos that can be uploaded by any YouTube creator.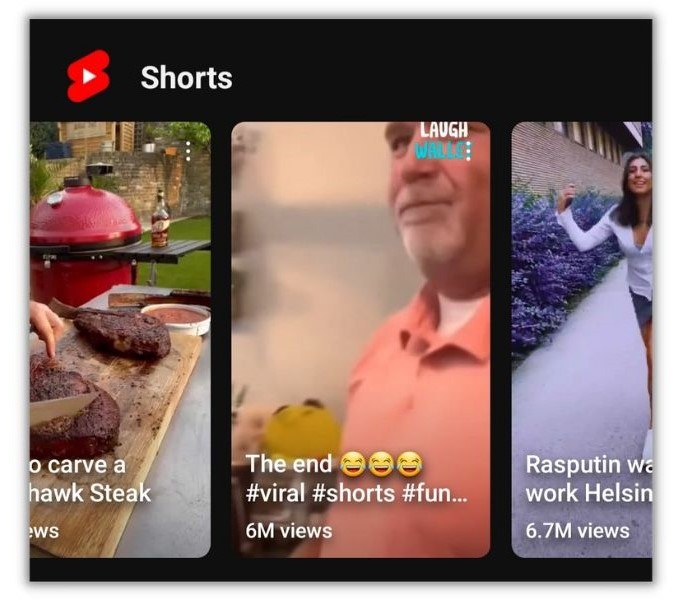 YouTube places a row of Shorts in the middle of your video feed.
Unlike Instagram Stories, YouTube Shorts will appear on your channel without disappearing. YouTube Shorts require that videos must be a minimum of 15 seconds to be posted. They must be between 15 and 60 seconds.
🛑 Grab this small business marketing plan with an editable template to start documenting your growth strategy today!
20 YouTube Shorts ideas to test
It's hard to keep up with social media trends these days. Sometimes it feels like coming up with a new idea is the hardest obstacle to getting started. Make YouTube Shorts a priority (and not a burden) with these YouTube Shorts ideas to test now.
1. Share a quick tip
You know what you're doing. The knowledge that you think of as common is probably unknown to certain members of your audience. Why not share a quick tip with your target audience? It could honestly be anything:
A chef could share a cooking tip
A contractor could share a measurement tip
A gamer could share a hack
Exaltus Whiteboard Animation uses YouTube Shorts to share quick tips with its audience. If you understand the needs of your audience, it'll be easier to figure out what kind of tips to share. People like easily digestible information. By sharing quick tips, you'll become a subject matter expert in the eyes of your audience—and cement your trustworthiness with them.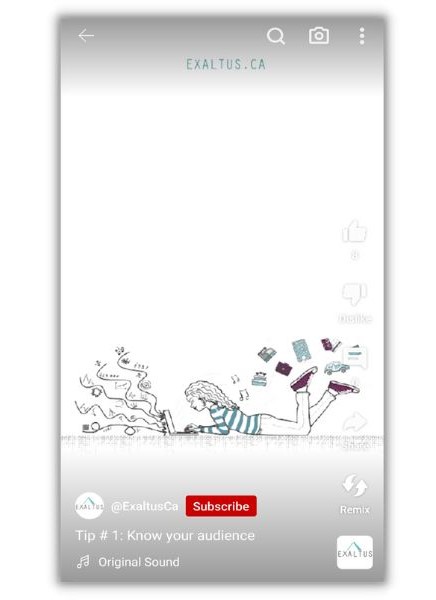 2. Answer questions from followers
Any small business encounters the same questions over and over again. Instead of constantly repeating yourself, craft YouTube Shorts that answer these FAQs.
Try answering questions like:
How did this business begin?
What materials do you use?
What's your return policy?
What do your products cost?
Where are you located?
What are your hours?
The best advantage of this strategy? The next time someone asks you a FAQ, you can simply send them a link to your YouTube Short explainer.
3. Share customer reviews on YouTube Shorts
Social proof is crucial to the success of your business. Testimonials from your customers show your target audience that others have found success with what you have to offer.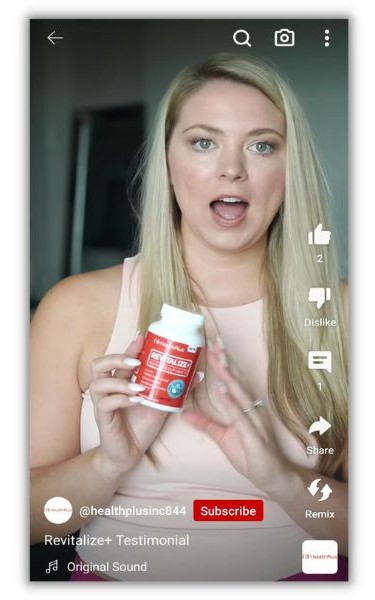 If you don't yet have customer reviews, start asking your customers to leave an honest review. Create a Yelp page and a Facebook page, and own your Google Business Profile so you can show off good reviews online—and repurpose them on social media.
4. Share a software hack
There are so many software options for any type of work—productivity apps, note-taking software, meditation apps, accounting software, etc. You probably already know some handy shortcuts for your most frequently used software solutions. Share what you know with your audience!
5. Talk about your favorite apps
You've probably used a lot of tools and apps to get where you are. People enjoy learning about different types of tools to use that will make their lives easier. Create a YouTube Short where you share your favorite apps. Introduce them to a new tool. Share an app you love that's not yet popular. Then if you want, you can turn your thoughts into a longer YouTube video!
6. Create a YouTube Short showing a day in your life
Film yourself working through the day and turn it into a YouTube Short. Sharing a day in the life gives you the opportunity to share your routine, struggles, and triumphs. You get to showcase your accomplishments and experiences in front of your audience. A day in the life might be typical to you, but audience members will relish the opportunity to better understand your business.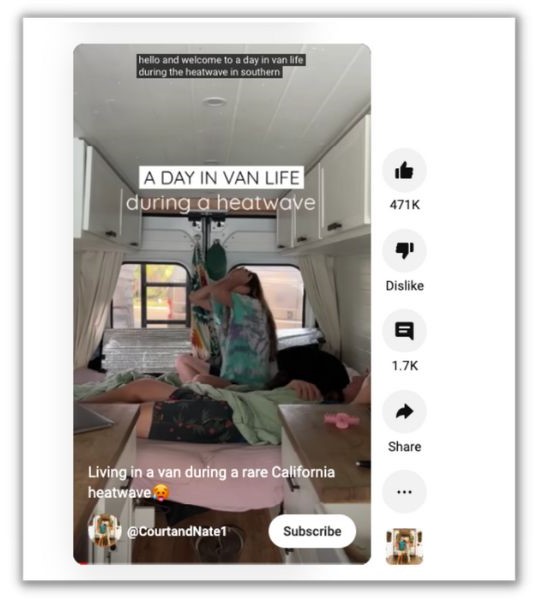 7. Create an unboxing video
Unboxing videos are very popular on YouTube. Why not create an unboxing YouTube Short? Unbox your newest products on screen to entice your audience and introduce them to what you do.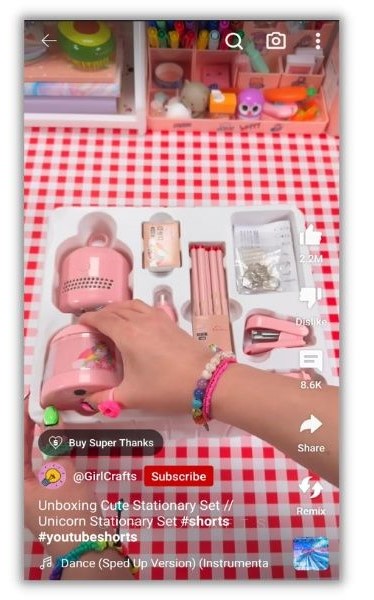 If you don't have products to unbox, then unbox new office supplies, art supplies, or tools that you use to create your products. The key is making the unboxing experience exciting.
8. Introduce employees and volunteers via YouTube Shorts
There's no better way to connect with your audience than to show the people running the show. Introduce your employees and volunteers in YouTube Shorts. Audience members may see them when they come into your brick-and-mortar (if you have one) or may just feel more connected with your business. It's an opportunity to give your brand a personal feel while showing appreciation for your workers.
9. Highlight upcoming sales
Brands will often share upcoming sales on their social media accounts. If you're hosting a big sale, share away!
Your returning customers will appreciate the announcement, and new customers will be drawn in with the sale. After all, why have a sale and not advertise it?
10. Create a short trailer for a new video
Ramp up some excitement for an upcoming YouTube video by creating a short trailer for it. With a 15-second YouTube Short, you can drum up enthusiasm for your next video so more people tune in. Plus, it'll be quick and easy to create a trailer from your existing footage.
Architectural Digest created a YouTube Short promoting its long-form video focusing on Ashley Tisdale's home. In the Short, Architectural Digest focused on one aspect of the home (the library) and used the teaser to lure people in.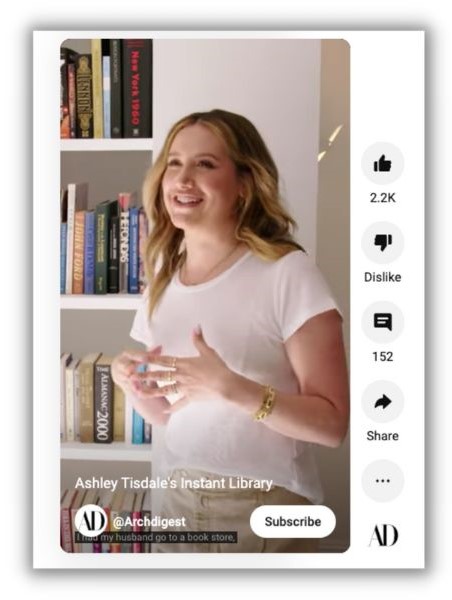 11. Lean into your industry
You know your industry better than anyone. Consider sharing important industry news, trends, and challenges with your audience. Your YouTube Shorts will allow your target audience to stay up-to-date on the news while proving that you are an industry leader.
12. Introduce your pet
Let's be honest: no matter what you do or what audience you serve, pets are a part of it. Your dog, cat, or snake may be your best assistant or coworker. Why not share your beloved companion with your audience?
Pet content is always a crowd-pleaser! You probably already have photos or videos of your precious pet on your phone already. Turn it into a YouTube Short and ask your employees to share videos and photos of their pets too. Sharing your pets will make your brand more personal and create a new connection with your audience.
13. Give a tour of your product, home, or office
Whether you work from home or in an office, sharing your setup will show your audience how you make things happen. People are often curious about where products are made, what your workflow looks like, and what you're up to! Sharing your work-from-home setup is a quick way to relate to your audience without putting in a ton of work.
14. Reuse Instagram Reels and TikTok videos on YouTube Shorts
You may not have a lot of time to create brand-new content for YouTube. Instead, save your time and reuse TikTok videos and Instagram Reels as YouTube Shorts. Reposting content you've already made will result in a higher ROI for your efforts.
👋 Consistency is the name of the game when you share content from one platform to another. Download The Ultimate Guide to Cross-Channel Marketing to learn how to make it happen.
15. Tap into the season
Whether it's the head to summer or holiday magic, you can use your YouTube Shorts to tap into what's happening in the outside world.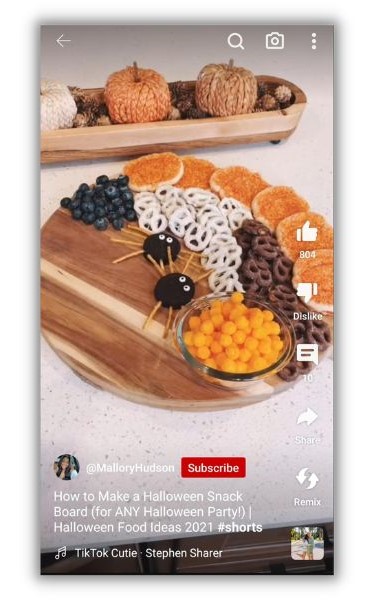 Don't be afraid to get hyper-specific here. Own a coffee shop? Make a YouTube Short celebrating National Frappe Day (yes, that's a thing).
16. Go behind the scenes
Allow your audience to see all the work you do behind the scenes! For example, baker Savannah Moroder shares the process for icing a dinosaur cupcake cake in the YouTube Short screenshotted above. You could easily do something similar. Set up your phone camera and film some videos as you work. You can focus the camera on yourself as you work or just focus on the process.
Need some ideas?
Film yourself packaging an order
Film the creation of your product or service
Film yourself organizing your workspace
17. Share a new product or service
Consider giving a tour of your new product or service to hype it up. Sharing glimpses of your product shows audience members its value.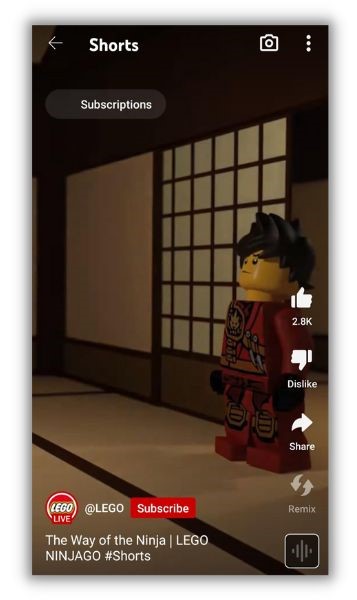 Lego creates animated YouTube Shorts to promote their building blog sets.
In fact, you can add value to your product by showing your audience different ways to use it. If you offer services, show how they help your audience members.
18. Timelapse a project or art creation
Just like sharing behind-the-scenes content, sharing the creation of a project or product will give your audience members a stronger connection to your brand. Just set up your phone to record as you create and then create a timelapse out of the content.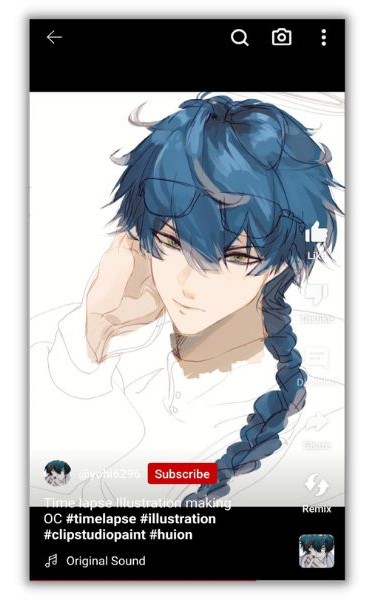 You can even use snippets of the recording to share different steps in the span of 15 to 60 seconds. This is another great way to create content while you're busy working.
19. Summarize a blog post on a YouTube Short
If you have a blog, then you need to prioritize repurposing that content for different platforms. You can easily turn that blog post into a YouTube Short.
Repurpose your content by:
Highlighting the top 10 lessons from your blog post.
Listing tools mentioned in the blog post.
Sharing important quotes from subject matter experts.
20. Participate in trending challenges
Trending challenges that start on TikTok often spill over into Instagram Reels and YouTube Shorts. Use trending challenges and audio clips to connect with ongoing crazes…and interact with different demographics.
Or, if you're like Glossier, you start your own trends.
Start using YouTube Shorts now
We've just discussed 20 YouTube Shorts ideas to start using now. Getting started with YouTube Shorts is likely easier than you think. Just use one of these YouTube Shorts ideas to kickstart your journey:
Share a quick tip
Answer questions from followers
Share customer reviews
Share a software hack
Talk about your favorite apps
Show a day in the life
Create an unboxing video
Introduce employees and volunteers
Highlight upcoming sales
Create a short trailer
Lean into your industry
Introduce your pet
Give a tour of your product or service
Reuse Instagram Reels and TikToks
Tap into the season
Go behind the scenes
Share a new product or service
Timelapse a project or art creation
Summarize a blog post
Participate in trending challenges