Last year, YouTuber Mark Rober's video about building a squirrel-proof birdfeeder was the second-most popular trending video of 2020—behind only a Netflix video featuring comedian Dave Chapelle. Since it was posted in May 2020, Rober's video has racked up 75.1 million views.
Rober is a former NASA and Apple engineer who boasts 18.8 million subscribers and more than 2 billion views overall on his channel, which focuses on science and engineering.
And while it's still a far cry from the Baby Shark Dance video, which, at 8.6 billion views, is the most-watched YouTube video of all time, it's certainly not bad for an individual channel.
And while your business probably isn't going to rack up millions of video views, there are still some simple (and free!) ways you can promote your channel to get more views and subscribers on YouTube. In this post, we'll share:
A quick refresh on why YouTube is a powerful tool for businesses.
16 free ways to promote your YouTube channel.
Easy tips to get started making your business YouTube famous.
The power of YouTube
YouTube boasts 2 billion monthly logged-in users, which, by its calculations, is one-third of the entire internet. And, YouTube says, its viewers watch more than one billion hours of video content daily.
Consider these additional YouTube stats: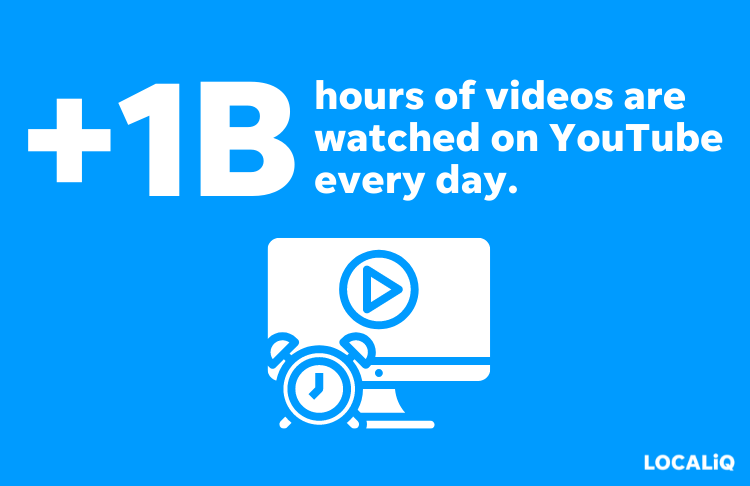 This makes YouTube a compelling platform for businesses to reach customers. But with a reported 30+ million channels, it's hard for an individual brand to cut through the noise and reach the users most interested in its content and products or services. But with a handful of free tactics, it's entirely possible to do just that—and maybe even make it YouTube famous.
How to promote your YouTube channel for free
For starters, of course, you'll need good content. That means not just creating videos for the sake of having video content, but providing genuine value for viewers.
Here are 16 other ways to promote your YouTube channels and your videos:
1. Stick to a schedule
Help consumers know when to expect new content by posting videos on a recurring basis—and make the frequency of your uploads clear. That's because YouTubers "can quickly abide to an uploading schedule," said SEO and video marketing consultant Itamar Blauer.
He noted a consistent schedule is his best tip for how to promote your YouTube channel, along with sticking to a niche.
"It's hard to grow a YouTube channel that tries to cover too many things, whilst also being inconsistent with the timing of their uploads," he added.
James Costa, producer and director at videography and editing service Jim Costa Films, agreed a regular release schedule is "critical."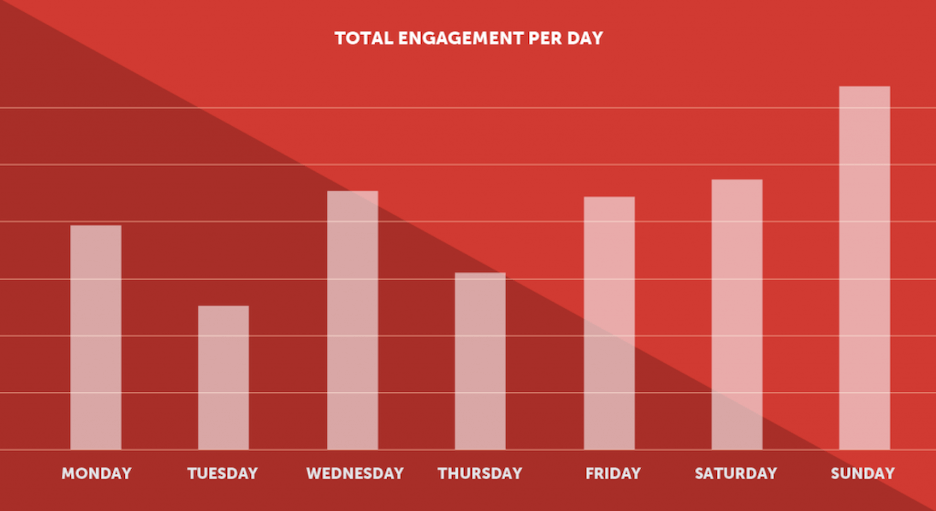 You might consider posting on one of the days with top engagement on YouTube. 
"You must think of your channel content like your favorite TV show," he said. "It airs at the same time on the same channel every week. Your YouTube channel releases should do the same. It gets people/subscribers on a regular schedule and looking for your new content regularly."
Joel Almazar, administrative assistant at digital marketing agency Upgrow, recommends a rate of at least one video per week for brands looking to grow an audience.
2. Optimize your YouTube videos for search channels
And, of course, you'll have to do a lot of optimizing for search on both YouTube AND Google, which has owned YouTube since 2006. In fact, per figures from Olivia Tan, co-founder of online fax service CocoFax, YouTube videos appear in 70% of the top 100 Google search results, and video results are often positioned above links on page one.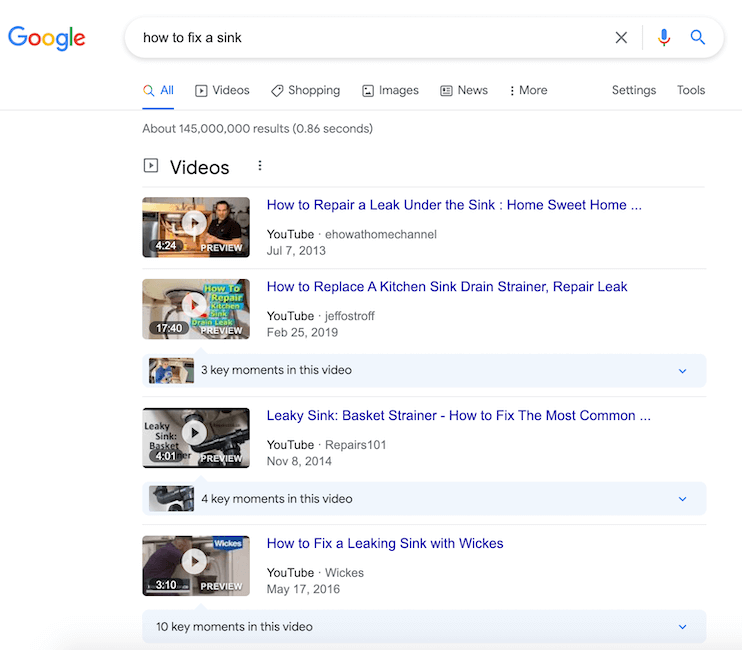 The first results for "how to fix a sink" are all videos from YouTube.
According to David Lynch, content lead for tech-focused publisher Payette Forward, this is the best way to drive free traffic to YouTube. It's also how he grew his subscriber base to 527,000.
"Once we had an audience, we began creating videos with the potential to go viral," he said. "We had success with this approach as one of our videos, 7 iPhone Settings You Need To Turn Off Now, went viral and received more than 13 million views. Nine of our videos now have more than a million views, with several others nearing that threshold."
But there are a lot of elements to consider: keywords, titles, descriptions, and tags, to name a few.
3. Identify the best keywords 
Let's start with one of the SEO basics: choosing the right keywords.
Per Alex Perkins, co-founder of review site All the Stuff, keywords not only help craft SEO-friendly YouTube titles—more on that to come—they may also spur ideas for future videos.
Charles McMillan, founder of LLC resource site Stand With Main Street, agreed Google-friendly keywords are a budget-friendly tactic to increase visibility.
But, Ashleigh Saunders, outreach specialist at link-building agency Art of War SEO, noted SEO for YouTube is slightly different than it is for a website.
In order to optimize for YouTube, brands must first research which keywords are right for a given video. They can do so by using YouTube search to zero in on keywords and phrases or by noting keywords in popular (relevant) videos and/or in competitors' videos. Arthur Iinuma, president of app developer ISBX, suggested also checking Traffic Sources within YouTube Analytics as another way to identify what viewers are searching for.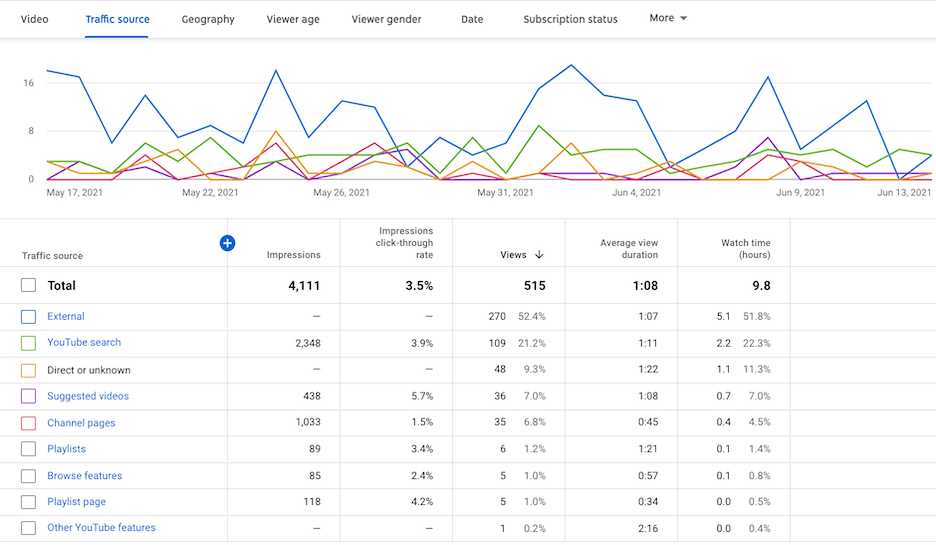 Then, Saunders said, brands have to narrow down the list to the best keyword.
"Ideally, this keyword would have little competition and adequate search volumes," she said.
She also recommends saying the keyword within the video itself.
"This is helpful because YouTube is able to transcribe videos, thus enabling you to leverage this and enhance your SEO," Saunders added.
This ultimately helps videos rank higher in YouTube's search results, said Andriy Bogdanov, CEO of document preparation service Online Divorce.
In addition, Matt Bigach, co-founder of real estate marketing firm Reibar Marketing, said videos should use "some of the most popular keywords on the internet."
These keywords, he noted, "will help you get floating traffic initially and when you start posting videos with high-quality content regularly and consistently, you'll start getting more traffic, followers, and subscribers on your channel."
Related: Check out the best YouTube channel description examples to help you craft one for your business.
4. Tease videos with titles
According to Krista Neher, CEO of digital marketing training firm Boot Camp Digital, the key to optimizing videos is choosing a commonly searched phrase or question—and including it in the YouTube title.
That's what Boot Camp Digital did with its "What is a Hashtag?" video in 2013. Eight years later, Neher said it is the top result for a Google search on the topic and has almost 400,000 views.
"Even though the video was created in 2013, it continues to earn thousands of views each month since Google provides a steady stream of traffic," she added.
In addition to keywords, McMillan noted insights into your target audience can help brands craft engaging titles to "lure people to go and watch your videos."
Tan agreed titles are "make-or-break when it comes to your video's performance." The key, she said, is capturing attention without resorting to clickbait.
"Ask yourself: Are you presenting your content as 'must-see' or 'meh?'" she added.
Additional tips include keeping titles brief, Almazar said.
5. Include accurate descriptions for your videos
Keywords should also appear in video descriptions—but only if they accurately describe the content.
"If your title/description doesn't accurately reflect what the video is about, people will click away from it quickly and move on," Costa said. "This hurts you in multiple ways because it lowers your total watch time and retention."
Matt Barnett, CEO of video app Bonjoro, agreed adding keywords to the description helps videos rank higher in search.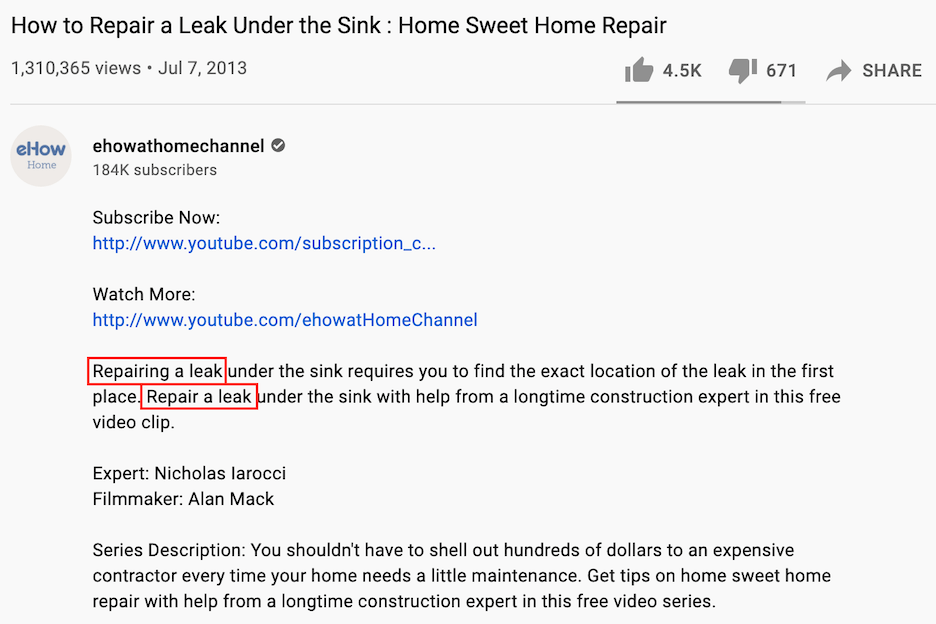 This is the first video result for "how to fix a sink" on Google. You can see that the description includes "how to repair a sink" multiple times without resorting to keyword stuffing.
A bonus tip: Bigach recommends including a URL in the description to increase traffic to your website.
6. Add tags to help YouTube understand content
This keyword strategy extends to YouTube tags, too.
"Tags are your way of talking to the YouTube algorithm in a language you're sure it'll understand," said Solomon Thimothy, co-founder of agency platform ClickX. "And since these tags play a major part in getting your video up in the search results for the keywords you've entered, tags are the in-house advertising tool that you should pay lots of attention to."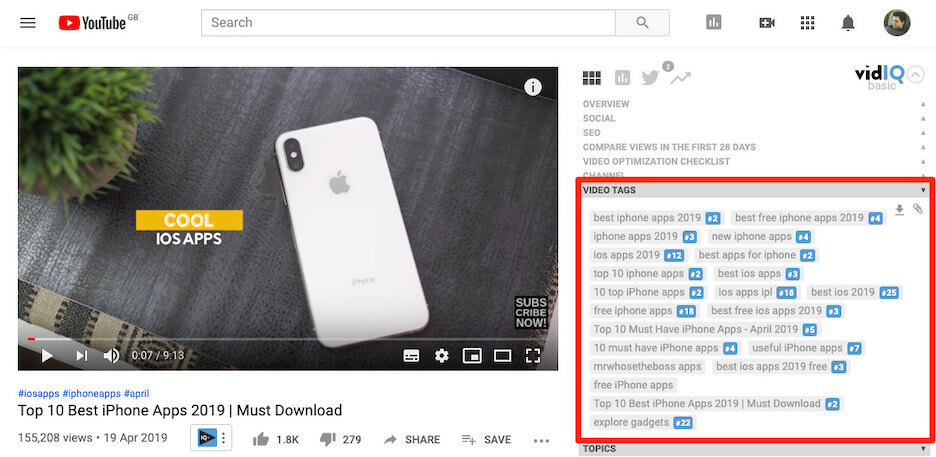 You can see that the YouTube tags in this example give an idea of what this video is about. 
Barnett agreed that tags—and keywords—help "the YouTube algorithm better understand what kind of video it is so that it can deliver the video to others that might enjoy it."
7. Utilize timestamps
Think that's it for keywords? Think again: Timestamps with brief descriptions are yet another way to incorporate keywords and boost YouTube SEO—and increase your odds of discovery.
"They'll even show specific sections in Google Search results," said Greg Birch, senior SEO specialist at Store Space Self Storage. "So if you search 'how to tie on a fishing hook' on Google, there's a good chance that a YouTube video will show up and start you on a timestamp that is similar or identical to that phrase."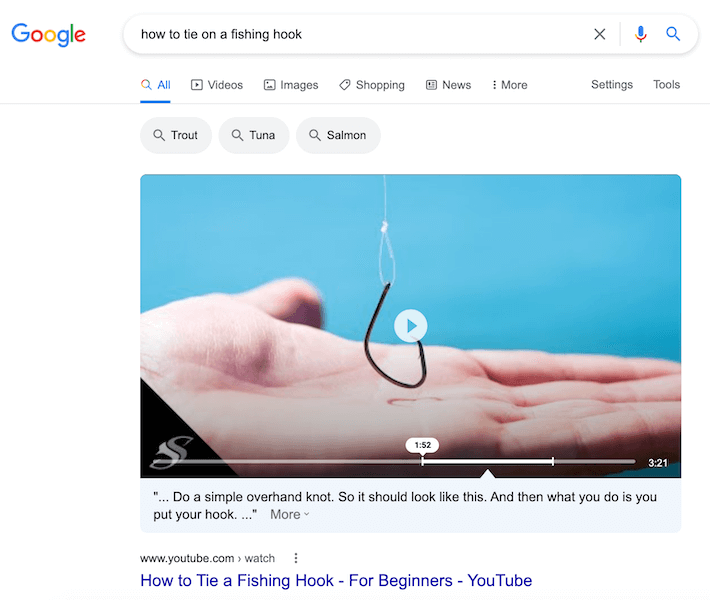 This example shows a particular YouTube video timestamp ranking for the searched keyword phrase on Google. 
8. Fill out every available field for your YouTube videos
In fact, Costa said, just go ahead and optimize everything.
"YouTube asks for a lot of information on every video [on the backend], so fill it out as it allows them to properly categorize your video so it can be found later much easier," he added. "You need to do all this before you make the video public."
9. Create playlists on your YouTube channel
Another way to easily promote your YouTube channel and get more people to watch your videos is by creating playlists.
By grouping videos with related content together with unique titles, you can not only increase viewership, but subscribers, too, said Andre Oentoro, founder of Breadnbeyond, an explainer video company.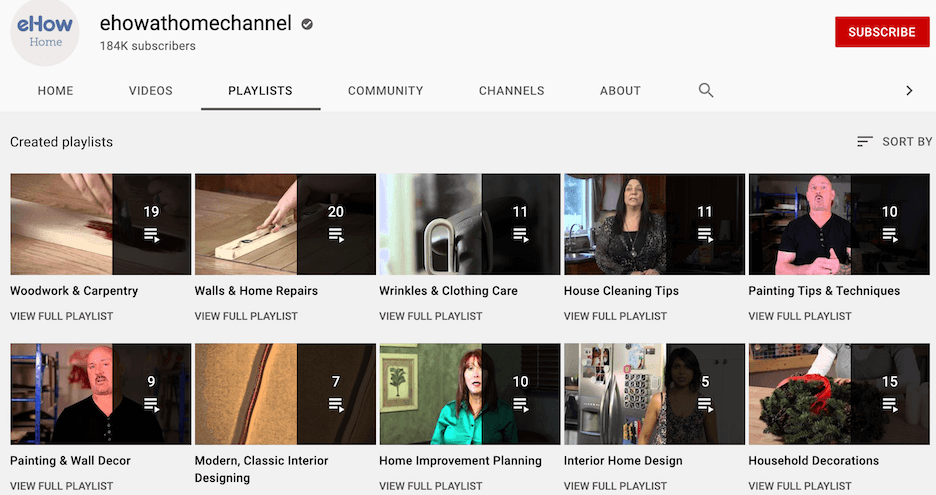 "Make sure they are in order so that viewers can watch them back-to-back," he added.
An added benefit is YouTube then sees "you're producing great videos that people want to watch," Costa said. "If people fully watch one of your videos all the way through and then click over to another video on your channel, YouTube will promote your videos to other watchers, which will grow your channel further."
YouTube playlists also help brands capitalize on the popularity of a single breakout video, Costa said.
Bonus tip: In addition to YouTube playlists, create a YouTube channel trailer with highlights from your playlists!
10. Choose the right thumbnails
Visuals like intriguing thumbnails supplement text to also help nudge viewers to watch.
"You know that old adage about how you can't judge a book by its cover? Well, in the world of YouTube, viewers do not abide by this," said Kate MacDonnell, CMO of coffee site Coffee Affection. "The thumbnail for your YouTube video is of the utmost importance."
In fact, Almazar said YouTube thumbnails might even be more important than titles.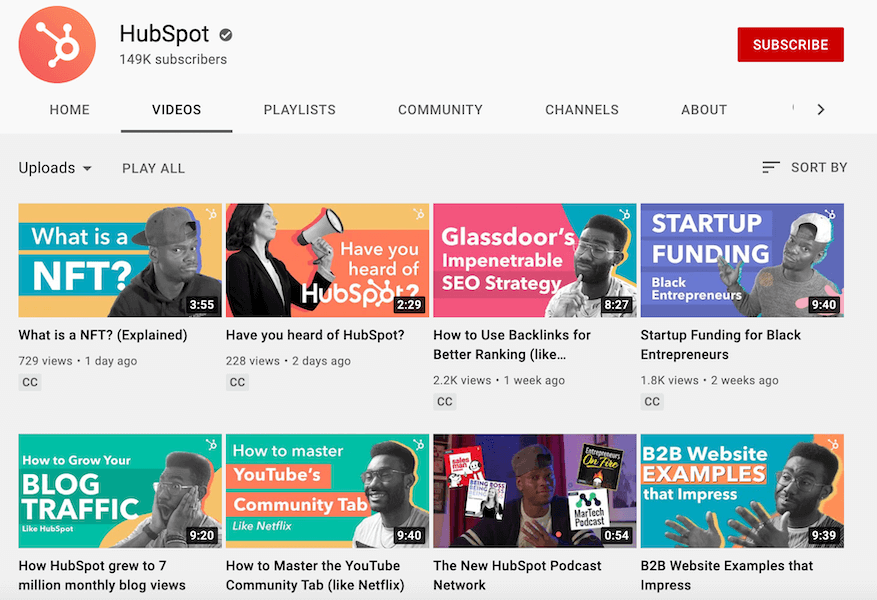 HubSpot has brand-consistent and eye-catching YouTube thumbnails on its channel. 
"Since our brains are hardwired to notice visuals first, this is the case," he said. "Videos on YouTube have automatic thumbnails, but they can be distorted or out of focus. Build an eye-catching custom thumbnail for each video you share to increase views."
Petra Odak, CMO of online proposal software Better Proposals, noted it doesn't take a lot of heavy lifting—just "a few minutes spent in a basic photo editing app."
And Bishal Biswas, CEO at Scrabble site Word Finder, pointed out that the thumbnail is what appears on all platforms where you share links, so you want a high-quality customized image to promote these videos.
11. Experiment with YouTube Shorts
YouTube launched YouTube Shorts, or short-form videos users can create on mobile phones, in September 2020.
This, Birch said, creates an opportunity to get video content "in front of thousands of people who have never heard of you."
He noted rules are still "soft" for creating Shorts.
"For instance, YouTube seems to be suggesting that videos need to be 15 seconds long, but I certainly have not known this to be the case," Birch added. "You do want to shoot for less than 60 seconds though."
In addition, the videos should be vertical, although he said landscape videos have shown up in Shorts, too. And including #Shorts in video titles and descriptions can encourage YouTube to highlight these videos.
"You are also more likely to get your video picked up and shown more frequently if it seems like fun, non-promotional content," Birch said. "This is a huge opportunity because I have seen accounts with less than 10 subscribers show up in Shorts."
12. Interact with other YouTubers
Beyond creating and optimizing content, commenting on other YouTube videos can have what Peter Koch, founder of financial site Dollar Sanity, described as "a major impact on the number of views your videos and profile receive."
He added, "Start by commenting on other videos in your niche…and you'll get noticed."
That's because these comments help spur curiosity, visits, views, and subscriptions, Koch added.
Smaller brands, in particular, can use commenting on the videos of larger brands to help grow their audiences, Costa said.
"If you comment on their newest video release immediately after it's released, your comment will appear at the top of their comments and their audience will see your comment and may take an interest in your content," he said.
Daniel James, CEO of video marketing site Tubefluence, agreed that engaging users by commenting and responding is one of the best ways to promote a YouTube channel.
"Think about it—these people are already on YouTube," he said. "You don't need to direct them there through a social media post or an email. All you need to do is grab their attention by responding to a comment they left on another video or by leaving a comment on one of their videos."
He recommends responding to unanswered questions left on relevant videos as well.
"When commenting, you don't need to have a call-to-action to visit your channel, website, etc.," James said. "Simply responding to a user's comment will be enough to entice them to visit your channel—it's the theory of reciprocity in action."
That being said, don't neglect your own comments.
"Respond to all messages, positive or negative, and 'heart' your favorites. Make a video response," Almazar said. "Use analytics to find the most ardent supporters and lavish extra attention on them."
13. Collaborate with other YouTubers
In a similar vein, working with other brands or creators can help promote your channel.
"One of the best ways to grow on YouTube is to leverage another established channel's audience," said Amir Shahzeidi, SEO lead at video content monetization platform Uscreen. "Find like-minded creators and businesses on YouTube with relevant audiences and collaborate with them on unique content."
Deepak Shukla, founder of B2B lead generation agency Pearl Lemon Leads, noted SEMRush's YouTube channel has 80,000 subscribers, so he offered to create a video with tips on B2B LinkedIn profiles.
"They got a high-quality video and I got the opportunity to expose my brand to thousands," he said. "My SEMRush B2B LinkedIn Profile video has over 25,000 views and allowed me to grow my brand on YouTube."
14. Cross-promote your YouTube channel's video content
After posting his own weekly videos, Costa noted he also posts links to all his social media accounts.
"It's all tied together into a cohesive strategy to draw people back to YouTube to grow my channel, which, in turn, exposes them to my business and services," he said.
In fact, Alejandro Uriarte, personal injury attorney at law firm 1-800-Injured, said diversifying your social media marketing can even help content go viral.
"Don't simply wait for your audience to find you," he said. "Generate exposures in as many avenues as conceivably possible. For example, as well as posting about your videos on multiple social media platforms, you can also discuss them on your Instagram Story or include snippets of your video content on Reels or TikTok."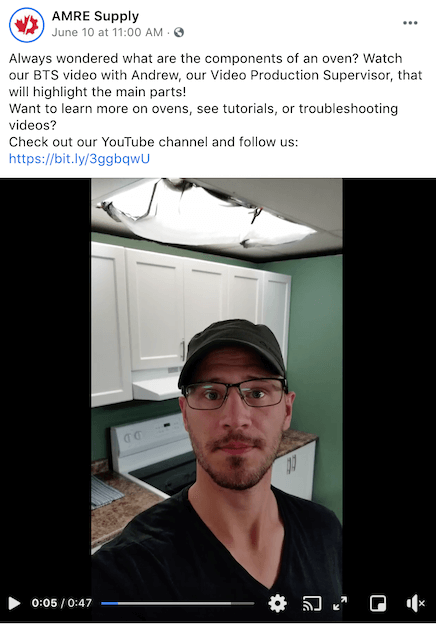 This business posted a short teaser to Facebook that promotes its YouTube channel. 
This helps maximize the opportunities viewers have to find your YouTube channel.
"By referencing your YouTube channel on every available avenue, people are considerably more likely to learn about your channel and check out your content," Uriarte added.
Karthik Subramanian, senior content manager at graphic design software platform Picmaker, recommends breaking down videos into smaller clips when sharing on social channels—and including links to the full video.
In addition, don't forget online forums.
"Since our business is about condos and real estate, we look up Facebook Groups and Subreddits that talk about our niche," said Tal Shelef, co-founder of real estate site CondoWizard. "This is good because posting in these groups is free. And we have a good target audience considering that it's free."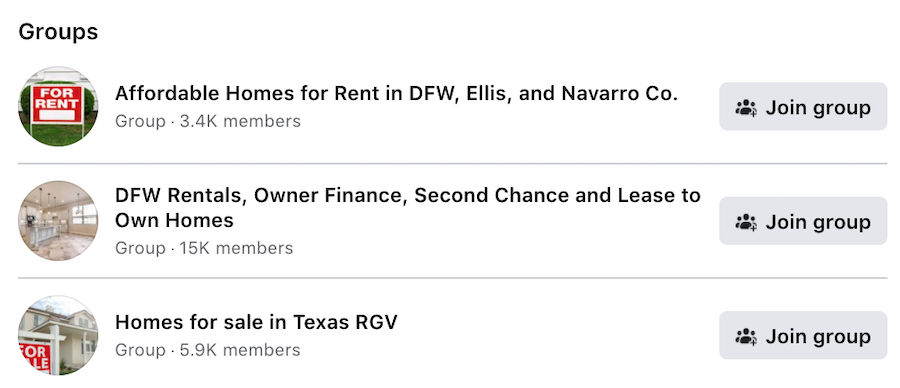 Anthony Martin, CEO of insurance agency Choice Mutual, agreed that relevant communities on platforms like Reddit are a useful tactic to promote a YouTube channel.
"This will create meaningful discussions around your content and heighten your propensity to go viral," he added. "After all, the best way to make your business YouTube famous is not just to make the viewer or subscriber count go up. You need real, genuine interactions and quality conversations to form before you can achieve virality. Posting about yourself on niche discussion boards helps you achieve exactly that."
Subramanian pointed to question-and-answer site Quora as another option on which brands can answer relevant user questions with videos.
15. Tap into online learning platforms
According to Lachezar Arabadzhiev, CEO of online learning platform Skild Labs, online learning can also help brands grow on YouTube if they post educational content on sites like Udemy and Skillshare and include calls to action (CTAs) to visit YouTube to learn more. Marketing platform Moz has done just that with its SEO training course.

"If you have content that provides value, you can publish a portion of it for free," he said. "That will provide you a platform with millions of users, who will get an understanding of your brand."
16. Use email marketing to promote your YouTube channel
In a similar vein, Costa said training videos have helped him monetize viewership.
He offers free information in exchange for email addresses, which he can then use to "market directly to people interested in my videos and my services."
Will Hankinson, owner of YouTube tool IntroCave, started including a YouTube link in his monthly newsletter last year. "I've seen 20-30 new subscribers per month just from that simple inclusion," he said. "That doesn't sound like much, but it's enough to get the snowball rolling."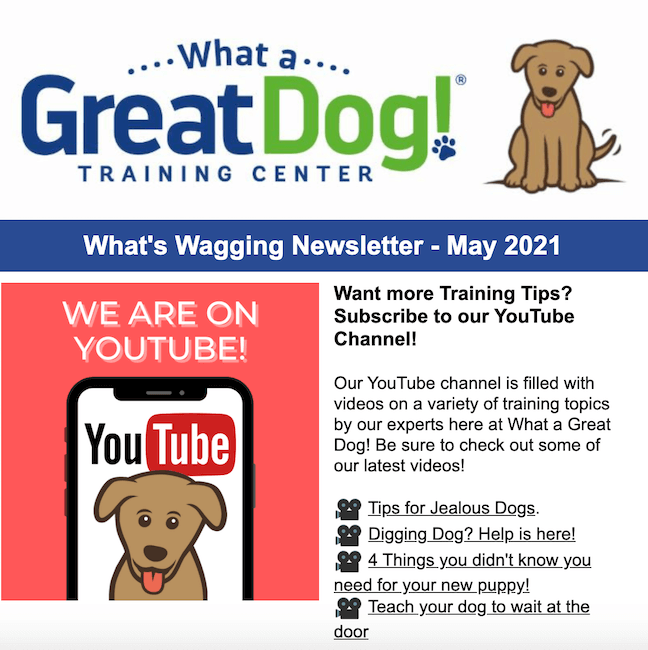 This business is using its newsletter to promote its YouTube channel. 
Promoting your YouTube channel or specific videos as part of your email marketing or newsletter strategy can help you increase visits to your channel and views of your video while providing educational and helpful content to your audience.
Start promoting your YouTube channel today
When you know how to promote your YouTube channel, you can increase awareness for your business on this popular channel and reach more potential customers. Here are those 16 free ways to promote your YouTube channel:
Stick to a schedule
Optimize for search channels
Identify the best keywords
Tease videos with titles
Include accurate descriptions
Add tags to help YouTube understand content
Utilize timestamps
Fill out every available field
Create playlists
Choose the right thumbnails
Experiment with YouTube Shorts
Interact with other YouTubers
Collaborate with other YouTubers
Cross-promote video content
Tap into online learning platforms
Use email marketing to promote your channel