After the Olympics had to take a hiatus in 2020, they're back in 2021─along with an extreme amount of hype since fans have waited extra long for this year's games.
With all the buzz, this is a can't-miss marketing opportunity for small businesses to capitalize on.
You don't have to be a sports fanatic or even a sports-related business to take advantage of Olympic promotions. Today, we're going to explore how Olympic marketing can work for any business by uncovering the following:
What are the three Olympic values? And, how they can apply to your small business marketing?
7 Olympic marketing ideas for small businesses.
How to jump into these ideas just in time for the start of the games.
By the end of this read, you'll have an idea of what Olympic marketing tactics might be a fit for you this season as well for years to come!
The three Olympic Values applied to small business marketing
With most Americans planning to tune in and a historical viewership in the billions worldwide, the attraction of this year's Olympic games is a must-have for your local marketing plan.
But before we get into how you can make this quadrennial event work for your small business, we thought it would be good to refresh on the meaning behind the three Olympic values as they can relate to your marketing this year:
Excellence: Just like the Olympics strive to bring in the best of the best athletes, your marketing during this time and throughout the year should get 110% of your effort. That's why we'll be diving into how you can use these Olympic marketing ideas across all your available platforms.
Friendship: Think of your customers as your friends when you're marketing to them. Today, we'll be identifying some ideas that cater to your customers' needs and get them engaged with your business.
Respect: While all the athletes in the Olympics consider one another competitors, they still are working towards the common goal of bringing the world together for one special event. We'll also be discussing how you can work with other small businesses nearby to collaborate for an Olympic marketing plan that benefits both you and your community.
7 ideas for 2021 Olympic marketing
Without further ado, let's flex our seasonal promotion muscles and dive into some Olympic marketing ideas:
1. Offer Olympic related discounts
93% of consumers use a discount or coupon code at some point throughout the year. But it doesn't just have to be around the holidays, so use the Olympics as your time to entice your customers to spend now rather than later.
For example, if your business attracts tourists from out of town, you can offer a discount to customers from the country with the most gold medals or from a certain country competing in the Olympics. Or another fun idea is to make Olympic brackets for customers to fill out, and you can reward the customer with the best bracket with a gift card to your store.
It's easy to promote these Olympic-themed discounts by adding them to your usual multi-channel marketing mix, like email newsletters and social media.
2. Promote sports-themed limited-edition products or services
Color can make your brand up to 80% more recognizable by popping off the screen or store signage to catch Olympic watching eyes. Take your discounts a step further by creating Olympic-themed packages of services like Bronze, Silver, and Gold. Or offer special products in the colors of the country you're rooting for, like red, white, and blue.
An example of this would be businesses like massage therapists or physical therapists temporarily tweaking their office or patient regime with Olympic-themed sports decorations or special "Olympian" stretch workouts to increase foot traffic or boost online sign-ups.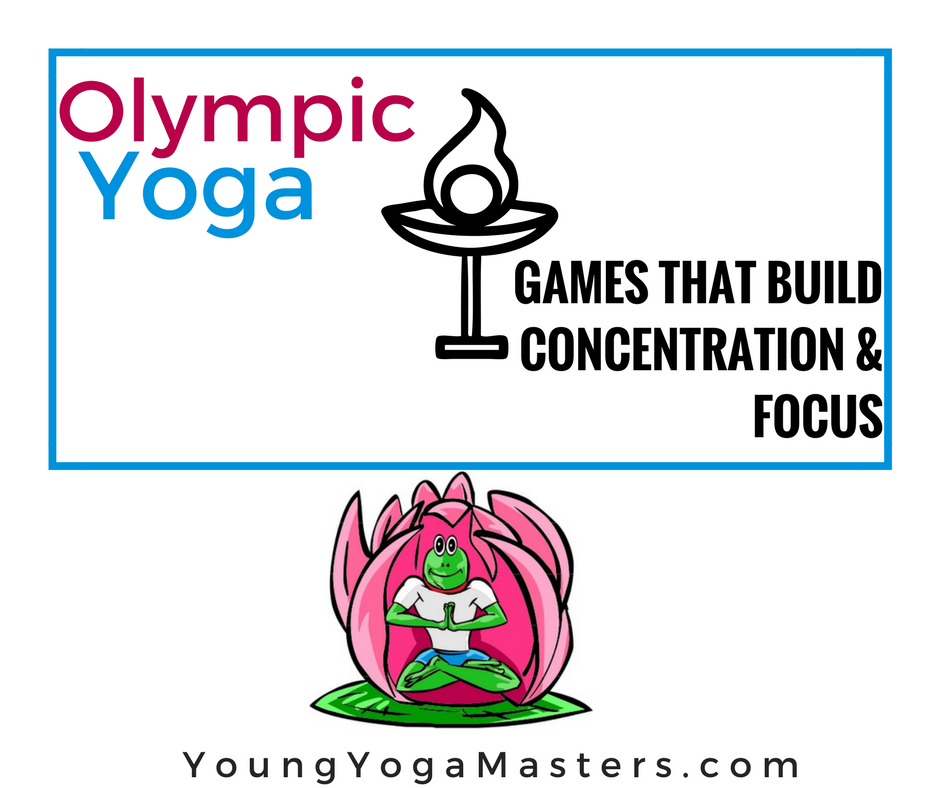 3. Post Olympic-themed social media posts
You can increase social media engagement in more ways than adding a hashtag to your posts. Post about athletes competing in the Olympics and cheer them on in their Olympic journey on social media—especially if they're from your area.
You can have your employees make signs for their favorite athletes or come dressed ready to play their favorite Olympic sport and share pictures on your social media pages.
There are countless other ways to include your social media pages in the Olympic hype. Post a video of your predictions for the Olympics or of you wishing your favorite Olympic team good luck as they try to bring home the gold. Plus, asking your followers to comment on who they're rooting for in the big events will boost your interaction rates.
4. Use an Olympics marketing hashtag
Staying up to date with what's happening during the Olympics can help your business grow engagement on social media. But in order to get more people to find your business on social media in the first place, you may need to use hashtag marketing within your post captions. We know the Olympics are one of the most popular events in the world, so create your own custom hashtag for your business in support of the 2021 Tokyo Olympics.
For example, businesses can create a scoreboard for the Olympics and encourage customers to post pictures of it using your custom hashtag for a reward. While it's helpful to use trending hashtags, make sure not to use the United States Olympic Committee's official hashtags for the Olympics unless you're an official sponsor.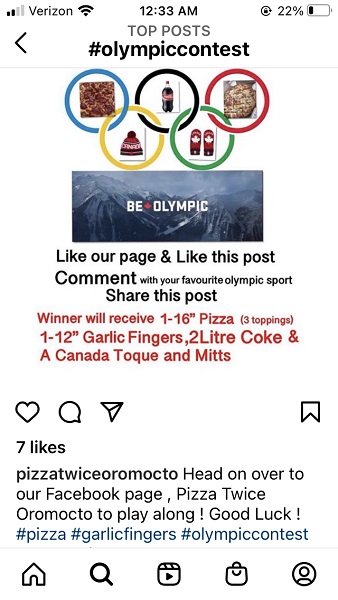 5. Host your own Olympic games
Want to get in on the action? Partner with another local business and hold your own Olympic games between each other so that both of your businesses can benefit from meeting potential new customers and increased visibility.
The key for this to work for any small business is to compete in games that are universal for any location and weather, like cornhole, foosball, or three-legged races.
Encourage your customers to come out and participate by offering discounts and coupons to those who attend. For example, restaurants or bakeries can compete in Olympic-themed events while handing out samples of their favorite foods to spectators. Or a local roofer could offer a free assessment at the event.
You can promote this event on channels like Facebook and expand your reach even more!  After all, who doesn't love a little healthy competition?
6. Host your own Olympic watch party
Instead of partnering up for your own games, you could sponsor another local business's watch party for the Olympics and promote your business there as well. Or, even better, host your own! We already know there's a high rate of viewers during the games, so this will be sure to bring you a good turnout.
There are plenty of cheap decorations available and free ways to promote the party, plus this brings together your community for a family-friendly event. If you're short on resources, you could even host a live virtual watch party that your customers can join from anywhere.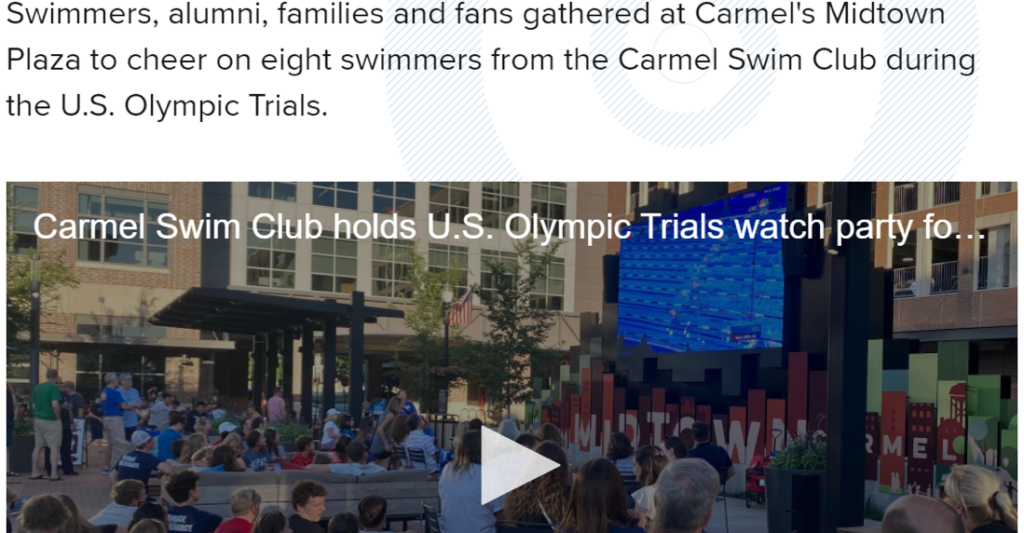 7. Run an Olympic related trivia contest
Although it's not an Olympic sport, trivia is one of the few classic games that still has users and viewers in the multi-millions today. So, win over some of that popularity by testing your customers on their Olympic knowledge.
For example, a cafe can ask customers an Olympic-related question for the chance to win a discount on their order. Of course, you can spread the news in-store, but you can also promote the trivia game online. And, not just with social media, but even with paid ads.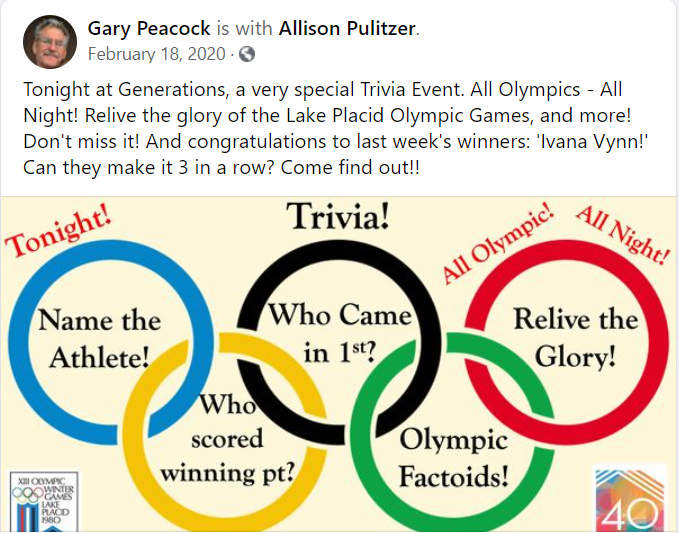 Hit the ground running with Olympic marketing
Olympic marketing is one of the few tactics that can be a fit for any business since the odds are you have some customers interested in this year's games. Try out a couple of different ideas from above to see what works best, then recycle that for years to come! With quick and easy integration into your current marketing through social media, email, PPC, and more—you can run a small business-friendly Olympic marketing campaign without breaking a sweat!