They say that a relaxed mind is a creative mind, but if you ask me, coming up with content for your email newsletters is never as easy as it seems it should be. And how can you relax knowing that your readers can unsubscribe in one click? It's v. stressful.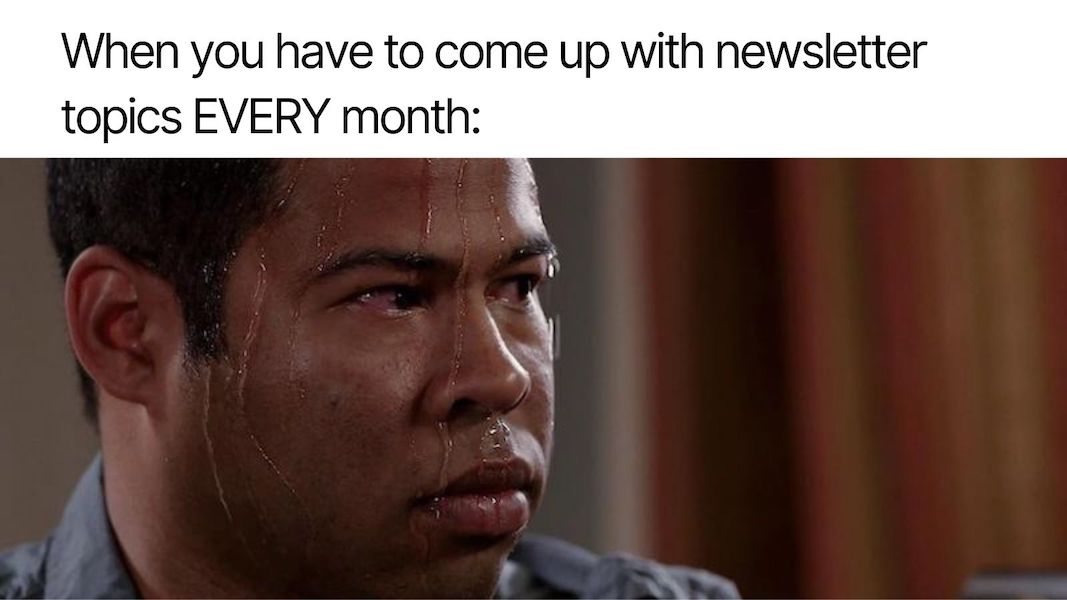 So you'll be happy to hear that aside from typical holidays like Independence Day and Thanksgiving, each month of the year has its own set of awareness causes and observance days that open up endless avenues for creative and meaningful email marketing.
So in this post, I'm going to share with you:
138+ potential topics you can use in your newsletters
75 newsletter ideas from those topics
12 real examples you can model after
Table of contents
Click below to skip to the month you want ideas for, or browse the whole post to get the full experience!
January newsletter ideas and topics
January is the month for fresh starts, resolutions, goal setting, the post-holiday blues, snow days, and more.
January awareness
Human trafficking
Mentoring
Slow cooking
Blood donor
January national days
Clean Off Your Desk Day
Vision Board Day
Dress Up Your Pet Day
Get to Know Your Customers Day
Backward Day
Newsletter ideas
Announce your goals for the year and how you plan to bring even more value to your subscribers. Include some teasers to keep them looking forward to future emails.
Appeal to post-holiday blues and cheer readers up with inspirational content or a mini-sale.
Give your readers a compliment and a coupon they can use on National Compliment Day.
Share photos from any holiday events or fundraisers you ran or participated in.
Run a flash sale on a snow day, or provide a coupon to be used on a snow day.
More January marketing resources:
February newsletter ideas and topics
February is more than just the month of love (or singledom, for that matter). Let's take a look:
February awareness
Heart health
Black history
Children's dental health
American history
Cancer prevention
February national days
Girls and Women in Sports Day
Make a Friend Day
Groundhog Day
Random Acts of Kindness Day
February newsletter ideas
Celebrate Black History Month by featuring an influential Black member of your community or industry; link to a blog post with the full interview.
Share (even more) love with a customer appreciation email.
Send out a discount, coupon, or special offer on Random Acts of Kindness Day, encourage your readers to pay it forward.
Let your readers know that you'll be emailing out one of two promotions based on whether the groundhog sees his shadow.
Feature your most-loved products.
Promote a referral program (they share the love!) or customer loyalty program (you share the love!).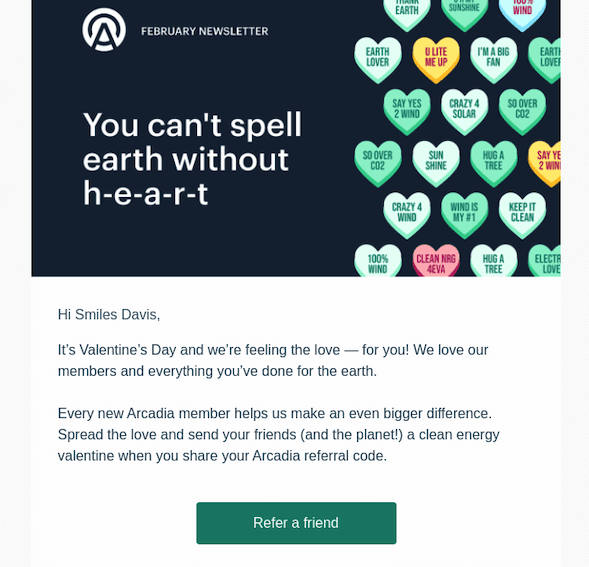 More February marketing resources:
March newsletter ideas and topics
March is the month of March Madness, MLB opening day, the first day of spring, daylight savings, and the whole in like a lion, out like a lamb thing. In addition, here is some more material for your March newsletter.
March awareness
Women's history
Nutrition
Reading
Brain Injury
March national days
Mom & Pop Business Owner Day
Pi Day
Puppy Day
National Day of Unplugging (probably not a good idea to send out your newsletter on that day).
March newsletter ideas:
Include a puppy photo. Anywhere in your email. Puppies are the silver bullet of visual marketing (kidding but also not).
Send out some advice on how to Spring forward after the time change.
Do some cross-channel promotion. Tell readers about your Instagram giveaway for a lucky St. Patrick's Day prize.
Share pictures from any February volunteer events or Valentine's Day celebrations.
Spotlight an influential female in your company, industry, or customer base.
Run an email-exclusive pi day sale or Mardi Gras mystery sale.

More March marketing resources:
April newsletter ideas and topics
In addition to Easter, Passover, and April Fool's Day, we've got taxes, spring cleaning, prom season, spring break, and the Boston Marathon. What else? Plenty!
April awareness
Financial literacy
Planet earth
Sexual assault
Child abuse
Autism
April national days
Tax Day
Earth Day
Email Debt Forgiveness Day
High Five Day
April newsletter ideas:
Send out a bogus email on April Fool's Day (but then link to a blog post or landing page that provides the real information or real offer you're promoting).
If you're a B2B business, encourage your readers to acknowledge Administrative Professionals Day within their organization.
Promote your affiliate program on High Five Day, or send a virtual high five to your readers with a small offer.
Announce your Mother's Day and graduation specials before the season gets underway.
Add a teaser on a flash sale you're going to run on MLB Opening Day.

More April marketing resources:
May newsletter ideas and topics
May is graduation season, the time when things are in bloom, and summer is right around the corner. In addition to Memorial Day, Mother's Day, Cinco de Mayo, and the Kentucky Derby, there are plenty of other topics to target in your May newsletter.
May awareness
Small business
Women's health
ALS
Mental Health
May national days
Teacher Appreciation Day
Bike to Work Day
Geek Pride Day
Burger Day
May newsletter ideas:
Give subscribers a schedule of your sales promotions for National Small Business Week.
Let readers know that for a particular time period, you'll be donating sales proceeds to a local organization that supports veterans or the troops.
Throw in some fun Star Wars facts for those in your audience who will be attending Star Wars Day trivia events.
Link to your Graduation or Mother's Day gift guide blog post.
Or take a page out of this business's book and show your sensitivity: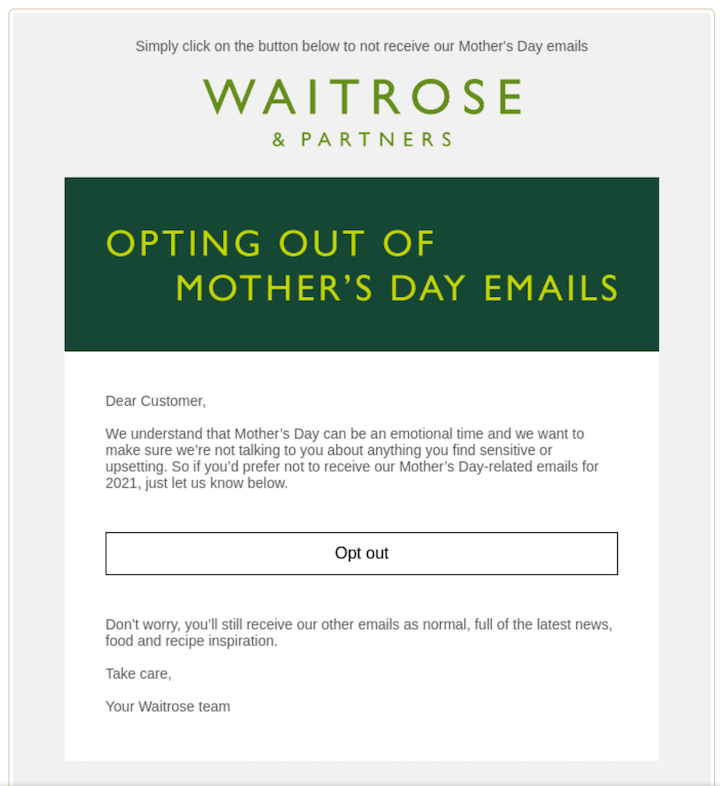 More May marketing resources:
June newsletter ideas and topics
We're halfway through the year, and summer has officially arrived! The summer solstice occurs in June, which is the longest day of the year. Official June holidays include Flag Day, Father's Day, and Juneteenth. Here's what else you can use for June newsletter inspiration.
June awareness
PTSD
Safety
Camping
Men's Health
LGBTQIA
Great Outdoors
June national days
Flip a Coin Day
Donut Day
Insurance Awareness Day
Higher Education Day
Splurge Day
Newsletter ideas
Share with your subscribers a promo code, discount, or coupon they can use on Splurge Day.
Link to your Father's Day gift guide blog post.
Provide a list of favorite local spots where they can celebrate National Picnic day.
Announce a BOGO sales in honor of Best Friend's Day.
Encourage readers to subscribe to your social media profiles on Social Media Day.
Generate excitement around sales promotions for recent graduates.
More June marketing resources:
July newsletter ideas and topics
When you think of July, you can't not think of America, freedom, independence, fireworks, and the like. But there's more to this month than you may think!
July awareness
Grilling
UV safety
Eye injury prevention
Minority mental health,
Anti-boredom
Purposeful parenting
Independent retailers
July national days
Get to Know Your Customers Day
Cheer Up the Lonely Day
Tell the Truth Day
Ice Cream Day
Get to Know Your Customers Day
Parent's Day
Christmas in July
International Kissing Day
July newsletter ideas
Link to a blog post on anti-boredom activities in your community.
Talk about your all-month-long 4th of July promotions.
Announce temperature-related discounts to help beat the heat.
Invite readers to enter a giveaway in honor of National Give Something Away Day
In honor of National Tell the Truth Day and Get to Know Your Customers Day, ask for customer feedback.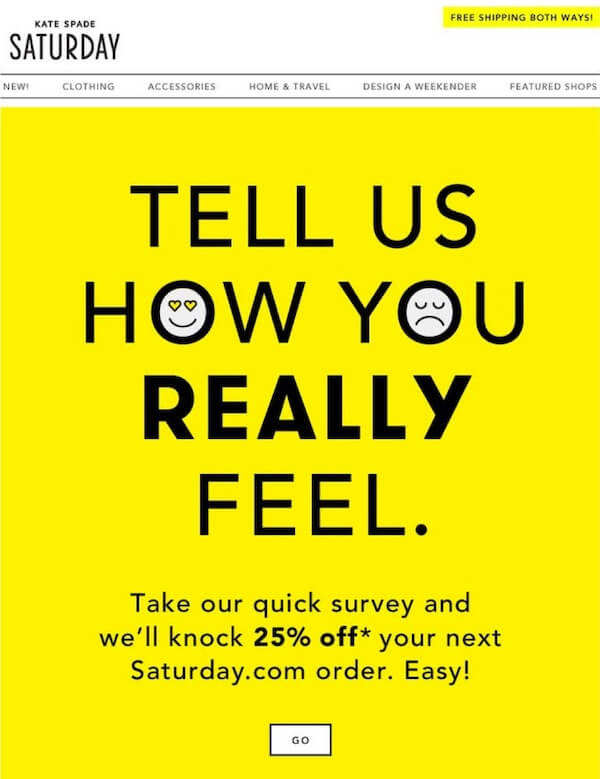 Image source
More July marketing resources:
August newsletter ideas and topics
August is the calm before the (back to school) storm, the end of the good ol' Dog Days of summer, the time to start gearing back up.
August awareness
Children's eye health and safety
International peace
Black businesses
Family fun
Golf
Back to school
Wellness
Immunization awareness
August national days
Simplify Your Life Week
Relaxation Day
World Humanitarian Day
Senior Citizens Day
Friendship Day
Work Like a Dog Day
Purple Heart Day
Dollar Day
Lazy Day
August newsletter ideas
Announce an end-of-summer, buy-one-get-one-free sale (can we get another hyphen in there?).
If summer is your busy season, include a look-back on memorable moments with photos of happy customers who tagged you on social media
Include eye-opening stats about Black-owned businesses.
Give a preview of your back-to-school marketing specials.
Link to your September survival guide—this could work for audiences of students, parents, and teachers.
Create a back-to-whatever checklist (back to school, back to work, back to a quiet home…)
More August marketing resources:
September newsletter ideas and topics
While August was the month of health and relaxation, September kicks into gear with a safety theme. It's time to get your head on straight.
September awareness
Food safety
Disaster preparedness
Life insurance
Self-improvement
Addiction recovery
September national days
No Rhyme Nor Reason day
Lazy Mom's Day
College Colors Day
Swap Ideas Day
National Day of Encouragement
Grandparent's Day
Boss's Day
Dance Day
Cleanup Day
September newsletter ideas
Remind readers of your back-to-school specials.
Run an email-exclusive summer clearance promo to boost engagement.
Introduce a self-improvement-related challenge or contest.
Provide book recommendations in the spirit of National Reading Day.
Include an inspirational quote for Positive Thinking Day.
Let customers know if you've changed your hours for fall.
Provide some of your most helpful blog posts for staying somewhat focused before the long Labor Day weekend, or for transitioning back afterward. (Need ideas for blog posts? Get 20+ content marketing ideas here!)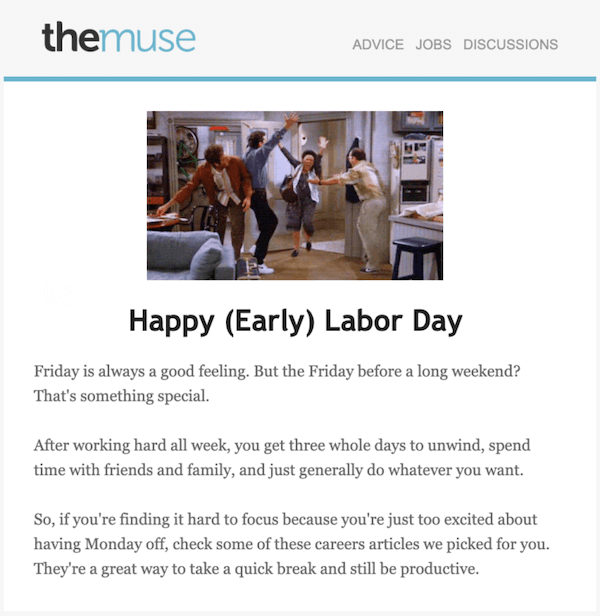 More September marketing resources:
October newsletter ideas and topics
October is about more than just Halloween–it's also a crucial time to start your holiday marketing and look into some other awareness initiatives to keep your customers engaged with your newsletter.
October awareness
Fire prevention
Breast cancer
LGBTQ history
Anti-bullying
Sustainable energy
Emotional wellness
Financial planning
Global diversity
October national days
National Consignment Day
Child Health Day
Do Something Nice Day
Walk to School Day
Inner Beauty Day
Get Smart About Credit Day
Youth Confidence Day
Coming Out Day
October newsletter ideas
Send out a BOO! Surprise deal (Halloween promotion ideas here).
In honor of financial planning, round up any blog posts you've published with budget-friendly tips and feature them in your email.
Encourage customers to enter your social media costume contest using a branded hashtag.
Use a "like a boss" theme in honor of National Boss's Day, or link to a blog post about what it's like to be your own boss.
Let readers know where they can safely trick-or-treat in your community.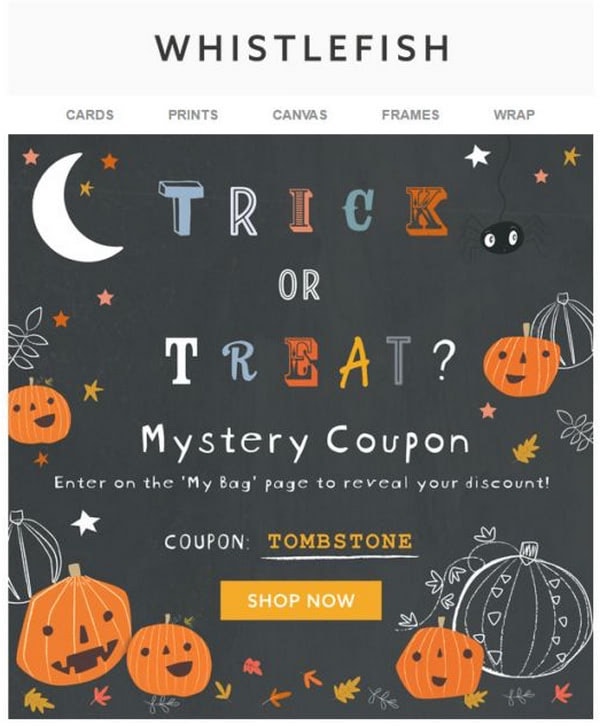 More October marketing resources:
November email newsletter ideas and topics
With the November marketing trifecta going on—Thanksgiving, Small Business Saturday, and Cyber Monday—we are too distracted to notice the cold weather seeping in. And then the next thing you know, you're setting the clock back. Wahhh. But on a more positive note, here is some November email marketing inspiration.
November awareness
Entrepreneurship
Military families
Healthy skin
Healthy lifestyles
Drunk driving
Peanut butter lovers
November national days
Stress Awareness Day
Parents as Teachers Day
Pickle Day
Absurdity Day
World Kindness Day
November newsletter ideas
Dentists can run a promo for post-Halloween candy teeth cleanings.
Share nearby food drives or invite them to participate in one you are hosting yourself.
Talk about how you are going to help others this holiday season, or use a gratitude theme in your email copywriting.
Tell your readers how to get out of a pickle they commonly find themselves in, related to your business.
Of course, announce your Small Business Saturday deals.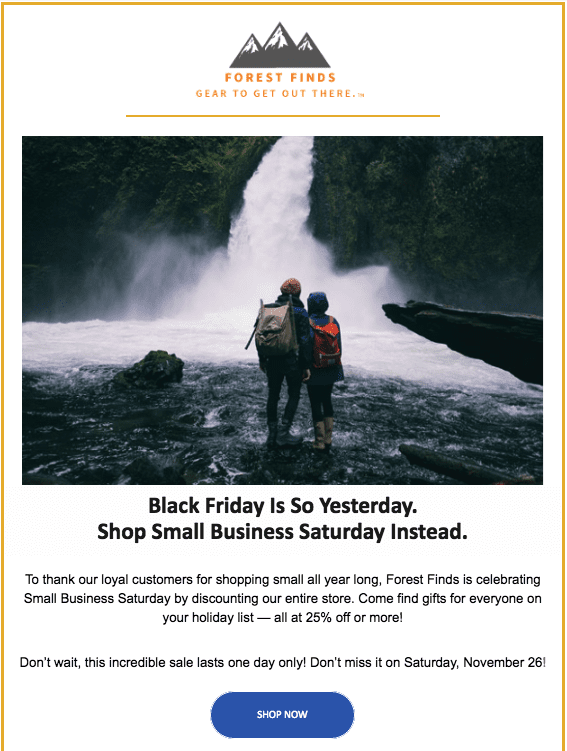 More November marketing resources:
December newsletter ideas and topics
December is light in awareness causes—and understandably so since the holidays take the limelight. But I'll still provide you with some themes and national days that might spark an authentic twist in your holiday marketing strategy.
December awareness
Bingo's birthday
Human rights
Seasonal depression awareness
Business plans
December national days
Free Shipping Day
Homeless Person Remembrance Day
Re-gifting Day
Special Education Day
Make Up Your Mind Day
Bacon Day
Rosa Parks Day
International Ninja Day
December newsletter ideas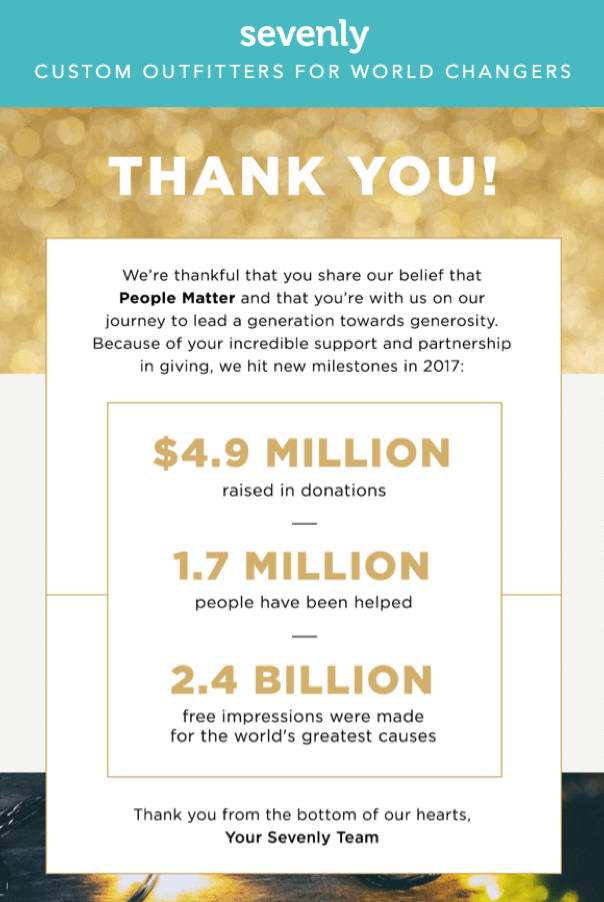 More December marketing resources:
More newsletter ideas and topics
To finish off, here are some ideas that can work for any month, as well as some of the common themes you may have picked up on throughout this post.
Highlight a customer/employee of the month.
Share highlights and positive customer reviews from the previous month.
Include motivational quotes from influencers or famous people who have birthdays that month.
Ask for customer feedback or provide a link to a survey or poll.
Link to your latest customer success story or case study.
Invite readers to sign up for webinars, RSVP to events, or enter a giveaway.
Share new products or new feature releases.
Include videos, infographics, and other mixed media types.
These ideas should help you create a plan to stay on the minds of customers throughout the year. Remember, email marketing works. Just make sure you follow best practices and use eye-catching subject lines.